Make a special dessert for Christmas with a hint of dark chocolate and raspberry flavors.  Birch Bark Chocolate Raspberry Yule Log is a rolled sponge cake. Raspberry jam, vanilla buttercream spread over the warm cake, then rolled to form a log.  Frosted with whipped cream and cream cheese makes the cake light and helps birch bark chocolate attach to the log.
Most yule logs or Buche de Noel have log knots on the side of the roll but this one does not. Instead the log roll features the white and dark chocolate birch bark.

This is a long recipe but worth it.  To help with time, bake the cake a day ahead and fill with filling, then chill overnight. Make the birch bark candy day or two before serving.  Can also make the buttercream frosting ahead.  Tip:  If you want to use canned frosting this will also cut down on time. This recipe was inspired by Sprinkle Bakes.
How to Make the Yule Log
Follow recipe for baking chocolate sponge cake, turn out baked cake on confectioners sugar tea towel.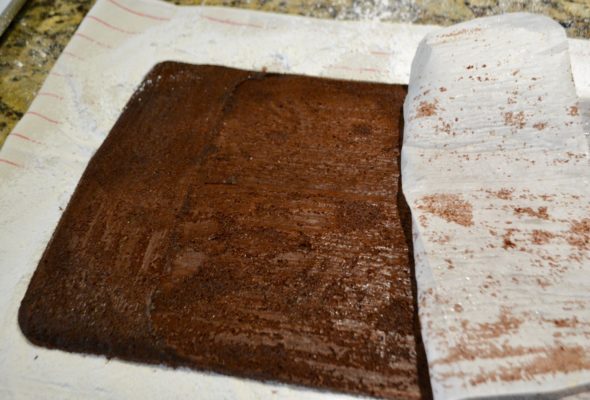 Remove parchment. Roll warm cake at narrow end including the tea towel.  Set aside to cool.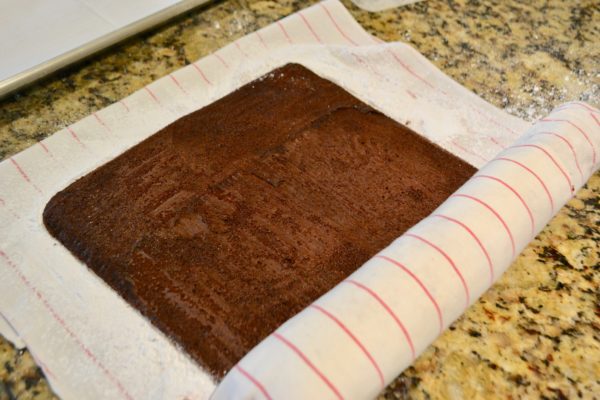 When cool, unroll cake resting on tea towel.  Before unrolling, cut off both ends about 1/2″ to get rid of any dry thin edges of cake.
Spread cake with melted raspberry jam about 1/2 cup of jam. Next add a layer of vanilla buttercream frosting, leave about 1/2 " space of cake free from frosting at the end.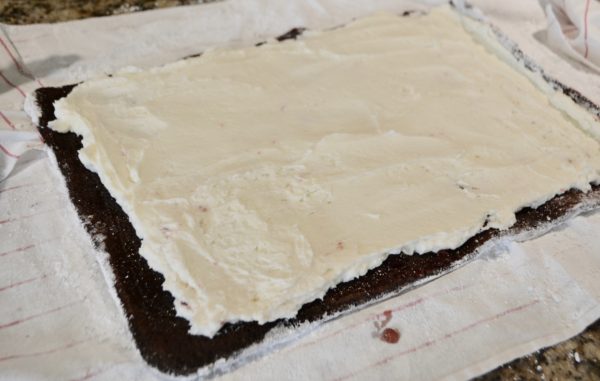 Re roll the cake using the tea towel as a guide for a tight roll. Remove tea towel and move roll to serving platter or if not ready to serve wrap in plastic wrap and chill.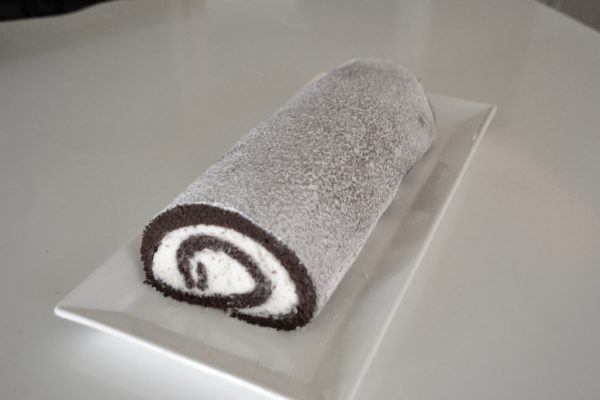 Making the Chocolate Birch Bark
 Melt  1 cup dark chocolate Ghirardelli melting wafers in microwave safe bowl for 20 seconds until melted.  With a rubber spatula or straight edge scraper, dip in melted chocolate.  Dab the chocolate on a parchment lined baking sheet in thin slides. This will resemble the lines in birch wood.
Make sure baking sheet will fit inside your refrigerator for you will need to chill the chocolate to set.
Chill dark chocolate marks until set about 5 minutes.
Melt white Ghirardelli or white bark in microwave for 20 seconds until melted.  Spread melted white chocolate over the set dark chocolate strips.  Return to refrigerator to chill. When set or hardened take a knife and cut in vertical pieces. Bark will crack as it wills but try to get long thin pieces if you can. No worries if you don't.  Just the nature of the harden chocolate.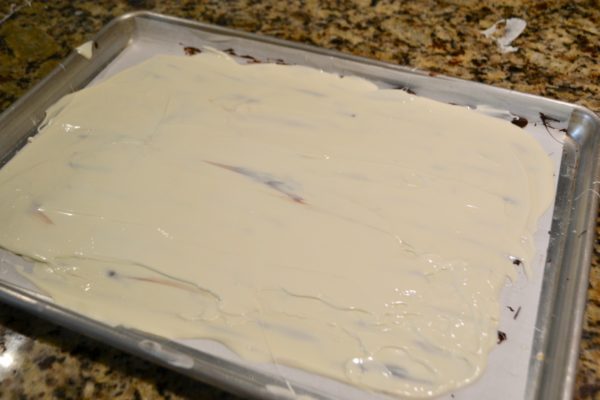 When you turn it over you will see the streaks in the chocolate like a birch tree peel. These pieces will be placed on the frosted cake roll.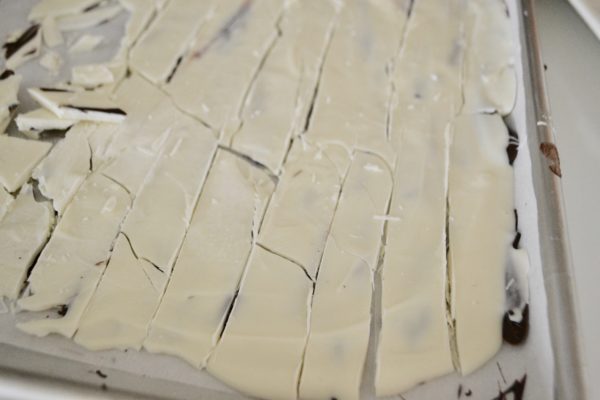 Frost the cake with whipped cream and cream cheese frosting. Easy and light recipe, this will give the bark pieces something to stick too.
Tip: I had thought about using this filling for the inside of the cake roll, however, it isn't firm enough to hold the shape of the roll.
Tip 2: This roll does not have a knot as most Buche de noel or yule logs. If you want to make a mock wood knot, cut a slice from the filled roll and place it on the side or top of cake with pinwheel showing. Frost as usual, add bark pieces if desired. You will need a larger serving platter for the cake if you add a knot to the side of the "birch log".
Note: Remove the chards of bark for easier cutting of the cake. Serve the chards with sliced cake.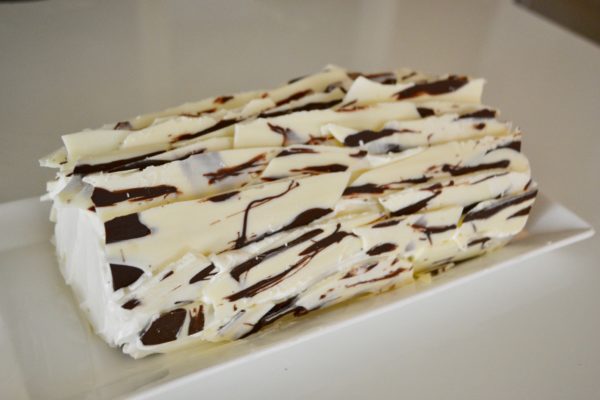 Start on the center of the cake roll and place bark pieces like shingles on a roof, layering one piece slightly over the prior piece or as you see tree bark peel.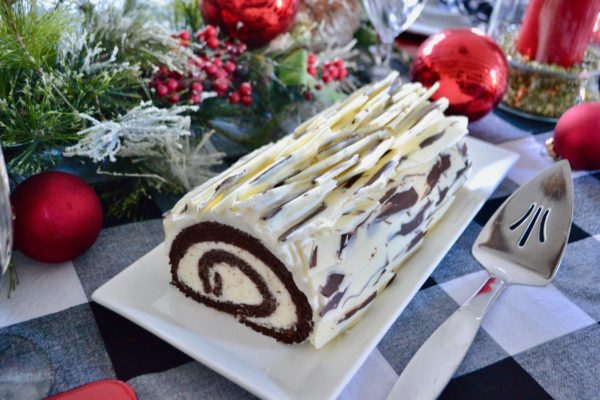 TA DA!  All done.  When ready to serve, bring cake to room temperature before slicing.  Chilled bark is very difficult to cut, FYI.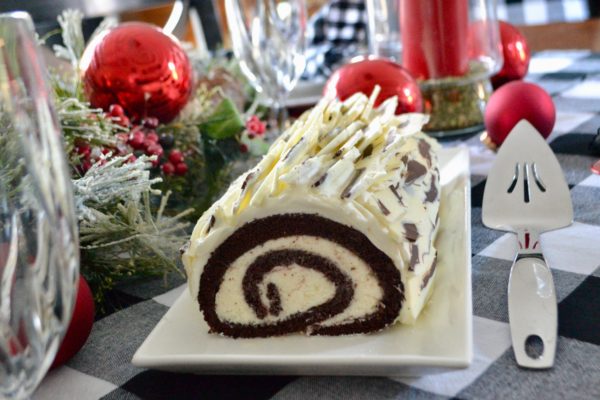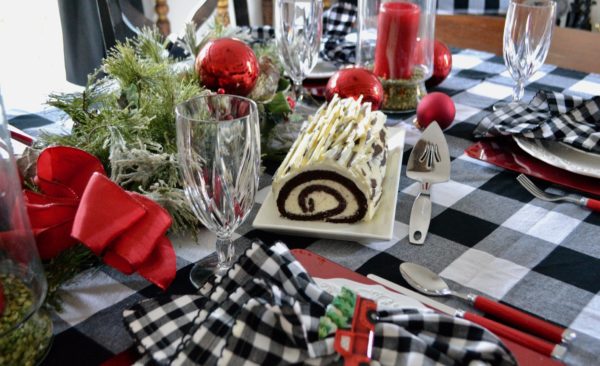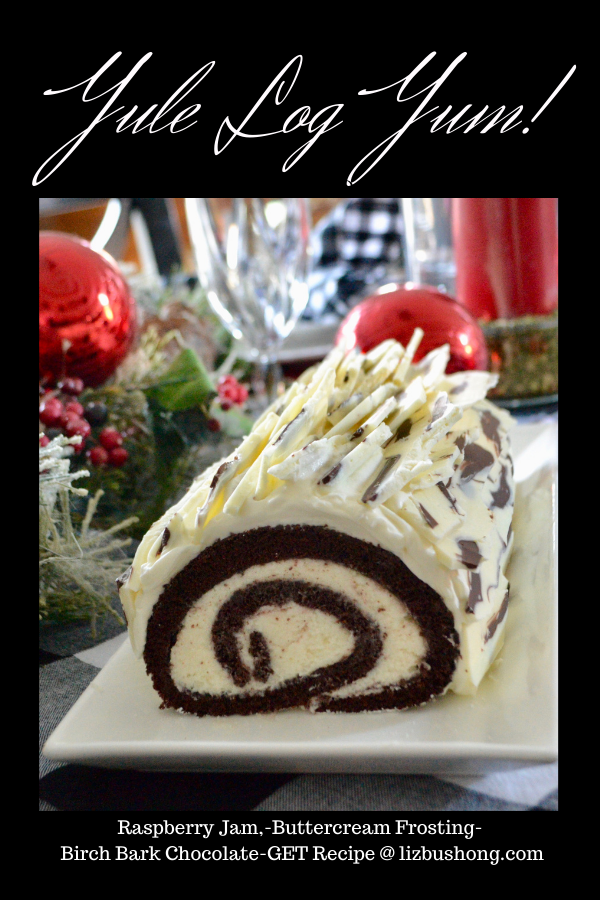 Print
Birch Bark Chocolate Raspberry Yule Log
Chocolate sponge cake filled with raspberry jam and buttercream frosting, rolled like a jelly roll, frosted with whipped cream and cream cheese frosting covered with birch bark to look like a Yule Log.
Author: Liz Bushong
Prep Time:

2 hours

Cook Time:

15 minutes

Total Time:

2 hours 15 minutes

Yield:

8

-

10

servings

1

x
Category:

Dessert

Method:

Baking

Cuisine:

American-German
Yule Log Cake
4 eggs
3/4 cup granulated sugar
1 tablespoon vegetable oil
2 tablespoons buttermilk
1 teaspoon white vinegar
1 teaspoon vanilla extract
3/4 cup all purpose flour
1/4 cup special dark cocoa powder- tested Hershey's
1 teaspoon baking powder
1/2 teaspoon salt
1/2 cup sifted confectioner's sugar
Vanilla Buttercream Filling
2 sticks or 1 cup of salted butter not margarine
2–1/2 – 3 cups confectioners sugar
1 teaspoon vanilla extract and orange extract
1/4 cup heavy cream or half n half
1/4 teaspoon salt
1/2 cup prepared raspberry jam melted- tested All Fruit
Cake Frosting
4 ounces  whipped cream cheese, softened
2 cups heavy whipping cream, chilled
1/4 to 1/2 cup confectioners sugar
1 teaspoon vanilla
Birch Bark Decor
2– 10 ounce package Ghirardelli White Vanilla Flavored Melting Wafers
1– 10 ounce package Ghirardelli Dark Chocolate Flavored Melting Wafers
Instructions
Making the Cake:
Preheat oven to 350 degrees. Butter 15 x 10 " jelly roll pan or use cooking spray line with parchment paper.  Spray parchment with cooking spray.
In large mixing bowl with wire whisk attachment, add eggs.  Beat on high speed for 5 minutes until thick and light in color.  Remove wire whisk and add beater. attachment to mixer. On low speed gradually add sugar, vanilla and oil, followed by buttermilk, vinegar and vanilla. Scrape down sides of mixing bowl,
In separate bowl, sift together flour, cocoa, baking powder and salt, slowly add to the liquid creamed mixture. Mix gently until well combined. Pour batter into prepared pan and smooth evenly with rubber spatula. Bake 12-15 minutes.  Cake is done with it sponge cake springs back when touched with fingers or toothpick inserted comes out clean.
Sift confectioners sugar over tea towel. Tea towel needs to be longer and wider than cake.  Immediately remove cake from oven, turn warm cake over onto the sugar coated tea towel. Peel off the parchment paper and roll cake with the tea towel inside of cake beginning at narrow end of cake. Place rolled cake on a wire rack seam side down and let cool completely, while you make the butter cream for filling.
Buttercream Filling
In stand mixing bowl with beater attachment, cream together softened butter, and confectioners sugar.  Begin on low speed until blended then increase to high and beat for 3 minutes.
Add vanilla and orange extract and 2 tablespoons at a time of heavy cream or half n half.  Add salt.  Mix until frosting is light and fluffy.
Unroll chilled cake, remove tea towel but leave towel under cake.
Melt raspberry jam in microwave safe cup at 15 second intervals until melted. Stir to smooth.  Spread jam on the cake using a pastry brush or off set spatula.  Use all of the jam for a slightly thick layer to cover the entire cake edge to edge.
With off set spatula smooth buttercream on top of jam.  Leave 1/2 " space free from buttercream on the narrow end of cake that was not rolled.
Re roll cake from same end you rolled while cake was warm. Cover with plastic wrap and chill until firm about one hour.
Meanwhile make birch bark and Whipped Cream Cheese Frosting.
In clean mixing bowl with beater attachment, beat softened cream cheese on high speed.  Add chilled whipping cream, whip on medium high speed, gradually add confectioners sugar and vanilla, whip on high speed until whipped cream is firm.  Cover and chill until ready to frost cake roll.
Making the birch bark
In glass bowl, add 1 cup chocolate wafers in microwave at 20 second intervals until melted. Line baking sheet with parchment paper.  Make sure your baking sheet fits inside your refrigerator for the chocolate will need to be set up to firm.
With rubber spatula or spoon string chocolate in ribbons on parchment paper in rows to resemble birch bark. Place baking sheet in refrigerator to set about 5 minutes.
Melt 2 packages of white vanilla melting wafers in microwave safe bowl at 20 second intervals until all is melted and smooth. Spread white chocolate over hardened dark chocolate. Smooth evenly with off set spatula covering the dark chocolate streaks. Chill for 10 minutes or until completely hardened.
Remove from refrigerator, slice bark into long slivers or pieces. Set aside until ready to decorate cake.
Assemble Cake:  Remove plastic wrap from chilled cake roll.  Cut a thin slice of cake roll on one end to showcase pretty swirl inside. Spread whipped cream cheese frosting over the top and sides, and opposite end of cut cake roll with off set spatula.
Beginning at the top center of the frosted cake roll, place bark pieces at a slant or as you desired.  Continue overlapping slightly the candy bark alternating sides to completely cover entire roll.  No need to cover the ends of cake roll with bark.
Garnish cake with rosemary sprigs , sprinkle with sifted confectioners sugar or as desired depending on your table decor.  Serve cake at room temperature.  Store cake in refrigerator.
Notes
You can use bar cream cheese, or the whipped kind for frosting.
Bark on cake if chilled is hard to cut.  You may need to remove a few pieces of bark to slice cake smoothly then reapply bark pieces to individual serving slice.
Hope you enjoy this recipe.  It is fun to make and as mentioned you can make the cake ahead, and frost and decorate last minute.  Enjoy!
Other Ideas you might like to try: