Countdown to New Year's Eve!  Create a New Year's Eve Table-scape with these Ideas.  Dots of Gold, Mirrors & Crystal set the perfect tone for ringing in a brand new year!  Whether hosting a dinner for two or 20 these table scape ideas have got ya covered.  If there is ever a time to put on the Glitz and Glam it's a New Year's Eve party!   Time to celebrate!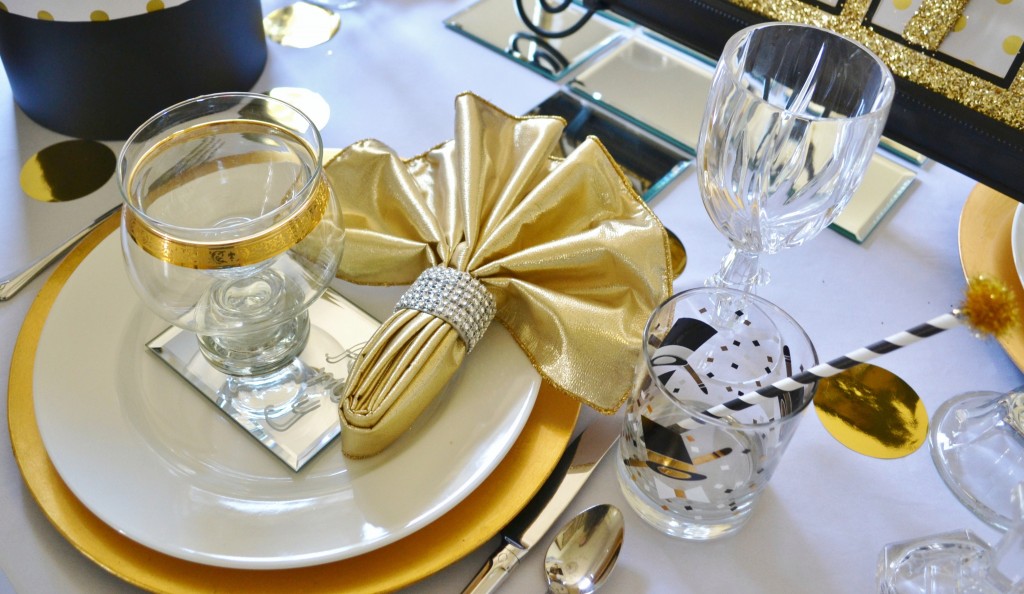 Countdown to New Year's Eve| Resolutions
Whether you are setting new resolutions for the New Year or setting the table you will want to think about goals.  What are the goals  or resolutions for decorating a table top?   Make it Festive, Make it Fun … Make it Glamorous and Make it Glitzy?
Resolution:  I am resolved to create a pretty table, to make it have bling and to show You how to make it happen!
Countdown to New Year's Eve| Inspiration- Just Change the Year to Make it Current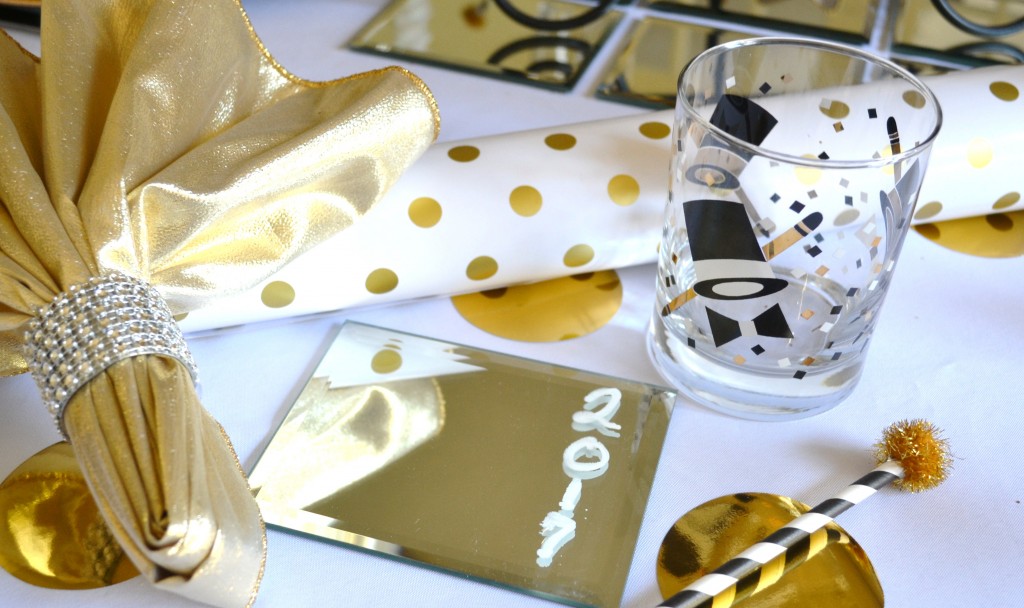 Time-less Gold, Black & White Color Scheme
Begin with a color scheme. My inspiration was a cocktail glass with top hat, bow tie and confetti.  This glass had all the elements for a glamorous party table suited for a New Year's Eve party/table.
 I had the gold and white dot wrapping paper (from Christmas), the shiny large gold dots, (from decorating my office walls- these are wall dots-peel and stick found at Lowes), 3 x 5 " mirrored tiles (from a former project- found at the dollar tree),  adhesive backed crystals, and gold napkins.  Check out these glass beaded chargers to glam up the setting.   
Now that you have your inspiration it's time to go to your kitchen cabinet/pantry and see what you have in inventory.  These are items I had in my pantry that I reuse over and over.
4 Porcelain dinner plate-round- white
4 each Crystal water glasses, wine glasses, shot glasses
15 Mirrors
Flatware-wish I had gold
White tablecloth-120″ round
4 Napkins- gold
4 Silver napkin rings- to remake
4 yards Adhesive backed crystals
4 Black & White striped paper straws-get gold pom poms
4 White tapers, gold glitter & glue- to remake
4 Candle sticks-glass/crystal
Black  Serving Tray with mirrored tiles
Centerpiece?    Old Picture Frame-to remake
Easel-black
1 Top hat ice bucket
Gold and white dot wrapping paper
I have a lot of things to remake, but that is part of the fun for me.  If you don't like to craft, then go to discount stores, Michael's and other places to find gold, black and white items you can use.

New Year's Eve|Dots & Mirrors
Recently when decorating my new hot pink, black and white office, I used these gold wall dots on one wall of the room.  ( I will have photos soon)  I had a few left over and then decided I needed more to deck out my tablecloth.   I didn't have time to order on line, so I went to Lowe's and found these.  Wall Dots are easy to use, just peel and stick. When you want to remove them, simply remove from wall.  When I used them on a tablecloth they didn't stick real well, but they are not designed for cloth/fabric.  They worked just fine but don't be surprised if you have to smooth them out from time to time.  This is optional to cover your entire white tablecloth, but I wanted the bling all over the table.  It was so much fun.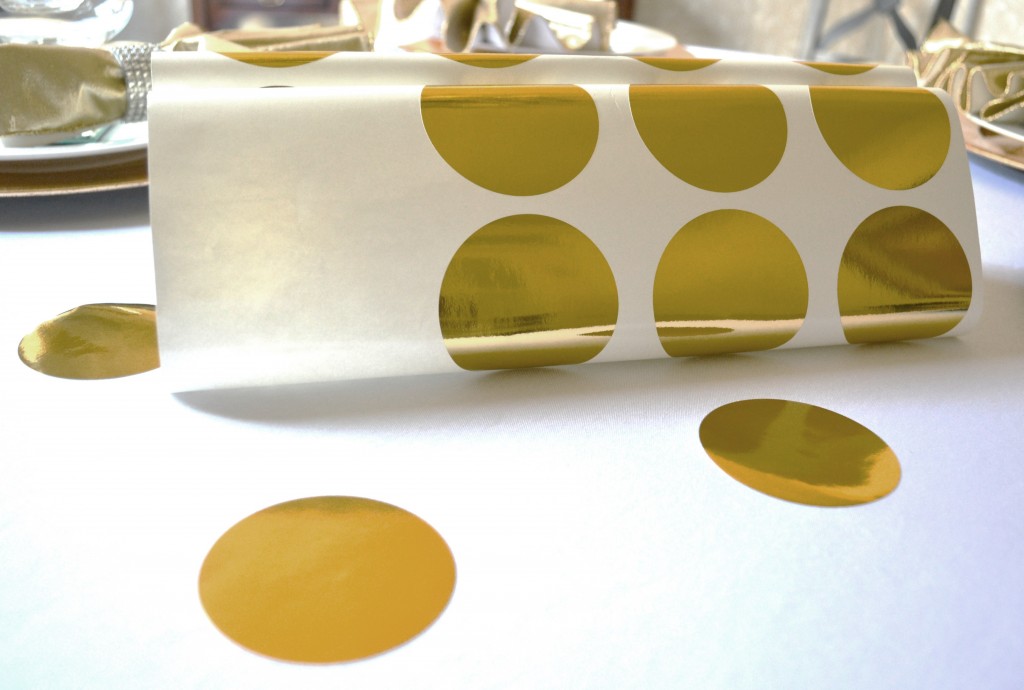 Next on my list to do was to personalize each place setting.  I had the mirrored tiles and chalk paint pen so I decided to write names and other inspirational terms for the New Year, like 2017, Happy New Year,  Be Happy,  Blessings, and Cheers.
Using the chalkboard paint pen was a breeze.  The paint will come off using window cleaner or alcohol.  So now worries you will be able to use your mirrors again.  I also decided to put a few mirrors in the center of the table for reflection and to add more resolutions.
For a Take Home Favor 
Give each guest a mirrored tile and paint pen to inscribe their own resolutions to take home with them.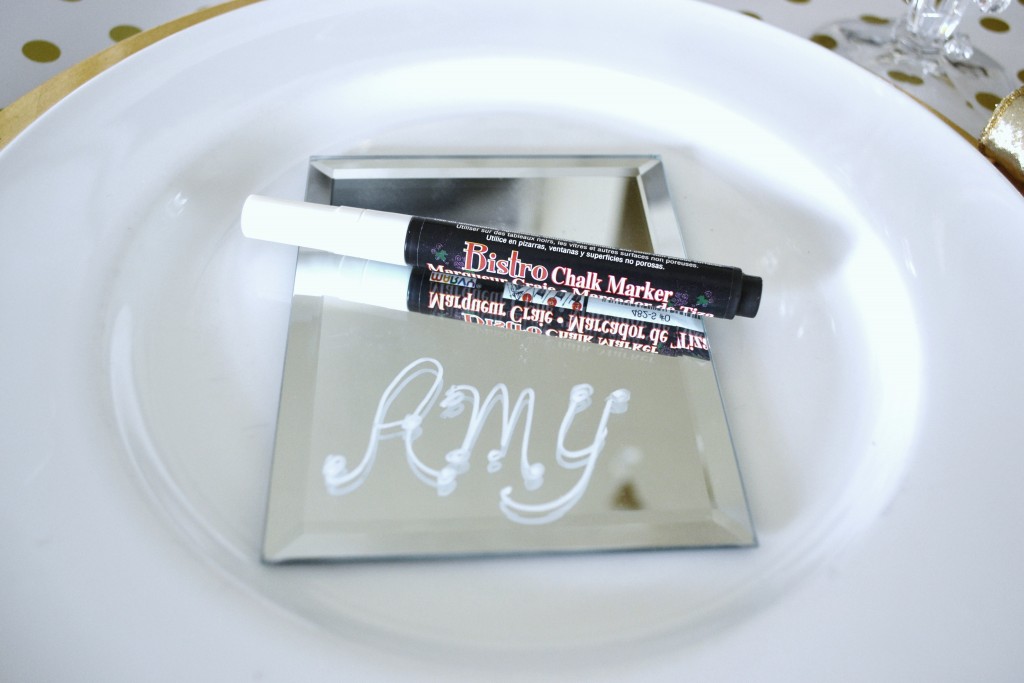 Table Decor-Napkin Rings
To ring in the gold for the New Year I decided to upgrade pewter napkin rings with adhesive backed crystals.  Pretty easy to do, just peel and stick.  Michael's craft store also has these on a spool in the ribbon department, they are called Bling Ribbon.  
When using the bling ribbon, you will need hot glue or double faced tape to attach to the napkin ring.  Attach each strand to the sides of the outer napkin ring, allow to sit before using or putting the napkin fold into the ring.   The napkin fold is fan fold.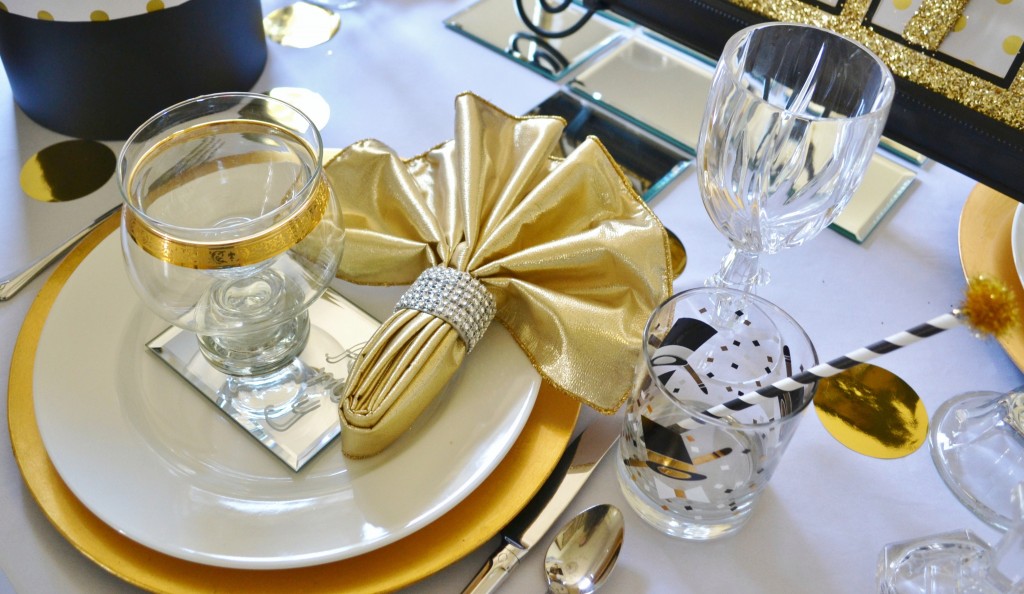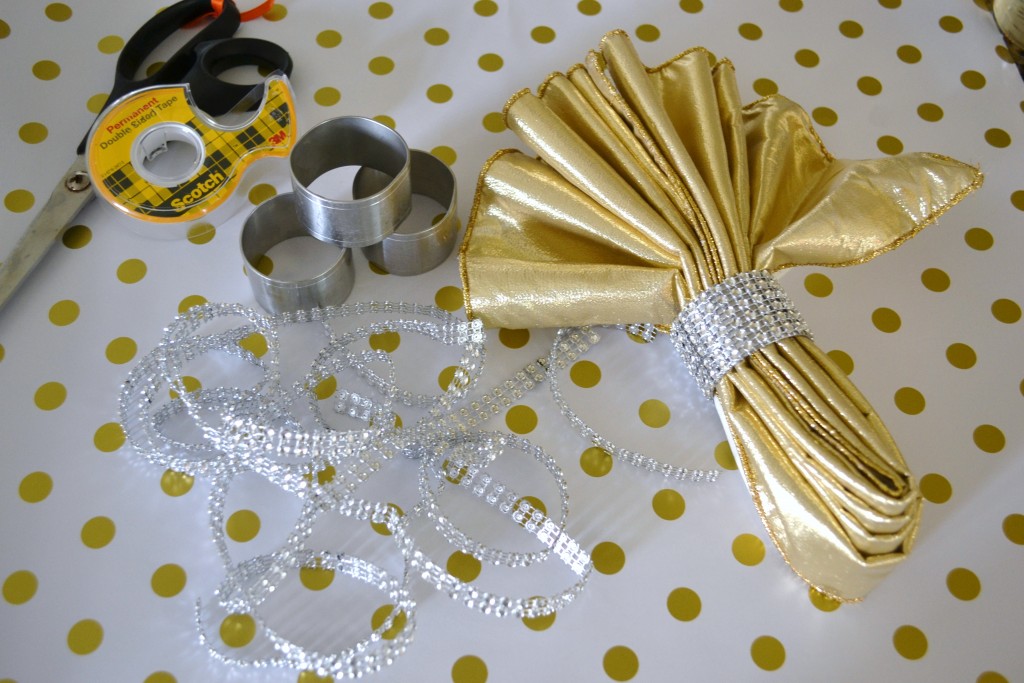 To add bling to your paper stir sticks attach a gold pom with hot glue to one end of stick.   Also notice the gold and white band on the top hat ice bucket and as a lining in the black mirrored serving tray.  This is the Christmas wrapping paper that I had folded and taped to the hat as a band and cut a piece of paper to fit the bottom of the serving tray.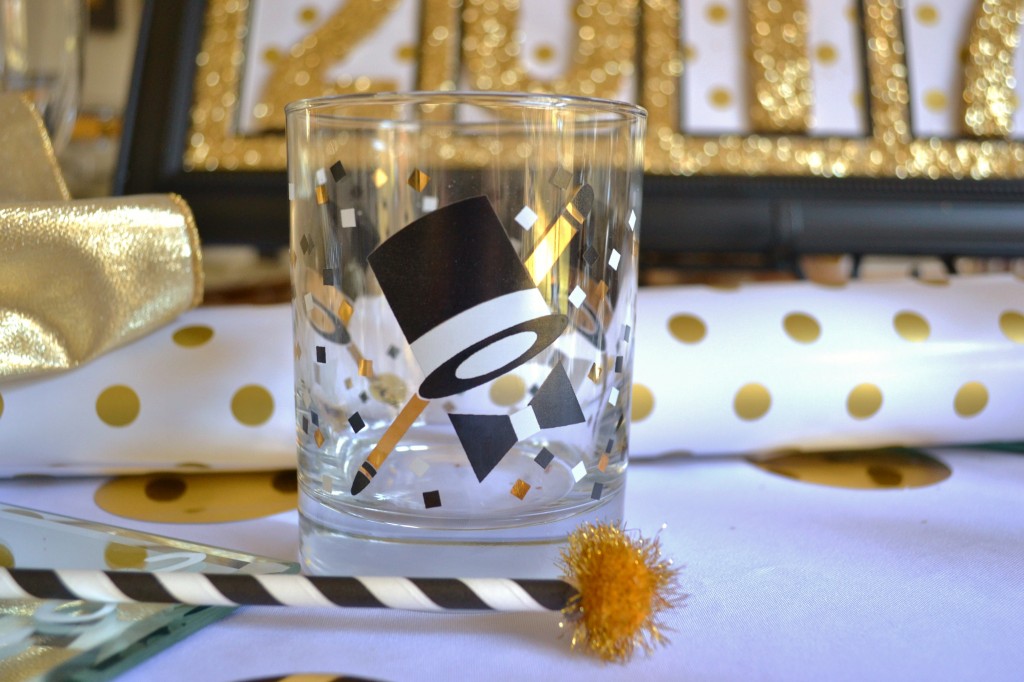 After the event, I will remove the paper band and liner.  I didn't want to use confetti, it would have made everything too busy as well as messy.  Although filling clear polka dot balloons with confetti would be a great background wall for your table or buffet table.
Countdown to New Year's Eve Place Setting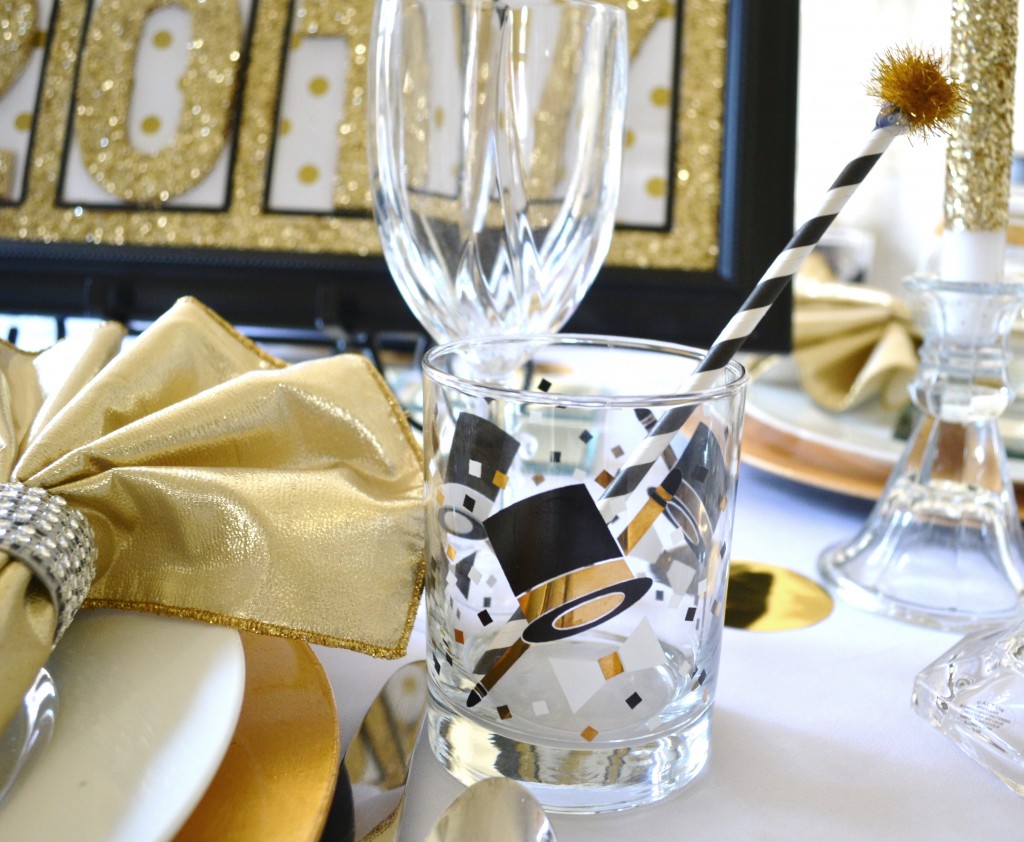 Countdown to New Year's Eve|Table Decor-Centerpiece
This is a photo frame that I remade for the table centerpiece. This piece could also be used on a buffet table on a stand.  If using as a table centerpiece, you will want to cover the back with gold and white wrapping paper and another set of 2017 or current year with glittered numbers.  Fill five to seven glass containers with white carnations and votive white candles to create a pretty look as well as cover the back side of the frame.
The frame was painted black and inner mat was glued and glittered to cover the face of the mat. Wooden cut out numbers were also covered with glue and gold glitter.  With polka dot Christmas paper in the back ground rounded out the overall color scheme.  The numbers are now more dimensional and besides that the glass would not fit the frame.
Change the signage each year by removing the numbers.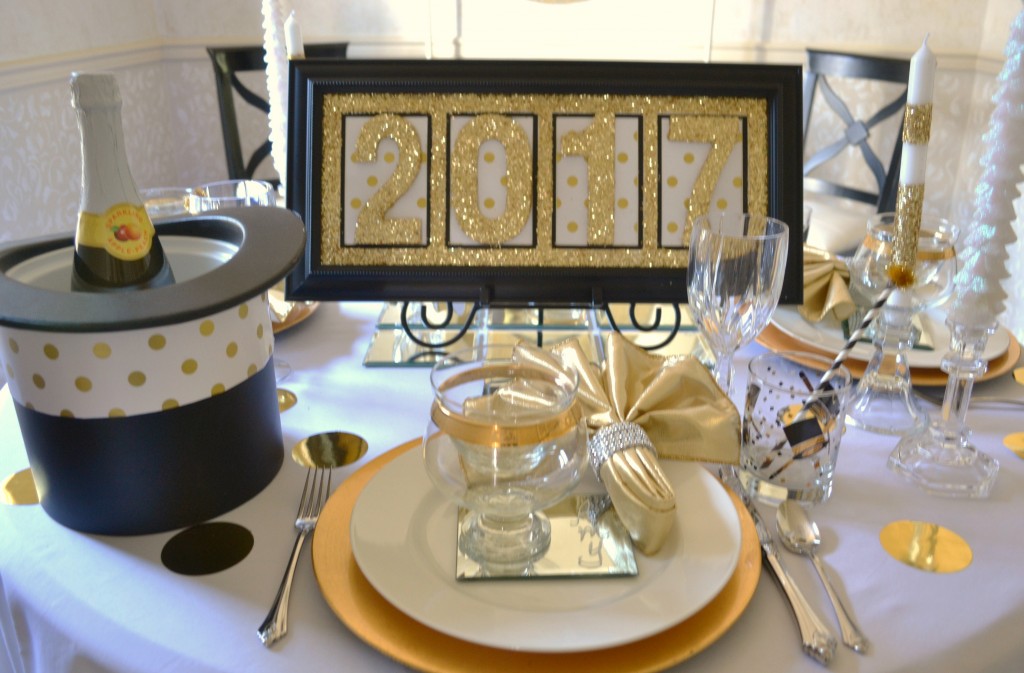 New Year's From the Past: Just Change the Signage to Correct Year
To see how to set up this table watch video from Daytime Tri Cities.
The gold tapers are white candles taped with painters tape to mark off bands, with white glue painted on candle then sprinkled with  gold glitter.  Very easy to do and adds more bling to the table.  When 2018 rolls around, just remove the 7 in the sign and add an 8,  change the decor using polka dot gold and white napkins, black tablecloth with gold dot stickers, and you're good to go.
  Hope you like the table top decor!
 As the new year offers promise and hope,
here is wishing you and yours the 
Best New Year Ever!
Helping you Make a Statement, Make it Sassy and Make it Yours! ™
Other Ideas You Might Like to Try: