Gluten free Mini Date Chocolate Bar Bites are super easy and quick to make. No baking required, just a food processor, pitted dates, tahini, toasted pecans and melted chocolate is all you need for this sweet treat. A great snack when you feel like munching on sometime sweet, its' healthy for everyone will enjoy.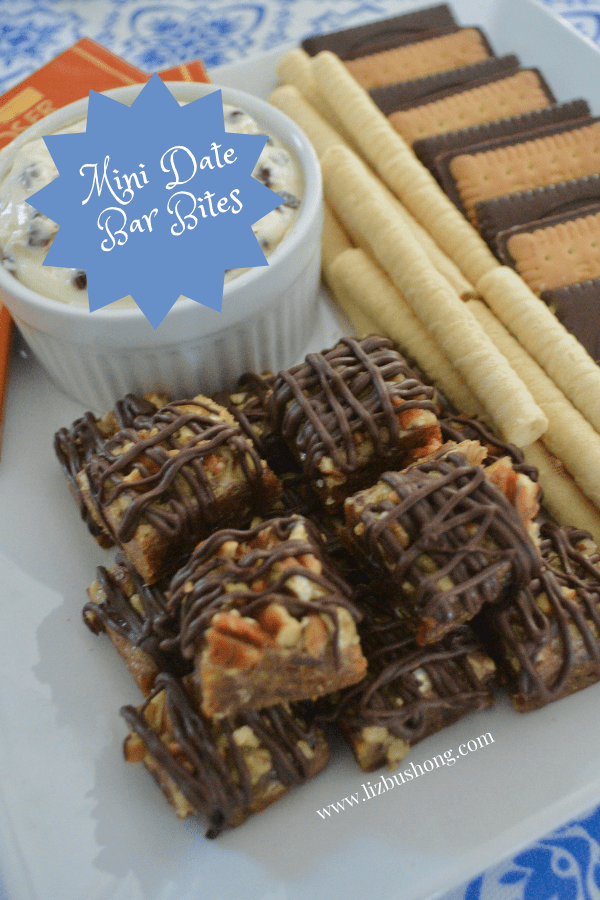 This recipes is Inspired by Mediterranean Dish. She has wonderful Mediterranean dishes that you would enjoy too. It's healthy eating and well Mediterranean style. What makes this sweet snack special is the Medjool dates, creamy tahini (sesame seed paste used in hummus), toasted chopped pecans, and melted dark chocolate. After about a 2 hour freeze they are ready to cut into small bite sized pieces. I also store the date bars in the refrigerator. The recipe makes at least 36 small bite sized pieces.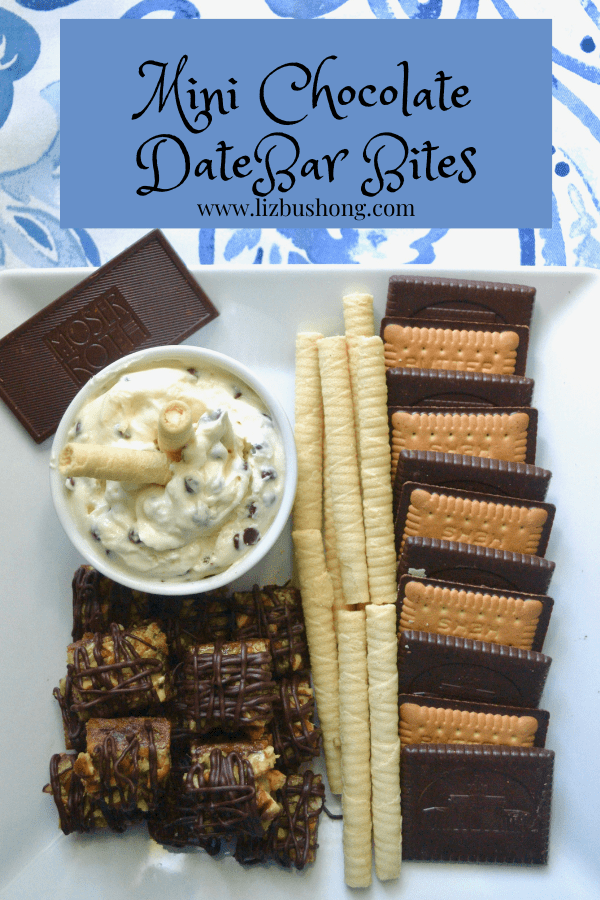 How To Make Mini Date Chocolate Bar Bite
I must admit these bars are so easy and pleasantly sweet, not too sweet but rather chewy with crunch. You might remember this other gluten free mini dessert recipe made of Medjool dates, only this recipe the dates are spread in an 8″ x 8″ square baking dish.
I like to prepare the ingredients prior to mixing just to help the process go smoothly as well as make sure I have all the ingredients I need. With this in mind, chop about 1/2 cup toasted pecans coarsely. If you need to toast your pecans, spread them out on a baking sheet and bake at 300 until toasted. Chop and set aside.
In a food processor bowl fitted with steel blade, add about 40 pitted Medjool dates. Slit the dates to make sure all the pits are removed before putting in processor. You can buy pitted or un-pitted at the grocery store usually in the produce department.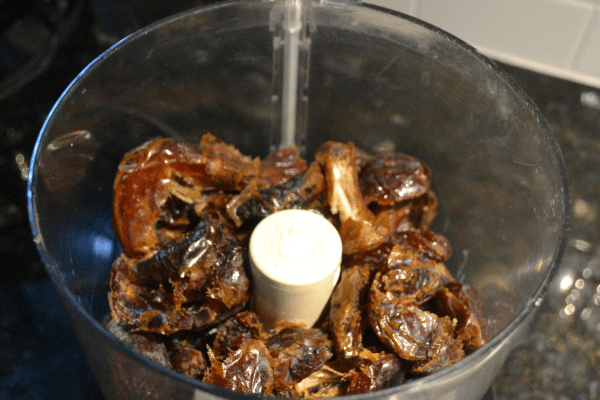 Process the dates until well chopped and they form a ball inside the bowl. It is a sticky ball, so gently wet your hands to remove and press into a parchment lined 8″ x 8″ baking dish. I like to extend the parchment over two edges of the pan for easy release of bars. Press the dates securely and evenly in the bottom of the baking dish.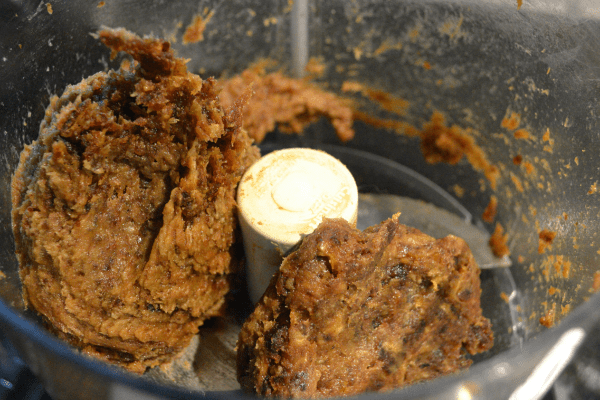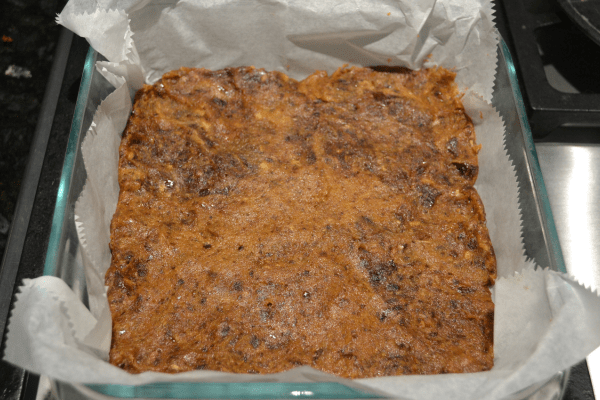 Next, pour the tahini over the date mixture, spreading to cover with an off set spatula or back of spoon. Sprinkle the toasted pecans evenly over the dates and tahini and place baking dish in the freezer to freeze for 2 hours.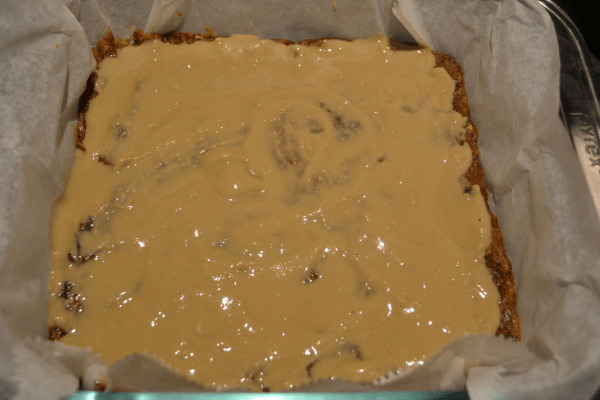 Once the bars are solid enough to cut, remove from pan using the parchment paper to help lift out of pan. Cut the bars into 1″ x 1″ squares if making mini's. You can also cut the bars in fingers 1″ x 2″ long or however you would like. Another thought would be to roll the balls and coat with mini chocolate chips. However for this recipe I melted dark chocolate mini chips until very smooth and drizzled over the cut bars.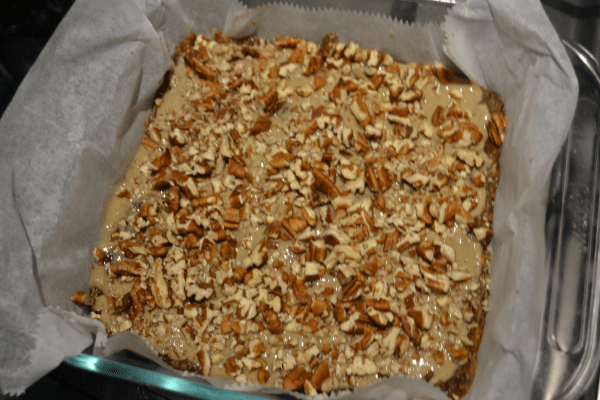 To drizzle the bars I placed the melted chips in a disposable piping bag, clipped the end and quickly ran lines of chocolate over the cut bars in one sweeping motion.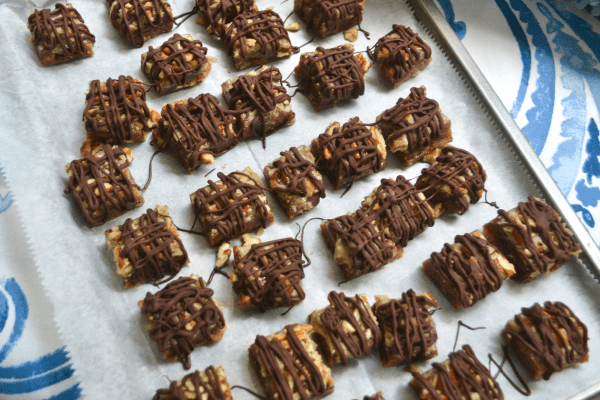 Serving these treats are very simple. I used them on a dessert plate for a luncheon I was having along with other chocolate treats. Store these treats in the refrigerator for they can get very soft.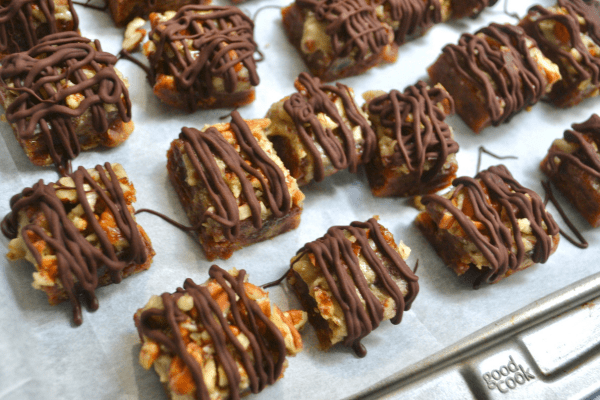 What are Medijool Dates?
They make a great sugar substitute and perfect for granola bars, no bake desserts, smoothies and more. Medjool dates are versatile and easy to add to your diet. Eating them raw will give you the best nutritional value as well as the necessary binding moisture for these no bake desserts or treats. There are many benefits to eating these dates; for example great antioxidants, could possible lower LDL, promotes good heart and brain health.
Are These Mini Date Bar Bites a Snack or a Dessert?
Both! Because they are no bake, you can make them and freeze until ready to serve. The mini bites can be drizzled with melted chocolate right before serving as a dessert or a snack. Great for living clean and helping your family to eat healthy without a lot of fuss.
A Note About Tahini
If you are not a fan of tahini, you could substitute for almond butter and use chopped toasted or slivered almonds for the nut topping. Tahini, being a pureed sesame seed paste it tastes nutty and is gluten free also vegan. Some will make their own by grinding the sesame seeds until it turns to paste, however it is readily available and worth purchasing organic variety. It will last in the refrigerator for quite some time but can turn rancid over time.
Hope you will try this recipe great for picnics, lunch boxes, after school snacks and anytime you need a treat.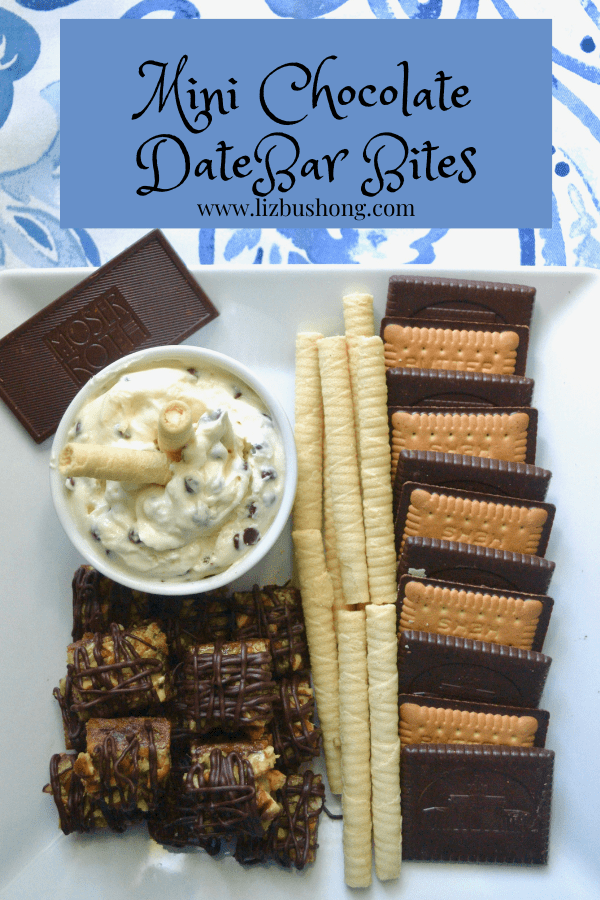 Print
Mini Date Chocolate Bar Bites
Mini Date Chocolate Bars is no bake, gluten free sweet treat using Medjool dates, tahini, toasted chopped pecans and drizzled with melted dark chocolate.
Author: Liz Bushong
Prep Time:

20 minutes

Cook Time:

none

Total Time:

2 hours + 20 minutes

Yield:

36

–

1

" x 1″ mini bars

1

x
Category:

Dessert-Snack

Method:

No Bake

Cuisine:

Mediterranean
40 Medjool dates, pitted
1/4 cup organic tahini
1/2 cup toasted pecans, chopped
1/2 cup mini dark chocolate chips, melted
Instructions
Line an 8″ x 8″ square baking dish with parchment paper, extend two ends of parchment over the edge for easy release of bars. Set aside.
In bowl of food processor fitted with steel blade, add pitted dates. Process until dates form a ball inside the bowl. With lightly wet hands, press dates into parchment lined baking pan. Press evenly and into corners of baking pan.
Pour 1/4 cup tahini over the dates in baking pan.
Add chopped pecans over the tahini and lightly press into date mixture.
Place baking dish in freezer and freeze 2 hours or overnight.
Remove bars from freezer and baking dish lifting parchment. Release parchment from dates and with large chef knife cut bars into 1″ x 1″ mini squares or as desired.
In a microwave safe bowl, melt chocolate chips at 30 second intervals until chocolate is fully melted. Place chocolate in a disposable piping bag and drizzle over cut bars as a garnish.
Store mini date bars in refrigerator or best results.
Notes
Slit dates to make sure all the pits are removed from the dates before processing in food processor.
Freezing the date bars is a must for easy cutting. The date bars are soft and if not frozen will be a mess cutting.
Can substitute tahini with almond or other nut butter, just thin a bit in microwave to make a drizzle for easy spreading.
Great for gift giving, picnics, lunch boxes, after school snacks, dessert trays or simple snack.
Keywords: Mini, No Bake, Gluten Free, Date Chocolate Bars, Medjool Dates, Pecans, Dark Chocolate, Tahini
Other Ideas You Might Like to Try: