Need a summer dessert during strawberry season? This recipe is for you. Strawberry Cheesecake tart has beautiful rows of sliced strawberries arranged in circular spiral design on top of the tart. Creamy cheesecake filling in standard Nilla wafer crust garnished with fresh ripe strawberries is the perfect dessert for summer.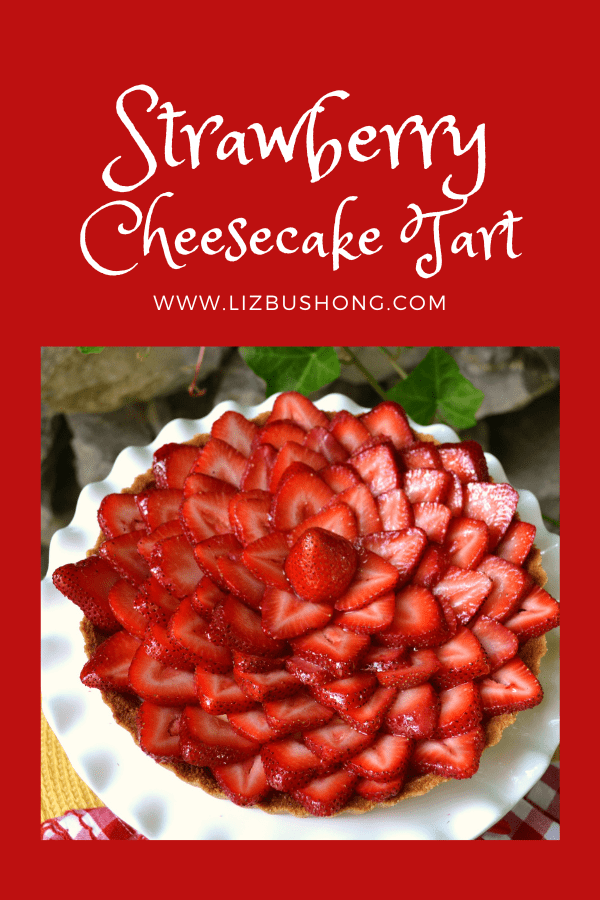 Nothing is better than fresh ripe bright red strawberries for summer desserts! Whether from your garden or fresh market strawberries in season are the best for eating and creating pretty desserts.  I made this strawberry cheesecake for a dinner I was hosting for friends. Nothing fussy about this cheesecake except for the berry garnish.  I must admit it took some time to place the berries, but it was worth it. Not only did the cheesecake taste great the presentation was beautiful.  Here's your chance to make this tart just like I did. Your family and friends will love this dessert. 
How to Make Strawberry Cheesecake Tart
You will need a 9″ springform tart pan with remove-able bottom, a food processor for making organic vanilla wafer cookie crust, cheesecake ingredients and 2 quarts of fresh organic strawberries. Vanilla wafer cookies or organic graham cracker crust if you would prefer. Use same crust recipe just substitute vanilla wafers for graham crackers. 
When selecting berries, make sure they do not have any spots or bruises, as you will be slicing these berries into 1/8″ vertical slices. 
Prepare your springform tart pan by lightly spraying with cooking spray. The butter in the crust will keep it from sticking, but it is good to have the pan coated with non stick spray for easier release of the bottom pan. 
In a food processor, add crust ingredients and process until blended and crumbs are fine. Press this mixture into the tart pan pressing up the sides of the tart pan. I like to use the back of a small measuring cup to help pack the crumbs into the pan.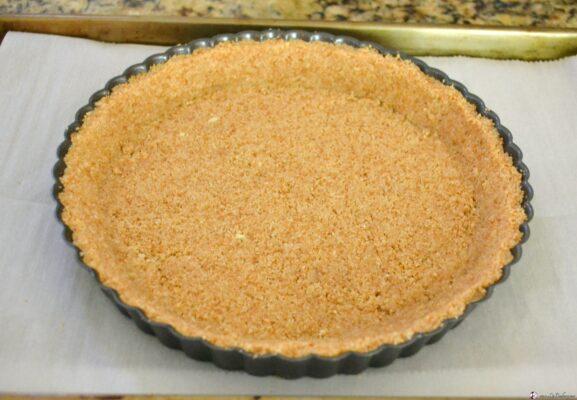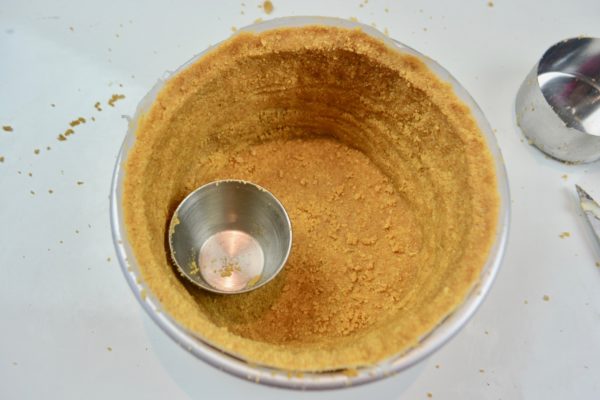 Bake the crust at 350 for 8 minutes.  This bake will keep the cheesecake filling from soaking into the crust preventing the crust from being wet or soggy. Remove from oven and allow to cool.  Reduce oven temperature to 325 for baking the cheesecake filling.
Prepare the Cheesecake Filling
In a clean food processor bowl fitted with steel blade, add cheesecake filling ingredients. Process until smooth and creamy.  Pour into baked and cooled crust. Bake tart on a heavy baking sheet incase of spill over and even cheesecake bake in tart pan.  Bake 20 minutes. The top of the cheesecake will set as it cools if cheesecake is a bit soft in the middle. Chill cheesecake until ready to garnish with strawberries.
Only prepare the berries 60 minutes prior to serving the cheesecake. 
Wash and sort strawberries, hull and slice into 1/8″ thin slices.  Reserve on large whole berry for center of cheesecake. You will be slicing the berries with the point facing you into vertical slices. Make sure your berries are free from spots, bruises or uneven color.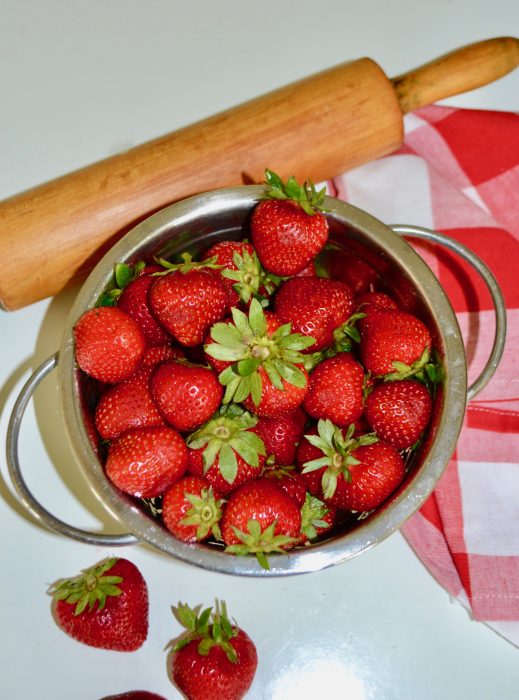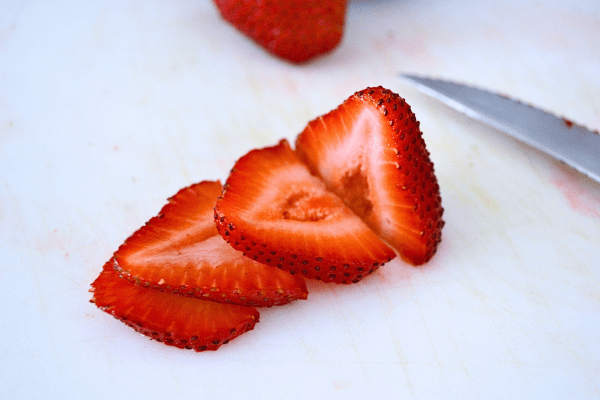 Arranging Strawberries for Strawberry Cheesecake Tart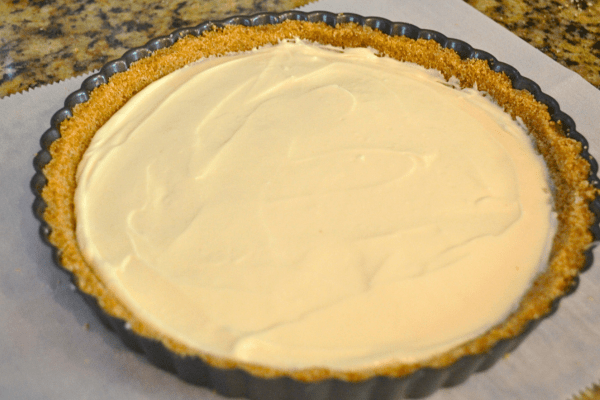 Begin layering the berries along the outer edge of the cheesecake, leaning the berries against the crust edge with points of berries facing up. Continue to build the layers as shown in photo. Repeat until entire top of cheesecake is filled with beautiful berries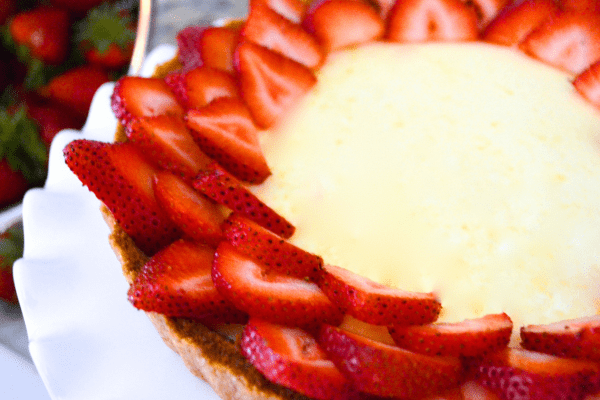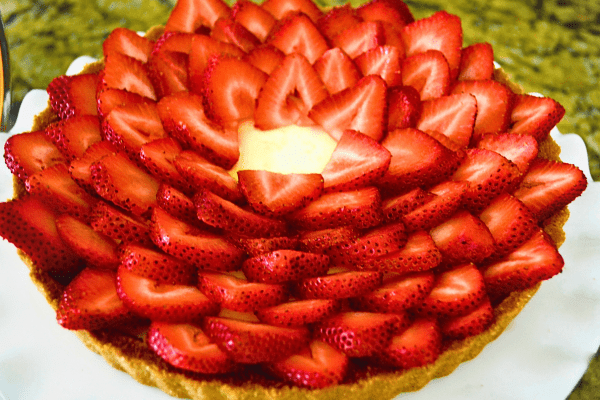 With reserved one large berry, place in center of the cheesecake to complete the presentation. Brush berries with melted strawberry or current jam for a shiny glaze. The glaze also helps bring out the sweetness in the berries if the berries are not as ripe as they should be.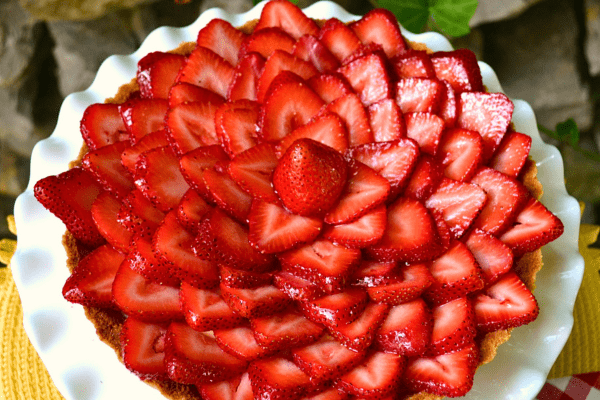 Dessert is now ready to serve!  Watch for rave reviews.. everyone will love this cheesecake. I know it is pretty some might even say too pretty to cut, but do it! That is why you made it to serve your guests. 
Print
Strawberry Cheesecake Tart
Beautiful fresh strawberries cut into slices and layered around the top of a creamy cheesecake that was baked in Nilla wafer crust. Berries are glazed with current or strawberry jam for shiny and enhanced sweetness for the berries.
Author: Liz Bushong
Prep Time:

30 minutes + 30 berry garnish

Cook Time:

28 minutes

Total Time:

90 minutes

Yield:

6

–

8

servings

1

x
Category:

Dessert

Method:

Baking

Cuisine:

American
Crust:
1 1/2 cups Nilla Wafer ® crushed crumbs
3 tablespoons sugar
1/3– cup butter, melted
Filling
8 ounce package cream cheese, softened
1/4 cup sugar
2-Tbsp heavy cream
1/4 teaspoon salt
1/2 teaspoon orange extract
1 egg
32oz. package fresh organic strawberries, hulled, rinsed and sliced into 1/8" slices*
Glaze:
1/2 cup Current or Strawberry jelly- melted
Instructions
Preheat oven to 350. Lightly grease with cooking spray 9″ springform round tart pan.
Making Crust: In food processor, place wafers and sugar, pulse to crumbs.  Add  melted butter to crumbs in processor, pulse 5 times.
 Press cookie crumbs to fit pan. Use measuring cup to press crumbs on bottom and sides of tart pan. Bake 8 minutes.  Remove from oven. Reduce oven to 325.

In bowl of processor with steel blade, process cream cheese, cream, sugar, salt and extract, and egg.  Process until blended.

Spread filling into pre- baked crust.  Bake 20 minutes until center is set. 

Remove from oven, let cool to room temperature. 

Top with sliced berries or whole strawberries with ends up over entire surface of tart. 
*Slicing Berries
Stem greens off berries, place flat side on cutting board with point of strawberry facing up. With paring knife slice the berry into 1/8″ slices.  The slices should be as even as possible. Only clean and slice berries when ready to garnish. 
8. Microwave current jelly for 10 seconds until melted, drizzle or brush over berries for a shiny glaze.  
9. Chill for 2 hours before adding fresh berries and serving.
     Add berries 60 minutes before serving for best results.
Notes
For best results, garnish tart with fresh berries 60 minutes prior to serving. 
Keywords: Strawberry Cheesecake Tart, Strawberries, Cheesecake, Vanilla Wafers, Cream Cheese, Dessert, Summer
Other Ideas You Might Like to Try: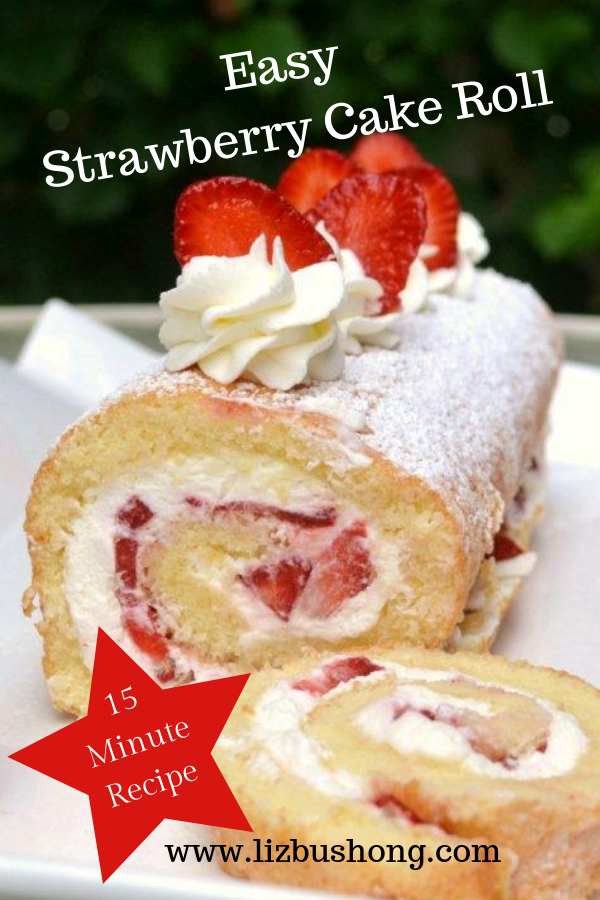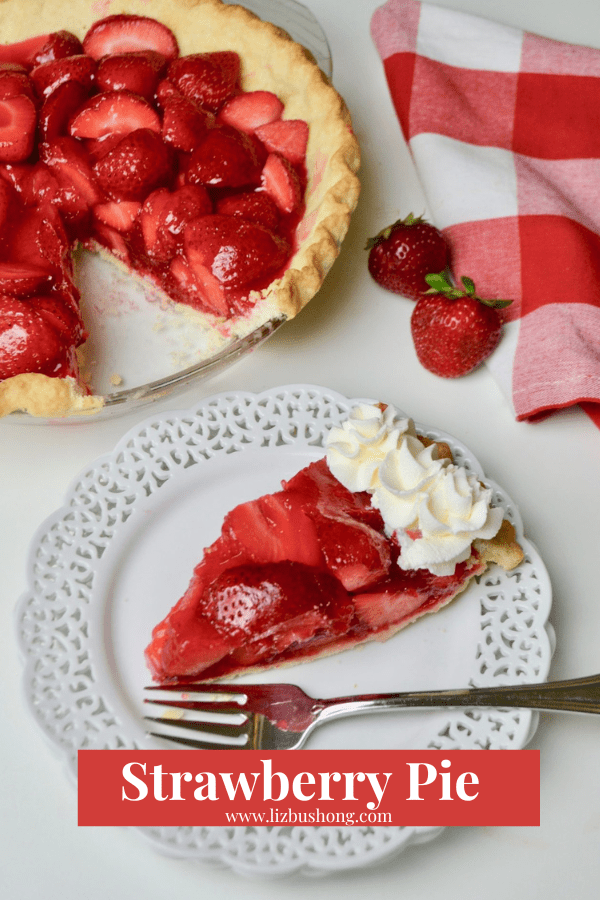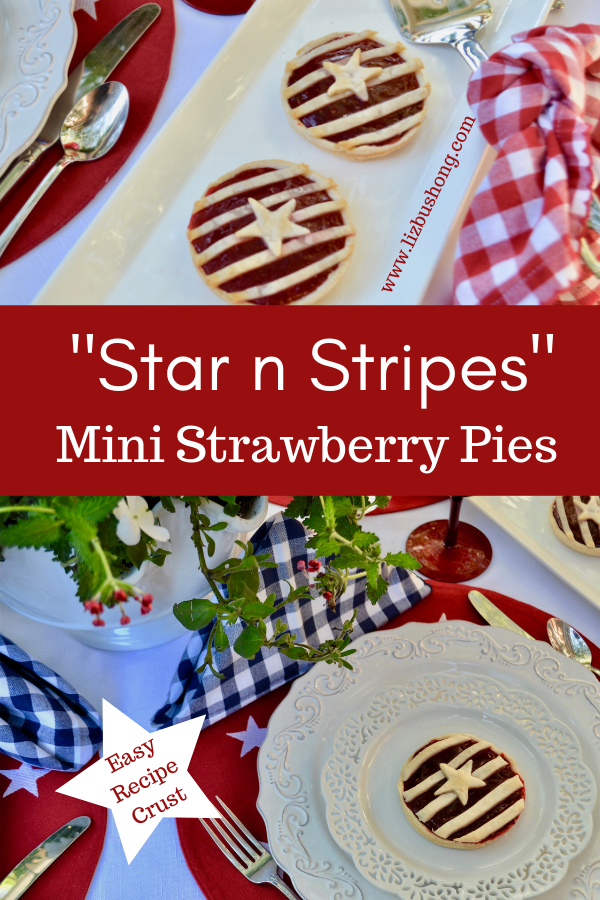 Strawberry Hobnail Bundt Cake