What tastes better than a three layer Neopolitan Cake Recipe. Chocolate, vanilla and strawberry sandwiched with buttercream and frosted with marbled buttercream frosting is a real show stopper. This from scratch recipe uses one vanilla cake recipe divided into three flavors.  If you don't want to make a cake from scratch you could use a white cake box mix and follow the recipe as directed.  Serve the Neopolitan Cake with ice cream for a fun birthday party or any special event.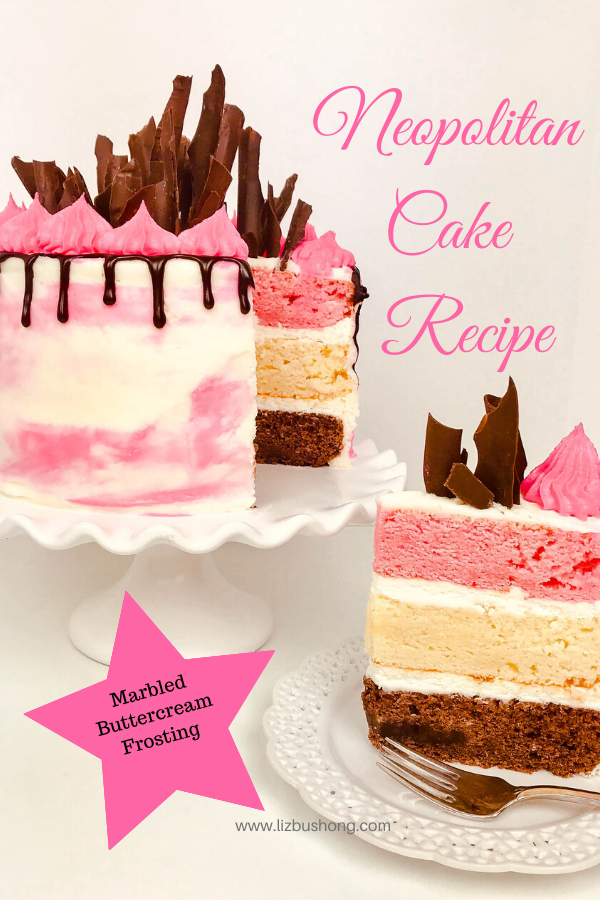 Making the Neopolitan Cake Recipe
Making a cake from scratch is easy for the recipe uses basic ingredients, flour, sugar, eggs, oil, and leavening.  You really don't even need a mixer to make this cake but it does make the process go faster.
For this cake you will need to lightly spray three parchment rounds and 8″ round cake pans.  You can use cake flour or all purpose just remember if you use cake flour it takes 2 tablespoons less than all purpose flour in this recipe.  Also sifting your flour is a must as well as measuring the flour by the spooning into your dry measuring cup and leveling off with the back of a knife.  Too much flour will make your cake tough and dry. ( One thing about cake mixes, they are already measured for you and always turn out great.)
Nevertheless, this recipe begins with a white cake batter that you will divide into three bowls.  Adding hot pink food gel and strawberry extract to one bowl, and 2 tablespoons of dark cocoa and 2 tablespoons chocolate syrup, yelp chocolate syrup.  The last bowl of cake batter is left vanilla.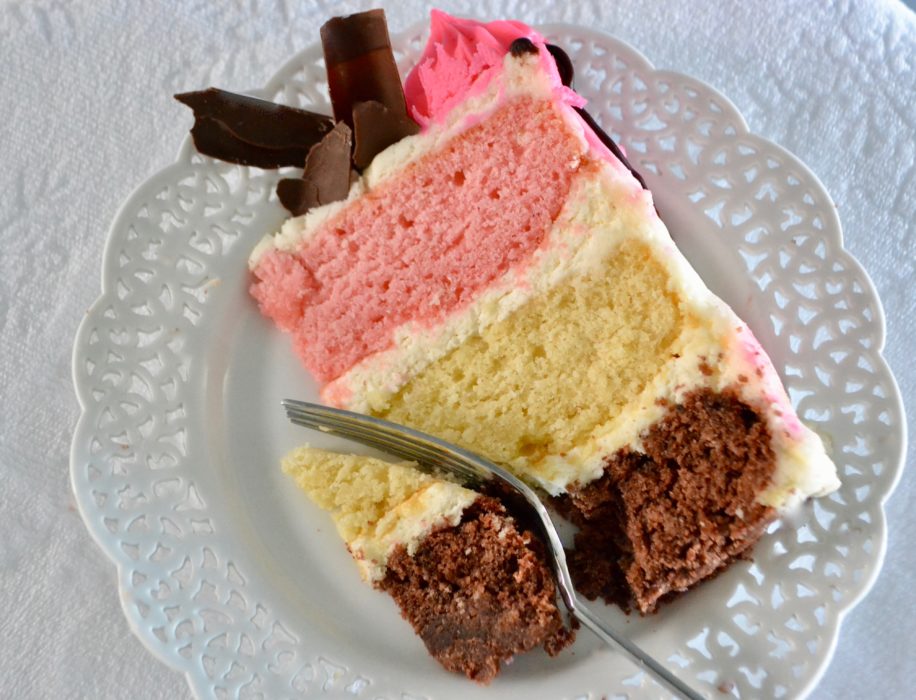 How to Make Frosting and Garnish
Buttercream frosting fills the cake layers and coats the sides of the stacked cake.  To make the cake marbled, separate 1 cup of frosting from batch and add pink food gel.  Stir to mix and place in piping bag with medium round or shell piping tip.  After frosting the cake with buttercream, pipe large dots randomly over the cake sides.  With a flat edge spatula blend the dots into the frosting to create the marbled look.
Tip:  Use a warm glass of water to dip your spatula into before spreading frosting. This will make your cake sides smooth. Be sure to wipe the excess water off before smoothing sides of cake though.. so you will not have runny frosting.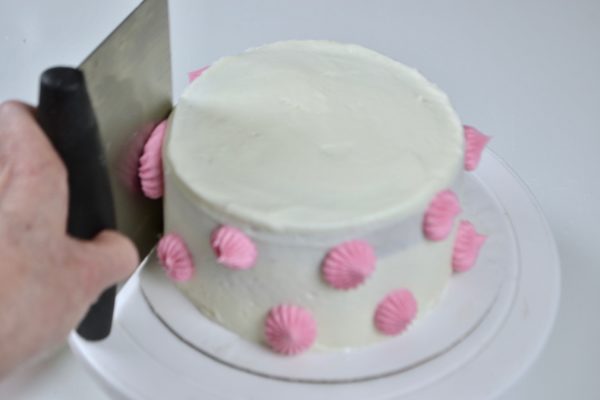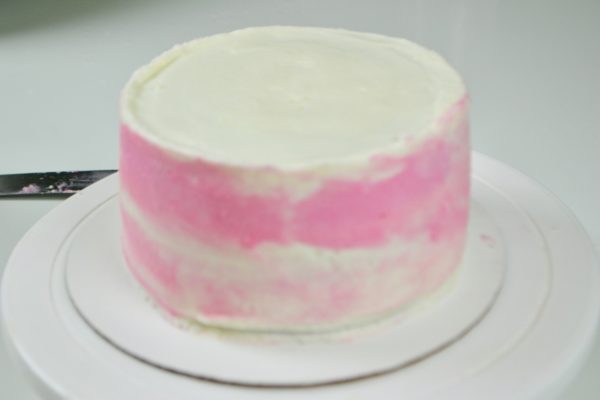 Garnish the cake
To create the chocolate drips on the sides of the cake, you will be making a chocolate ganache, let it sit until slightly thickened, then place in a squeeze bottle.  Drizzle the chocolate ganache over the top of edge of cake and allow to drip down sides of cake.
If you don't want to make your own chocolate, you can purchase drizzle on line.
Making the Chocolate Chards
Garnish the top of the cake with piped hot pink buttercream swirls and fill the center of cake with chocolate chards.  The chards are made with melted Ghirardelli Dark Chocolate Wafers.  On a piece of parchment paper, spread about 1/2 cup of melted chocolate thinly with a flat edged spatula.  While chocolate is wet, roll the parchment paper tightly over the chocolate.  Place the rolled chocolate into freezer until chocolate is set about 10 minutes.  Unroll parchment and chocolate chards will appear.  They are very fragile so make sure you don't pick em up until you are ready to decorate the cake top.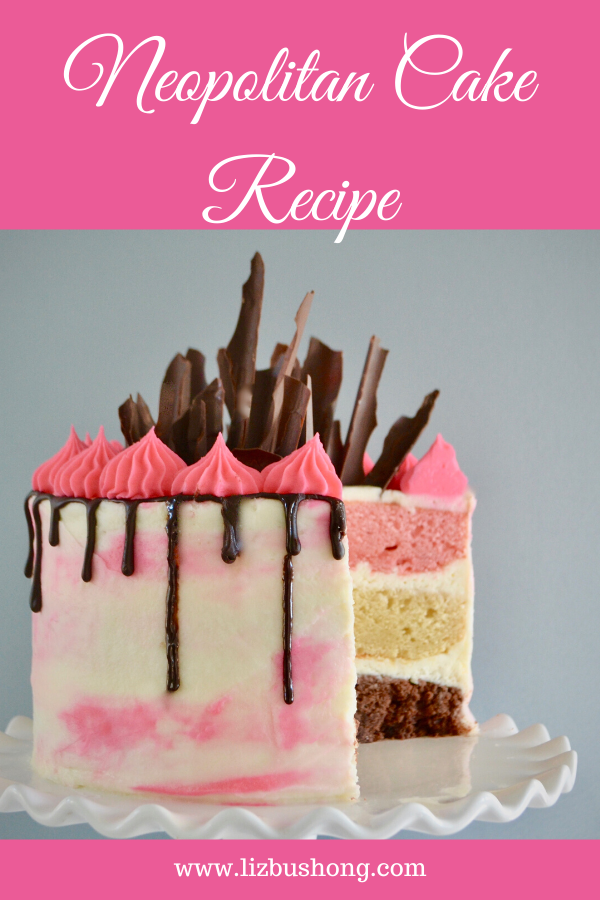 Recipe for Neopolitan Cake
Print
Neopolitan Cake Recipe
Vanilla cake batter is divided into thirds to make chocolate, vanilla, and strawberry flavors.  Buttercream frosting is marbled to frost stacked cake and garnished with hot pink piped buttercream swirls, chocolate drizzle and chocolate chards.
Author: Liz Bushong
Prep Time:

25 minutes

Cook Time:

25 minutes +60 minutes decorating

Total Time:

90+ minutes

Yield:

10

-

12

servings

1

x
Category:

Dessert- Cake

Method:

Baking

Cuisine:

American
Simple White Cake Batter
3 ¼ cups cake flour *or 3 cups all purpose flour
1½ tablespoons baking powder
½ teaspoon salt
1–1/8 cups whole milk
1 tablespoon clear vanilla extract
 or creme bouquet flavoring
12 tablespoons butter, room temperature
1– 1/4 cup granulated sugar
5 large egg whites
, room temperature
___________________________
Add in's:
2 tablespoons special dark cocoa, chocolate layer
2 tablespoons chocolate sauce, chocolate layer
2 teaspoons strawberry extract, strawberry layer
2 drops pink food coloring gel, strawberry layer
Buttercream Frosting
4 cups salted butter, room temperature, not margarine
4–6 cups confectioner's sugar, sifted
4 tablespoons whole milk
1 teaspoon clear vanilla or creme bouquet flavoring
2 drops hot pink food coloring gel for piping and marbling cake
Chocolate Drizzle
1/4 cup heavy whipping cream
1/2 cup dark chocolate melting wafers or semi sweet chocolate chips
squeeze bottle
Chocolate Chards
1/2 cup melted chocolate wafers or semi-sweet chocolate chips
parchment paper 5" x 8″
Instructions
Cake Batter
Preheat the oven to 350 degrees.
Grease with cooking spray 3-8-inch round cake pans, and line the bottoms with parchment. Lightly spray parchment rounds with cooking spray.
Sift the flour, baking powder and salt into a large bowl. Set aside.
Combine milk and vanilla.
Beat butter with a hand or stand mixer on medium speed until smooth. With the mixer running, gradually add the sugar and beat until the mixture is light and fluffy, about 3 minutes.
Add the flour mixture in 3 additions, alternating with the whole milk. Begin and end with the flour mixture. Beat until just combined. Do not over- mix cake batter.
Beat the room temperature egg whites in a clean* mixer bowl on medium speed until stiff peaks form, about 5 minutes.
Gently fold the egg whites into the batter with rubber spatula in three additions.
Place one cup of batter in 3 separate bowls until batter is evenly divided among the 3 bowls. Tint one bowl of batter with pink food coloring gel for strawberry layer, one bowl of batter with 2 tablespoons special dark cocoa and 2 tablespoons chocolate sauce for chocolate layer and remaining bowl remains plain batter for vanilla layer.
Spread the batter into the 3 prepared pans and bake for 18 to 20 minutes. Let the layers cool completely on a wire rack. Run a knife around the edges of the cakes and remove from pans. After cooling. Wrap and freeze if desired up to 30 days.  I usually will wrap and freeze 20 minutes to firm up cake before frosting.
Buttercream Frosting
In large mixing bowl with stand mixer whip softened butter for 5 minutes.
Gradually add confectioner's sugar, whipping until smooth.
Add extract and milk, whipping buttercream util fluffy and smooth.
Separate 2 cups of frosting and tint with 2 drops of hot pink food coloring gel. Stir to blend. Place tinted frosting in disposable piping bag fitted with large round tip, set aside.
Place cake on lazy Susan so you can spin cake around while frosting
Cake Frosting and Assembly
Place dollop of frosting on an 8" round cake board and position first layer. With a large round tip fitted on disposable piping bag, fill with buttercream frosting. Frost cake side and on top of the first layer, repeat with second and third layer.
Using off set spatula, remove excess frosting as this is your crumb coat. Refrigerate cake until set.
Adding final frosting using a piping bag to frost around perimeter of stacked cake. Using a large metal stiff edge off set spatula, remove excess frosting making sure you keep the spatula straight to get clean frosting lines. Have a glass of warm water handy to dip your spatula in to warm that will help smooth your frosting. Be sure to smooth the top of the cake and create a sharp edge around cake rim.
How to Marble Frosting 
Fit end of disposable piping bag with large round tip and fill bag with pink frosting. Pipe large circles randomly on sides of cake. With off set spatula, gently smear the pink frosting  dots around the perimeter of cake blending with the base buttercream.  Reserve hot pink frosting to pipe on top of cake using 6B tip.
Make Chocolate Ganache/Sauce for Drizzle
Melt ¼ cup heavy whipping cream in microwave safe bowl, add ½ cup dark chocolate melting wafers or chocolate chips. Stir to thicken. Allow to cool slightly then pour into squeeze bottle. Carefully squeeze chocolate on top edge of cake so it will drip down the sides at different levels. If chocolate is too thick, place in microwave 10 seconds to soften.
Making Chocolate Chards
Melt dark chocolate wafers or chocolate chips in microwave at 10-second intervals until melted and smooth. On 5" x 8" piece of parchment paper, spread melted chocolate on paper in thin layer. Roll one end of parchment with chocolate like a jellyroll. Place parchment roll in freezer to harden 15 minutes. When ready to serve cake, unroll chocolate log and pick up chards to position on top of cake.
Final Garnish
With reserved  hot pink frosting  pipe swirls around perimeter top of cake.  Insert Chocolate Chards in center of cake.  Serve immediately.
Notes
*Cake Flour will make a softer cake texture.
*Clean mixing bowl with white vinegar to rid of grease before whipping room temperature egg whites.
*If you crumble too many chards, remelt chocolate and smooth on parchment in a thicker layer, roll and freeze.
Recipe adapted from Martha Stewart, and Cake Blog.
Keywords: Neopolitan cake recipe
Enjoy this cake.  Its a long recipe so plan ahead when making.  It's worth it.  If I had to change one thing, I would use a softer pink for marbling the sides of the cake.  xo Liz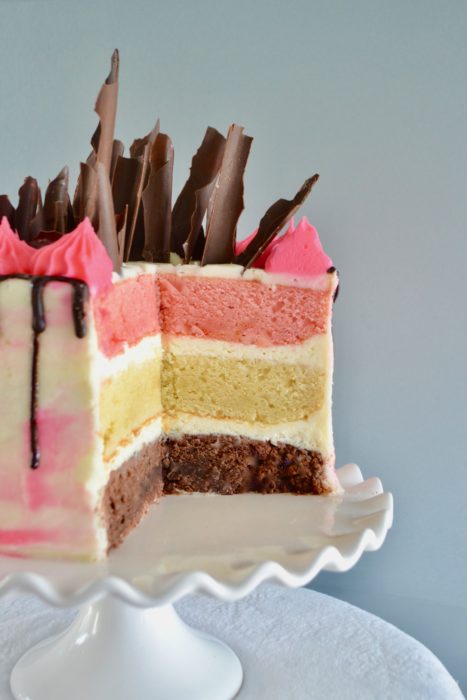 Other Creative Ideas you might like to try: