Need a quick and fun Valentine Dessert Idea for Valentines Day? Create a Valentine Cakes and Candies Dessert Board. Desserts begin with purchasing your favorite cakes and candies then arranging them on a wooden platter. Strawberry Linzer sandwich cookies add a touch of home made to your dessert platter. A Valentine Dessert Board will be a sweet ending to a wonderful dinner party.

What kind of Cakes and Candies?
Sweet candies like M & M's, White Cheesecake flavors and Valentine Peanut M & M's. Smash Mallow® strawberries and cream marshmallows, Pirouline Dark Chocolate creme filled wavers, Hostess Valentine Ding Dongs and Little Debbie Be my Valentine Snack Cake, Russel Stover Carmel Hearts, and Ghirardelli Dark Chocolate Truffles.
Check out Daytime Tri- Cities Video by taping on the highlighted link… showing you how to put it together.
How to Make the Dessert Board- see video below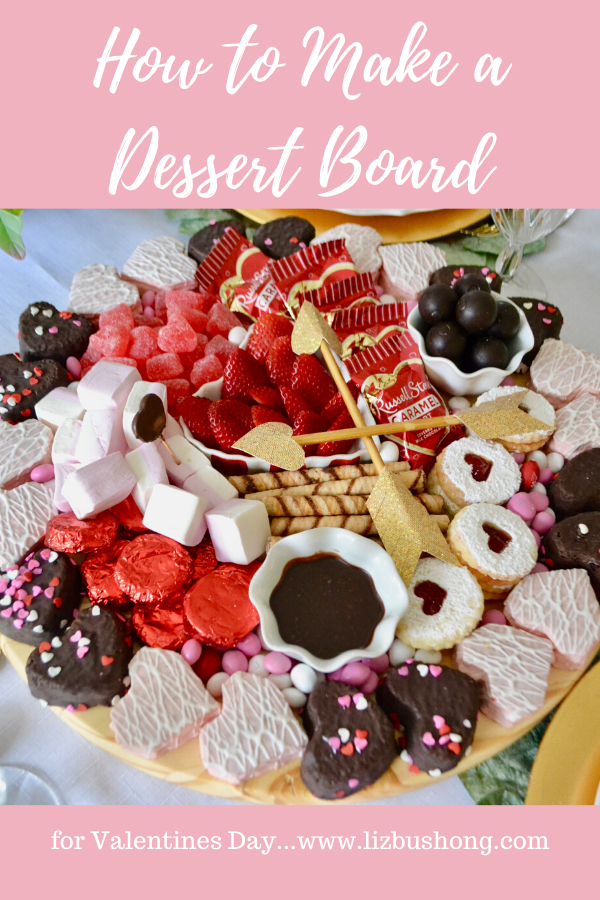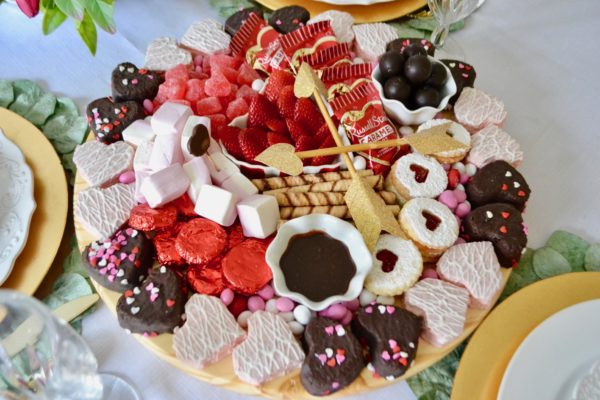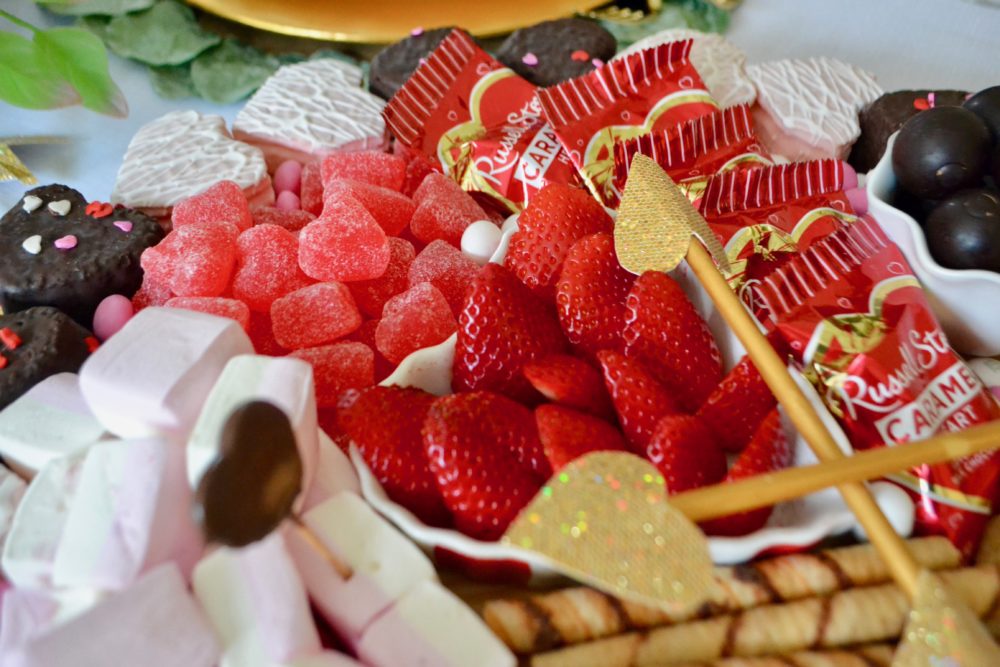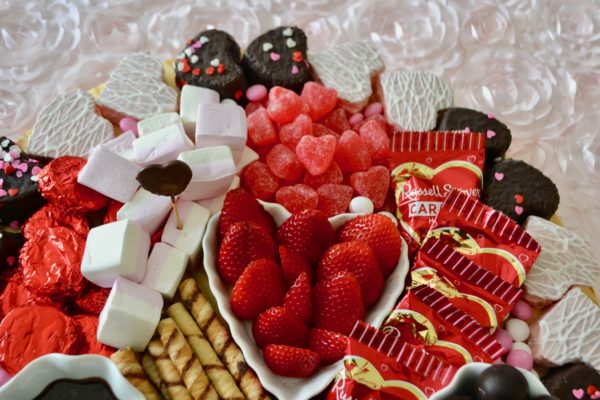 Fresh strawberries, strawberries and cream marshmallows, Russell Stover caramel hearts, cookie sticks, cute little heart cakes that surround the board. Fill in empty spaces with Valentine M & M's.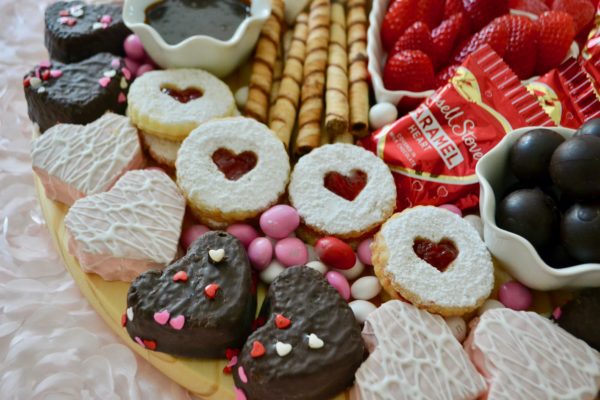 The heart shaped confectioner sugar coated cookies are Strawberry Linzer Cookies. A buttery sandwich cookie with the the top cut into the shape of a heart. Get recipe here.
Save the heart dough cut outs for you can pick them with a toothpick, cover pick with alum. foil and bake. After cooling the cookie pics dip in melted chocolate coating. Use these as dipping tools for the melted ganache on the tray. See heart pick on marshmallow.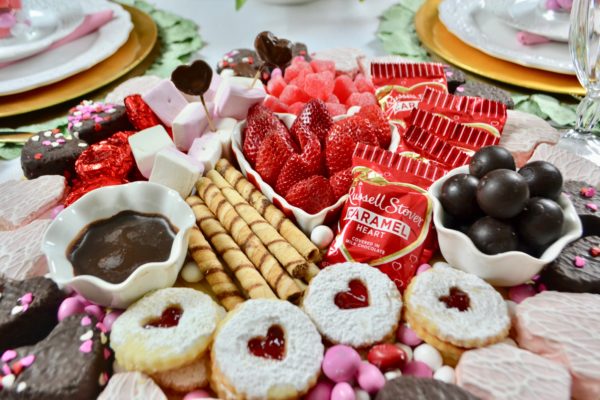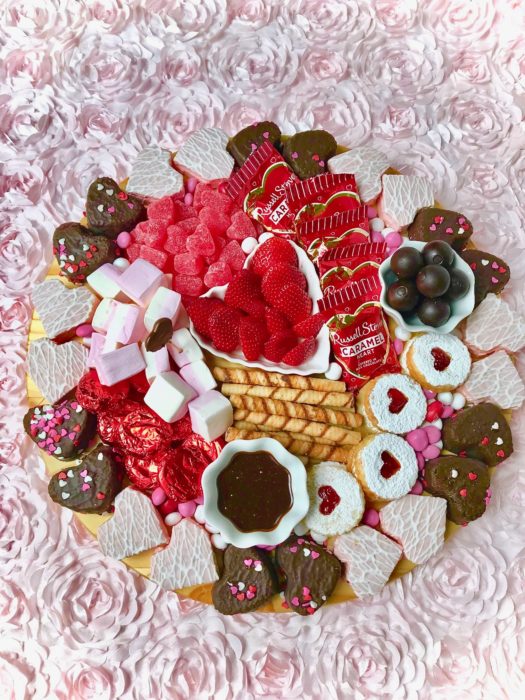 Last by not least, the board is round and can be found at Hobby Lobby. After sanding both sides and coating with Butcher Block Conditioner it was ready to deck out with goodies. Not only will I have this for Valentines Day and other Holiday trays the board will make a lovely cheese and meat tray or charcuterie. See how to make a Charcuterie board here.
Other Ideas You Might Like to Try: