Create a beautiful Black, Gold and White table to usher in the New Year!
Ring in the New Year with black, gold and white color scheme. These easy ideas will dazzle you and your guests.  Even though 2017 is in the past, take these ideas and run with it. Ideas such as lining the table center with small 4 x 4″ mirrors, use gold and white polka a dot wrapping paper from Christmas to create a table runner, line trays and ice bucket, gold stick on dots for a festive table covering and more.  Super easy ideas you can create for the holiday.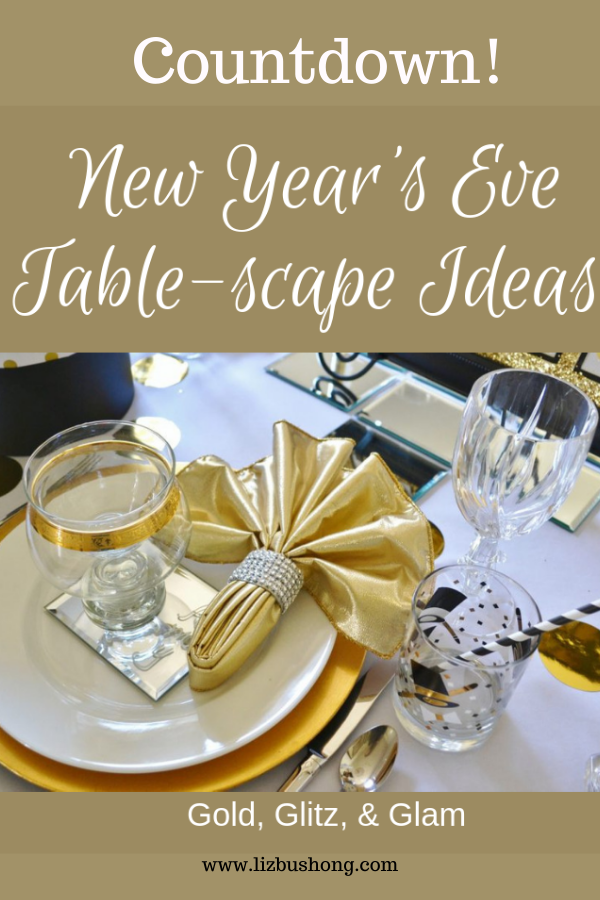 How to Make the Table Centerpiece
I found a black photo collage with 4 sections horizontally that I thought would make a statement for the new year. Taking the photo frame apart and backing the base with gold and white wrapping paper made a great background for the cardboard numbers.  Using a plate easel helped elevate the centerpiece. On the backside of the signage was gold and white polka dot wrapping paper.  This sign would be great to use each year in different areas of your home.  A buffet table or entry table could be possible next year grand placements.
It's all About the New Year…
Simple details make this table festive. Gold glitter was also used on white candles. Even though the signage says 2017, you can change the numbers to reflect the current new year. 
Whether you purchase new candles or use some you had for Christmas, band the candles with painters tape and brush a light coat of Elmer's glue on the untaped sections then drizzle with gold glitter.  Once glitter and glue is dried remove the  tape to reveal the cute bands of white and gold.  Very festive and fun to make. Besides sometimes it can be hard to find banded candles to fit your color scheme.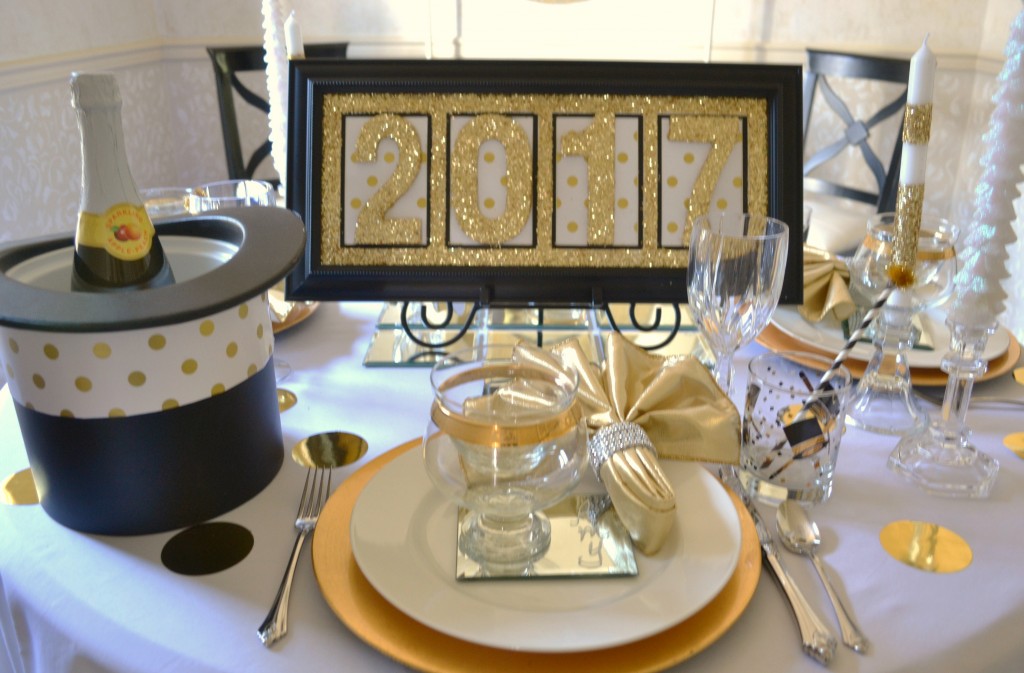 What was the Table Inspiration? 
So glad you asked… it was this top hat cocktail glass.  I had purchased these a few years ago and thought they would make a great statement for a new years eve or other celebrated event.  The gold and black confetti sprinkled in with the classic black and gold top hat will really help you ring in the New Year, in addition to providing great table decor inspiration.
Speaking of top hats, I just happened to have a top hat ice bucket that I banded with gold and white wrapping paper.  I also added a black and white paper straw with a gold mini pom on one end to use as a stir stick, which carried out the gold theme.  It is amazing what you can find at Christmas to inspire a festive New Year's eve dinner party.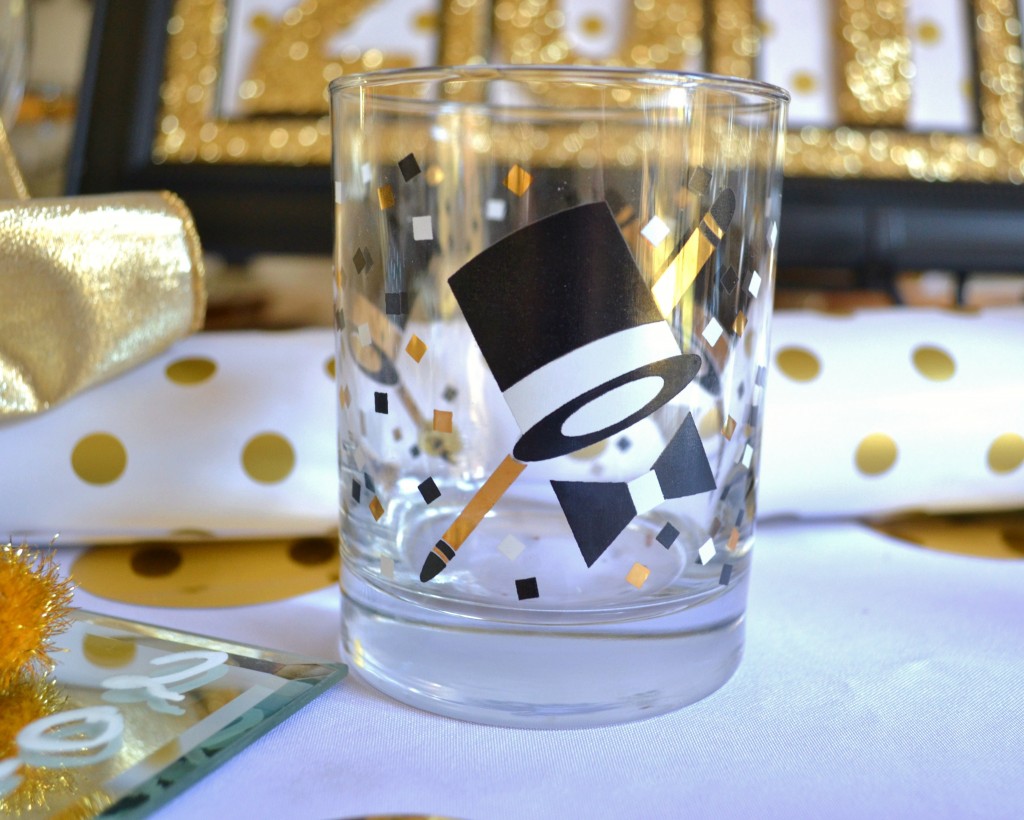 Another great addition to the table scape is the lined tray below. This tray is actually a shadow box turned into a tray.  The box already had the sparkling faux gems around the edges and the glass, so all I did was line the inside with the gold and white wrapping paper. Making a tray isn't hard, if you find a large picture frame with the glass and flat frame you can add cabinet knobs to the sides to make it look like a try. Be sure to replace the photo inside to your party scheme.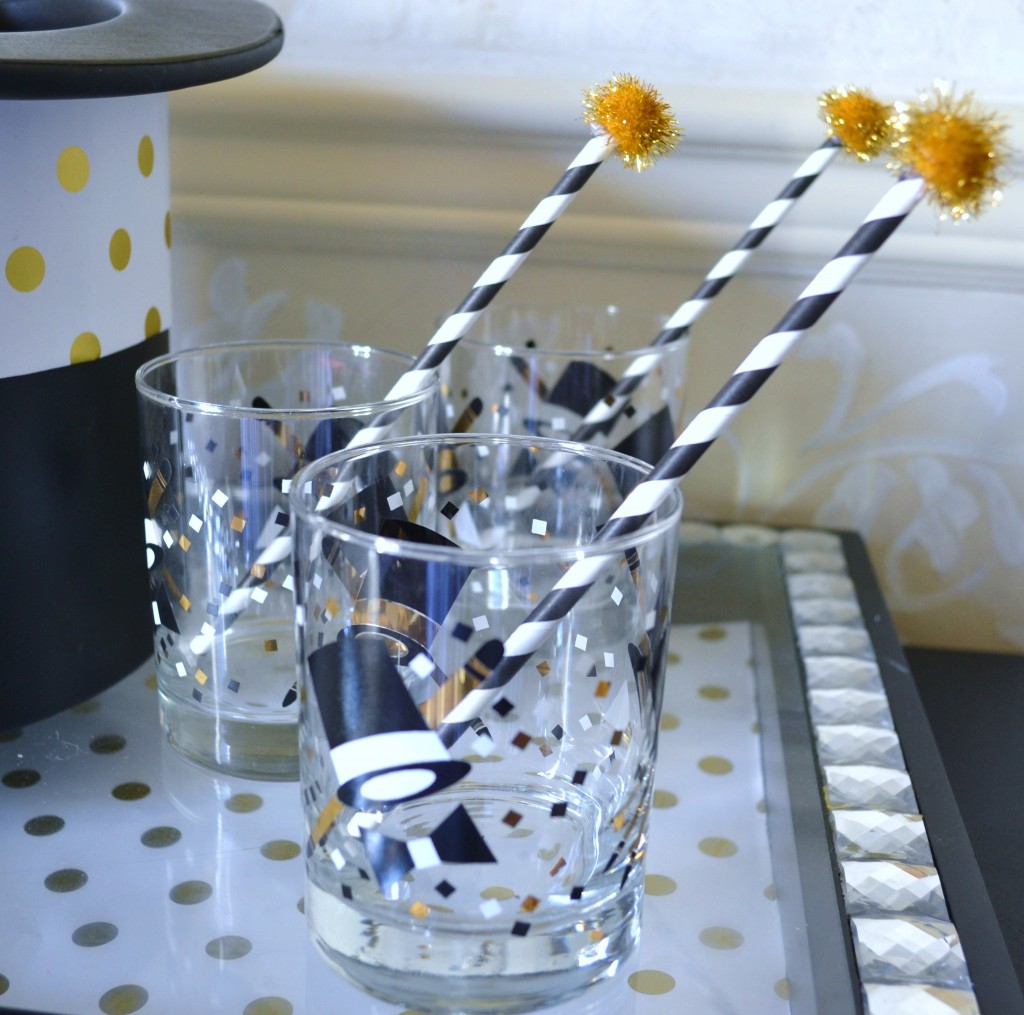 Let's Talk About the Table Cloth
Not to be outdone with the gold and white wrapping paper, I found these large gold pops at Lowes and thought they would be great for creating a gold and white tablecloth.  The white table cloth was linen and the gold dots were added at random locations. They did not damage the tablecloth and were easily removed after the party.  If you can't find a gold and white tablecloth make one with a solid white table linen, add stickers. It's only for a night and everyone will think you are brilliant.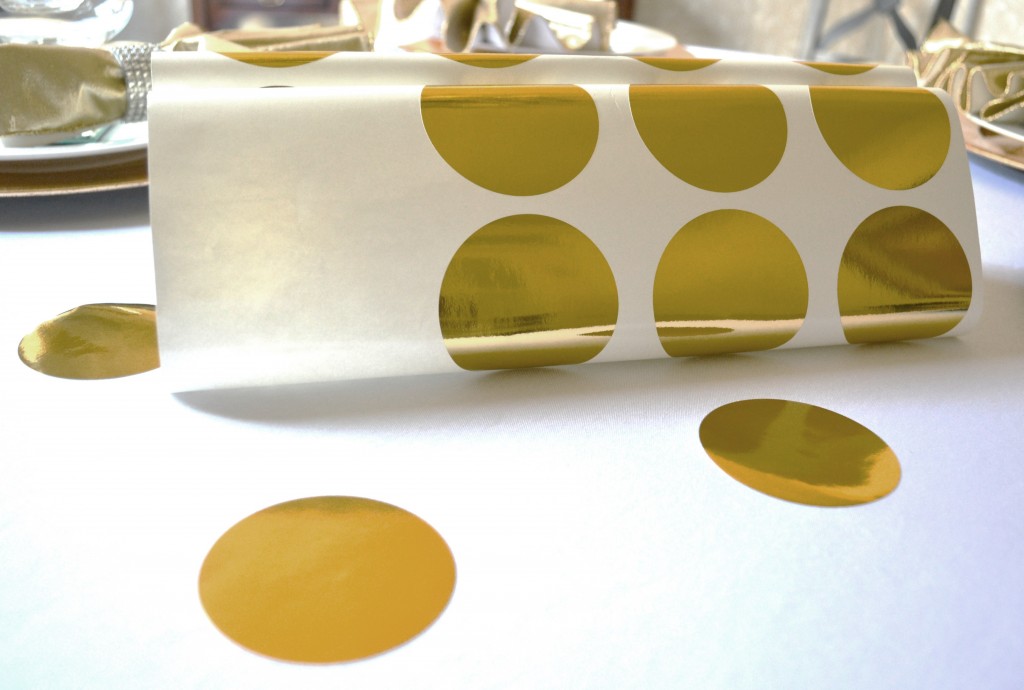 Another detail that you can create is placing the new year date on a mirror at each place setting.  The chalk paint pen helped with the lettering and was easily removed after the party with alcohol.  You could also write the guests name on the mirror as another option.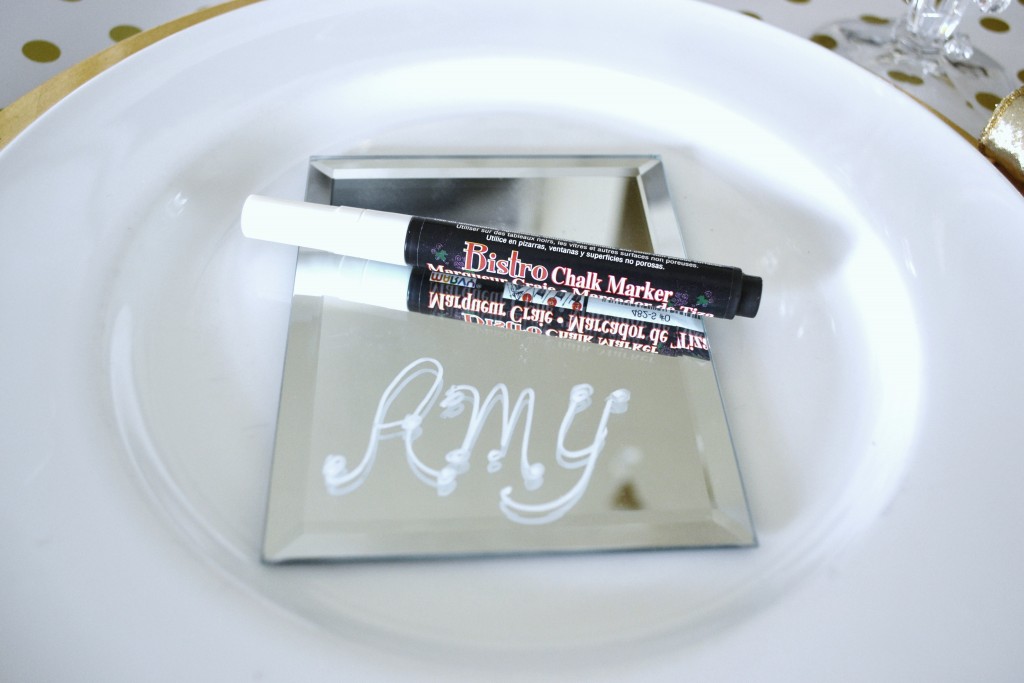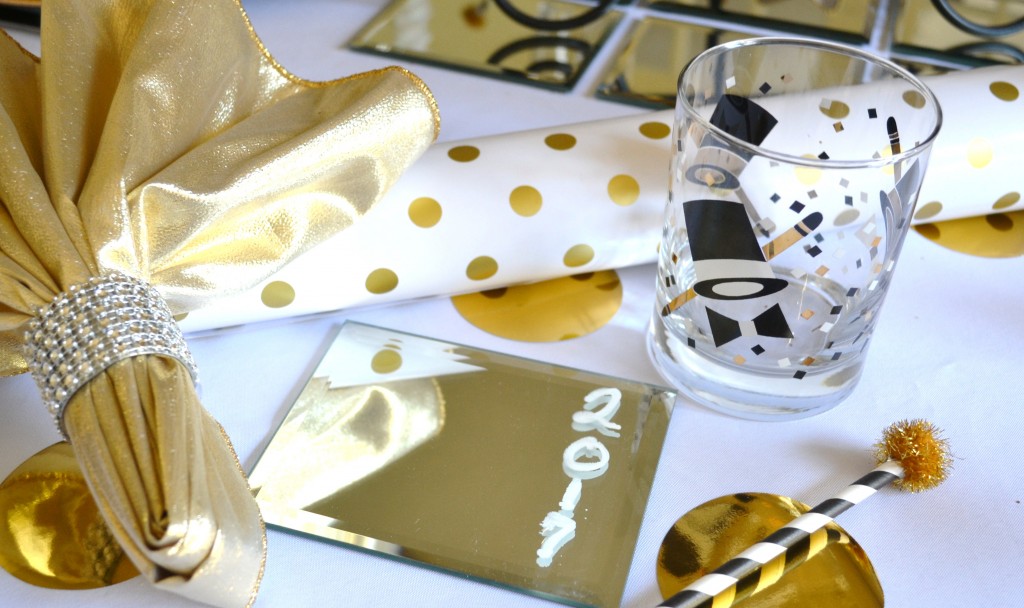 Did you See the Sparkling Band of Rhinestones on the Napkin Ring?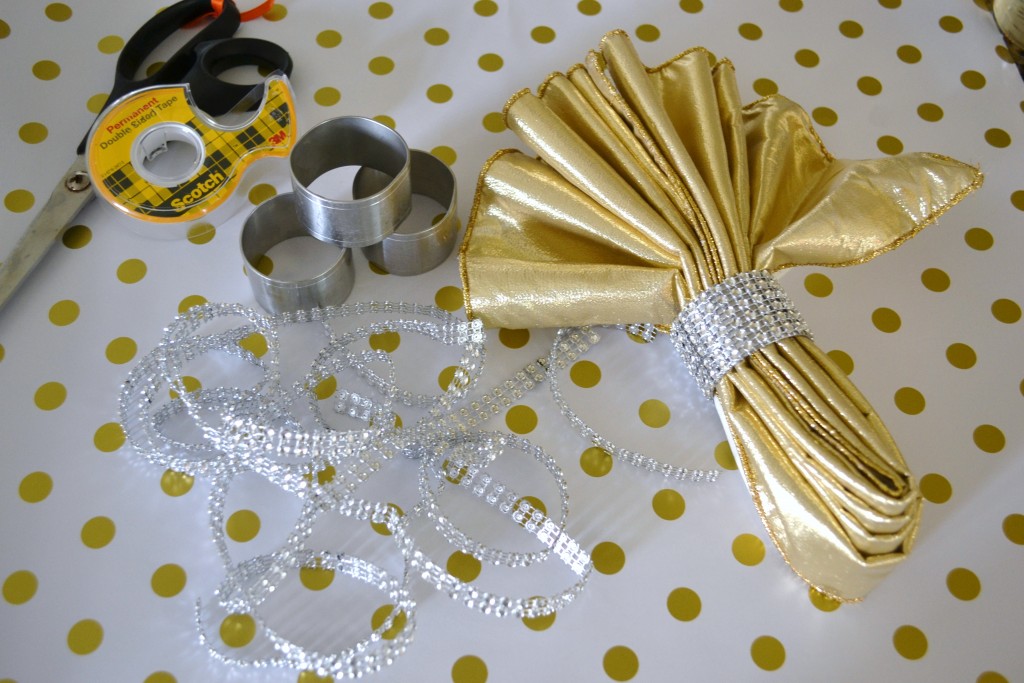 Double sided tape, metal napkin rings and rhinestone garland created the cutest napkins rings.  Gold lame napkins were folded in accordion pleats and folded in half to create this fanned out fanciful napkin.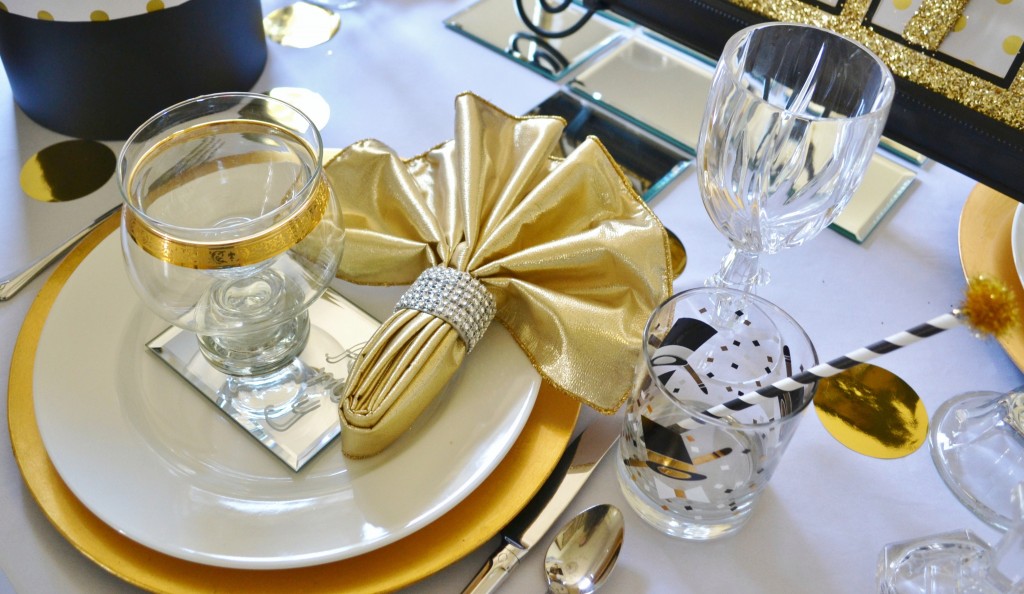 Make your New Year's Eve party special with all these ideas.  Let me know if you create a beautiful table.  Would love to see your ideas.   Here's a video from WJHL Daytime Tri-cities segment. 
Other Ideas You Might Like to Try: