Whether you need a dessert for Christmas or any holiday this White Chocolate Cream Cranberry Cupcake recipe is for you.  Cupcakes are made with a classic white cake and filled with fresh home-made cranberry filling. White chocolate cream cheese butter cream frosting decorates the top of the cupcakes.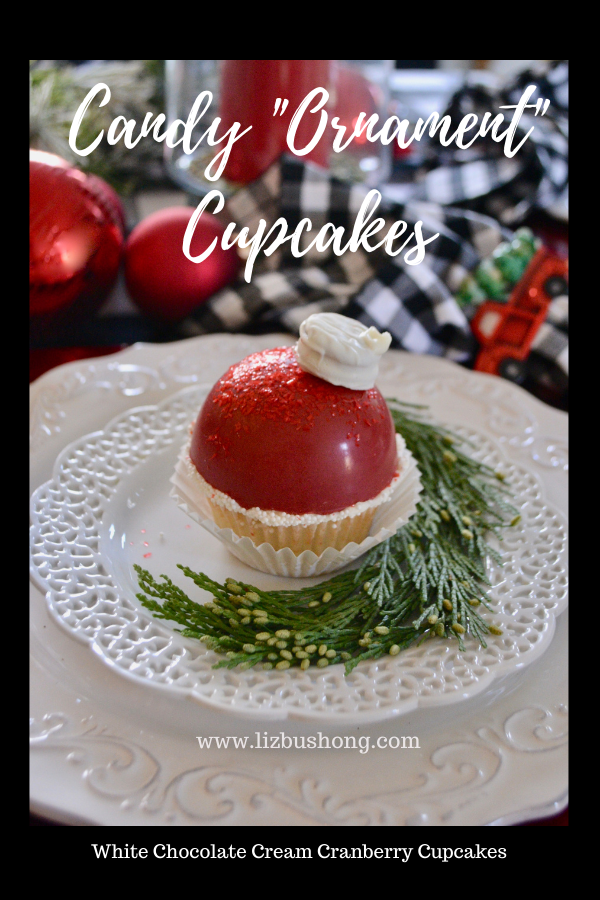 Because it is Christmas, red candy melts were formed in a half sphere silicone mold to shape a ball ornament. Decorated with cake sparkles adds a little touch of shimmer and shine while a dipped mini nutter butter cookie mimics the crown.  These cupcakes turned out so cute and were fun to make.

Let's Make Cupcakes!
I used a classic white cake mix with egg whites, oil and water to make the cupcakes with a teaspoon of orange extract.  Orange and cranberry go well together so this made the cupcakes pop with flavor.
Making Cranberry Filling
While the cakes were cooling,  fresh cranberries and sugar were cooked to a thick compote.  Once the compote was cooled it was added to whipped cream cheese for the filling of the cupcakes.
Placing the filling in a piping bag with no tip, the filling was piped in the center of the baked cupcake.  Using the round end of a piping tip cut the center opening for filling the cupcake.

White Chocolate Butter Cream Frosting
White Chocolate can be a bit hard to melt, so I use Ghirardelli brand for smoothness and ease in melting the wafers.  Mixed with cream cheese, butter and white chocolate the confectioners sugar frosting is whipped to a creamy consistency.
Before putting frosting in a piping bag, spread the tops of the cupcakes with layer of frosting, spreading to the outer edge of cakes. This will help the candy ornament and sprinkles to stick to the top of the cupcake. 
At this point put frosting in piping bag with tip #1 M, pipe frosting on top of cupcakes.  You can sprinkle the frosting with Christmas sprinkles if desired, so when the ornament is opened you have colorful sprinkles.
Making the Candy Melt Ornament
These cupcakes would have been perfectly beautiful with sugared cranberries and rosemary sprig but I wanted something with a little bit of bling and fun. Having red ornaments on my Christmas table was enough to inspire me to create these red candy melt ornaments.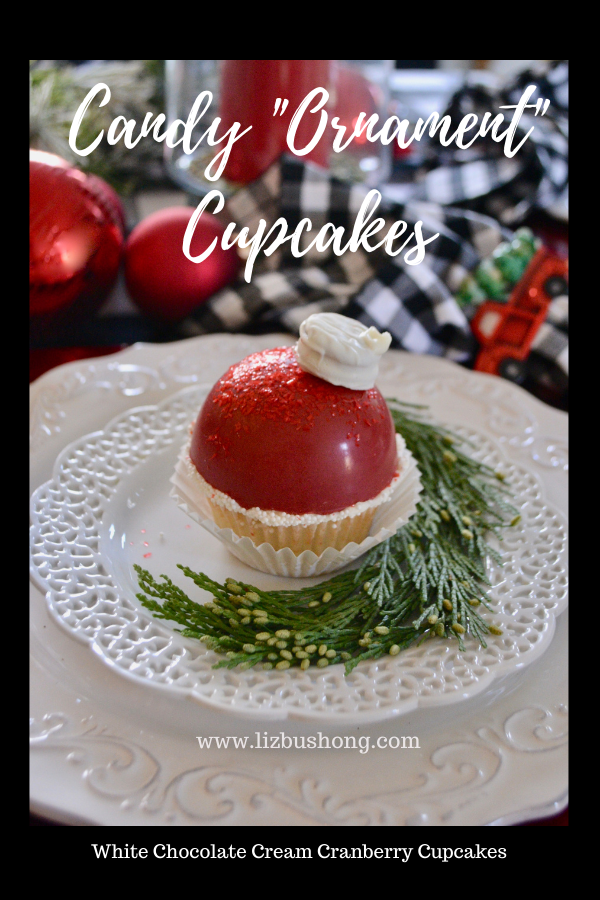 I used  a 1/2″ and  2″ half round sphere silicone mold to shape the round ornaments.  Melting red candy wafers in microwave at 20 second intervals until melted and smooth made the molding easy.  With small paint brush, the melted candy was brushed on the inside of each mold.  Allow to harden in refrigerator then release from mold.  See more instruction here.

Tip:  Before removing candy from the mold, let it warm up a bit or the dome will crack.

Trim the edges carefully any pools of candy with sharp tip of knife. Wearing plastic gloves will keep chocolate from melting.
Putting It All Together
Cupcakes are baked and cooled.  Check
Filling is made and cooled, filled inside cupcakes. Check
Frosting is made and piped on cupcakes. Check
Candy Ornament is done. Check
Dip mini cookies in white chocolate. Check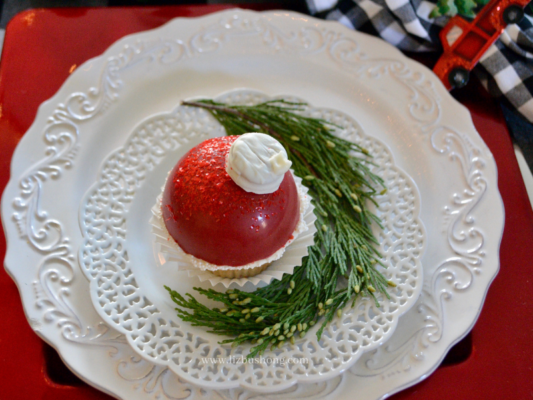 Place candy ornament on top of frosted and filled cupcakes, pressing gently into cupcake. Frosting  with sprinkles should come up over the rim of the ornament.  With dab of frosting, attach mini cookie onto side of candy ball ornament.
Enjoy!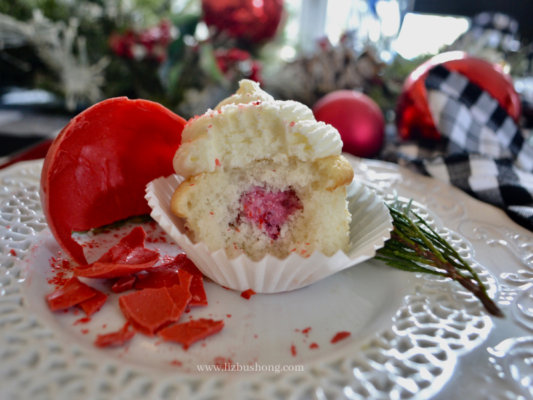 TADA!!  Hope you will make these cupcakes and ornaments.  So fun for Christmas Entertaining.  Make mini cupcakes with 1/2″ round half sphere mold ornaments for large gatherings and cookie trays.
Tip:  Cupcakes need to be refrigerated due to the cranberry filling. Cupcakes will be good 2-3 days.
Recipe is long but worth it
Print
White Chocolate Cream Cranberry Cupcakes
Vanilla Cupcakes filled with cranberry cream cheese, frosted with white chocolate buttercream frosting.  A Candy Melt Ornament tops the cupcake for Christmas Ball.
Author: Liz Bushong
Prep Time:

2 hours

Cook Time:

20-25 minutes

Total Time:

2-1/2 hours

Yield:

24

standard cupcakes

1

x
Category:

Dessert- Christmas

Method:

Baking-Decorating

Cuisine:

American
Standard Size Cupcakes
1– Classic Duncan Hines White Cake Mix
1– 3 ounce package white chocolate instant pudding mix-dry
3 egg whites
1/2 cup vegetable oil
1–1/3 cups water
1 teaspoon orange extract
Cranberry Filling
1 cup fresh cranberries
1/2 cup sugar
2 tablespoons water
1–8 ounce package cream cheese, softened
1/2 teaspoon orange extract
White Chocolate Buttercream Frosting
1/2 cup Ghirardelli White Chocolate chips or melting wafers
1–1/4 sticks salted butter, softened
3– 4 cups confectioner's sugar
2–4 tablespoons heavy whipping cream or as needed
Candy Ornaments
2–3 cups melted red candy melts
3/4 cup tiny white nonpareils
24 Mini Nutter Butter Cookies
1 cup white chocolate melting wafers or chips
Instructions
Preheat oven to 350. Prepare cupcake pan with liners. Set aside.
Prepare cranberry filling:  In small saucepan, add cranberries, sugar and water, stir until sugar and cranberries pop and mixture thickens. Remove from heat and chill 15 minutes.  In mixing bowl, add cranberry compote, cream cheese, and orange extract, beat until smooth.  Fill pastry bag with no tip, with cranberry cream cheese mixture. Set aside.
Prepare cupcakes; In the bowl of an electric mixer fitted with the paddle attachment, mix cake mix, pudding mix, oil, eggs, water and extract until blended about 2 minutes.Fill cupcake liners 3/4 full.  Bake at 350 degrees for 20-25 minutes.  Remove from oven and cool completely.
Prepare buttercream frosting; melt white chocolate wafers in microwave at 25 second intervals until melted and smooth. In the bowl of an electric mixer fitted with the paddle attachment, add softened butter and melted white chocolate. Beat until smooth, add confectioners sugar, and cream. Set aside until ready to assemble cupcakes.
Prepare Candy Ornaments; melt red candy melts in microwave at 25 second intervals until melted and smooth.  Pour 2 teaspoons in  2″ half sphere round silicone mold, with paint brush, brush melts up the sides of mold. Use thin coats at first and chill until set. Repeat process 2-3 times to get even coat. Chill 10 minutes or longer, remove from refrigerator and wait 2 minutes before removing shells from mold.  Set aside shells for assembly.
Assembly:  Cut small center out of cupcakes using a round 1/2″ piping tip or other small round cutter removing the center cake from cupcake. Do not cut all the way through the cupcake.
Pipe cranberry filling in center of cupcakes level with top of cupcake.
Spread frosting in thin layer over cupcakes making sure you coat the outer rim of cupcakes. Dip cupcake in white nonpareils around the edge of the cupcakes. Place remaining frosting in piping bag fitted with tip 1M, pipe swirls over cupcake.  sprinkle with Christmas sprinkles if desired.
Place candy shell on top of cupcakes, gently press shell into frosting. Sprinkle with edible disco glitter dust.
Melt white candy melts in microwave 25 second intervals until melted and smooth, dip mini nutter butters in coating, coat entire cookie.  Place on wax paper to set. This is the cap on the ornament.
Attach frosting to set cookie on side of ornament.
Store cupcakes in refrigerator due to cranberry cream cheese filling for up to 2-3 days.
Notes
If the disco dust doesn't want to stick, brush light corn syrup over top of ornament then sprinkle with dust.  Mine stuck fine, as I didn't want it completely covered.
When serving the ornaments, place the cupcakes in fresh cupcake liners for cleaner presentation.
Other Ideas You Might Like to Try: