Fall is Pumpkin Cake Roll time!  Bake this lovely roulade early mid day and serve for dinner.  Pumpkin puree is mixed as a sponge cake with eggs, and flour poured into a half sheet baking pan, baked 15 minutes.  Warm cake is rolled on confectioner's sugar sprinkled tea towel.  After cooling, remove the tea towel and re-roll until ready to fill.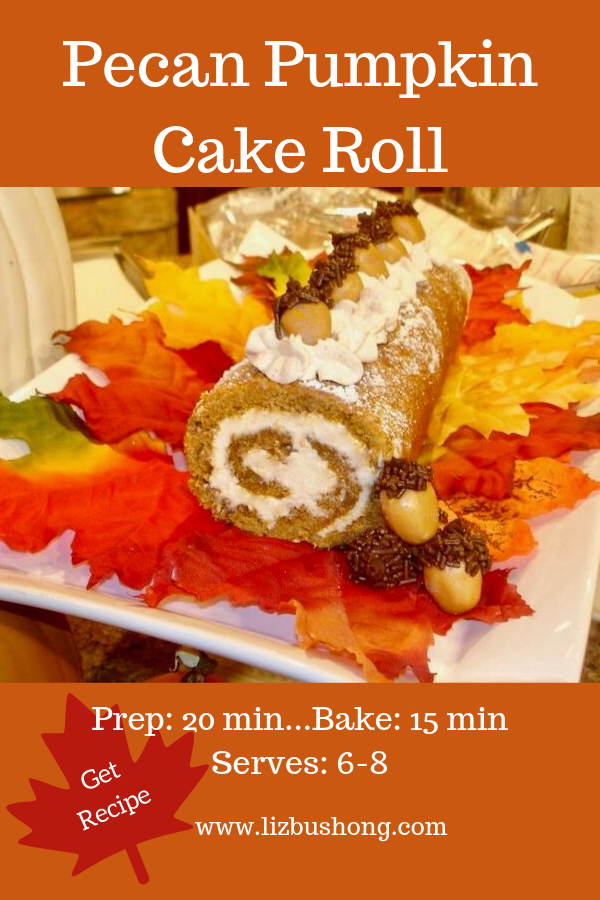 Meanwhile, mix cream cheese filling.  Unroll the cake and spread filling then roll the cake. Refrigerate until well chilled.   Don't be concerned if the unrolled cake has cracked, just keep the cake close together and fill, when rolling it will come together. 
Print
Pecan Pumpkin Cake Roll with Caramel Acorns
Infamous Libby's Pumpkin Cake Roll Recipe is made with pumpkin puree as a sponge cake, rolled and filled with Cream Cheese Filling.  It is easy to make and bake.  Garnish with caramel acorns and whipped cream.
Author: Liz Bushong
Prep Time:

30 minutes

Cook Time:

15 minutes + chill

Total Time:

45-60 minutes

Yield:

8

-

10

servings

1

x
Category:

Desserts-Fall

Method:

Baking

Cuisine:

American
3 eggs
1 cup sugar
1 teaspoon lemon juice
3/4 cup all purpose flour
1/2 teaspoon baking powder
1/4 teaspoon salt
3 1/2 teaspoons pumpkin pie spice
2/3 cup canned pumpkin-tested Libby's ®
1 cup chopped pecans, toasted optional
Filling:
1–8 ounce package cream cheese, softened
1 cup confectioner's sugar
4 teaspoons butter, softened
1/2 teaspoon vanilla
1/4 teaspoon pumpkin pie spice
Caramel Acorns
12-unwrapped packaged caramels -tested Kraft
1– can dark chocolate frosting
1/4 cup chocolate jimmies or toasted diced pecans
Instructions
Cake Roll:
Preheat oven to 375 degrees.  Line 15 1/2 " x10 1/2″ x 1″ baking pan with parchment paper.  Spray both sides of paper with cooking spray. Sprinkle chopped pecans over pan.
Sprinkle tea towel with confectioner's sugar, set aside.
Beat eggs in large mixing bowl on high speed until eggs are very thick and lemon colored about 5 minutes.
Gradually beat in sugar and lemon juice. Beat well.
Sift together flour, baking powder, salt and pumpkin pie spice.
On low speed, mix pumpkin and flour mixture gradually together. Beat just until batter is smooth.
Pour batter onto pecan lined baking sheet. Spread evenly without disturbing the pecans.  Bake at 375 for 12-15 minutes or until center is done.
Remove fro oven.  Immediately loosen edges of cake.  Flip cake on tea towel, remove parchment paper.
Roll cake from narrow end jelly roll style.  Let cool.  Unroll cake, remove tea towel.
* Fill with filling, spreading to 1/2 " of cake edges.  Re roll.
Keep refrigerated until ready to serve.  Sprinkle with confectioner's sugar before serving and garnish with fresh whipped cream/caramel acorns.
*Filling:  Mix all ingredients together until smooth with mixer.  Spread filling on cooled cake roll with in 1/2″ of cake edges.  Roll cake, wrap with plastic wrap and keep refrigerated until ready to serve.
Caramel Acorns:
Microwave 12- unwrapped caramels for 12 seconds in small microwave safe bowl.

Roll warm caramels into acorn shape pieces with lightly cooking sprayed hands.

Pipe or spread chocolate frosting on top of acorn caramel.

Dip frosted acorn in chocolate jimmies* or toasted diced pecans.
(* found in cake decorating or grocery stores)
Notes
Read entire recipe before starting and gather materials, prepare pan.
Preheat oven.
Use pumpkin puree not pumpkin pie filling.
Store caramel acorns at room temperature in covered container.
Keywords: Pumpkin Cake Roll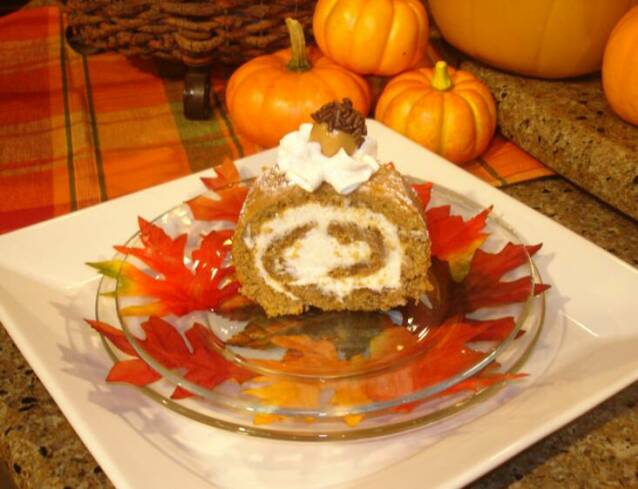 For presentation, insert silk fall leaves between 2 glass plates. Slice your cake roll into 1″ slices using a very sharp knife. With roll standing up, add a piped dollop of whipped cream using tip# 1M to the center of slice. Garnish with caramel acorns.
Other Ideas you might like to try: