It's Fall and pumpkin time! The Best Pumpkin Spice macron  will be one little cookie recipe you must bake. Sandwiched cookie shells filled with pumpkin spice buttercream frosting makes this cookie crisp on the outside and chewy inside. Every bite is creamy delicious especially with a cup of coffee or favorite hot tea.
Pumpkin Spice Macrons Recipe Below: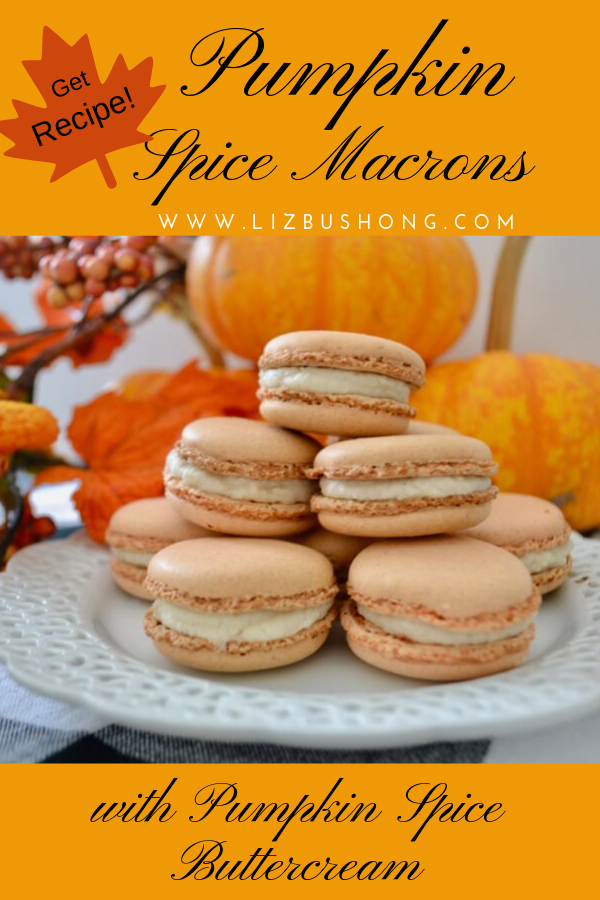 Foolproof Macrons …. use the Italian method.
To me it is foolproof and your cookies will always have the famous "feet".  Another reason is the weather.  Macrons can be finicky and if the weather is wet/humid your egg whites using the French method will not have the lift it should.  This has been my experience after many attempts at baking these wonderful delights.
What is the Italian Macron Method? 
Italian Macrons are made with hot sugar syrup slowly whipped into egg whites to achieve its meringue. A candy thermometer  or a Thermapen to monitor the temperature of the sugar syrup is necessary in making these meringues.  The meringue beats up beautifully and will hold the almond base to form these cookies.
Helpful tips for Making Macrons
1.Egg whites should be room temperature before making macrons.
2.Process almond flour and confectioner's sugar three times for smooth cookie tops.
3.Use a piping bag with 1/2″ round tip opening for piping macrons on parchment paper.
4.Create a pattern on parchment paper for cookie shape.
5.Preheat convection oven for best results and middle rack in oven.
6.Bake 9 minutes and do not open oven door. Let cookies cool before filling.
Get Recipe Here:
Print
Best Pumpkin Spice Macrons
Pumpkin Pie Spice is the main pumpkin ingredient in this cookie. Using the Italian Method makes these macrons fool proof.  Pumpkin Spice Buttercream Frosting fills these delightful cookies.
Author: Liz Bushong
Prep Time:

25 minutes

Cook Time:

9 minutes

Total Time:

60 + minutes

Yield:

30

shells or

15

cookies

1

x
Category:

Dessert- Cookies

Method:

Baking

Cuisine:

Italian
1 –3/4 cup almond flour-sifted
1–3/4 cup confectioner's sugar, sifted
3-Extra large egg whites, room temperature
2– Extra large egg whites, room temperature- for well*
1 – cup + 3 tablespoons granulated sugar
2/3 cup water
1 tablespoon pumpkin pie spice
1 teaspoon vanilla extract
2 drops orange food gel, 1 drop yellow, 1 drop red
Pumpkin Spice Buttercream Frosting
1/4 cup butter, softened
3 cups confectioners' sugar
1 teaspoon ground Pumpkin Pie Spice
1 teaspoon clear vanilla or creme bouquet
1/4 teaspoon salt
3 teaspoon heavy whipping cream
Instructions
Preheat oven to 350 F convection or 400F standard oven.
Trace circles onto baking parchment paper desired size- 1-1/4″ or use template
Sift almond flour and confectioners sugar three times to remove lumps or nut pieces and place in large bowl,  make a well * in the flour mixture and add 2 egg whites and flavoring combine with wooden spoon.  Add food gel and blend to mix.  Mixture will be thick and look gritty.
In large stand mixing bowl with whisk attachment, add 3 egg whites and beat on low speed until eggs are frothy.
In large saucepan mix water and sugar over medium-high heat until the syrup reaches 205 degrees.  Let syrup continue to cook while you whip the egg whites.
Add a pinch of sugar to the egg whites and beat until soft peaks form. Check on syrup, when it reaches 248 F, remove pan from heat.
Gently pour the hot syrup down the side of mixing bowl while whipping egg whites on low speed.  Meringue will deflate, increase speed to medium and whip for 5 minutes or until the whites hold stiff glossy peaks.  Meringue should have cooled down even though the bowl may be warm, continue to beat whites until cool.
Fold half of the almond mixture into the meringue a little at the time, continue folding, add remaining almond mixture, continue folding meringue with flour until mixture maintains a ribbon shape when batter is lifted from the spatula or folding spoon.  Ribbon means the batter will fold over on itself with a steady stream not to thick and not to thin.  It should have movement but not thin.  It's better to have a thicker batter than too thin. (If you stir the mixture and not fold, you will ruin the batter and if you over- fold the batter it will be too thin to make perfect macarons.) 
Transfer meringue into pastry bag with 1/2″ tip.  Hold bag upright and pipe in the center of the macaron template.
After piping all macarons, tap or bang the baking pan a couple of times on your counter to remove air bubbles/pockets.  Hopefully any dimples or peaks will level out.  Don't use your finger with water for during baking this area will rise and buckle.
Bake 9 minutes for convection oven at 350 or bake 9-12 minutes for standard oven at 325. Tops of macarons should be shiny and crisp.  Set pan on cooling rack to cool.
Pipe remaining meringues and bake then cool completely.
Match shells as to sandwich together to get same size lined up.  Fill with Pumpkin Spice Buttercream Frosting.  Wrap and freeze for up to 2 weeks if desired.  Thaw before serving.
Buttercream Frosting:
Beat softened butter in mixing bowl with paddle beater until smooth and creamy. Add confectioner's sugar, spice, vanilla and cream.  Whip until smooth and creamy.  Add additional cream if necessary.
NOTES
You will need a candy thermometer or a Thermapen, pastry bags with 1/2″ round plain tip for meringues and 3/8″ tip for filling.
Bake in convection oven if possible and on a shiny baking sheet. Standard oven may cause specks in the tops of the macaron, sifting flours three times will also help avoid the speckles.
If using a standard oven after baking first batch, preheat the oven again to 350.
Notes
Macrons are better a day or two after you bake them and store in freezer for best results.
Keywords: Pumpkin Spice Macrons
Other Ideas you might like to try: Click on photo for post/recipe