Do you love Red Velvet Cakes? You will love this Pink Velvet Valentine Roulade. This cake roll aka roulade features tiny white hearts baked in a fuchsia sponge and brushed with strawberry puree. Fluffy Cream Cheese Whipped Cream fills the inside of this cute cake roll. The tiny hearts adorn the cake making this a decorated cake. No need to frost or decorate unless you want to. Made from scratch roulade and filling will delight your special loves this Valentines Day.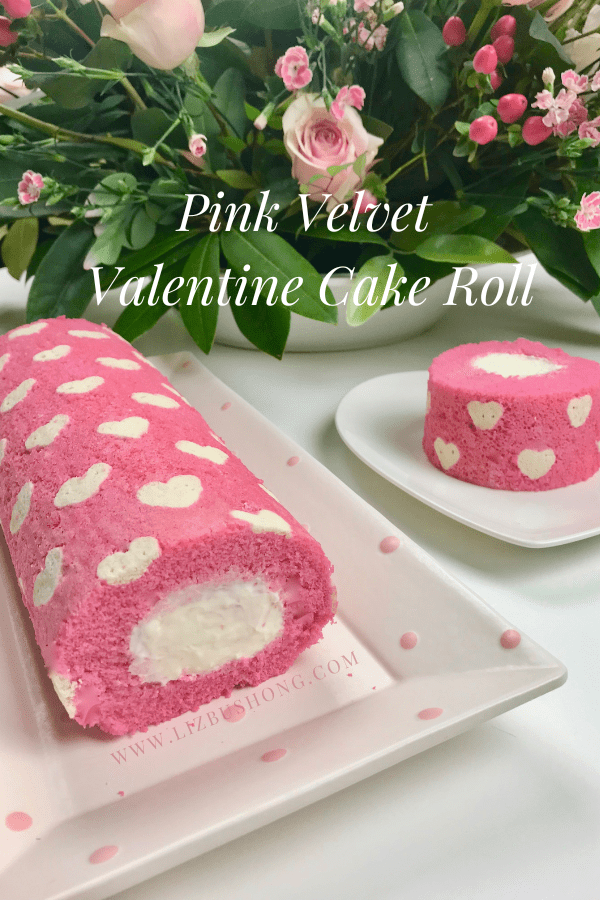 What Makes this Pink Velvet Roulade Special ?
The sponge! Red Velvet cake features buttermilk and cider vinegar as leaving so does this cake. Those ingredients make the sponge tender in texture but firm to hold the roll.The only ingredient that is not added to this pink velvet roulade is cocoa powder which is normally in the red velvet recipe. You don't miss the cocoa but if you want a little bit of chocolate add a chocolate heart as a garnish. For the strawberry flavor I added strawberry extract.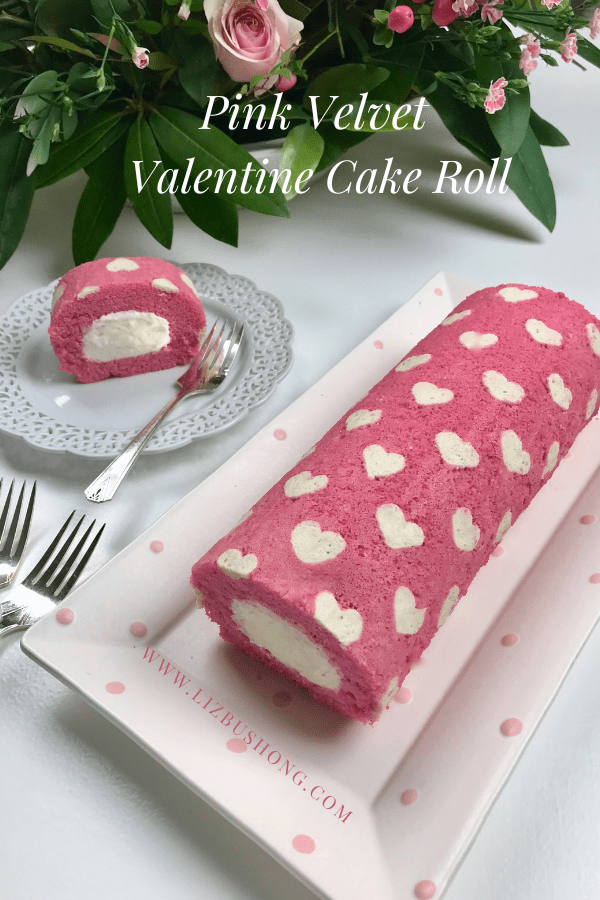 How to Make Pink Velvet Roulade
Begin this recipe with creating the heart decor that is baked in the cake. For this technique you will need a pattern for the (hearts, download here) piping bag with tip # 3, two 10 x 15 sheet pans. One for baking the cake and one for flipping the baked cake. You will also need to print two copies of the heart pattern and piece it together to fit in your sheet pan. Position the pattern on one baking sheet, place a parchment paper over the pattern. With vegetable oil Lightly grease the parchment paper before piping hearts but do not grease the hearts. You will be piping on the parchment paper. The top parchment paper needs to extend over the sides of the sheet pan. This will make the cake easier to release from sheet pan as well as pick up if you forget to flip the cake a second time. After piping the design with the paste, remove the underlying pattern. Hearts must be frozen before adding cake batter.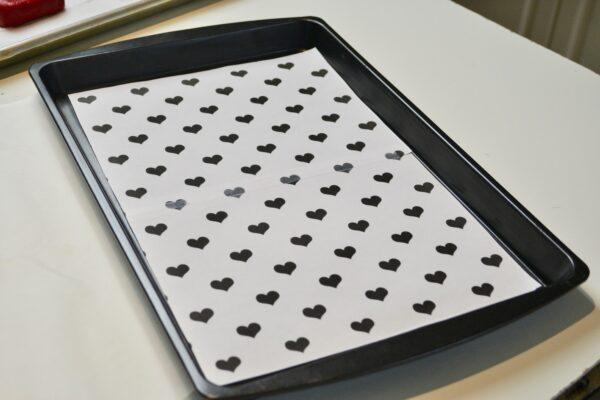 To Make the Heart Pattern Paste
You will need 1 egg white, 2 tablespoons sugar, 1/3 cup flour,1-1/2 tablespoons softened butter, and 2 drops white food gel. In small bowl, mix all ingredients until completely smooth, add food coloring if desired, stir to blend. Add more coloring if needed. Paste should be piping consistency. Not runny nor too thick.Transfer paste to piping bag with tip # 3, pipe the pattern by tracing over the heart pattern lined parchment paper. If you get points on the piped hearts, dip your finger in water and barely tap down the point. Place this baking sheet in the freezer until hardened at least 15 minutes.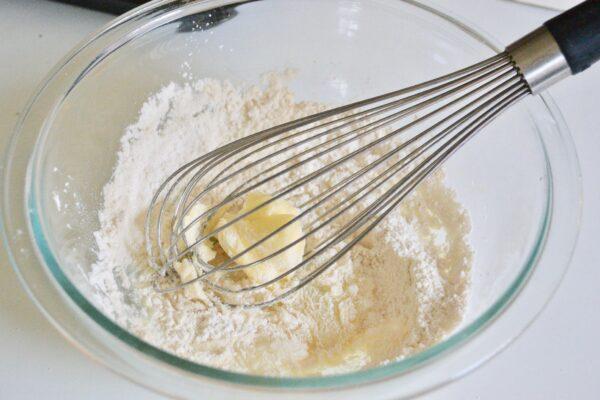 This is the right consistency in photo below.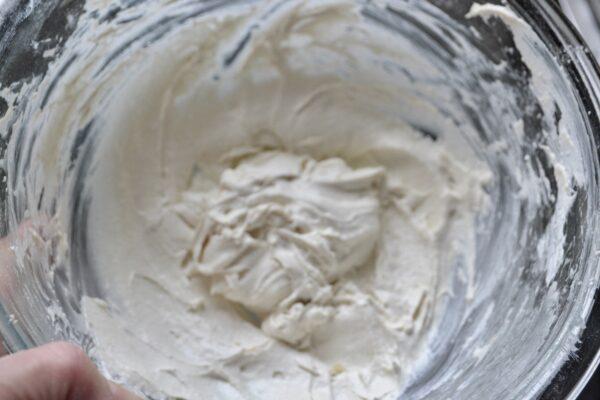 Note: Jaconde is a French term meaning decor paste or sponge design baked into a sponge cake. It is fun to do, just take your time in piping. If you make a mistake, gently remove paste with your finger and start again. Make sure there is no trace of paste outside the heart design for it will show up on your baked cake.
You can color the hearts any color you would like, just make sure your cake batter is a different color for the contrast and effect.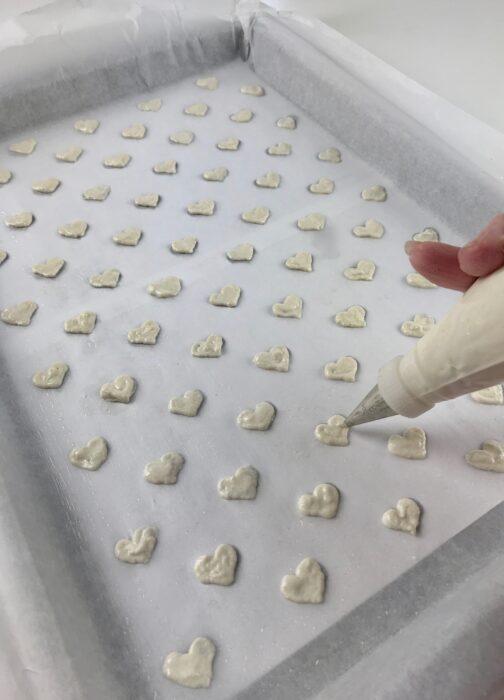 Preparing the Cake Roulade
Preheat oven to 350 degrees. Your hearts are piped on parchment and chilling.
In large mixing bowl, beat eggs with hand mixer for 5 full minutes. It is very important to beat these eggs for the 5 minutes. It will look like yellow cake batter. While mixer is running on medium speed slowly add sugar and oil. Add buttermilk, vinegar, flavoring and food gel. I used fuchsia about 2 drops. Add additional gel to preferred color of cake.
Note: Buttermilk is used in this cake and most soft textured cakes. Buttermilk is acidic and breaks down the gluten in the flour, making the cake more tender. Vegetable oil also makes the cake moist.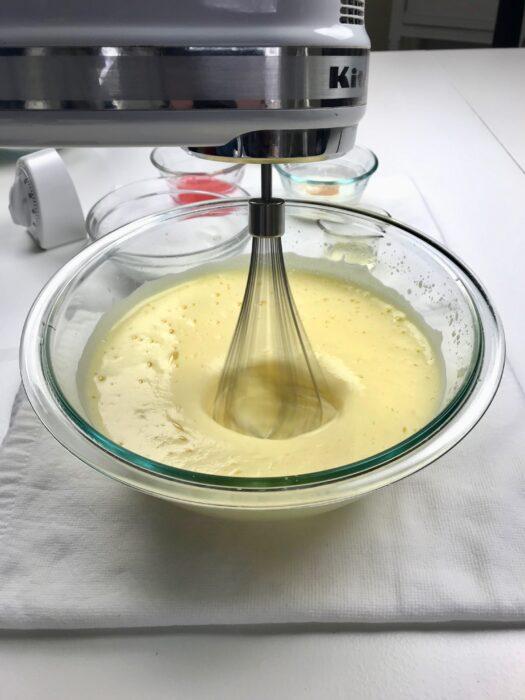 Sift together flour, baking powder and salt. Slowly add to liquid ingredients. Mix until combined but do not beat on high speed. Remove frozen hearts from freezer and pour batter over the hearts, using an off set spatula gently smooth batter over the hearts. Tilt the pan to cover if necessary. Be careful not to push the spatula too deep in the batter as you would damage the design. In the clip, at the end I pick up & drop the pan to remove large air bubbles. To remove small bubbles use a toothpick.
Bake cake 13 minutes until cake is done. It is done when cake springs back after pressing with fingers. Meanwhile, rub sifted confectioners sugar completely covering the towel with your hands. Have the second baking sheet ready by placing the tea towel on the back side of pan, this will be for flipping the cake to the correct side before rolling into log.
Once cake is baked, immediately loosen the sides of the cake from the pan and flip over cake onto a cooling rack, remove parchment paper to see your beautiful hearts. While cake is still warm flip the cake over onto the confectioners sugar tea towel. The heart design should not be facing you. Immediately roll cake into the tea towel beginning with the long side of the cake. Roll tightly and as evenly as possible. Place rolled cake in tea towel back on the wire rack seam side down to cool completely. I place the roll in the refrigerator for several hours, but you don't have to wait that long to fill.
Note: Determine the direction you want your hearts to face, if you roll the cake roll beginning with the 10″ width, the hearts will be horizontal on the cake roll. Likewise, if you roll the cake beginning with the 15″ side, the hearts will be vertical. Either way they are cute.
How to Make Cream Cheese Filling
In small mixing bowl, add softened cream cheese, beat until smooth and creamy. Add 1/2 teaspoon cream bouquet or clear vanilla, and gelatin set aside. In large chilled mixing bowl with whisk attachment, whip 1 cup of heavy whipping cream until somewhat thickened, add confectioners sugar, beat to medium stiff peaks. Mix cream cheese and whipped cream together for the filing. Keep chilled until ready to fill cake.
Assembling Cake
After cake has cooled, carefully unroll cake, remove tea towel, then spread filling over the cake. Roll cake tightly to form a log. Once rolled, wrap in plastic wrap and chill 30 minutes to one hour before slicing. Garnish isn't necessary due to the heart design.
Rolling the Cake into a Tube
Use plastic wrap as a pusher to help mold the tube, it might take a few tries to form this shape, but you will get it. Geeeze… my hands are so dry.
The cake is now ready for final wrap in parchment to chill. Right before you serve this cake, you will cut the ends off so cake slices are pretty.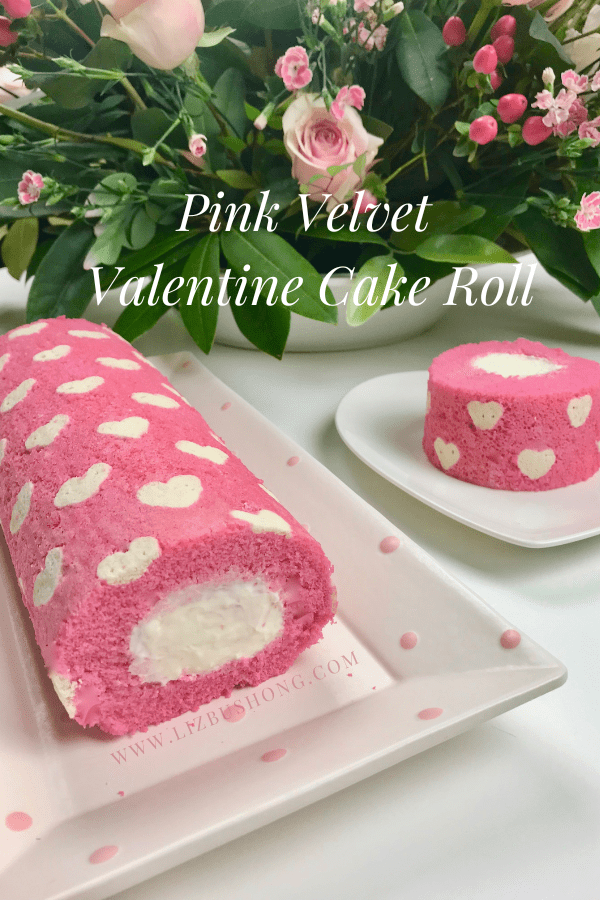 Print
Pink Velvet Valentine Roulade
Pink Velvet Roulade is a sponge cake decorated with tiny baked-in white hearts. The sponge cake while warm is brushed with strawberry jam and filled with Cream Cheese Whipped Cream. The cake roll is not rolled into a tight log but more of a tube shape. 
WHILE THIS RECIPE IS LONG, IT REALLY IS A SIMPLE CAKE TO BAKE, JUST READ THROUGH INSTRUCTIONS, GATHER YOUR MATERIALS AND INGREDIENTS BEFORE BEGINNING. XO 
Author: Liz Bushong
Prep Time:

45 minutes

Cook Time:

12-15 minutes

Total Time:

60 + 30 minute chill

Yield:

8

–

10

1″ servings

1

x
Category:

Dessert

Method:

Baking

Cuisine:

American
Heart Pattern Paste-(Joconde)
1 egg white, room temperature
2 tablespoons granulated sugar
1/3 cup all purpose flour
1– 1/2 tablespoons butter, room temperature
White food gel- 1-2 drops or as desired
1/2 teaspoon clear vanilla or creme bouquet flavoring
Cake Roulade
4 eggs- room temperature
1 cup granulated sugar
1 tablespoon vegetable oil
2 tablespoons buttermilk
1 teaspoon apple cider vinegar
2 teaspoons strawberry extract
1 –2 drops fuchsia food gel
1 cup all purpose flour OR 1 cup + 2 tablespoons cake flour
1 teaspoon baking powder
1/2 teaspoon salt
1/2 cup Strawberry Jam
Cream Cheese Whipped Cream Filling
4 ounces cream cheese, softened
2 teaspoons sugar
2 drops white food gel
1 teaspoon powdered gelatin-tested Knox
2 teaspoons warm water
1 cup heavy whipping cream-well chilled
1/4 cup confectioners sugar
1 teaspoon cream bouquet or clear vanilla
Instructions
Heart Pattern Paste
Print 2 copies of heart pattern, trim to fit and line up hearts in 10 x 15 x 1″ baking sheet. Determine the direction you want your hearts to run. If you roll the cake beginning at narrow end your hearts will be horizontal, if you roll the cake lengthwise the hearts will be vertical on cake. Position pattern in direction you select. Cover pattern with parchment paper extending parchment over the sides of the sheet pan. Make sure your parchment corners are squared in the pan, for your cake batter will bake in the shape of the parchment. Lightly brush parchment paper with vegetable oil avoiding the hearts before piping hearts. No puddles of oil, barely brush with oil.
In small bowl, add egg white, sugar, flour, and softened butter, stir until smooth, add food gel, stir.
Transfer to piping bag fitted with tip # 3 round tip. Pipe paste onto pattern parchment paper. Place baking sheet in freezer to harden at least 15-30 minutes
Remove paper pattern from underneath the parchment before adding cake batter to sheet pan.
Cake Roll
Preheat oven to 350 degrees. 
In large bowl, beat eggs with hand mixer for 5 minutes.Do not skip 5 minutes.Important for lift in cake.
Lower speed to medium and add sugar gradually, add oil to the whipped eggs, Add buttermilk, vinegar, vanilla or creme bouquet and food coloring a little at time until desired color is achieved.
Sift together flour, baking powder, salt. Slowly add to liquid ingredients. Mix until well combined.
Sprinkle a tea towel with powdered sugar and rub sugar into the towel with your hands, evenly over the towel. (You will also need another sheet pan for flipping cake.) Make sure you use a tea towel with out raised designs for a smooth cake exterior.
Remove heart sheet pan from freezer, remove pattern, pour cake batter over hearts, spread evenly with off set spatula. Make sure your cake batter is evenly spread in the sheet pan.  Be careful not to spread batter too deep as not to disturb your hearts.
Bake in 350 degree oven for 13 minutes. Cake is done with it springs back when pressed with fingers.
When cake is done, loosen edges with a sharp knife, then turn out cake onto large wire cooling rack, remove parchment paper slowly not to disturb the hearts.
With powdered sugar coated tea towel on the back side of another baking sheet, flip the cake over so hearts are underneath the cake, roll cake beginning on the 15″ side of cake into the tea towel creating a long log. Place seam side down on cooling rack, allow to cool completely.  Note:  You are not rolling the cake into a tight log with a curl in the middle of the cake roll. You will be creating more of a tube shape. Roll cake starting on the 15″ long side of cake.  Use the tea towel to help roll.  If you roll the cake on the 10″ side you will have too large of a tube inside.
Place the towel wrapped cake in the refrigerator to chill while you make the filling.
Cream Cheese Whipped Cream Filling
In medium mixing bowl, add 4 ounces softened cream cheese, sugar and white food gel. Stir to blend. 
In small custard cup, 2 teaspoons warm water and 1 teaspoon Knox unflavored gelatin, stir to dissolve.
Add gelatin to cream cheese, and whip until smooth and creamy with whisk attachment.
In separate CHILLED mixing bowl, add heavy whipping cream, beat with whisk attachment until frothy and somewhat thick, add confectioners sugar, vanilla and whip until firm peaks develop.
Add whipped cream to the cream cheese and whip just to combine. Set aside.
Assembly of Cake Roll
Carefully unroll cooled cake remove tea towel from inside the cake. allow the rolled end to curl slightly, do not try to straighten.
Spread inside of cake with melted strawberry jam, allow to soak into the cake. 
Carefully spoon cream cheese whipped cream filling inside the cake, going up the sides of the curled cake. Try to make the filling even thickness on the sides and bottom of cake. This will insure your filling will be centered inside the cake when slicing. 
Using your hands roll the cake to form a large log. You will not be curling the cake into a tight roll. ReWrap in tea towel or plastic wrap then parchment. Chill 60 minutes before garnishing and slicing.
Cake doesn't need a garnish due to the pretty hearts baked in the cake.
To Serve: Slice cake into 1″ slices with serrated knife. 
Notes
Heart Pattern PDF provided by Cleobuttera.com.
*Adding the white food gel will make your center filling bright white which will match the hearts baked in the cake. 
Its important to chill the roll after filling for best serving slices.
Keywords: Cake Roll, Valentine Dessert, Whipped Cream Filling, Pink Velvet Roulade, Strawberry
Other Ideas You Might Like to Try: