Creating a pretty cake is simple with this hobnail frosting technique. But first we need to make the Strawberry Coconut Bundt cake. Starting with a box strawberry cake mix with a few additional ingredients stirs up a beautiful strawberry flavored cake.  Inside this delicious cake you will find a rich creamy coconut filling.  After baking and cooled, strawberry buttercream looks like a dotted hobnail glass. To complete the pretty cake presentation, faux pink and blush peonies arranged like a bouquet sit inside the bundt opening.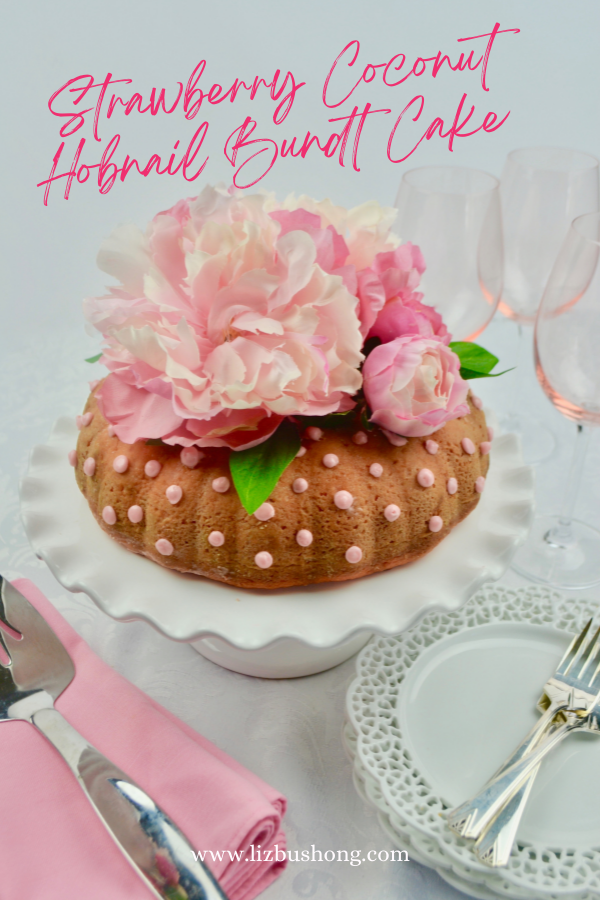 Pretty in Pink peonies top the cake for easy decor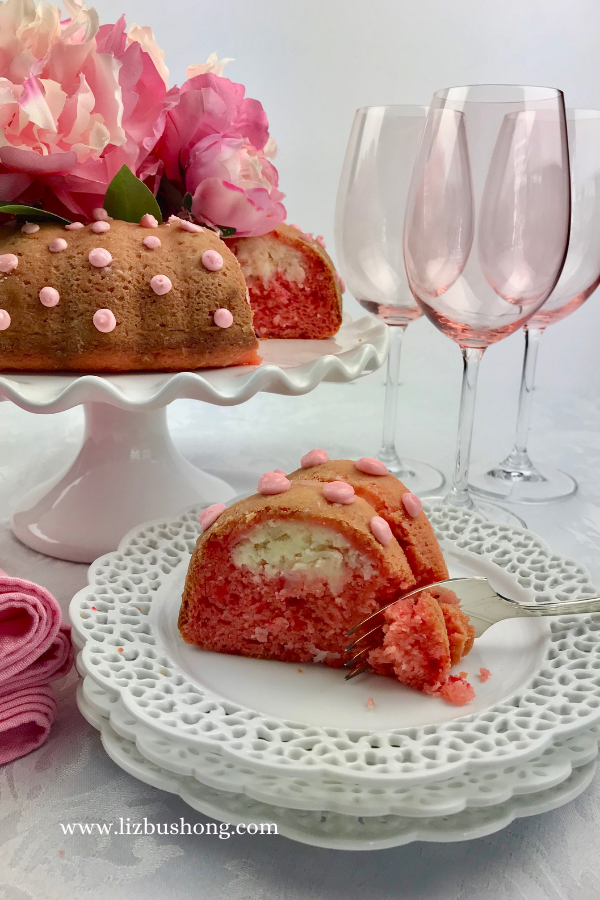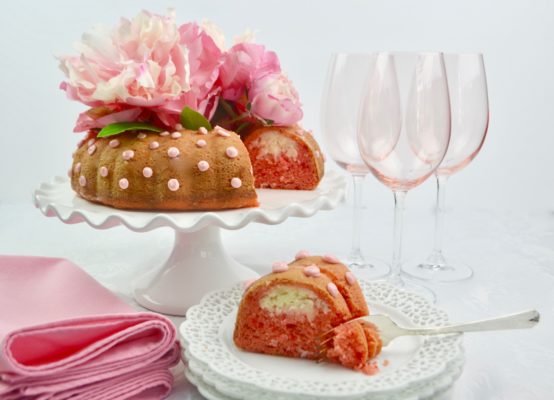 Faux peonies are gathered in a tight bundle, wired together like a bouquet then placed inside the bundt cake center opening.  Wrap the stems in plastic wrap for protection.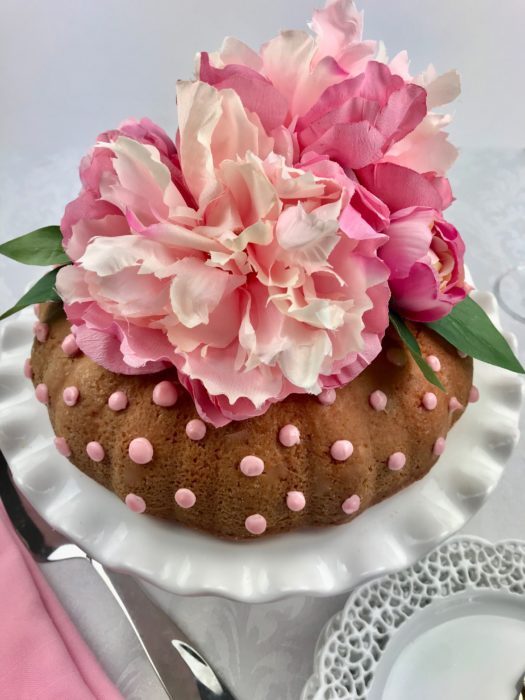 Making the Strawberry Coconut Cake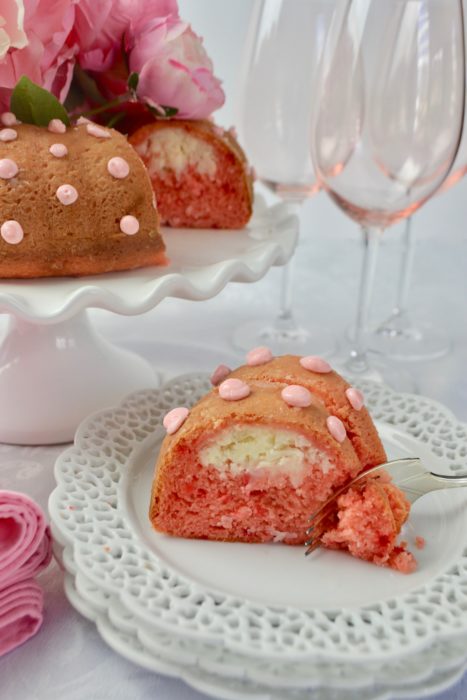 Whether you make the cake from scratch or box mix this cake is delicious. This cake is not a tall cake. If you want a taller bundt cake, use two cake mixes and double ingredients using 3/4 of the batter, the rest in cupcakes. You will need about 10-12 cups. depending on the size of your bundt pan. One cake mix make 4-4-1/2 cups of batter.
First step, prepare the bundt cake pan with cooking spray and flour. Be sure to coat all sides nd center tube.  Preheat oven to 350 F.  Center rack.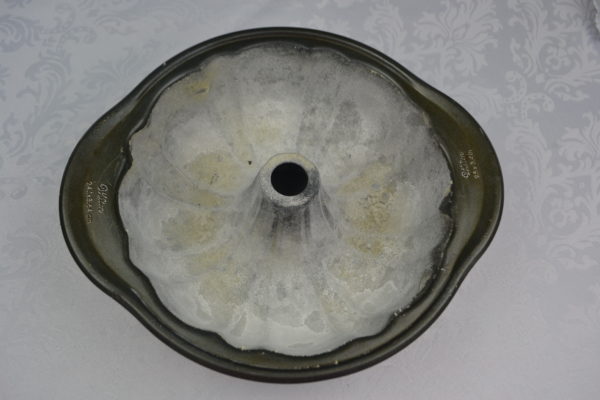 Making the cake: I used Duncan Hines special edition Strawberry Cake mix. Added to the mix was a package of vanilla instant pudding and pie mix, vegetable oil, eggs, water and strawberry extract.
If you can't find Strawberry Cake mix, purchase vanilla and add 1/2 cup pureed strawberries and strawberry extract, but reduce water by 1/2 cup. 
Coconut cream cheese filling fills the center of the cake and made from cream cheese, sweetened coconut, egg white, and little bit of sugar. Once mixed together, the cheese filling is added to the raw cake batter centered around the center tube. See photo below.
Adding Coconut Filling
Add 3″ of cake batter to the base of the greased and floured bundt pan. Then add the coconut filling, covering  filling with the remaining cake batter. During baking, the filling will fall into the bottom of the pan. After baking the filling will center the cake or upper third of the cake.
Tip: the more batter you put in the the bottom of the cake pan first, the more centered your filling will be.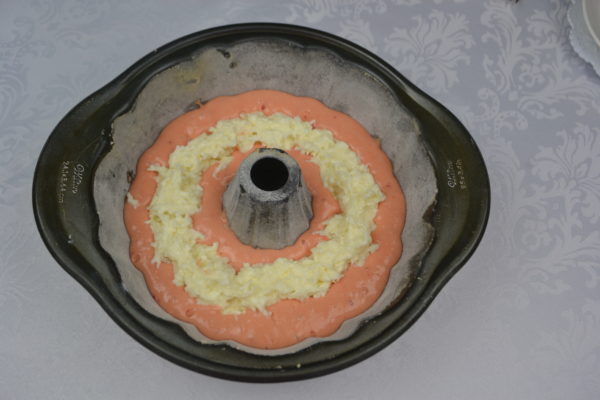 Add remaining batter over the top of filling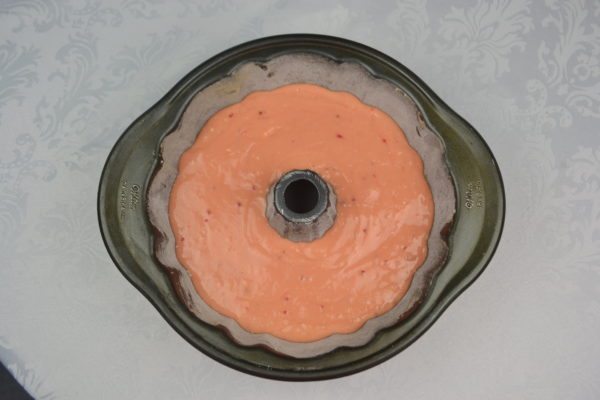 Bake cake for 27-35 minutes or until center of cake bounces back, testing with a toothpick will not be the best test for you will hit the coconut filling. Turn cake on cooling rack, cake will release from pan easily. ( If you greased and floured the pan.)
Strawberry Frosting Hobnail Design
This cake is not frosted all over the cake which makes this an easy decorated cake, especially for bundt pans. If you don't want to do the dots, sift confectioners sugar over the top of the cake. But try the dots it is fun to do and really makes a great statement.
In mixing bowl, mix softened butter, cream cheese, strawberry jam and confectioners sugar until smooth and creamy. See recipe below.  If you want to make a rosette cake design go here. 
Using a small round tip #3 or 5 and disposable pastry bag, fill with strawberry frosting.  Beginning at the bottom of the cake, pipe small dots following the grooves of the bundt shape. Next row of dots alternate space. See photo below.
Tip:  If you get a point on the frosting, dip a small brush or your finger with water and gently tap the point flat.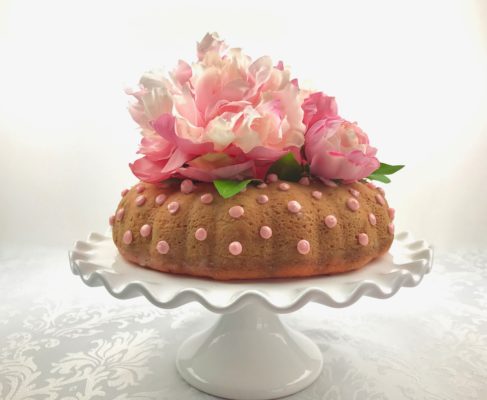 When ready to serve the cake, simply slice into sections.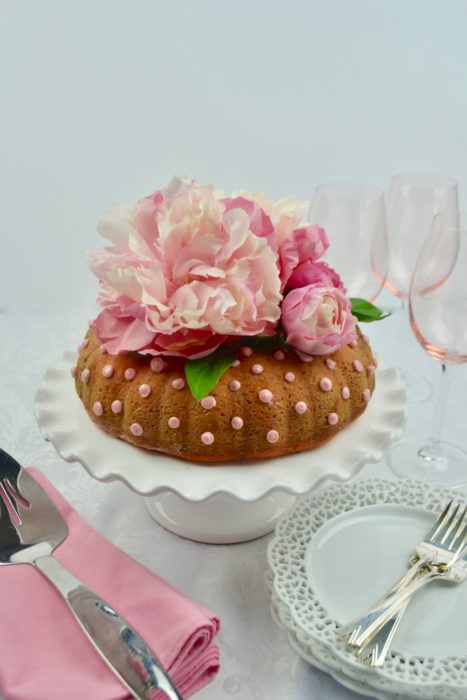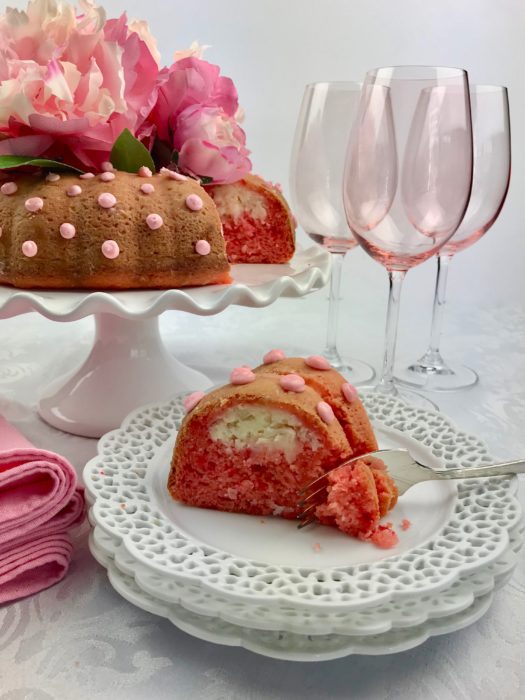 Print
Strawberry Coconut Hobnail Bundt Cake
Easy to make bundt style strawberry cake with baked in coconut filling decorated with strawberry buttercream piped into dots in a hobnail style.
Author: Liz Bushong
Prep Time:

25 minutes

Cook Time:

35-40 minutes

Total Time:

60 minutes +frosting

Yield:

8

-

10

servings

1

x
Category:

Desserts

Method:

Baking

Cuisine:

American
Cake
1– Strawberry Cream Cake Mix- Tested Duncan Hines
1– 3 ounce package strawberry cream instant pudding and pie mix- dry
1/2 cup vegetable oil
3 eggs
1– 1/3 cups water
1 teaspoon strawberry extract
Coconut Filling
1–8 ounce package cream cheese, softened
1/3 cup sugar +1 tablespoon
1 egg white
3/4 cup sweetened coconut
Strawberry Cream Frosting:
4 tablespoons butter, softened- no margarine
1–4 ounce package cream cheese, softened
2 cups confectioners' sugar
1 /2 teaspoon strawberry or vanilla extract
2 teaspoons strawberry jam
Tools Needed: Standard Bundt cake pan, Tip # 5 small round, disposable pastry bag, faux flowers- peonies.
Instructions
Prepare standard bundt cake pan. Spray with cooking spray or shortening and flour generously. Set aside while preparing cake batter.
Preheat oven to 350 degrees. Arrange oven rack to center of oven.
In separate mixing bowl, beat together cream cheese, sugar and egg white until smooth and creamy. Add coconut, mix until blended.  Set aside.
In large mixing bowl fitted with beater attachment, add all cake ingredients together, beat for two minutes until smooth.
Fill pan with cake batter about 3″ deep in pan. With back of a teaspoon make a small tunnel in the cake batter in the center of the batter, make sure you do not go too deep in batter. Add coconut filling by clean spoonful in the tunnel. Tunnel should be about 1″ wide down the center of the batter in the pan.  Cover with remaining cake batter, smooth top of cake gently with off set spatula.
Bake cake at 350 F for 27-35 minutes. Remove cake from oven.
Turn cake pan over on rack, it should release immediately. cool cake to touch.
Make frosting:
In large mixing bowl fitted with paddle beater, whip together butter and cream cheese until creamy.  Add jam, extracts with 2 cups confectioners sugar.  Whip until sugar is smooth and creamy Makes 2 cups of frosting
Hobnail cake decor:
Place cake on cake stand or other desired serving plate.
Fill disposable pastry bag with small round tip #3-or 5.  Pipe dots in alternate levels around the base and body of cake. No need to pipe dots where the flowers will sit unless desired.
Wrap 3-4″ faux or real peony stems in plastic wrap in bundle like a bouquet. Place flowers in center of dotted cake.
To serve, cut desired size slices.
Notes
If you get points or peaks on your dotted frosting, knock down points with small brush or finger with tiny bit of water.
if you have leftover frosting, spread on Graham crackers for quick little snack.
Keywords: bundt, cake, strawberry, buttercream frosting, hobnail, coconut, filling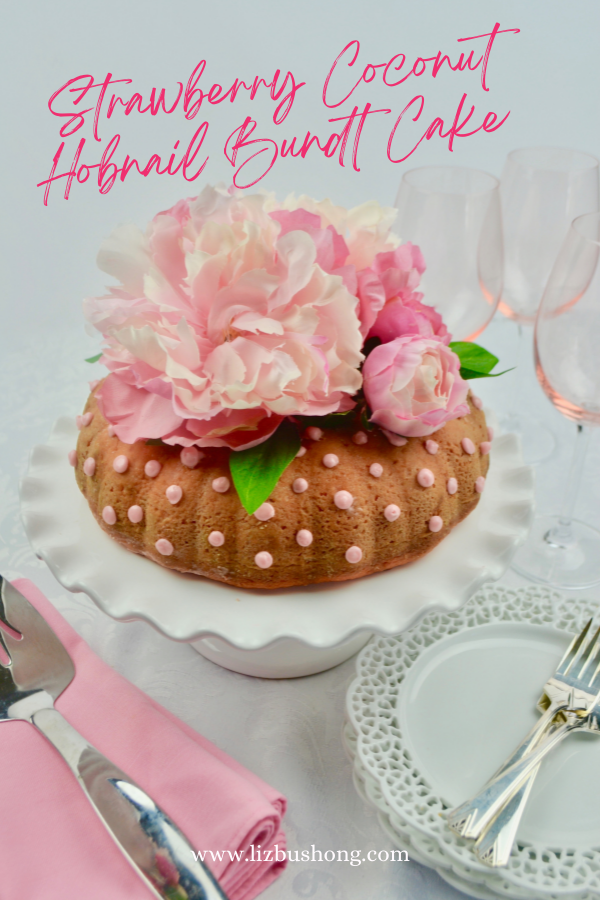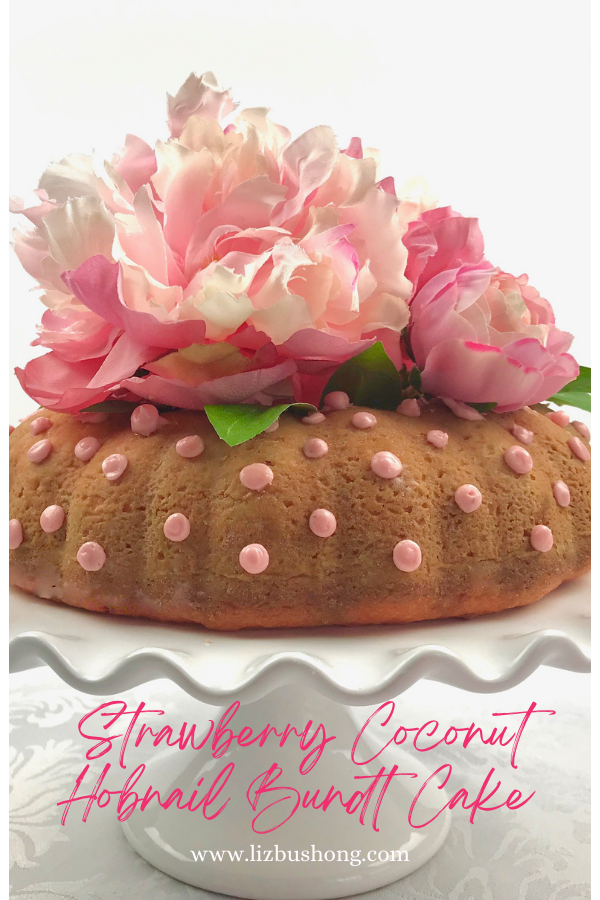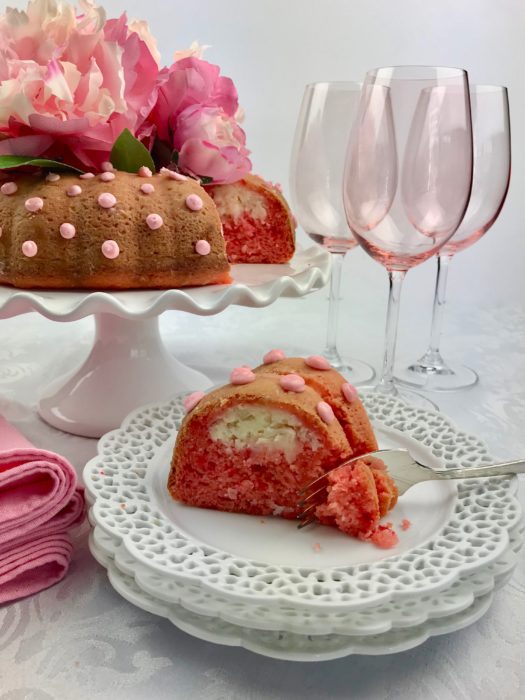 Other Ideas you might like to try: