Do you love strawberries? Then you will love this cake featuring Duncan Hines Strawberry cake mix.  "Savor the invigorating flavor of Duncan Hines Signature Perfectly Moist Strawberry Supreme Cake Mix".  Cake mixes make life easy. This cake is made with juice from strawberries and frosted with made from scratch strawberry cream cheese frosting.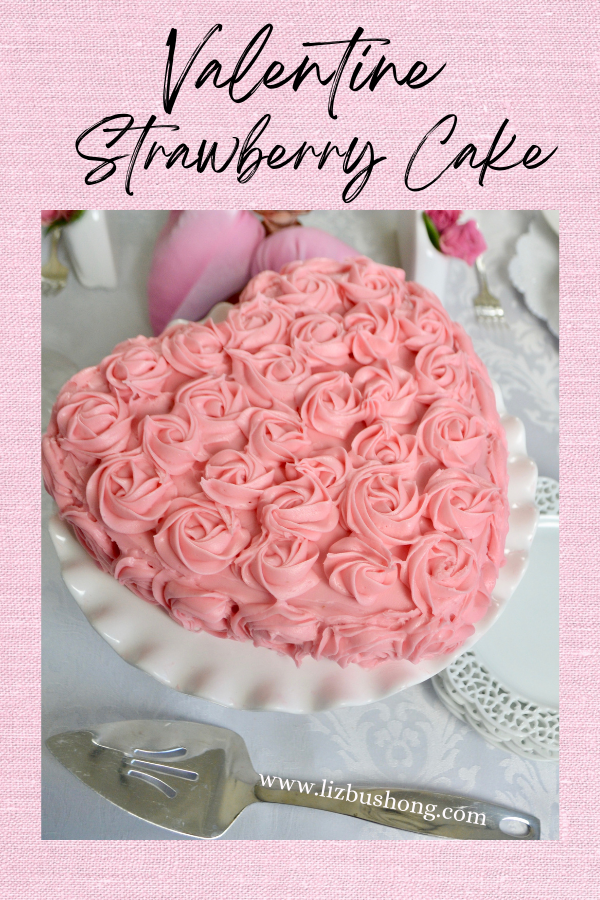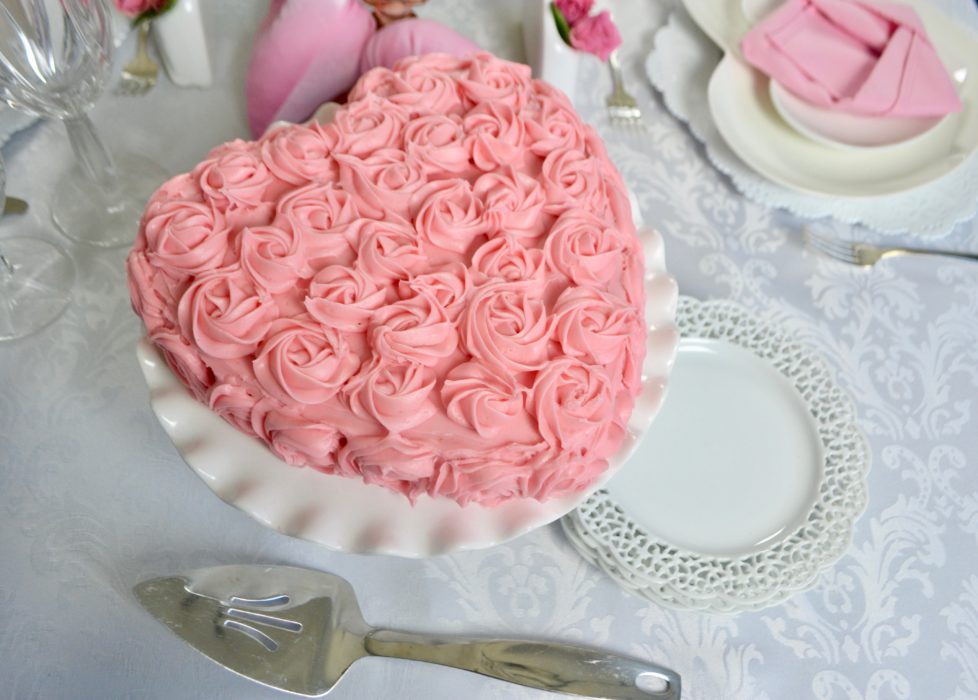 To celebrate Valentine's day, bake a single layer cake in a heart shaped pan. Simply stir in water, eggs and vegetable oil to create smooth, velvety batter, add strawberry extract and couple of drops of red food gel then bake at 350 degrees.  Baking time will vary due to size of your pan.  You will have excess batter so make mini 2″ cakes or 6-8 cupcakes.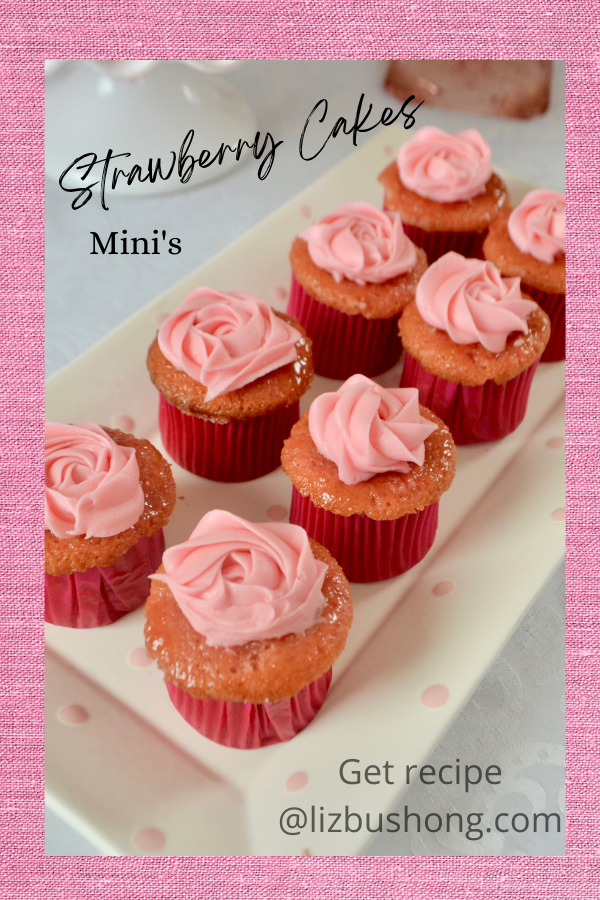 Strawberry cream cheese frosting is made with softened cream cheese, stick of butter, 1/2 cup strawberry jam, strawberry extract-optional, and confectioners sugar.  To cover the single cake layer, mini cakes and make the rosettes you will need approximately 10 cups frosting.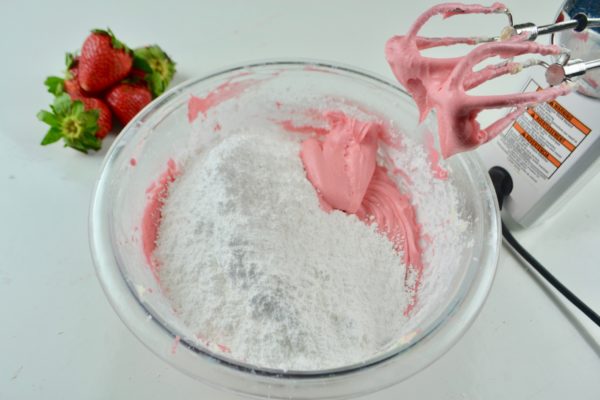 How to make the cake
Making this cake is pretty quick. First prepare your heart shaped pan.  If you don't have a heart shaped pan, make a heart shaped cake using an 8 x 8″ square pan as well as an 8″ round cake pan.
When ready to frost the cake you will turn the square cake on one of the ends which is the bottom of the heart, cut the 8″ cake in half and these two pieces are the top of the heart.  Now you have a heart shaped cake.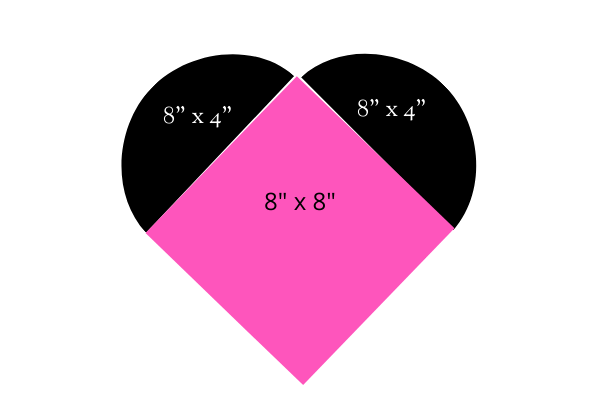 Either way you make the cake, spray the pan with cooking spray and dust with flour, line the bottom of pans with parchment, spray parchment.
Follow instructions on cake mix package, with eggs, vegetable oil and water, add 1 teaspoon strawberry extract, 1/4 cup strawberry jam, 1 package instant strawberry cream pudding mix (dry). 
Beat all ingredients on medium speed until combined.  Pour half the batter into the prepared pan and the rest in cupcake liners.  Bake at 350 for 25-30 minutes or until center is done. Place in middle of oven for best results.
Frosting the cake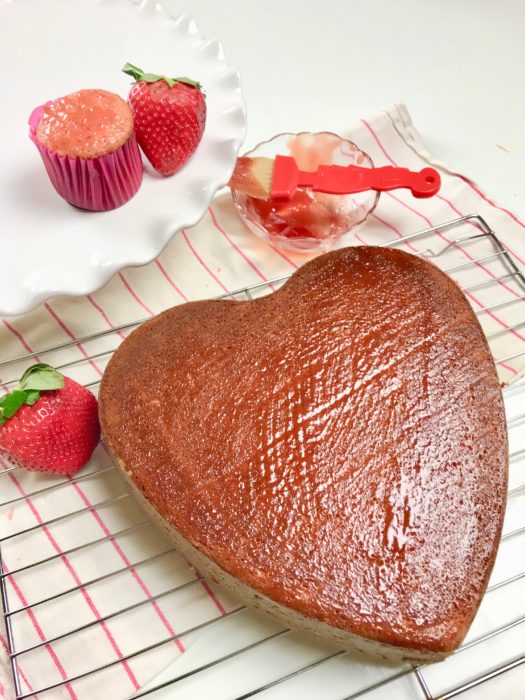 Melt strawberry jam in small cup and brush over the top of the cake right after removing from pan. Since I was frosting the cake right away I used the jam to help with flavor and to keep the crumbs at bay.
If you are not frosting the cake right away, spread with jam right before frosting.
Whip up the buttercream strawberry frosting
In medium mixing bowl and electric mixer, beat softened butter and cream cheese together until smooth.  Add 1/4 cup strawberry jam and 1 teaspoon strawberry extract. (You can substitute jam for fresh diced berries but keep in mind for piping the rosettes  diced berries will jam up the Tip #1M .)   Add 2 cups confectioners beat until well blended.  Add additional confectioners sugar and beat until smooth and creamy.  Add a little bit of milk if necessary to make it more spreadable.
( I cut one single cake in half horizontally to make a 2″ high cake with frosting filling.)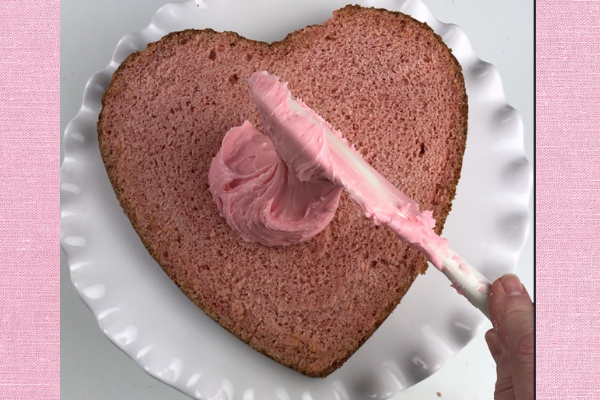 Frost entire cake top and sides as smooth as you can then pipe rosettes with Tip # 1 M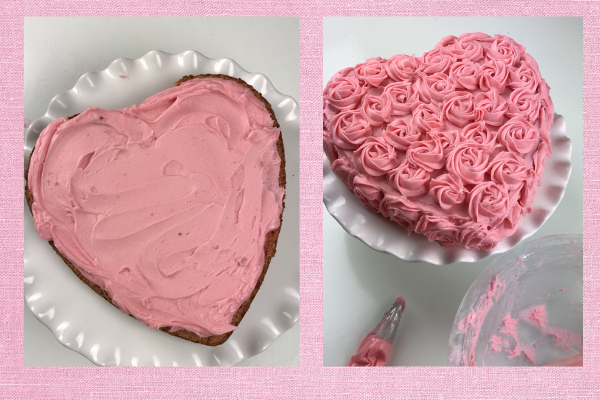 The piping tip does the work. easy to do … I promise.  See link above for demo.
Repeat process for rosettes on mini 2″ cakes or cupcakes.  For mini 2″ cakes, I baked the cakes in a mini cheesecake pan with remove-able bottoms.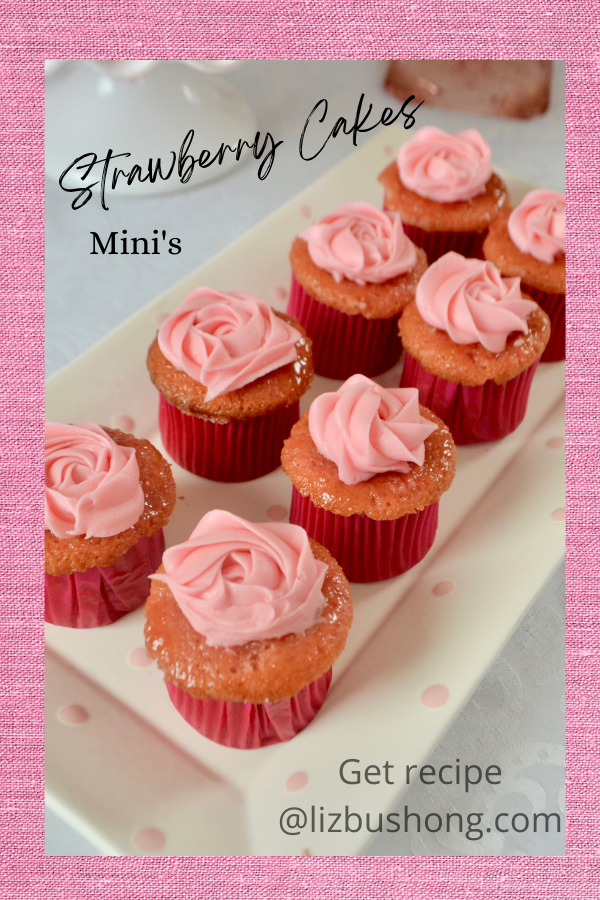 Also I lined the opening with a standard cupcake liner, they turned out cute. I made these instead of cupcakes. When the cakes are baked and cooled, push up on the bottom of the pan and they will pop out with ease. Remove the round disc on the bottom before serving.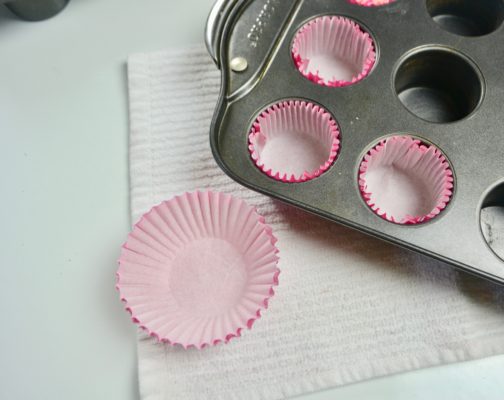 Turned out pretty. Tender moist strawberry cake.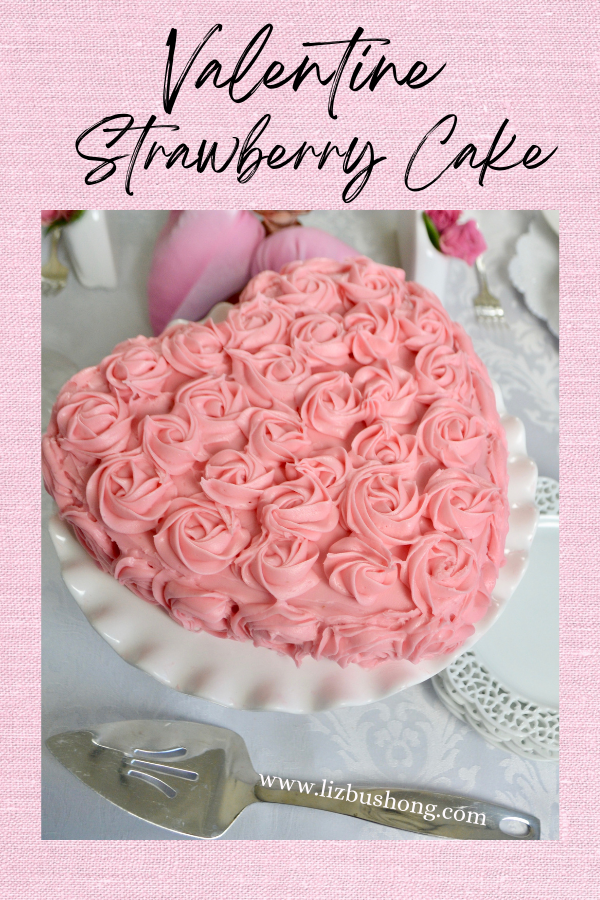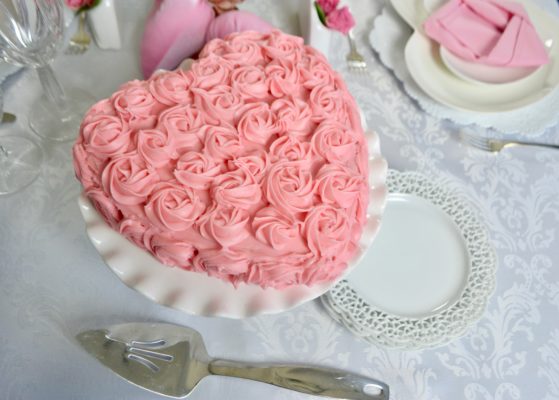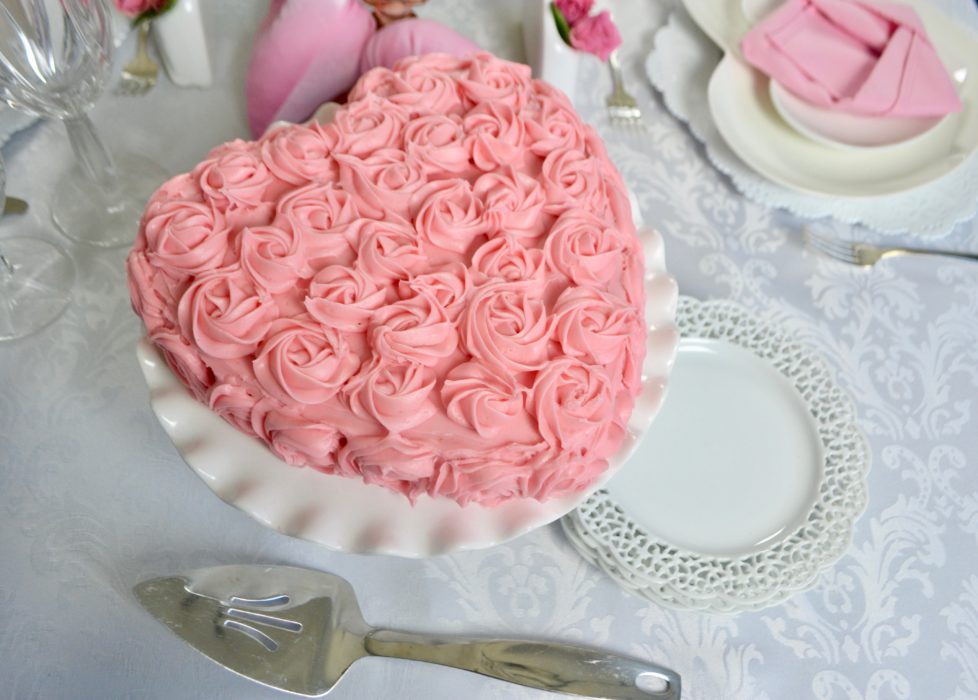 Print
Strawberry Heart Cake with Strawberry Rosette Frosting
Tender moist strawberry layer cake baked in a heart shaped pan piped with strawberry cream frosting in rosettes.
Author: Liz Bushong
Prep Time:

25 minutes

Cook Time:

30 minutes

Total Time:

60 minutes

Yield:

9

" heart cake +

12

mini's

1

x
Category:

Dessert- Valentine cakes

Method:

Baking

Cuisine:

American
Cake
1– Strawberry Cream Cake Mix- Tested Duncan Hines
1– 3 ounce package strawberry cream instant pudding and pie mix- dry
1/2 cup vegetable oil
3 eggs
1– 1/3 cups water
1/4 cup strawberry jam
1 teaspoon strawberry extract- optional
1 drop super red food gel- optional
Strawberry Cream Frosting:
8 tablespoons butter, softened- no margarine
1–8 ounce package cream cheese, softened
9 cups confectioners' sugar
1 teaspoon strawberry and vanilla extract
1/2 cup strawberry jam-divided 1/4 mixing into frosting, 1/4 spreading over cakes after baking
Instructions
Prepare 9″ heart shaped pan.  Spray with cooking spray and line bottom with parchment paper. Spray paper. Line mini cheesecake pan or cupcake pan with cupcake liners.  Set aside while preparing cake batter.
Preheat oven to 350 degrees.
In large mixing bowl fitted with beater attachment, add all cake ingredients together, beat for two minutes until smooth.
Fill heart pan filling  1/2 of the pan.  Using a piping bag fill 2″ cheesecake pan or cupcake pan with remaining batter filling 1/2 full.
Bake heart pan at 350 for 28-30 minutes and mini's for 15 minutes or until centers picked with toothpick comes out clean.
Allow to cool, remove from baking pans on cooling rack.
Make frosting:
In large mixing bowl fitted with paddle beater , whip together butter and cream cheese until creamy.  Add jam, extracts with 2 cups confectioners sugar.  Whip until sugar is blended, add 2 cups more and continue beating until all confectioners sugar is blended.
Frosting heart cake:
Cut cake in half horizontally making two cakes. (freezing cake for 20 minutes will help slice the cake in half).
Place bottom of cake on cake stand or serving dish, brush with melted jam. Add 1 cup of frosting, smooth to edges of cake until covered.  If you want thicker layer add more frosting.
Place top of heart cake on top of frosted layer brush with jam.  Spread frosting over top and sides of cake getting as smooth as you can.  This will be covered with rosettes.
Place remaining frosting into a large disposable piping bag fitted with tip 1M. Pipe rosettes over the top of the cake, starting on the outer edge of cake all around, then fill in center of cake.  Pipe rosettes in two rows on the sides of cake all around.
Frost mini cakes with one small rosette on the top of cake.  If desired, take the end of a piping tip and hollow out the center of the mini's fill with frosting, then top with rosette.
Notes
Frosting will harden and be crusty if left uncovered. Best to serve the cake the day it is made.
Cakes can be baked ahead and frozen until ready to frost for up to 10 days.
Keywords: Valentines day, dessert, Strawberry Cream cake, strawberry frosting
Other ideas you might like to try: