Need a St. Patricks Day Dessert?  Make this recipe for Pistachio Shamrock Pound Cake. The cake has a baked-in-surprise in the middle of each sliced cake piece. Two white cake mixes, a box of pistachio instant pudding, eggs, oil and sour cream makes this pound cake delicious.  The texture is firm enough to handle the shamrock cake cut-outs baked twice inside this pound cake. However…
So…How do you make the shamrock design in the middle of the cake? 
Whether you make a pound cake from scratch or use cake mixes its up to you. Sour cream is one of the ingredients in the cake recipe along with eggs and oil that make the cake have a pound cake texture.  It's really delicious and your family will love this cute little pound cake. Pistachio Shamrock Pound cake is Perfect for dessert or afternoon coffees.
To make the shamrock mini cakes…
a few drops of green food gel and Pistachio Instant Pudding Mix makes the center shamrock cakes green and full of pistachio flavor. The batter is baked in a lightly greased parchment lined 9″ x 13″ baking sheet for 25 minutes or until center comes out clean.  After cake has cooled, the cakes are wrapped and frozen for 25 minutes.  After cakes are solid, remove from pan and cut out into shamrock cakes using a sharp metal 2″ shamrock cookie cutter.  Stack the cut pieces firmly together and refreeze until pound cake batter is mixed.
Tip:  Spray the cookie cutter with cooking spray especially the stem of the shamrock for ease in cutting the frozen cake.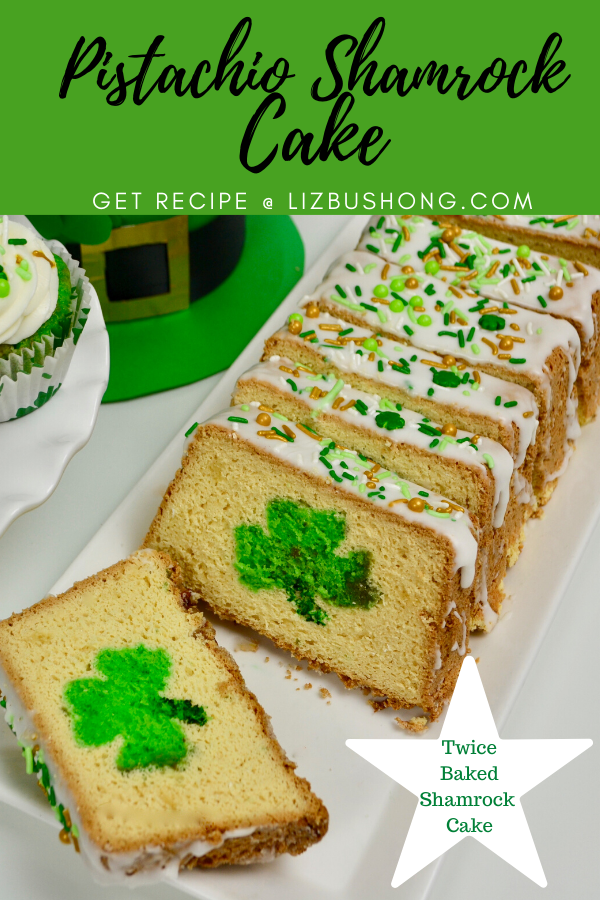 Mix remaining cake mix with eggs, sour cream, oil, together and pour 1/4 of the batter into a greased and floured loaf pan.  Place the frozen shamrock cake pieces upside down in the loaf pan on top of the raw cake batter.  Pack the shamrock cake pieces securely down the center of the loaf pan.  Add remaining raw cake batter over the top of the shamrock cakes.  Sprinkle top of raw batter with sugar, cinnamon and pecan mixture for a crunchy layer.
Tip:  Make sure you turn the shamrock cakes upside down in the loaf pan for when you remove the cake from the pan the shamrocks will be upright.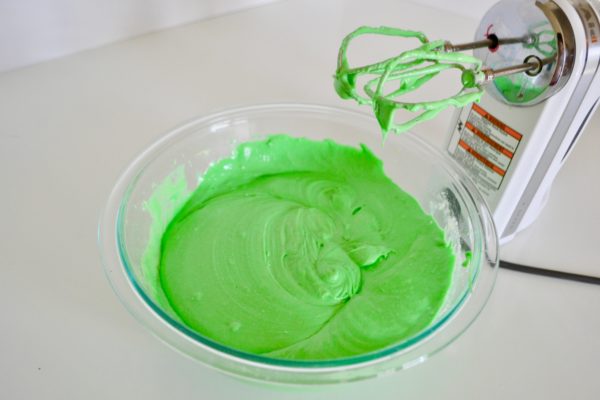 Shamrock cake batter for mini cake cut outs.  Recipe will make 24 mini cakes.  If you use a smaller cookie cutter will you get more mini cakes for your standard 9″ x 5″ loaf pan.
Bake the loaf cake for 65-90 minutes.  Place a piece of foil over the top of the cake during baking to prevent over browning. The sugar mixture will brown quickly so covering with foil is necessary.  After baking allow the cake to cool, remove from pan and drizzle with confectioner's sugar glaze and shamrock sprinkles.
Cut cake in 1/2″ slices for the shamrock reveal.  It is so exciting to see the shape inside the baked cakes.
Tip:  Freezing the cakes before cutting will ensure sharp cut edges and less movement inside the raw batter during baking. 
Print
Pistachio Pound Cake Recipe
Baked shamrock mini cake cut-outs are baked again inside a loaf cake for festive St. Patricks Day dessert.
Author: Liz Bushong
Prep Time:

45 minutes

Cook Time:

30 + 45 minutes

Total Time:

90 minutes

Yield:

1

-

9

" loaf cake

1

x
Category:

Dessert- Loaf Cake

Method:

Baking

Cuisine:

American/Irish
2– packages white cake mix- tested Duncan Hines
8 eggs, divided
2 cups sour cream- divided
1 cup vegetable oil- divided
1 package JELL-O® Pistachio Instant Pudding, dry mix
1 teaspoon almond extract, divided
6–8 drops of green food gel
Sugar Topping:
1/2 cup granulated sugar
1/2 cup chopped pecans
1 teaspoon ground cinnamon
Glaze:
1–1/2 cups confectioner's sugar
2 tablespoons half n half or milk
1/2 teaspoon clear vanilla, creme bouquet extract, or lemon extract
Shamrock Sprinkles
Instructions
Prepare 13″ x 9″ pan with cooking spray and line with parchment paper.  Set aside.
Prepare 9″ x 5″ loaf pan with cooking spray and line bottom with parchment paper. Set aside.
Preheat oven to 350.
In large mixing bowl, combine one cake mix with pistachio pudding dry mix, add 4 eggs, 1 cup sour cream, 1/2 cup vegetable oil, 6 drops green food gel and 1/2 teaspoon vanilla or lemon extract.  Beat 2 minutes until smooth. Pour batter into 9″ x 13″ prepared pan.
Bake 9″ x 13″ cake at 350 for 25-35 minutes.  Cover with foil during baking to prevent over browning. Bake until center comes out clean. Remove from oven, cool.  Place pan in freezer for 25-30 minutes.
Remove frozen cake, cut 24-30 shamrock cake pieces using shamrock cookie cutter.  Stack the shamrocks solidly together, wrap in plastic wrap and freeze to firm.
Meanwhile, mix remaining cake mix, eggs, sour cream, oil, and extract.  Whole eggs will make your batter yellow so if you want a white cake, use egg whites only.  There is no pudding mix in this cake batter mixture.
Spoon thick batter 1/3 of the mixture in bottom of 9″ x 5″ loaf pan, spread evenly in pan.  Place unwrapped frozen shamrocks pressed together UPSIDE DOWN in center of cake batter in pan. Shamrock Stems would be facing you.  Cover the mini cakes with remaining cake batter to 3/4 full.  If you have leftover cake batter, make cupcakes.
Mix sugar, cinnamon and chopped nuts, spoon over the top of cake batter.
Bake at 350 for 35-45 minutes or until done.  Cover with foil to protect from burning.
Remove from oven and cool completely.  Remove from pan, crunchy sugar nut side will be on platter.
Mix confectioner's sugar, cream, extract for glaze.  Drizzle over cooled cake and sprinkle with shamrock sprinkles. 
To Serve:  Slice into 1/2″ slices to reveal baked in shamrock cake design.
In conclusion, the cake is not hard to make, freezing is the secret for successful cakes baked with in a cake.
Other Ideas you might like to try: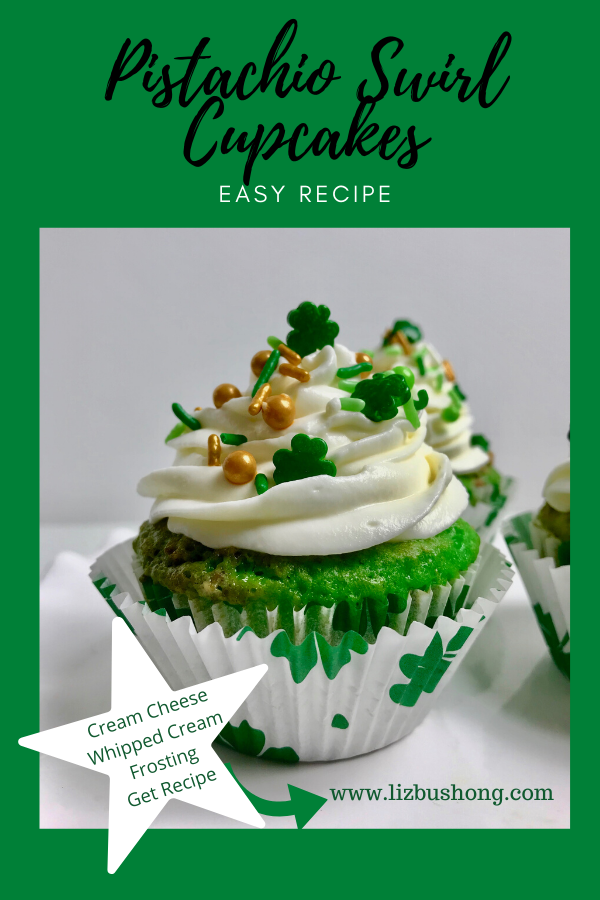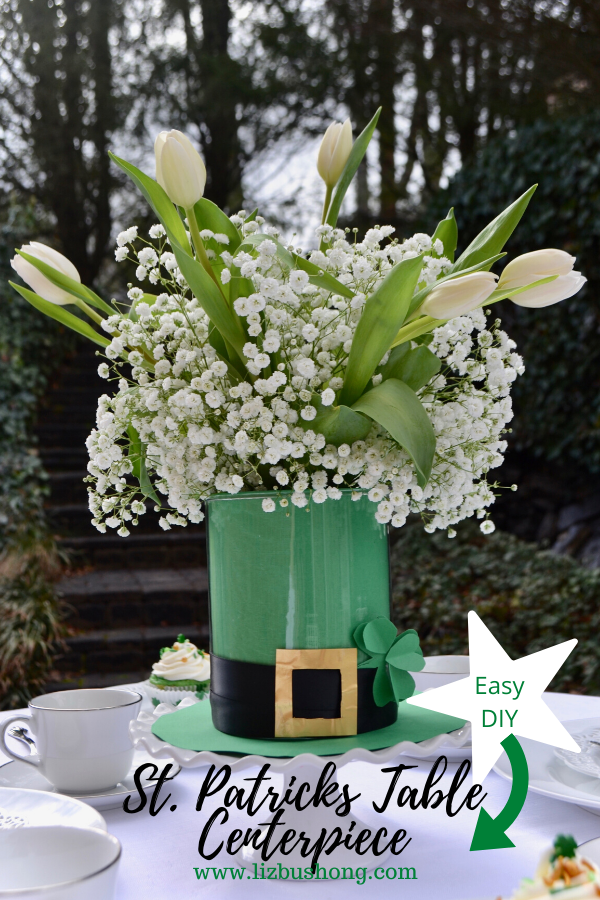 Enjoy!!!  Please pin these images and subscribe to my website if you are not already subscribed. Thank you!