Need a little pumpkin for a fall dessert?  Create this beautiful small dome cake featuring recipe from the infamous pumpkin cake roll. Layered pumpkin mousse and no-bake cheesecake filling line the mini mold with the pumpkin cake as the bottom layer.  Melted dark chocolate morsels cover the dome then garnished with graham cracker streusel.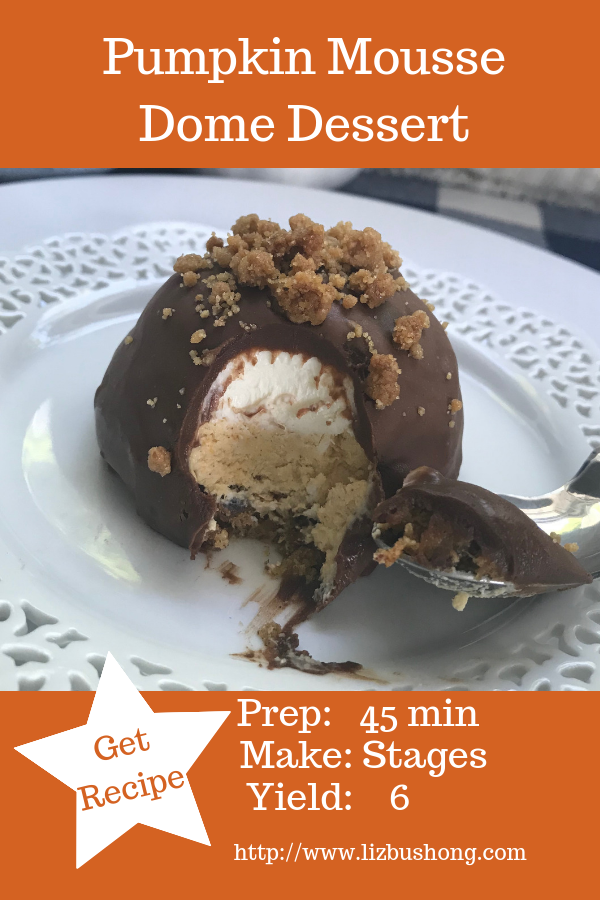 Impress your Guests with this Seasonal Sweet
Whether you are hosting a dinner party or holiday special event this mini individual dessert will impress your guests.  It is an easy recipe and is best prepared in stages meaning most of this dessert is made-ahead.
Must Have Tools for this Dessert
You will need a silicone round baking mold to form this dessert and disposable piping bags fitted with tip # 12 or larger.   The piping tip will help direct the filling in even levels for this domed dessert.
Even though the recipe is long and looks overwhelming prepared in stages make it a breeze and fun to assemble.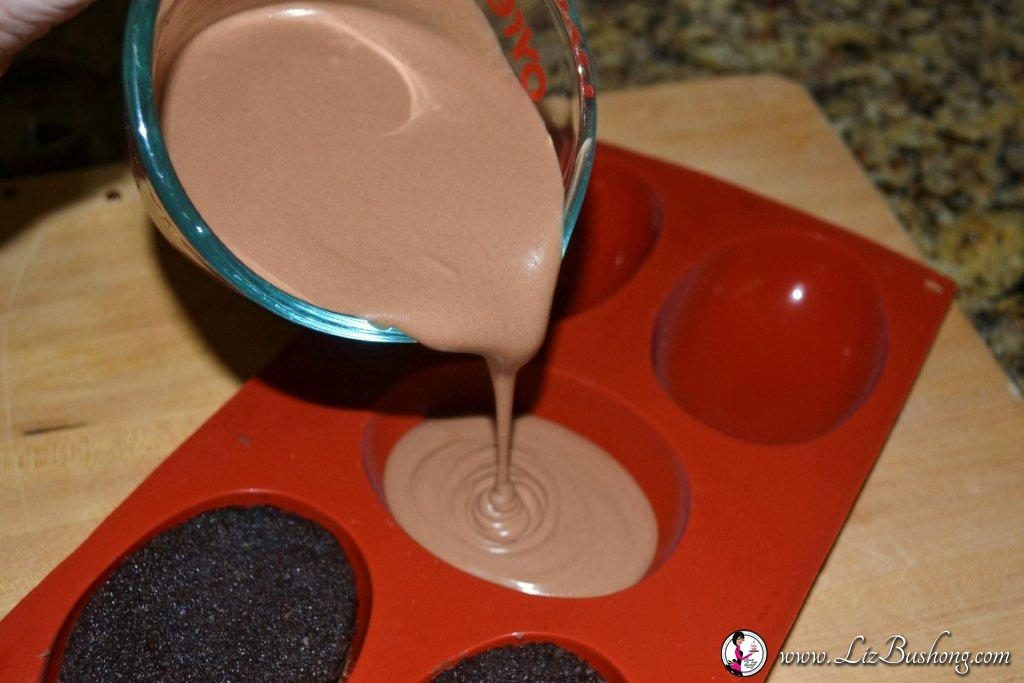 Four Easy Make-a-Head Stages 
You will be making the pumpkin cake first, cut out and freeze a couple of days before the serving event.
Make No Bake Cheesecake and Mousse filling, fill molds finish with cake base. Wrap and freeze til serving day.
Make Graham Cracker Streusel, freeze until ready to garnish dessert.
Morning of the event, coat frozen dome cakes with ganache, garnish and refrigerate until serving.  Serve dessert chilled but not frozen.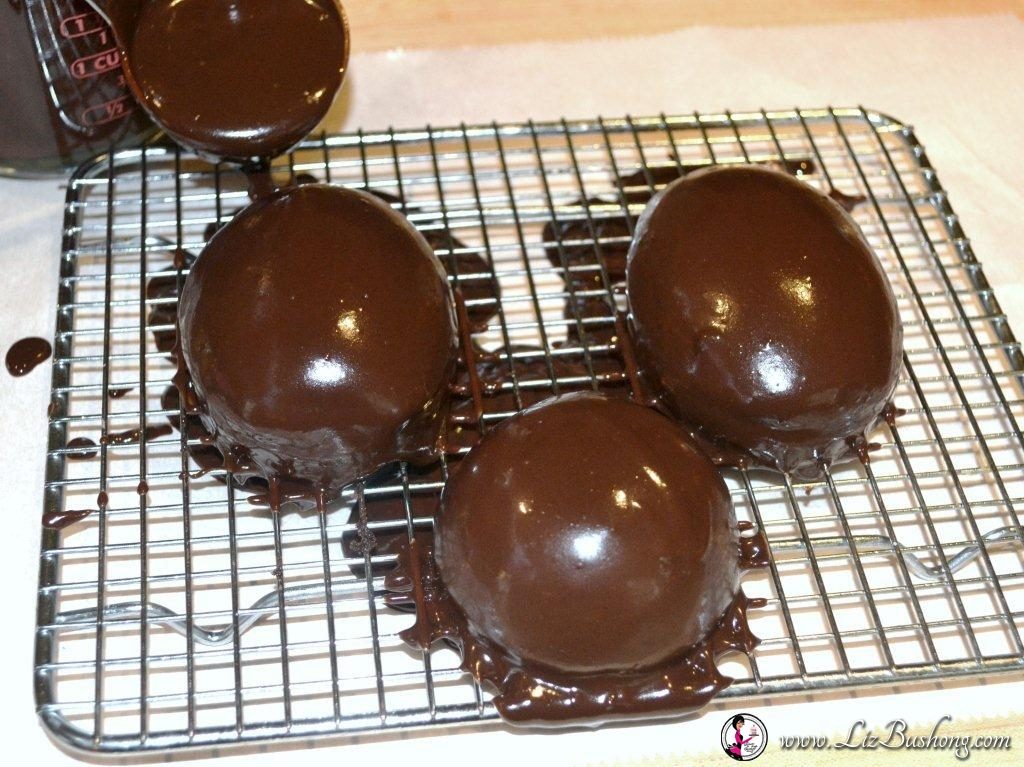 Print
Pumpkin Mousse Dome Cakes
Author: Liz Bushong
Prep Time:

Make ahead stages

Cook Time:

Cake- 15 minutes

Total Time:

Make ahead stages

Yield:

6

individual mini cakes

1

x
Category:

Dessert

Method:

Baking -Freezing

Cuisine:

American
First Layer: No Bake Cheesecake Filling
4 tablespoons cream cheese, softened
1 cup heavy whipping cream, whipped
¼ cup confectioner's sugar
1 teaspoon clear vanilla
Second Layer: Pumpkin Mousse
4 tablespoons cream cheese, softened
1– tablespoon sugar
1 tablespoon packed brown sugar
1/3 cup pumpkin puree, not pumpkin pie mix-tested Libby's
½ teaspoon clear vanilla
1 teaspoon pumpkin pie spice
½ teaspoon ground cinnamon
1 cup heavy whipping cream, whipped
¼ cup confectioner's sugar
Cake Layer: Pecan Pumpkin Cake Roll
3 eggs
1 cup sugar
1 teaspoon lemon juice
¾ cup all purpose flour
½ teaspoon baking powder
¼ teaspoon salt
3 ½ teaspoons pumpkin pie spice
2/3 cup canned pumpkin
½ cup toasted chopped pecans
Garnish:
½ cup heavy whipping cream
1-cup dark semi sweet chocolate morsels
Instructions
Stage 1: Prepare, bake pumpkin cake-Cut out and Freeze 
Preheat oven to 375 degrees. Line 15 ½ " x 10 ½" baking sheet with parchment paper. Spray pan and parchment with cooking spray. Sprinkle with toasted chopped pecans.
Sprinkle tea towel with confectioner's sugar, set aside.
Beat eggs in large mixing bowl on high speed until eggs are thick and lemon colored 5 minutes.
Gradually beat in sugar and lemon juice.
Sift together flour, baking powder, salt and spices. Add to egg mixture.
On low speed add pumpkin puree and flour gradually, beat batter until smooth.
Pour batter onto parchment paper pecan lined baking pan. Spread to all edges of pan with spatula being careful not to uplift the pecans.
Bake 12 -15 minutes or till center is done. Remove from oven, immediately loosen edges and flip cake onto tea towel. Cut cake in half of 15 1/2'' (7 ¾")   Roll remaining cake side in tea towel like a jellyroll. Reserve for another dessert.
Place remaining cake half in freezer for 10 minutes, then using a 2 ½" round cookie cutter, cut out 6 rounds, wrap and freeze until ready to assemble.
Stage 2:  Make Graham Cracker Streusel Garnish and Filling Instructions
Whip 2 cups of heavy whipping cream in large mixing bowl with ½ cup confectioner's sugar, beat on medium speed to soft peaks, add vanilla, beat on high until stiff peaks form. Divide whipped cream in half into 2- 1 cup portions. Place each cup into separate mixing bowls. Set aside.
First Layer: Beat 4 tablespoons cream cheese until smooth, add 1 cup whipped cream beat to blend. Place filling in disposable piping bag with round tip #12 or larger. Chill while making pumpkin mousse.
Second Layer: Beat 4 tablespoons cream cheese with sugar, brown sugar, puree, and spices on high to combine. Add 1 cup whipped cream beat to blend. Place filling in disposable piping bag with round tip # 12 or larger
Stage 3: Assemble: In silicone round dome baking pan, pipe cheesecake filling 1/3 full, leveling as you go. Pipe mousse on top of cheesecake filling to ¼" of the top of mold. Place pumpkin cake round on top of mousse. Cover with plastic wrap and freeze 2-3 hours or until day of serving.
Stage 4: Serving Day: Remove from freezer and un-mold cakes. In small microwave bowl, add ½ cup heavy whipping cream and microwave 40 seconds. Remove from microwave add chocolate chip morsels stir until smooth.
Place dome on wire rack over a baking sheet, pour melted morsels over the cakes covering the domes entirely on all sides.  Garnish with Graham Cracker Streusel or pumpkin seeds. Keep refrigerated until ready to serve. Serve chilled but not frozen.
Notes
It's long but worth it.  Enjoy!
Keywords: Pumpkin Mousse Dome Dessert
Other Ideas you might like to try: