However you slice it…Triple Brownie S'More Mini Cakes are delicious! Three layers of brownies are stacked together with graham cracker streusel, ganache and marshmallow creme. Basically, these little cakes are individual servings about the size of three bites. The 2-1/2 inches by 2-1/2″ mini dessert makes the best little ending to a perfect dinner. Celebrate fall or any time with this rich dessert.
One note.. right before serving garnish with marshmallow creme, graham streusel, and mini chocolate bar. Brownies freeze well and best served at room temperature. Scroll down for recipe. It is long but worth it and each step is not difficult.
S'More Brownie Please! Easy Dessert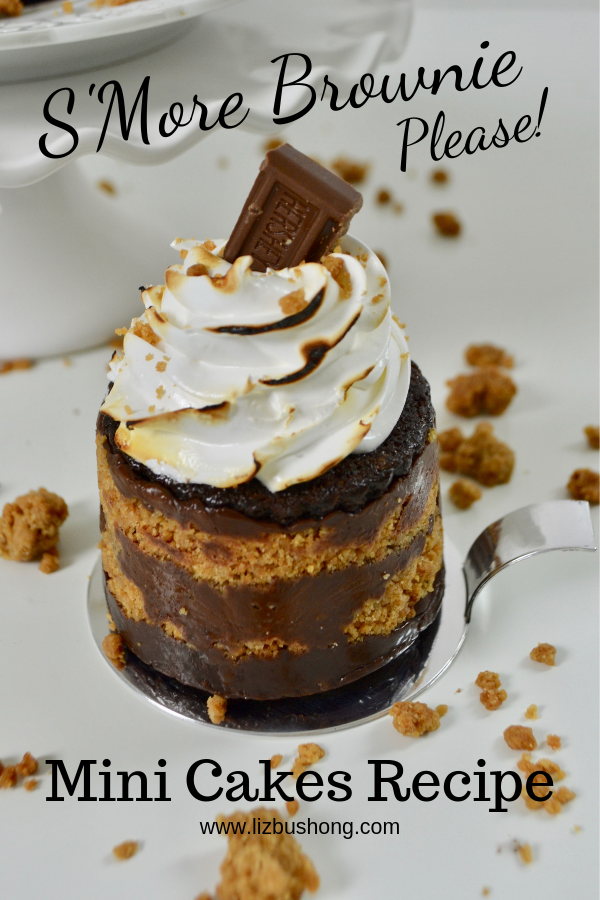 Make these Individual Desserts For Fall Entertaining!
The marshmallow meringue is not strong enough to place between the brownie layers.. it will collapse even after freezing. Just an FIY. Below photo has one layer of brownie on the bottom of the dessert with ganache, graham cracker streusel, ganache and marshmallow creme. You can make the mini dessert with triple brownie layers or any combination you desire.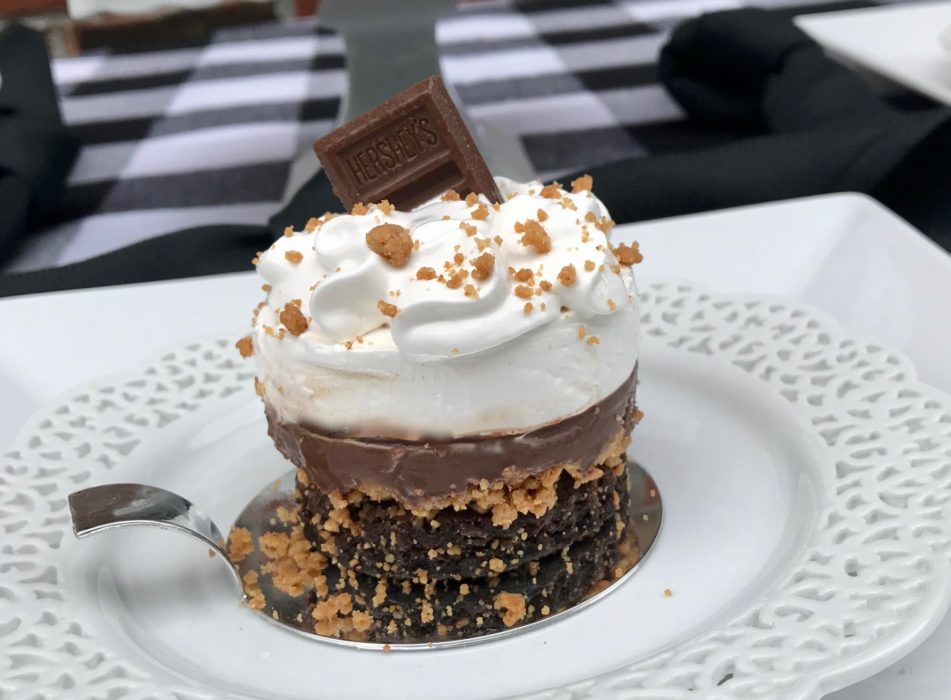 You can make the brownies and graham cracker streusel a day or week in advance, just freeze until ready to assemble. Bake brownies in small cookie sheet with batter about 1/4″ thick. Allow to cool, then freeze.. cut out rounds to fit silicone baking mold.
You will not be baking this dessert after assembling. The brownies and graham cracker streusel are the only items that are baked ahead of time making assembly easy.
Make Mini S'More Cakes, recipe below.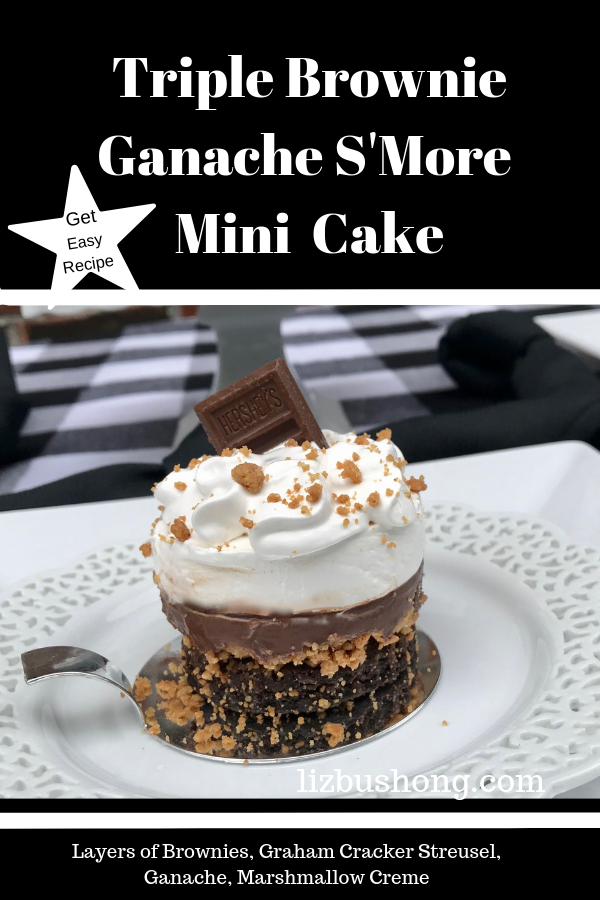 Marshmallow creme frosting has a bit of gelatin and corn syrup to help with firmness to hold the piping shape. Although it is optional to add those two items, if you don't use them your marshmallow creme will be softer in texture and therefore softer piped designs.
Let me know if you make this dessert. xo
Print
S'More Brownie Mini Cakes
You will need a 2-1/2″ round silicone baking mold, a piping tip 1M, & disposable piping bag . Easy to assemble, plan for refrigeration time for mini cakes to set up.   Recipe looks long.. but it is well worth the effort. To speed up time.. bake brownies and streusel a day ahead, freeze until ready to assemble dessert.
Author: Liz Bushong
Prep Time:

30 minutes+ 2 hours refrigeration

Cook Time:

15-18 minutes

Total Time:

60 minutes + chill time

Yield:

6

mini desserts

1

x
Category:

Dessert

Method:

Baking/Assembly

Cuisine:

American
Brownies:
1 package Brownie Mix- Tested Duncan HInes
2 eggs
1/3 cup vegetable oil
1/3 cup water
1 tablespoon Chocolate Syrup
Graham Cracker Streusel* 
2/3 cup almond flour
2/3 cup graham cracker crumbs
2/3 cup packed light or dark brown sugar
1/3 cup butter, 1/2″ cubes
If making Gingerbread Streusel- use cinnamon graham crackers, 1/4 teaspoon ground ginger & nutmeg
Marshmallow Meringue- ( make right before serving) 
4 egg whites, room temperature
1 cup sugar
1/2 teaspoon cream of tarter
1 teaspoon clear corn syrup- Karo
1/2 teaspoon gelatin + 1 teaspoon cold water
1 teaspoon clear vanilla
1/2 teaspoon salt
Ganache
1 cup heavy whipping cream
1–1/2 cups mini semisweet chocolate chips
Garnish:
6 Mini Hershey Milk Chocolate Bars
6 tablespoons graham cracker streusel
Instructions
Bake brownies as per directions on package but bake in 9 x 13 cookie sheet.  Lightly spray cookie sheet with cooking spray and parchment paper.
Freeze cooled brownies for 10 minutes, cut 2-1/2″ circles using biscuit cutter.  Place one brownie layer into silicone mold.  Reserve other brownie layers.  You will layer three brownie rounds with ganache and streusel in that order.
Make Meringue: In small cup add water and gelatin. Stir to combine set aside.
In medium saucepan with 2″ of water, place eggs whites, sugar and cream of tarter, gelatin water in glass mixing bowl or create a double boiler.  Stir the whites until mixture reaches 140 degrees.  Remove from heat and add to mixing bowl with wire whisk.  Whip egg whites on medium speed until soft peaks, add vanilla and whip on high until whites are shiny and firm… about 5 minutes. Cover with plastic wrap, refrigerate until ready to serve dessert.
In small mixing bowl, heat heavy cream in microwave for 40 seconds.  Remove from microwave, add mini chocolate chips.  Stir until blended. Set aside to thicken slightly.
Make streusel:  Combine all ingredients in medium bowl.  After pieces resemble small peas place on baking sheet in heated oven at 325 for 10 minutes.  Watch to make sure it does not burn.  Remove from oven and allow to cool.  It should be crunchy and slightly browned.  If streusel is too large, place in zip lock bag and crush slightly until you get desired size.
Assembly:
In round silicone mold, place brownie layer in each well/cavity.  Top with ganache, add graham cracker streusel, top with ganache, then brownie, ganache, and streusel.  Ending with brownie and ganache.  Refrigerate or freeze to set up until firm.
Before serving, remove cakes from mold.. Pipe marshmallow meringue using a disposable piping bag fitted with tip 1 M or other large star tip.  Pipe in large swirl  add mini chocolate bar and extra streusel.
Notes
Its important to add ganache on top of brownie layers then add the graham cracker streusel so the brownie will hold the streusel.
Using gelatin and Karo syrup will help firm up the meringue.
You will love the marshmallow meringue. You can use this as frosting for cupcakes/cakes.  If you want to toast the meringue, use a torch just briefly.
Graham cracker streusel can be used for other desserts such as cobblers, tarts and pies.  Just double recipe for larger dishes.
Freezes well, to speed up process, after each layer of ganache, freeze mold to set then continue.
Keywords: S'mores, Brownies
Important steps and tools you will need:
You will need a Jumbo Silicone Muffin Pan as the mold for this dessert. First layer is baked brownie round as in photo below. Second layer will be ganache, then graham cracker streusel, brownie, ganache, streusel, ganache, end with brownie. Wrap and freeze until ready to serve.
Make marshmallow creme right before serving, pipe with star tip 1M. Sprinkle with streusel and mini chocolate bar.

Preparing graham cracker streusel

Streusel is baked on baking sheet to crisp. You will love this streusel not only for this dessert but it's great for pie crumble, cobblers, and ice cream.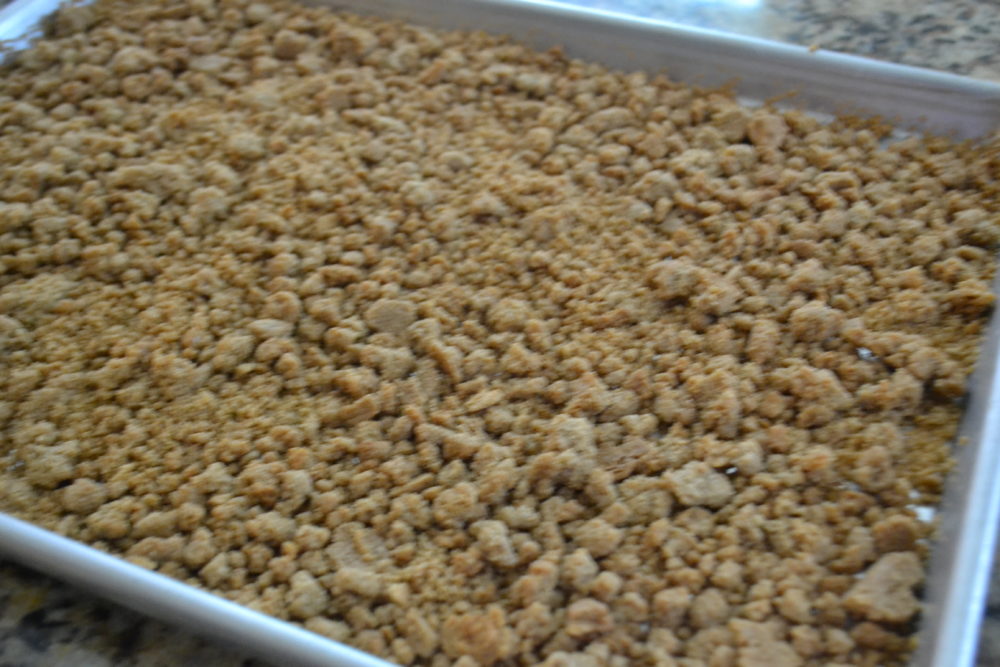 Other ideas you might like to try: