Red, White, Blue Table Setting|Stars n Stripes
Celebrate summer with this easy red, white and blue color scheme for outdoor entertaining. Whether it is Memorial day, 4th of July, or end of summer Labor Day nothing beats the beauty of red, white and blue. For this setting, the dessert and centerpiece compete for center stage. The centerpiece features trailing red, white and blue Lobella and will spill over the edge of the container as the summer months come to a end.  One arrangement for many occasions will bring great satisfaction.  In fact you will probably have to replant this trailing beauty for it spreads easily and has continuous blooms.   The dessert features star & stripes crust with strawberry filling. You won't believe how easy this mini dessert is to make and what you bake the pie in?
Making the Red,White and Blue Centerpiece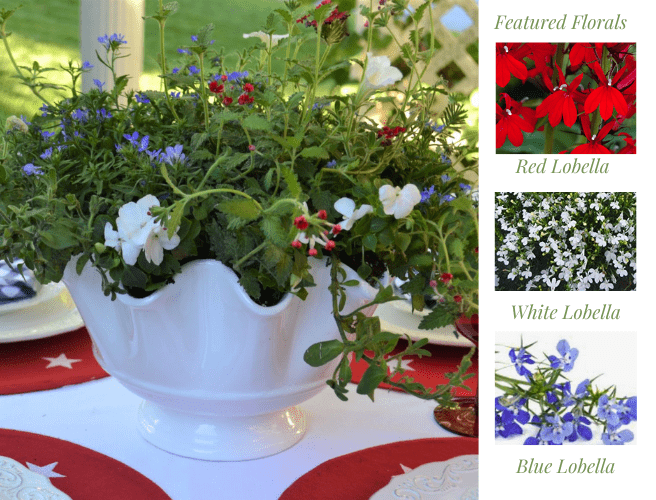 Super simple centerpiece features a ruffled white bowl which I purchased from pier 1 a few years ago. (The link to bowl is not the same one I have but would be a great substitute.) Inside the container are three 6 inch pots of trailing lobella, red, white and blue. The foliage is so thick I didn't need any moss to cover the pots edges within the large bowl.  Keeping the plants potted was for a reason; I will be transplanting them into larger container so they will be able to trail and spill over as much as they want.  These make great hanging baskets for decks, patios and around the base of palms or evergreen shrubs as a ground cover.
Why Use All the Same Type of Plant?
Mainly because I wanted a low level spreader and the same watering schedule. Lobella has beautiful blooms that will bloom all summer so the mix of the three colors will be beautiful and easy to maintain. Another reason there is a lot of movement with the foliage and the blooms, it will spike up, and spread out as well as offer different sized blooms through out the season.  It's easy, inexpensive and lovely all in one container.
Note:  For a quick and easy centerpiece, the three small pots in one container will make your table look great with out expense as well as provide floral display planted in your yard later.
Hope you will try to make this centerpiece.  It is very simple and makes a statement. Next is the dessert and table setting ideas.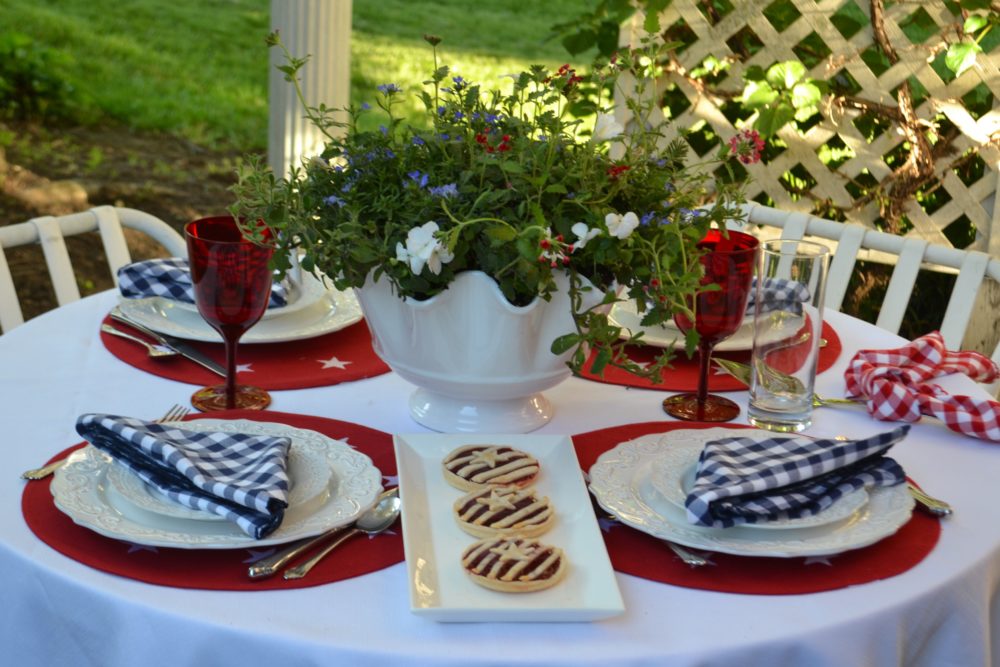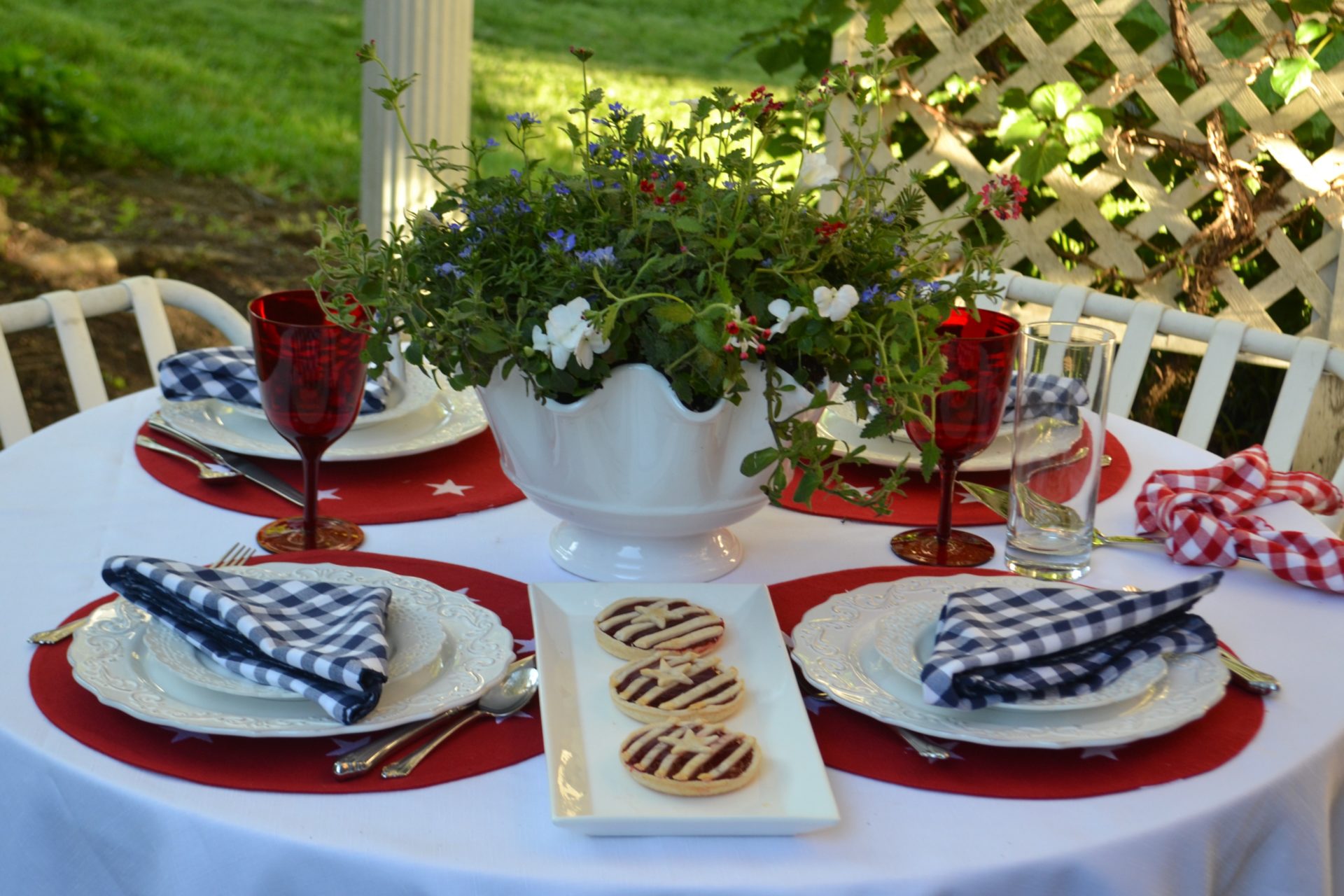 Stars n Stripes Patriotic Tablescape| Dessert
In keeping with the color scheme,  strawberry filling peeks out through the star and striped crust of these Mini Strawberry Pies. Get the recipe here. Super simple, baked in a canning lid! Yelp the secret is out… they make cute little pies with out purchasing a special baking dish.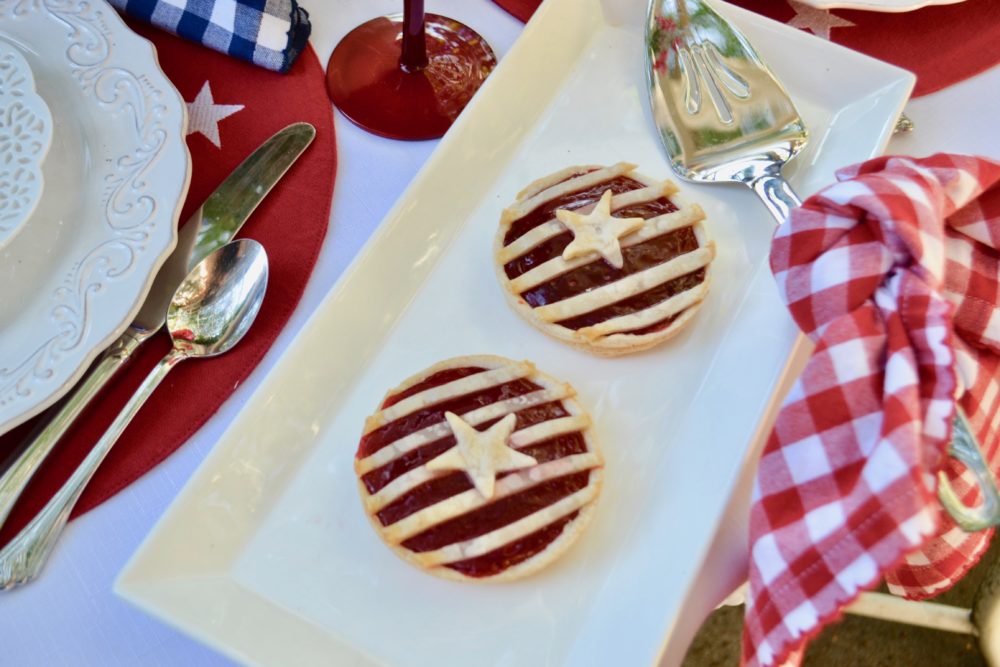 To present the pies, place on a long rectangular flat serving platter right on the table. Right before serving, add a scoop of French Vanilla Ice Cream. YUM!
Setting the Red, White and Blue Table
Classic white dinner plates and cut out edged dessert plates brings calmness to the overall setting.  The white table cloth grounds the table scape and makes a beautiful simple background.
Note: Mixing pattern on plates is easy if you keep the plate color in the same hue, it creates interest to the place setting.  For example, white on white adds interest without being plain ole white plates. Nothing wrong with plain edged plates but it is fun to mix patterns.
To connect the red, white and blue together, bright ruby red beverage glasses compliment the red placemats and red lobella.  While the white is repeated three times as well, plates, vase, white lobella.  The blue is repeated only twice with checked napkin and blue lobella. If I were to add a third blue element, it could have been a blue dinner plate or blueberries around the dessert.
The napkin fold is a great contrast and much needed power punch of blue for the place setting.

Stars n Stripes Patriotic Table scape| Napkin Fold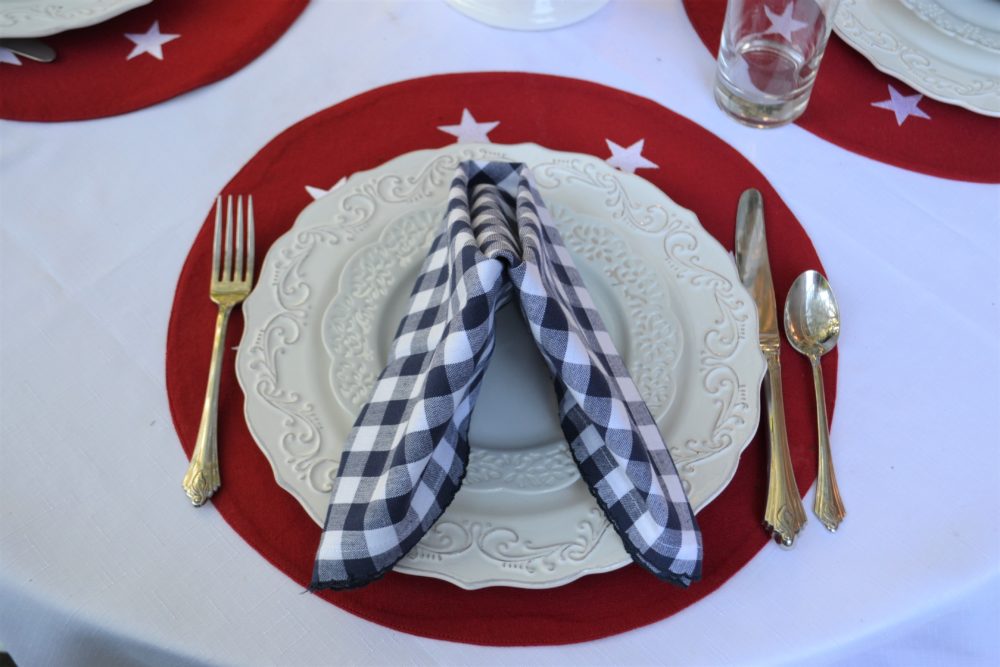 A Blue and white checked cloth dinner napkin is folded into triangles that can be standing or flat on the dinner plate at each place setting.  See how to fold this napkin here:
If you don't want to stand the napkin up on the dessert plate, you could also lay it flat over the plate. Notice in the background a red and white checked napkin tied in a knot. I was playing with the folds and colors but didn't like the red, so went with the blue.  Much better don't ya think?
However, I did use the red checked napkin on the beverage tea pitcher handle to help with grip and drip of condensation from the ice tea and humidity of summer da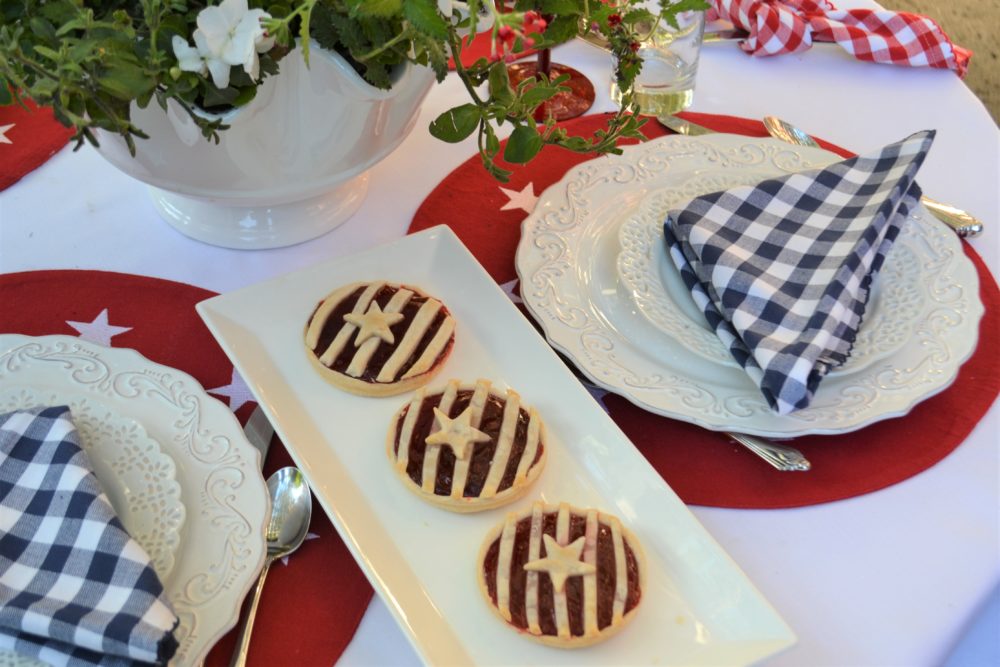 Hope you enjoy this pretty table.  Celebrate in Patriotic style with the classic red, white and blue!  Its fun and a pretty, easy to do and always in style!
Other Ideas you Might Like to Try: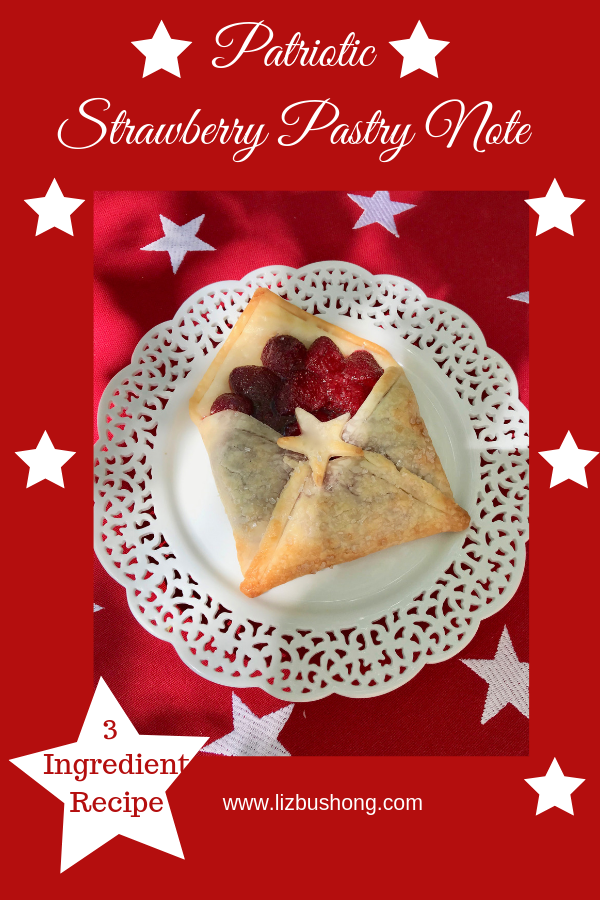 How to Make Star studded Centerpiece and Table Setting.