Need an eye catching and delicious summer cake?  Then make this Patriotic Stars & Stripes Half Cake Roll.  However you slice it, this cake will be a big hit.  The cake is made in three stages with two cake batters and creamy whipped cream cheese filling.  It's a simple cake to make but looks complicated. Don't let the length of this post scare you.  I just make sure you get the details-photos therefore it is long.   ( This cake roll was recently featured in a Best Stars & Stripes Round up for Parade.com)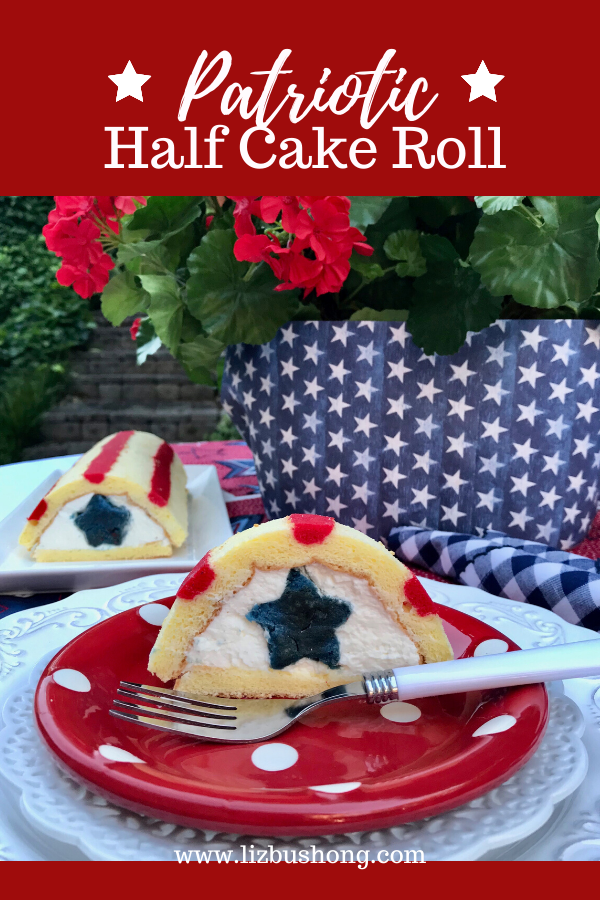 The striped sponge cake is baked in a 13″ x 9″ sheet pan lined with parchment paper. To create the stripes on the outside of the cake; red tinted cake paste is piped in 3/4″ vertical stripe.  The cake paste is made of butter, confectioner's sugar, egg whites and cake flour tinted with red food gel.  However, a sponge cake batter covers the frozen cake paste stripes and the two are baked together in a hot oven for 7 minutes.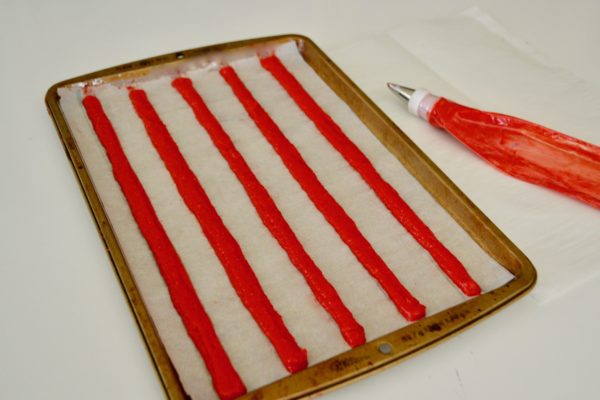 Folding whipped egg whites to make the Sponge Cake Batter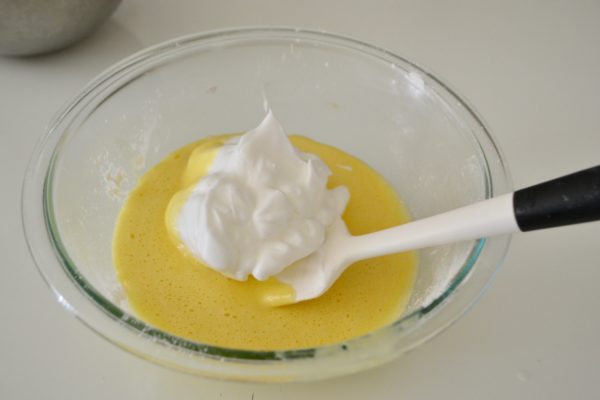 Once sponge batter is mixed it is poured gently over the frozen red stripes.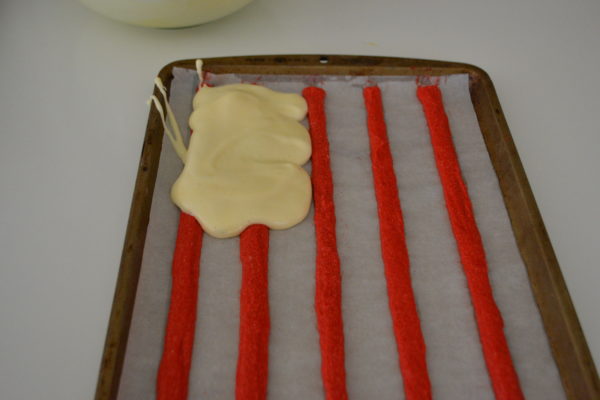 How to Mold the Cake in Home-Made Cake Mold
is pretty easy to do. Using a 18 ounce round oatmeal container without lid provided a great shape for the 12″ cake.  Cutting the container in half and taping together with packing tape at the 12″ length is all you need to do to create this mold.  YOU WILL NOT BE BAKING IN THIS MOLD. This mold is for shaping only.  Turn the container mold over to mold the warm cake.  If you don't want to make this mold, you can order this one online.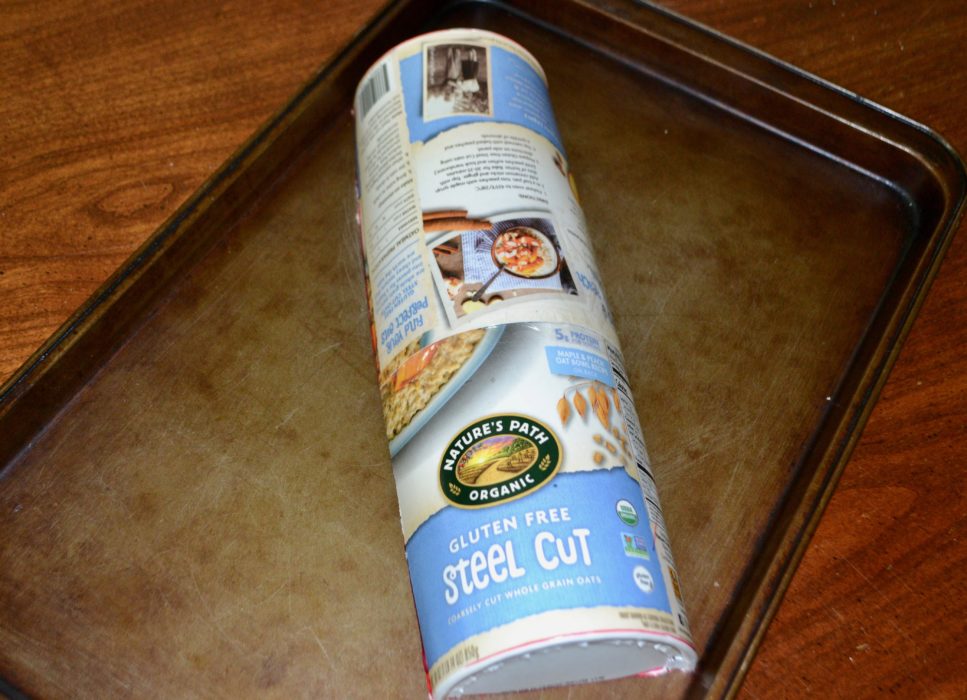 Remember you will not be baking in this mold, but for freezing or refrigerating yes.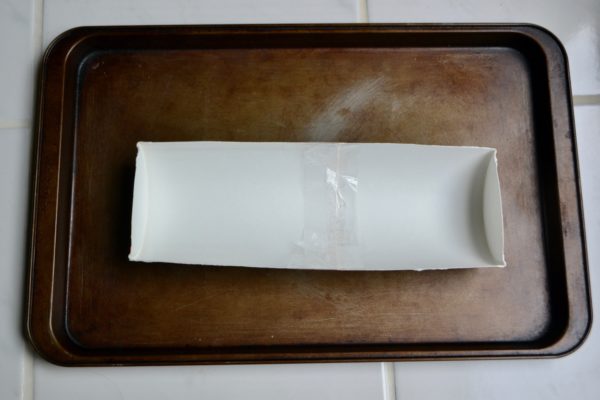 Remove parchment paper and crumb coat the sponge between the red stripes. It will peel off perfectly and make the red stripes pop.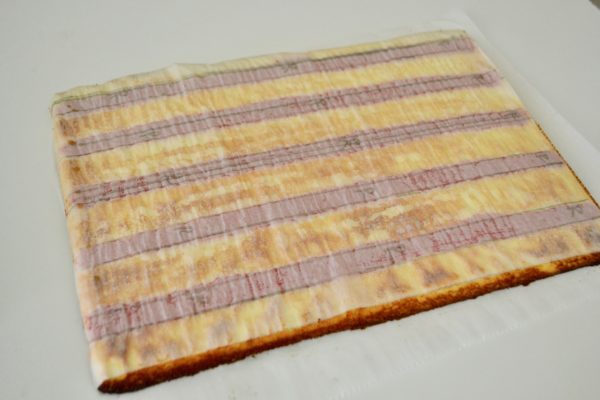 Cake before crumb coating. 
Crumb coating is simply gently removing the browning crumbs of the cake with a small knife or your fingers.  This process prevents crumbs in frosting a cake, however we are not frosting this cake, we just want a cleaner looking cake after it is molded.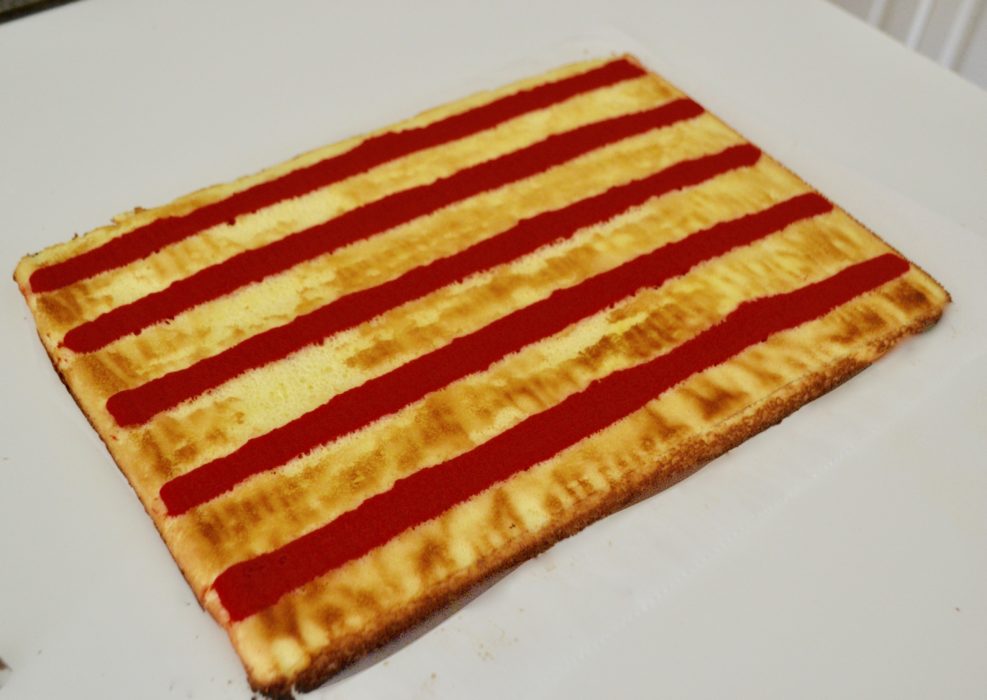 Instead of turning the hot sponge cake on a confectioners sugar tea towel to roll up, this cake is turned over while warm and molded into a home-made half round shaped container.  With parchment paper removed the cake edges are trimmed to fit the dimensions of the mold, aligning the center stripe with the center of the mold.  You can lift the cake to see if you are properly aligned.  The photo below has a rectangular tart mold with removable bottom that was the perfect width for this mold, only had to cut the ends to the length of the mold.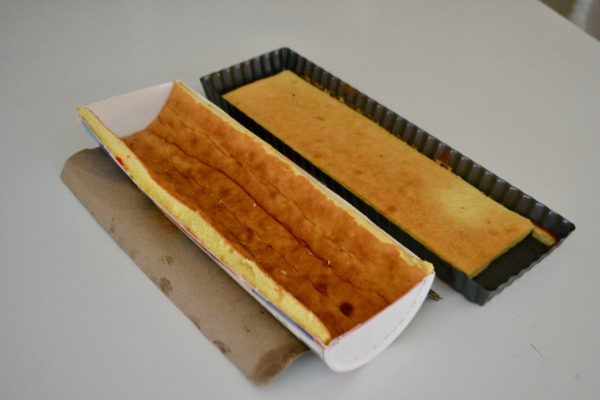 Slide a shaped piece of parchment paper on both ends of the mold before filling to prevent the filling from spreading on the outside of the cake roll. 
Consequently, use a paper towel tube cut in half to help stabilize the mold while filling; see photo below.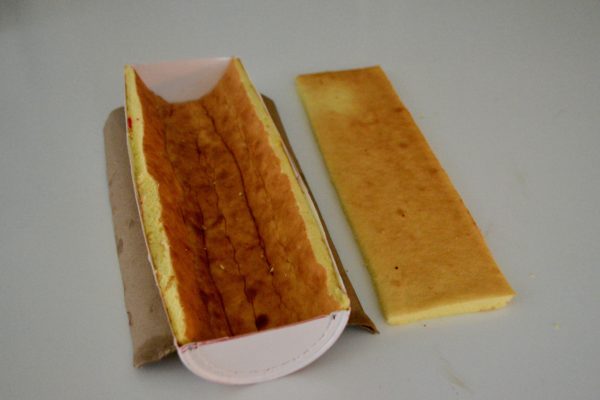 Surprisingly, the cake does not break when placing in the mold.  Yeah!  Meanwhile, fresh heavy whipping cream, softened cream cheese and confectioner's sugar are whipped and piped into the center and half way up the sides of roll.  Use a large round piping tip # 808 if you have it but it isn't necessary if you don't have it.  A 1/2″ round tip or cut zip lock baggie end will work just fine.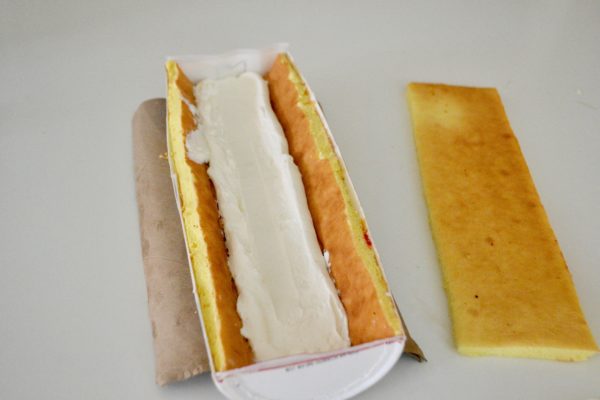 Pound cake navy cut-out mini stars were frozen ahead and placed on top of whipped cream mixture. The entire cake filling is covered with a piece of sponge cake the length and width of the molded cake. Here's the recipe for pound cake .Substitute navy food gel in the pound cake recipe if you want navy blue stars. Freezing pound cake star cut outs will make this process easier.  Be sure you turn the stars upside down so when you cut the cake the stars point will be in the upright position.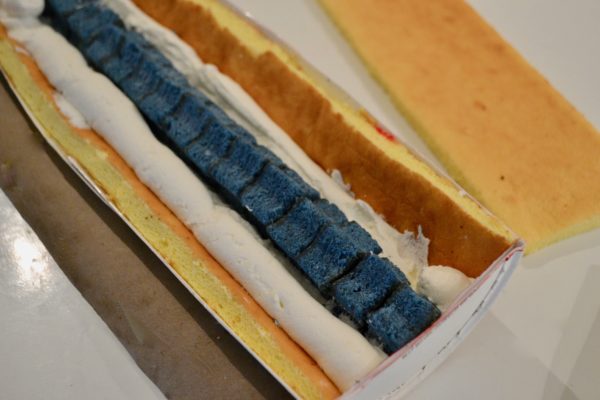 Fill the mold with Cream cheese filling then top with sponge cake layer.
Cover with plastic wrap and chill 2 hours or wrap in foil and freeze til ready to serve. Allow to thaw before serving.  Store cake in refrigerator.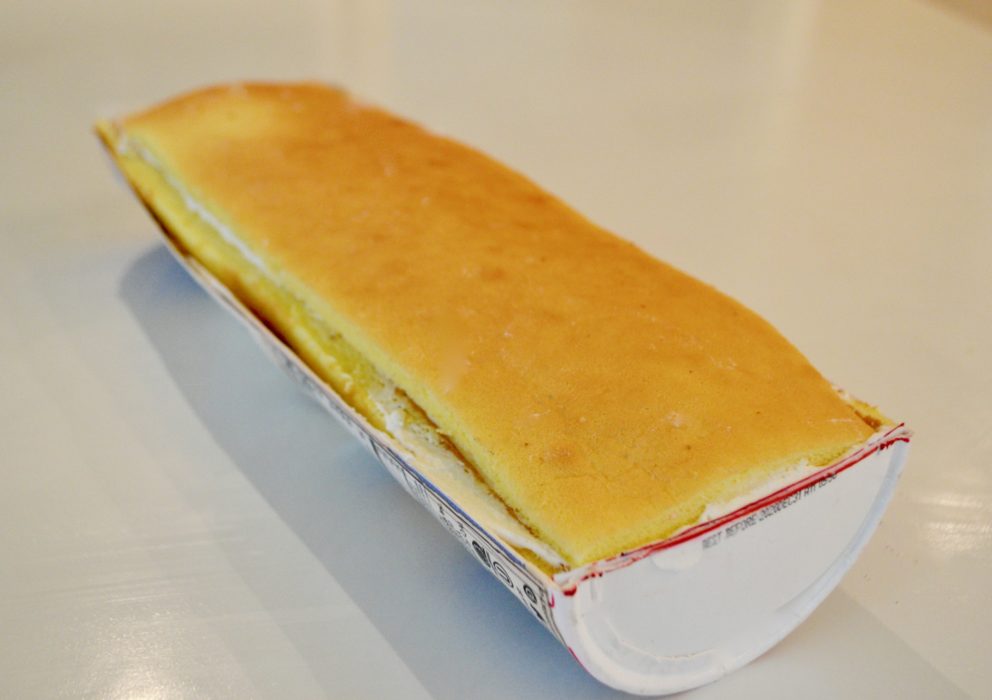 After chilling, turn cake over and release from mold.  It will come out beautifully.
Cut off a thin layer on both ends with a very sharp thin knife to get a clean cut to reveal the filling with stars. Serve on long 12″ x 6″ rectangle white plate.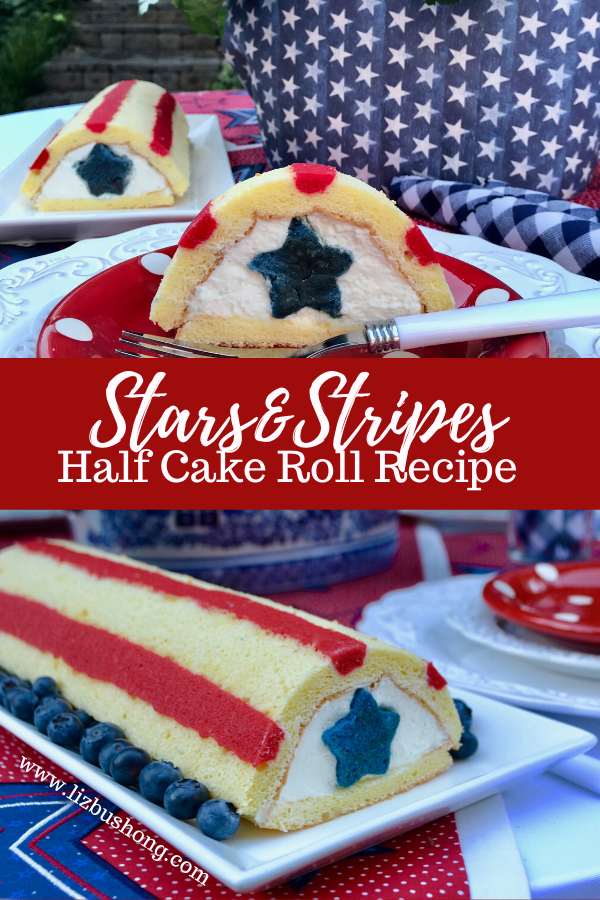 In conclusion here is the recipe.  Hope you will make one for your family.  If you make the pound cake stars ahead and freeze along with your mold, those are the two that takes the most time.
Be sure to set a pretty table to go with your Patriotic Cake!  Soave Napkin Fold in Glasses.
Enjoy!  xo Liz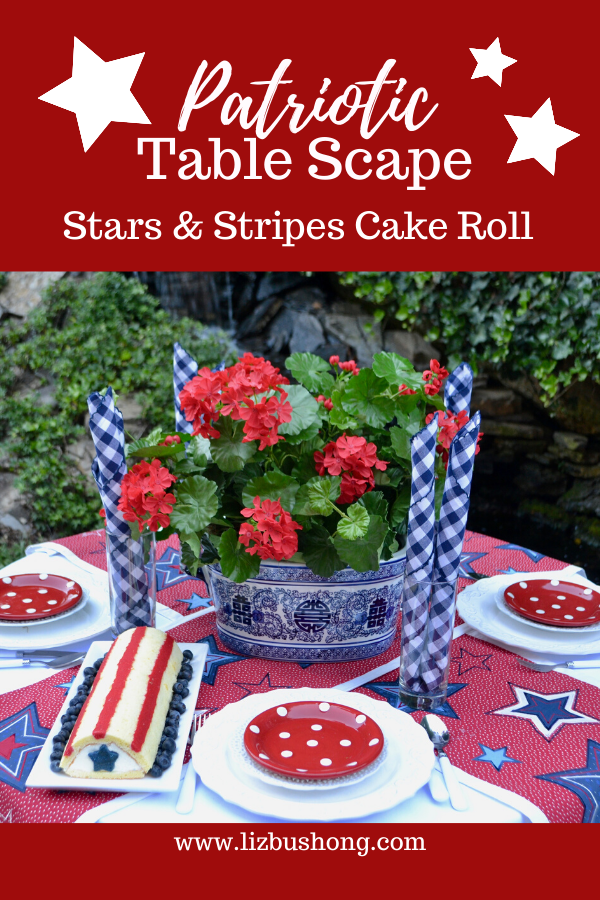 Print
Patriotic Half Cake Roll
Author: Liz Bushong
Prep Time:

Make ahead 2 hours +90 minutes + 2 hour chill

Cook Time:

7 minutes

Total Time:

4-6 hours

Yield:

10

-

12

one inch slices

1

x
Category:

Dessert

Method:

Molding & Baking

Cuisine:

American
Cake Paste
1/4 cup butter, softened, not margarine
1/3 cup + 2 tablespoons confectioner's sugar
2 egg whites, room temperature
1/4 cup + 2 Tablespoons Cake Flour
Super Red food gel – 2 drops + as desired
Sponge Cake
1/3 cup cake flour
3 Tablespoons corn starch or arrowroot
4 large eggs, room temperature
1 large egg yolk
1/2 cup sugar
1 teaspoon cream bouquet flavoring or clear vanilla
1/2 teaspoon cream of tarter
Pound Cake Stars Recipe- use Navy blue food gel
Cake Filling
1/2 cup cream cheese, softened
1/2 cup confectioner's sugar
1/2 teaspoon cream bouquet flavoring
1–1/4 cups heavy whipping cream, chilled
Instructions
One or two days ahead: Make pound cake for stars. Freeze cake then cut out mini stars, freeze stars til ready to use. Make home-made cake mold, gather supplies, tips # 48 for piping red stripes, # 808 or 1/2″ large round tip for filling, disposable piping bags, 9 x 13″ cookie sheet, parchment paper, Springform rectangle tart pan.  Determine serving platter.
Making Cake Paste and Stripes
Fit parchment paper to fit 9 x 13″ baking sheet.  Cut two pieces.  On one piece, draw vertical lines with marker your desired width for red stripe. Begin in middle of parchment for first stripe and work out widths from center. Turn this marked piece over and place in lightly greased baking sheet.  Spray with cooking spray the top side of this marked parchment.
In small mixing bowl, beat together, cake paste ingredients,  Place paste in piping bag fitted with tip # 48, ( one side of tip is ridged the other is flat). Pipe paste on parchment pattern forming red vertical stripes. Piping should be 1/4″ thickness. Use a sharp knife to clean up, keep straight the vertical stripes if necessary. Freeze 30-45 minutes.
Make Sponge Cake-Preheat oven to 450 F.  Rack in middle of oven.
Sift together cake flour and corn starch in large mixing bowl.  Set aside.
Separate eggs from yolks and whites in two separate bowl.
In large stand mixer fitted with paddle, add 3 egg yolks + 2 remaining whole eggs, beat on medium high until thick, gradually add  1/2 cup granulated sugar, beat on high speed for 5 minutes until batter is thick and triple in volume.  Add flavoring, beat to combine
Fold in half of the flour mixture, do not use mixer for this process, repeat until all flour is incorporated. Do not over mix batter. Transfer batter to smaller mixing bowl, while you whip the egg whites.
In stand mixer grease-free cleaned mixing bowl fitted with whisk, whip egg whites and cream of tarter until soft peaks form, add tablespoon sugar, and flavoring, beat egg whites until stiff peaks form.
Fold in egg whites with sponge batter, incorporating until no whites remain.
Gently pour or spoon sponge over frozen red stripes in baking sheet. Spreading batter gently with flat edged spatula being careful not to move frozen stripes.
With remaining batter, pour into greased and parchment lined 13″ long rectangular tart pan.
Bake cakes in oven for 6-8 minutes or until browned and cake center is firm.
Remove from oven, place a piece of parchment paper over the cake and flip out onto counter, remove bottom parchment to reveal the stripes. While cake is hot and with a  sharp knife cut off sides of cake to fit inside the home-made mold, centering the red stripe in the center of the mold. Smooth cake up the sides of the mold, set aside to cool.
Make Filling.
In stand mixing bowl, whip cream cheese, confectioner's sugar, flavoring and heavy whipping cream until thick and stiff peaks. Fill piping bag fitted with Tip # 808 or large round tip with cream mixture.  Pipe center of cake with filling and partially up the sides of cake.
Remove frozen blue stars and place upside down in the center of the filling. Cover stars with remaining filling to the top of the mold. Smooth top with off set spatula.  Add cooled rectangular cake layer to the top of filling. Pressing gently to seal cake.
Cover cake with plastic wrap and chill for 2 hours before serving.
To serve:  Turn mold over to release cake onto rectangular 13″ x 6″ serving plate. Cut off both ends to reveal stars.
Notes
Read entire recipe post and recipe before making for best results.
Prepping ahead will save you time and energy.
Use clean sharp knife to cut cake edges, and ends of cake before serving to reveal stars.
Recipe was inspired by www.sweetdreamsandsugarhighs.com
Keywords: Half Roll Cake, Patriotic Cake, Roll Cakes, 4th of July
Other Ideas you might like to try: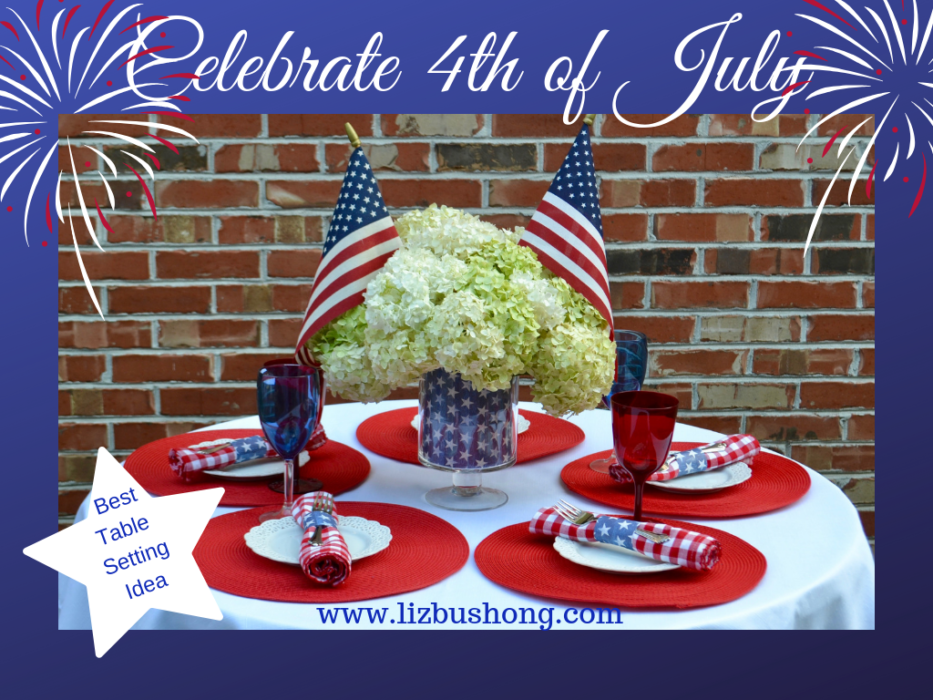 Cran Raspberry Mirror Cake Recipe