Nothing says Spring and Easter like flowers, especially when it comes to cookies. These rose and flower butter cookies are made with basic pantry ingredients. My favorite butter cookie recipe comes from King Arthur Flour.  The recipe uses confectioner's sugar instead of granulated with the butter.  The dough is mixed and chilled 2 hours or overnight which makes the cookies easy to cut and bake. Whatever shape you cut the cookie that is the shape it will be when it is baked. Makes cookie decorating fun when you have a great recipe.
How to Make Rose & Flower Decorated Butter Cookies
The inspiration for this rose cookie was Spring and pink. Medium pink buttercream decorates this one inch round cookie. Using a decorating tip # 1 M and small leaf tip # 352 is all you need to make this 2 bite cookies. Of course the buttercream will need to be the right consistency and I have the perfect recipe for you! Not to worry… there are two quick videos on the piping technique too. If I can do it you can too!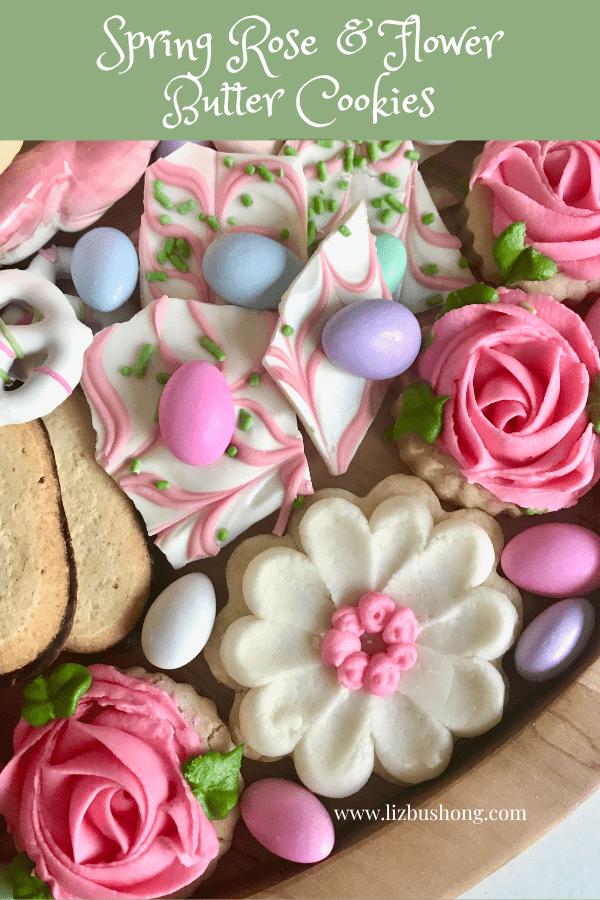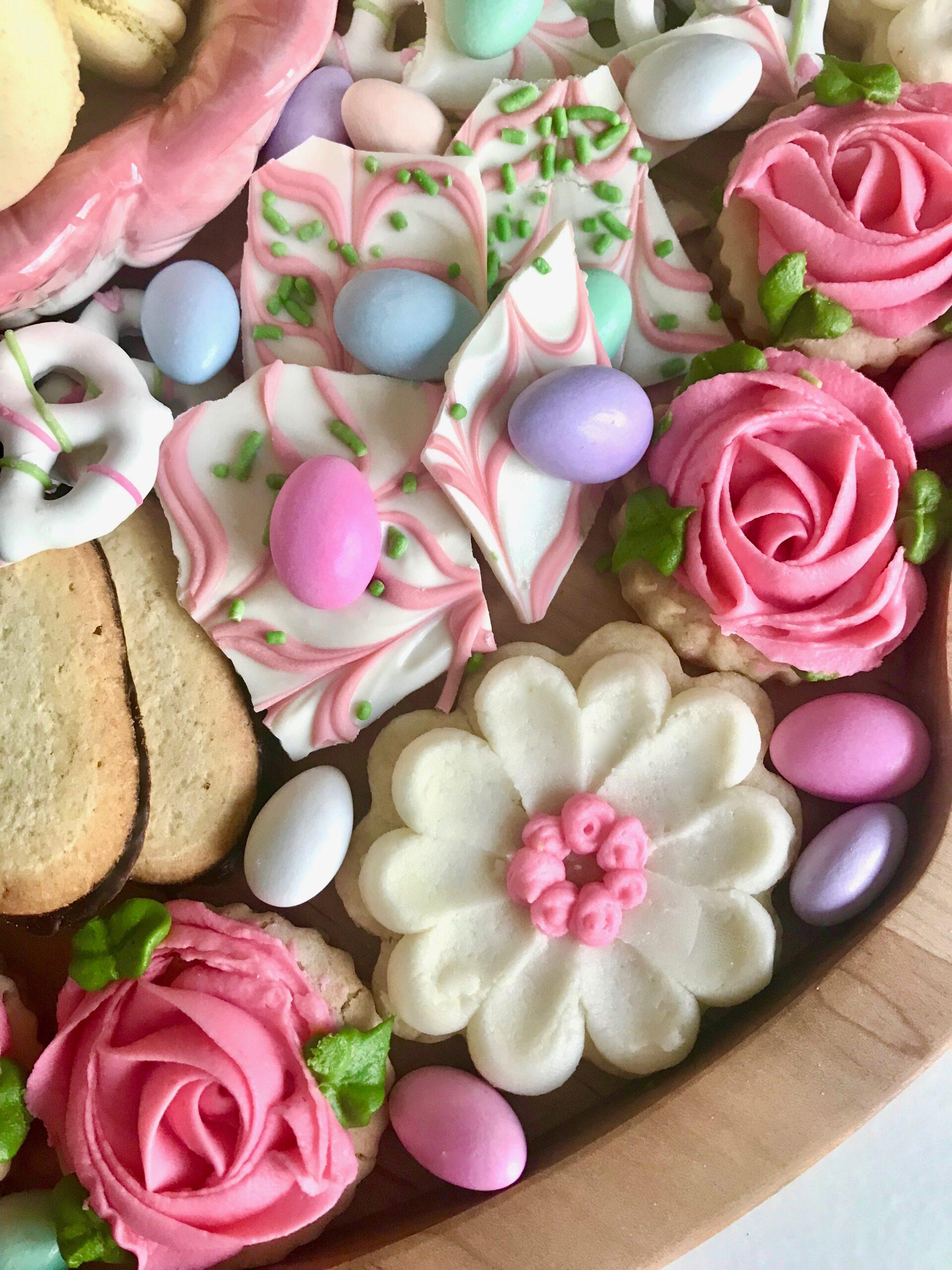 Making the Cookies
In a large mixing bowl fitted with paddle beater, cream together room temperature butter until it resembles mayonnaise. add confectioner's sugar, egg yolk, salt and vanilla extract. Beat until smooth and creamy. Next add flour, if dough is too dry, add a tablespoon of water to soften and blend. Divide dough into two flatten discs. Wrap in plastic wrap and chill 2 hours or overnight. When ready to shape, remove from refrigerator and allow to sit 10-15 minutes before rolling out. Preheat your oven to 350 degrees. Line two baking sheets with parchment paper and set aside.
Roll dough on confectioner's sugar surface to 1/8″ thickness. Cut large scalloped edged cookies with metal cookie cutter using one disc, use the second disc to cut out the 1″ round cookies. I used a linzer cookie cutter for the 1″ round cookie. Place cut out cookies on baking trays and bake in preheated oven for 8 minutes for the one inch cookie and 10-12 minutes for larger cookies. Cookies will be lightly browned around the edges. Remove from oven and cool to touch before frosting. At this point, you can wrap and freeze these baked cookies.  Do not freeze frosted cookies if you can help it. They will freeze great but they are hard to stack once decorated.
How to Make Butter Cream Frosting
In mixing bowl of stand mixer fitted with paddle attachment, cream together softened butter, and one cup of confectioner's sugar, beat until smooth, gradually add remaining confectioner's sugar, heavy cream and vanilla. Whip until very smooth, if frosting is too thick add heavy cream or half n half to get the right consistency.  You will need to have a medium density frosting for piping.  It should be smooth, creamy and semi firm, enough firmness to hold a peak with spoon or beaters. If you like cream cheese, you can add 4 ounces of cream cheese to this recipe plus 1/2 cup to 1 cup more of confectioner's sugar.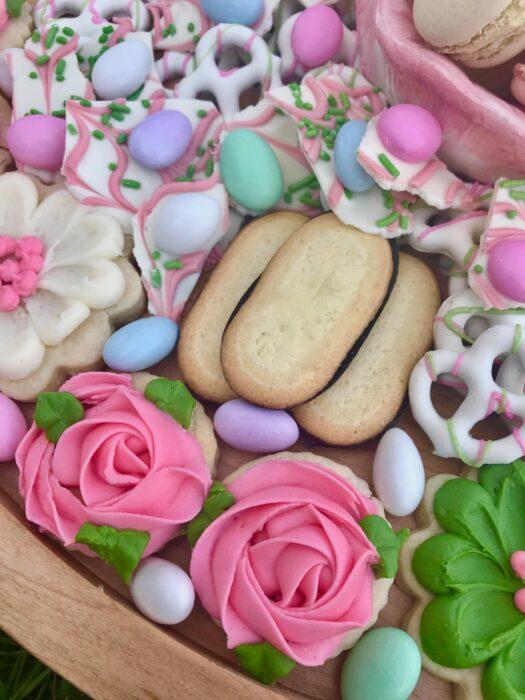 Add food gel, I used 1 drop soft pink, 2 drops of medium pink and 1 drop neon green +barely drop of forest green for leaves on rose cookies.  The white flower I used bright white food gel and leftover pink buttercream for the center dots floral stamens.  If you have green frosting left over you can make the large flower with green petals and pink centers.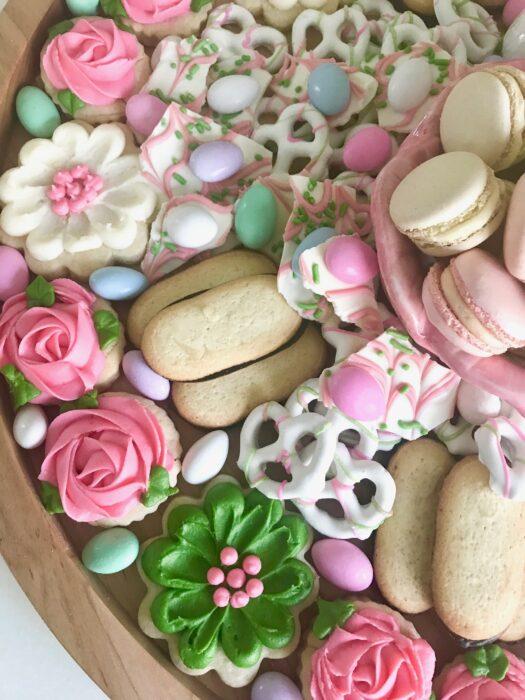 How to Pipe the Rose and Leaf Cookies
Here's a short video on how to pipe the pink rose with leaves. The tip used is 1 M for the rose and tip # 352 for leaf. It is a small leaf piped in green buttercream.
When dividing the white buttercream, you will need more pink than white and green frosting, smaller cookies made more cookies, plus you have the pink centers to pipe using tip #3 round tip for the dot centers of cookies.  I also added 2-3 drops of bright white food gel to the buttercream base to make it brighter white. 
For this cookie below, I used tip # 12 a medium round tip. You will also need a small spoon for dragging the dot frosting to the center of the cookie.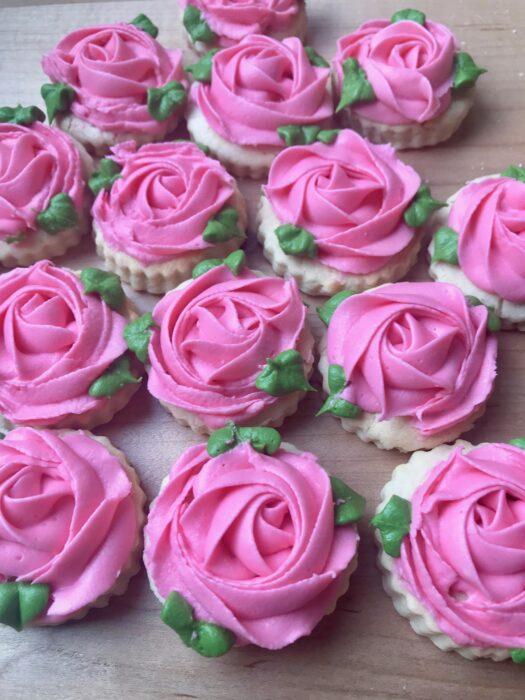 Print
Rose & Flower Butter Cookies
Butter cookie recipe best for cut out cookies as they stay the shape you cut them during baking. Piped cookies are pink buttercream roses and larger scalloped  daisy shape cookie piped in cream or green buttercream.
Author: Liz Bushong
Prep Time:

25 minutes cookie dough + chill

Cook Time:

8-12 minutes

Total Time:

2 hours

Yield:

18

–

24

cookies

1

x
Category:

Dessert

Method:

Baking-decorating

Cuisine:

American
1–3/4 cup confectioners sugar
1 cup + 2 tablespoons salted butter, softened
1 egg yolk
1/2 teaspoon salt
1 teaspoon creme bouquet extra strength flavoring or 2 teaspoons vanilla
2–3/4 cup King Arthur all purpose flour
Butter cream Frosting:
8 Tablespoons butter-softened
2 cups confectioner's sugar
2 tablespoons heavy cream or half n half
1 teaspoon clear vanilla or creme bouquet extract
1 drop soft pink, 2 drops medium pink, 1 drop neon green + barely drop forest green food gel for rose design,3 drops bright white for flower design.
Piping tips: Tip # 1M for rose, #352 leaf, #3 for piping centers, # 12 medium round tip for daisy.
Cookie Cutters: 1 " round linzer cookie cutter, 2-1/3″ round scalloped edge cookie cutter for daisy.
Small spoon for dragging frosting on daisy.
Instructions
Cream butter, sugar, egg yolk, salt and extract in large mixing bowl. Beat until smooth and creamy.
Add flour, if dough is too dry add a tablespoon of water to blend.
Divide dough into 2 flatten discs. Wrap in plastic wrap and chill 2 hours  or overnight.
Remove from oven and allow to sit 25 minutes to soften.
Preheat oven to 350. Line two baking sheets with parchment paper, set aside.
Dust counter with confectioner's sugar and roll out one disc of dough  to 1/8″ thickness. Cut 1″ small round cookies using round cookie cutter or Linzer cookie cutter.Place on baking sheet and bake cookies 8 minutes or until lightly browned. Roll out second disc and  cut out scalloped edge round cookies, place on separate baking sheet for 10-12 minutes.
 Allow to cool from oven 5 minutes before removing from baking sheet. At this point if you want to decorate the cookies the next day  wrap cookies in plastic wrap and freezer bags, freeze cookies until ready to frost. Do not freeze frosted cookies.
Frosting cookies: Buttercream Frosting and Decorating. Mix all ingredients together for frosting. Beat until smooth and creamy, frosting should be medium thickness for good piping stream. Divide frosting into 3 bowls, with one bowl for pink being 1/2 cup more than other two bowls. Add 1 drop soft pink food gel + 2 medium pink gel to this bowl. Stir to blend color. Add more gel to get desired results. To another bowl add 1 drop neon green and barely a drop of forest green food gel for piping leaves, to last bowl of buttercream add 3 drops of bright white, stir each frosting with separate spoon as not to mix or muddy colors.  Fit 3  disposable piping bags with coupler and tips # 352 for leaf, #3 for piping center dots and # 12 medium round for white flower. Cut end of another piping bag to fit the tip # 1 M. No coupler is needed for this large tip and this is filled with the pink buttercream. You will use more pink buttercream for roses and flower centers than other colors. 

To Decorate cookies.  Follow video, using pink buttercream with tip 1 M, pipe a small circle beginning in the center of the 1″ cookie, going around in a circle on top of the cookie, the piping tip will form the rose, keep the nose of the tip close to the cookie to help with rose formation. See video. Pipe tiny green leaves with tip # 352 in three places on each rose cookie.

Piping the daisy. On each scallop curve of the cookie, pipe one large dot. Take a small spoon place in center of dot and drag frosting to the center of cookie, repeat for all dots. Pipe #3 pink small dots in center of cookies. If you have green frosting left pipe dots for green flowers with pink center.
Serve cookies as desired on cookie dessert boards or individually wrapped gifts. Store cookies in air tight container up to two -three days.  In a pinch you can freeze the frosted cookies, but pack carefully as not to mess up your pretty artwork. Freeze up to two weeks.
Keywords: Butter Cookies, Rose Buttercream Cookies, Daisy Buttercream Cookies, Desserts, Dessert Board