Need a quick no bake dessert candy for spring? Check out my original recipe for bird nest candy. Ghirardelli dark chocolate is melted and poured in mini silicone donut pans, filled with toasted coconut and chopped pretzel sticks. Once pan is filled with chocolate, the candies are chilled until firmly set. They look just like a beautiful birds nest complete with blue cadbury eggs. These little treats are perfect for take home favors, Easter baskets, and as a dessert.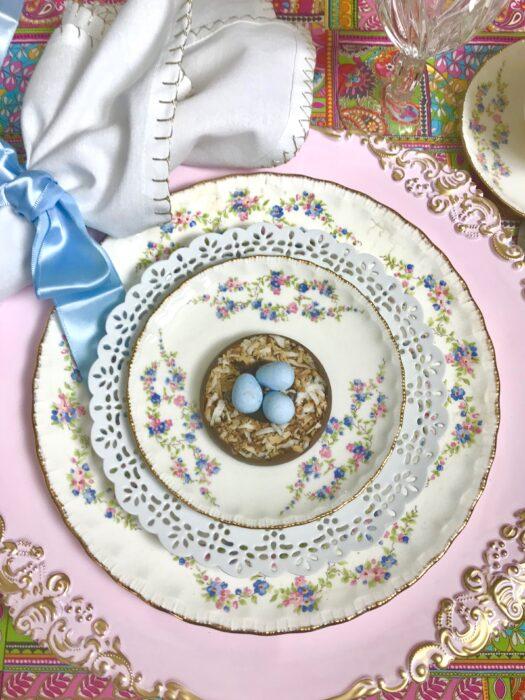 How to Make No Bake Bird Nest Candies
You will need a silicone mini donut pan that has 6 -3″ round donut molds. Using silicone you don't have to grease or line with plastic for molding. What I love about this recipe, its simply toast, chop, pour, chill, pop out, fill center with more chocolate add blue cadbury eggs to resemble a birds nest. So cute!. So Easy!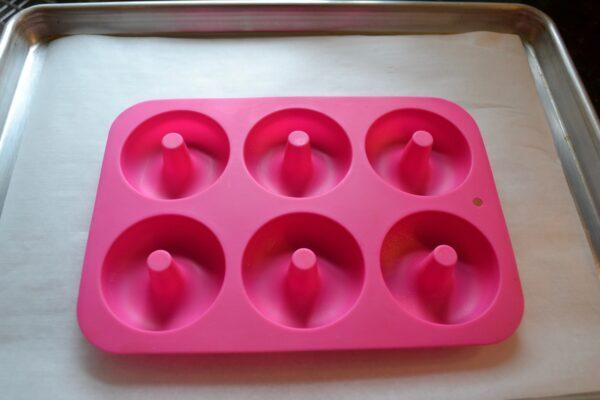 You will also need 2 cups Ghirardelli dark chocolate wafers, 1 cup chopped pretzel sticks, 1 cup toasted sweetened coconut.  To toast coconut,  place coconut in a pie plate and bake in oven at 300 for 5 minutes.  Watch closely as not to burn coconut. Toss with fork until coconut is toasted and light brown or as desired in color.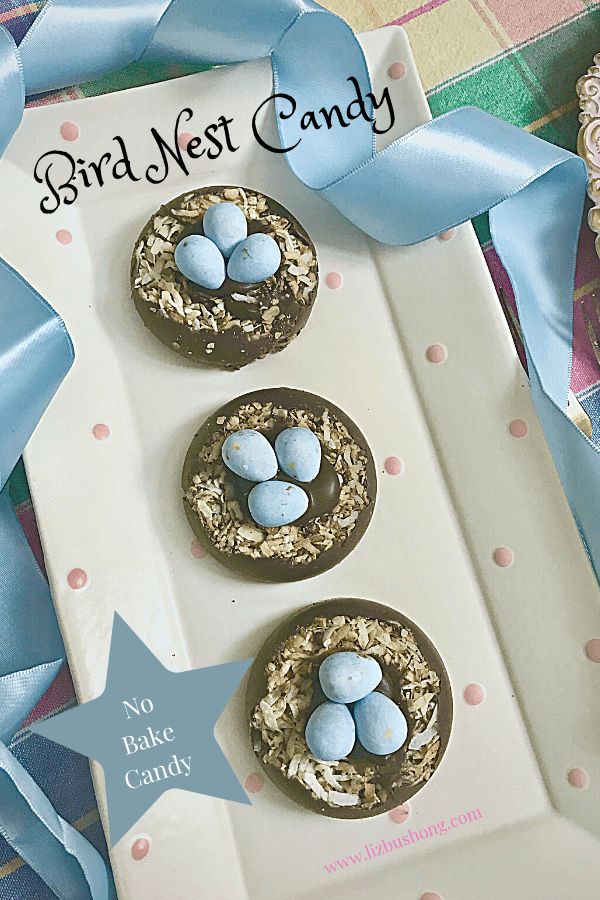 Assembling the Bird's Nest Treats
Place silicon donut mold pans on large baking sheet.  Chop pretzel sticks into small pieces to fit inside the donut mold, set aside.  Melt 1 cup of chocolate in microwave at 30 second intervals stir until melted, repeat process until chocolate is smooth.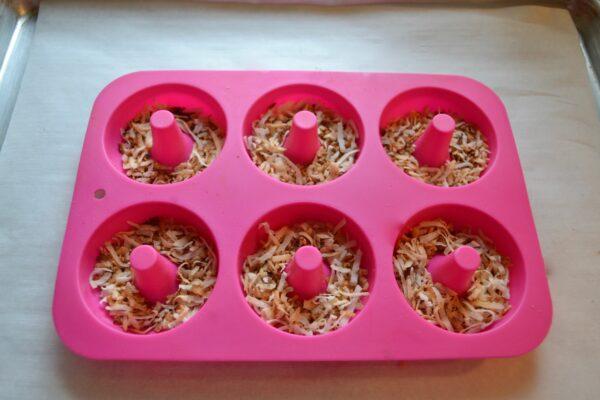 Line each donut opening with toasted coconut, about 1 teaspoon, add 1 teaspoon chopped pretzels, then pour chocolate over both ingredients filling to the top of the mold. Do not stir the pretzels into the coconut or chocolate. Just layer ingredients one on top of each other.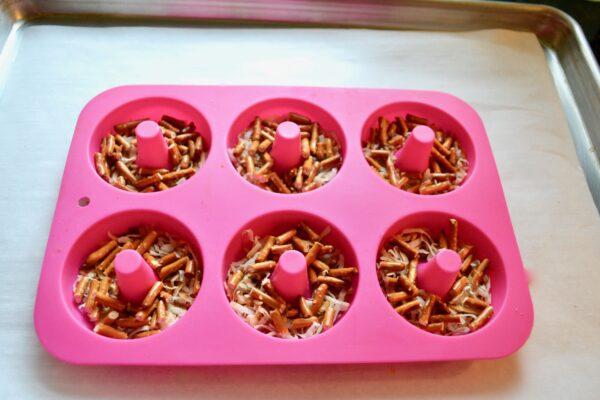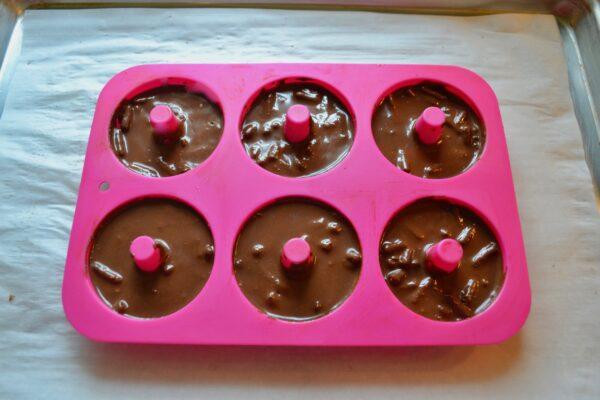 Pop the trays into the refrigerator to chill. If the large baking sheet is too big for your refrigerator, use a smaller tray or flat surface to keep the mold straight and level while chocolate sets.  Allow chocolate mold to sit 30 minutes.  They must be chilled solid. 
To release from mini donut pan being silicone the candies pop right out into a perfect round looking nest. There is a center opening, so reserve some of the melted chocolate and pour into the center, while chocolate is wet add three blue cadbury eggs creating a completed birdnest. That's it! Super easy and so sweet.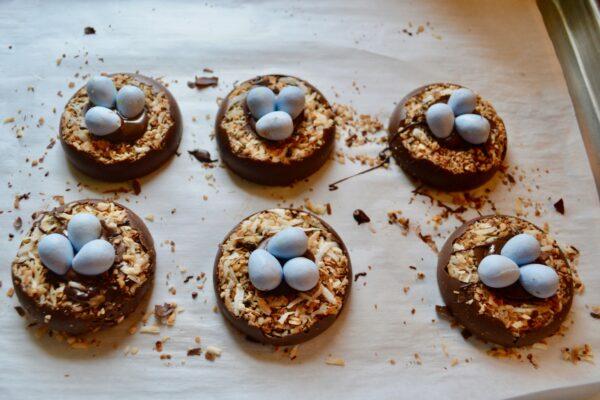 To serve the nests, you can wrap in cellophane bags tie with a bow and add to an Easter Basket or use a place setting favor, or ditch the bags and place on a bed of Easter grass on a tray. I am sure you will find ways to serve these great treats. Eating the nest is a combination of sweet and salty flavors, salt from pretzels, sweet from chocolate and toasted coconut. They are very rich so I recommend you cut it in half and savor the chocolate mixture.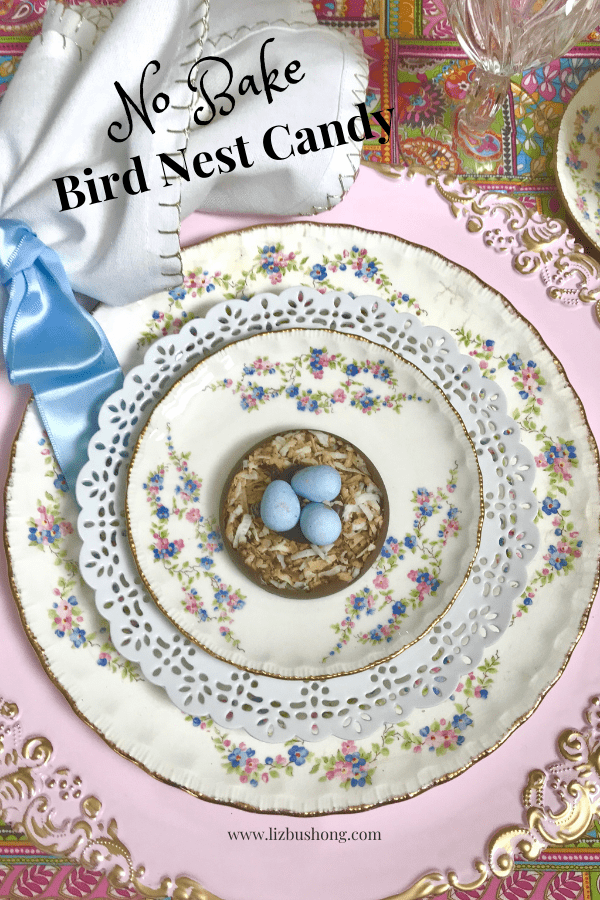 Print
No Bake Bird Nest Candy
No bake bird nest candies feature 3″ round silicone donut molded dark chocolate rounds filled with toasted coconut and chopped pretzels. Three cadbury blue eggs are attached to melted chocolate filled center.
Author: Liz Bushong
Prep Time:

15 minutes

Cook Time:

30 second intervals

Total Time:

25 minutes

Yield:

12

–

2

-3/4″ round bird nests.

1

x
Category:

Desert-Candy

Method:

No Bake

Cuisine:

American
2 cups Ghirardelli dark chocolate melting wafers
1 cup sweetened coconut, toasted
1 cup pretzel sticks, chopped to fit mold
18 Cadbury blue eggs, candy
Instructions
Place silicone donut mold on baking sheet for stability during chill.
Toast 1 cup sweetened coconut on a pie plate of baking sheet in 300 degree oven for 5-7 minutes. Watch carefully as not to burn the coconut. Fill donut molds with coconut completely covering the bottom of the mold. Remember these will be filled over and the coconut will be the dimensional look of the nest.
Chop 1 cup pretzel sticks in sizes or pieces to fit inside your mold, add a good layer of pretzels over the coconut. Do not stir coconut and pretzels together.
Melt 1 cup chocolate wafers in microwave safe measuring cup at 30 second intervals until smooth and creamy.  Stir in between the 30 seconds. Pour the chocolate over the pretzels filling to the top of the mold, leveling chocolate. Gently slide the pan back and forth to help level the chocolate. You will want your nests to be level on a place. Repeat process with second cup of chocolate and for filling the center of the nests after chilling.
Place chocolates in refrigerator, chill 30 minutes or until completely solid. Pop out of molds gently, some coconut will fall off, but they should unmold beautifully.
Remelt leftover chocolate, carefully fill center openings of donut nest with chocolate. Add three cadbury blue eggs for the completed nest.
Serve as desired.  Store at room temperature or chill if over a day.
Keywords: Ghirardelli dark chocolate, coconut, pretzels, candy, dessert, Easter candy, No Bake
Other Ideas You Might Like to Try: