Spring is so sweet especially when you make a cookies & candy board! Home made butter cookies cut into one inch and scalloped edged cookies decorated like spring roses and pretty posies line the edge of this fun board. Other goodies include French macrons in pastel pink and green colors, white chocolate bark with Jordan Almonds, and purchased pretzels and Milano cookies. Easy Breezy treats for Easter and any Spring time event. Your family and friends will love this refreshing pretty in pink dessert board.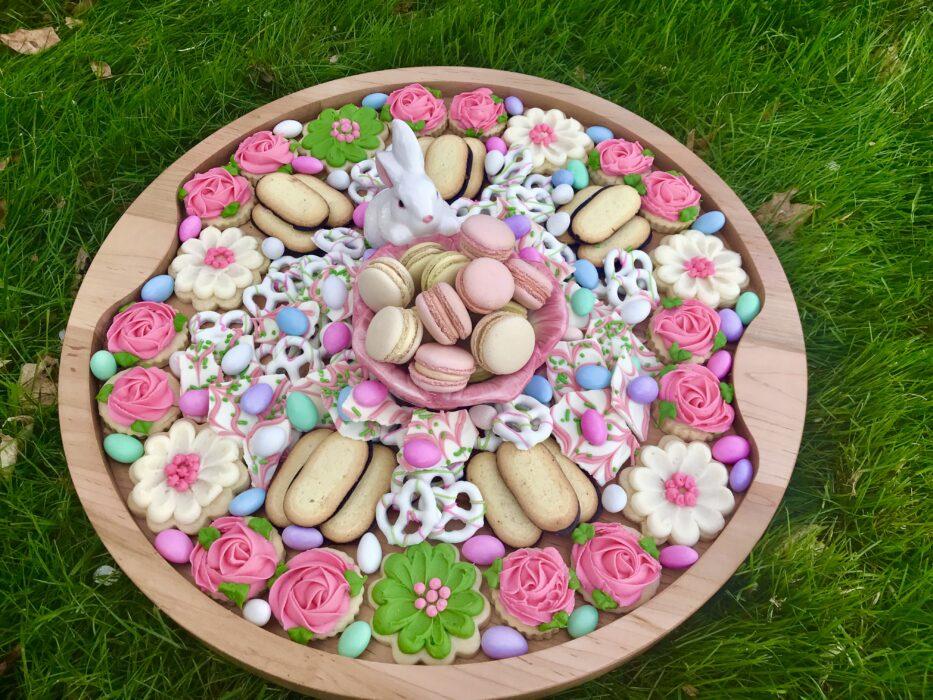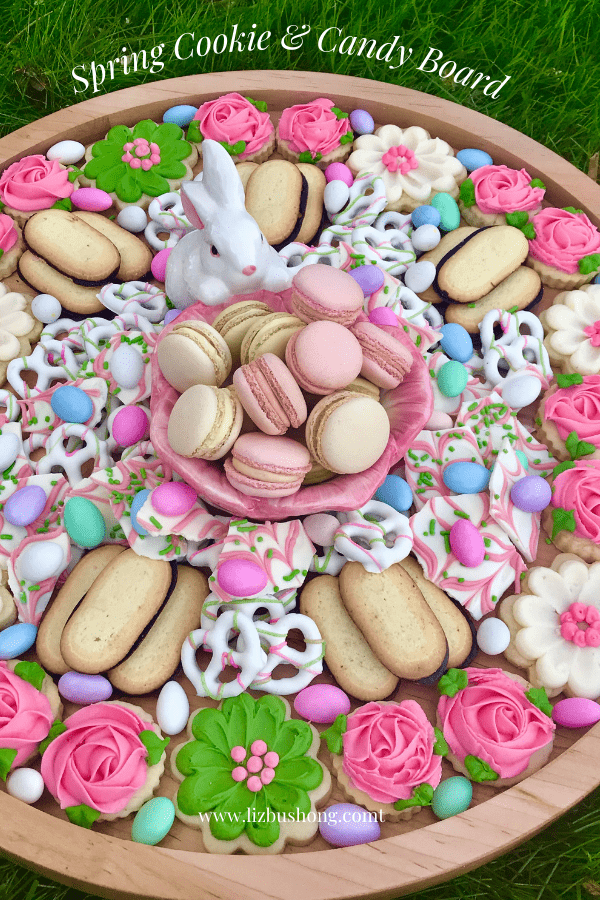 How to Make this Cookie and Candy Spring Board'
Begin this adventure with a great round wooden board. I used one of my favorite Big Boards from Reluctant Entertainer.com. This board will hold a lot of treats and has rimmed edges to keep everything from slipping off the board. It also has built in handles for easy carrying and serving. If you don't have a board, be sure to check out Sandy's at Reluctant Entertainer.com.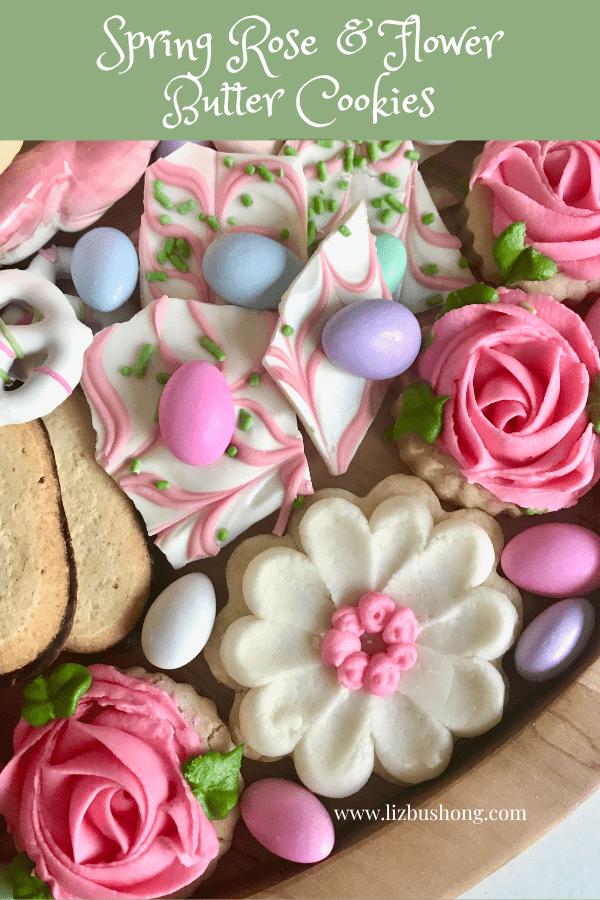 My board began with baking butter sugar cut out cookies. I wanted this board to reflect spring and Easter so making flowers and having a bunny bowl in the center of the board was a must. The butter cookie recipe is fantastic! Using common basic ingredients like butter, sugar, and flour makes this cookie perfect for cutting and baking. Once your cookies are cut the cookie bakes the same shape you cut it. I love that about this recipe.
Now if you are fearful about piping roses or flower petals, its easier than you might think. Here is a couple of quick videos to watch the technique. But first here's the butter cookie recipe. Follow it as directed for best outcome, however cut your cookies into 1″ rounds for the mini bitesize rose cookies, and 2-1/2″ scalloped round cookie cutter for the white flower with pink centers. Also I used a basic buttercream frosting tinted pink, green and white for the flower decor. ALSO THIS LINK FOR PIPING THE COOKIES
Let's talk about Macrons.. They are delicious!
You certainly don't have to make your own macrons, but it is sure worth it… then you can have them anytime and they won't cost you a fortune for one little cookie. No wonder they are pricey, they are a delicate little cookie and kind a finicky. But…. well worth mastering the recipe. Here's the recipe I used for making these little masterpieces. Just so you know the flavoring is in the filling and not the shells. They draw center of attention in the middle of this cookie and candy board.
Easter Bark made with White Chocolate, Pink Candy Melts, Jordan Almonds and Green Sprinkles.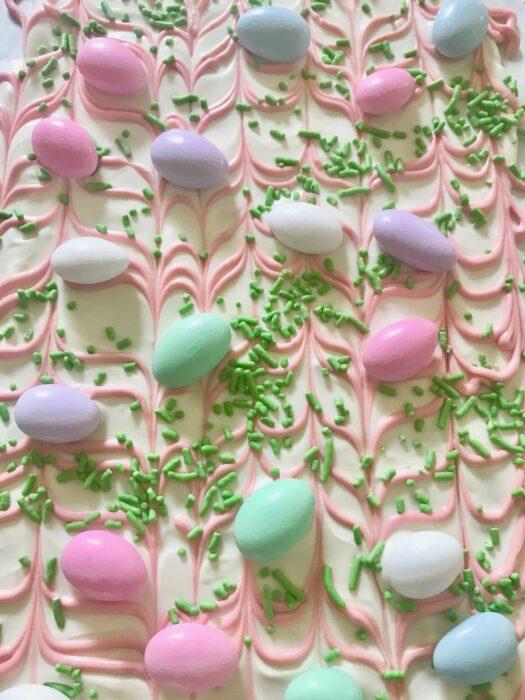 Next on the big beautiful board is the Easter Bark. Four ingredient recipe so simple and quick to make. Check out my Spring issue of All About the Table for this recipe. 
Purchased treats include Dark Chocolate Milano Cookies and yogurt coated mini pretzels that are drizzled with pink and green stripes. So festive and fun.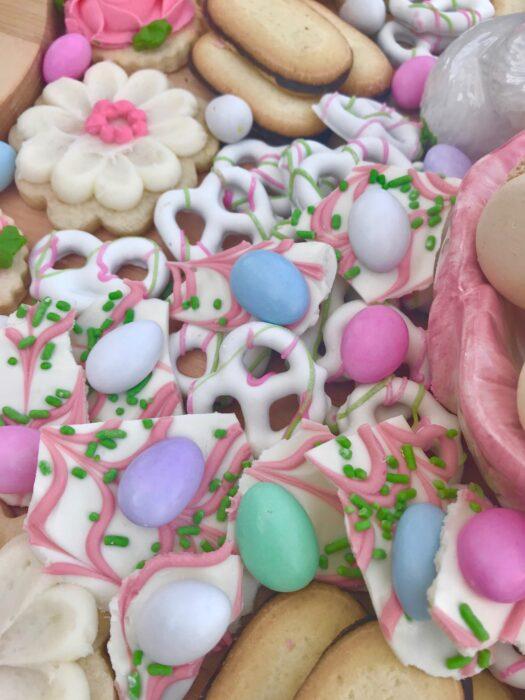 Easter or Spring Bark and Pretzels are used as fill-ins to cover the board around the cookies and Bunny bowl of macrons.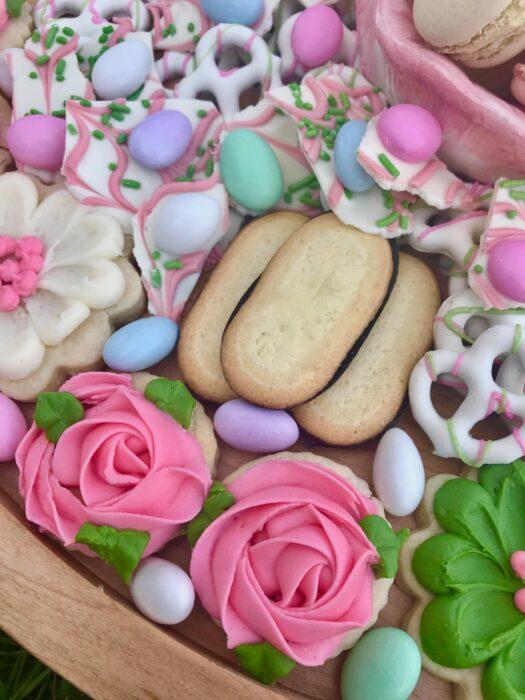 Every inch of the big board is filled with treats! It's not only cookies and candy it is "eye candy".. pretty on your table and good enough to eat! Don't forget to share with friends. They will love it.  Take a tour round about the board with the video below. Its better without the volume.  xo   Watch Video below.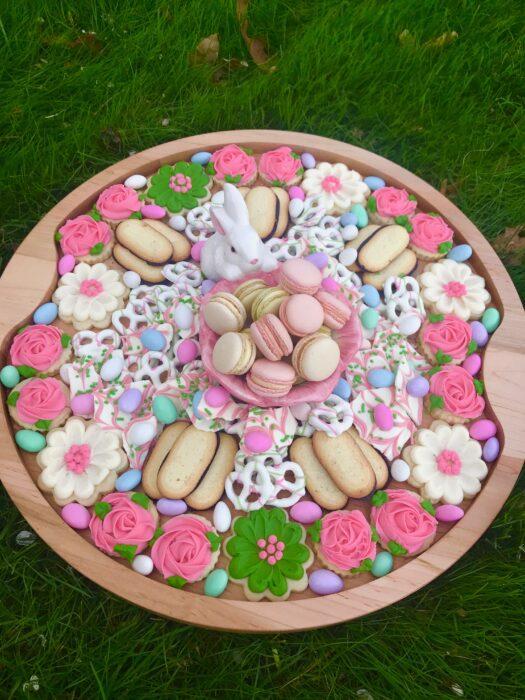 Other Ideas You Might Like to Try: