Whether serving as an appetizer or main course everyone will love the flavors and pretty presentation of the Rustic Caprese Galette. Start with a  free form round buttery crust made with parmesan cheese, butter and flour. Add sweet cherry heirloom tomatoes, baby mozzarella cheese balls, and fresh basil leaves to round out the filling. Be sure to drizzle with olive oil before serving which makes this dish perfect for summer entertaining.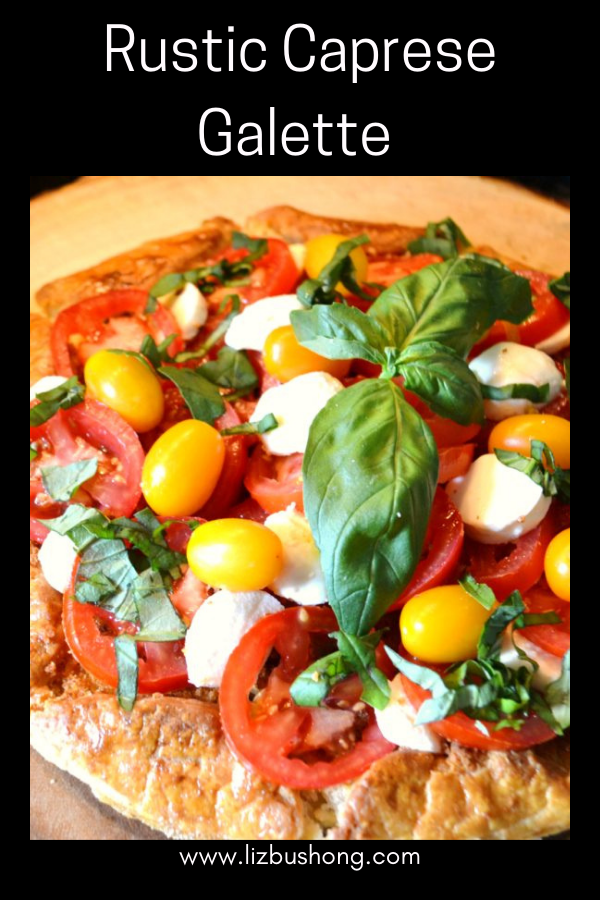 What is a Galette?
A galette is a round pastry wrapped and fruit filled dessert that is baked on a baking sheet. Because the crust is rolled into a 14″ circle, it is baked free form, meaning you don't need a pie pan.  Super simple to make, just ensure your filling is not runny so it does not spill over the folded crust edge.
Caprese? Not Sure What That Is?
Simply put, it is basil, tomatoes, mozzarella balls mixed together with olive oil.  It is a refreshing appetizer or meal for summer or anytime you want something light and healthy.  Adding the rustic crust brings in more carbs but that is what makes it a galette.
How to Make the Crust 
Ok you don't have to make your own crust, but can use refrigerated pie crust.  I would recommend Pillsbury Refrigerated Pie Crust.   But making your own crust is a delicious way to go.
You can make the crust in a food processor or stand mixer.  I used a food processor with steel blade. Add flour, salt, garlic powder and chilled butter pieces to the bowl of processor, pulse a few seconds to blend, then add 4 tablespoons ice water and olive oil.  Process until ball forms about 20 pulses.  After removing dough from bowl, shape into a round disc and wrap in plastic wrap.  Chill for 30 minutes in refrigerator before rolling out.
After 30 minutes, on floured surface, remove plastic wrap, roll into a 14″ circle, then place on parchment lined baking sheet. Chill if you have an extra 15 minutes before filling.
Filling the Crust
If you love summer Caprese you will love this rustic tart filling.  After rolling out your crust, fill center with Panko bread crumbs, parmesan cheese, thyme, salt and garlic powder not exceeding the 2″ border edge.  Bake the crust at 375 for 30 minutes. Cool before adding Caprese.
Next add medium heirloom tomatoes, cored and sliced ¼", about 10 small cherry tomatoes, red & yellow, sliced, ½ cup Basil leaves finely cut, 1 Basil leaf for garnish, 5 small Mozzarella Balls, sliced and 5 Balls whole as garnish.  Drizzle with olive oil right before serving.
Here's the Recipe
The Recipe| Caprese Galette
Print
Rustic Caprese Galette
Author: Liz Bushong
Prep Time:

20 minutes

Cook Time:

30 minutes

Total Time:

60 minutes

Yield:

4

-

6

servings

1

x
Category:

Appetizer/Main Course

Method:

Baking

Cuisine:

American-French
Crust
½ cup cold diced butter-not margarine
1–1/2 cups all-purpose flour
½ teaspoon salt
½ teaspoon garlic powder
½ cup shredded Parmesan cheese
4 Tablespoons cold water
3 teaspoons olive oil
Filling
¼ cup butter, melted
1 cup fine dry bread crumbs
2 Tablespoons shredded Parmesan cheese
½ teaspoon ground thyme, garlic powder, salt
Egg Wash
1 egg
1 Tablespoon water
Caprese
4 medium heirloom tomatoes, cored and sliced ¼"
10 small cherry tomatoes, red & yellow, sliced
½ cup Basil leaves finely cut
1 Basil leaf for garnish
5 small Mozzarella Balls, sliced
5 small Mozzarella Balls, whole as garnish
Olive oil to drizzle
Instructions
In food processor with steel blade, add flour, salt, garlic powder and butter. Cover and process until pieces are pea-size. Add Parmesan cheese process with on/off turns to combine. Add cold water and olive oil process until dough forms a ball. Remove and flatten dough into a disc. Wrap in plastic wrap and refrigerate for 30 minutes.
Meanwhile, slice tomatoes and sprinkle with salt, drain on paper towel. Set aside 30 minutes.
Preheat oven to 375. Line a baking pan with parchment paper.
On lightly floured surface, roll out chilled dough into a 13" circle. If dough is too wet, roll into a ball and add more flour, roll into a circle. Transfer dough onto baking sheet. Using a large round cookie cutter, cut half moons around edge of crust, remove excess dough.
Prepare filling: In microwave glass bowl, melt ¼ -cup butter add bread crumbs, Parmesan cheese and spices.
Spread crumb mixture over center of crust. Gently lift edges of crust over the crumbs.
Mix egg and water together and brush edges of crust with egg wash.
Bake 30 minutes or until crust is brown and crisp. Remove from oven, cool crust.
Notes
The crust is delicious!  This can be served warm or cold as a main dish or appetizer.  Original recipe created for you!
Other Ideas you might like to try: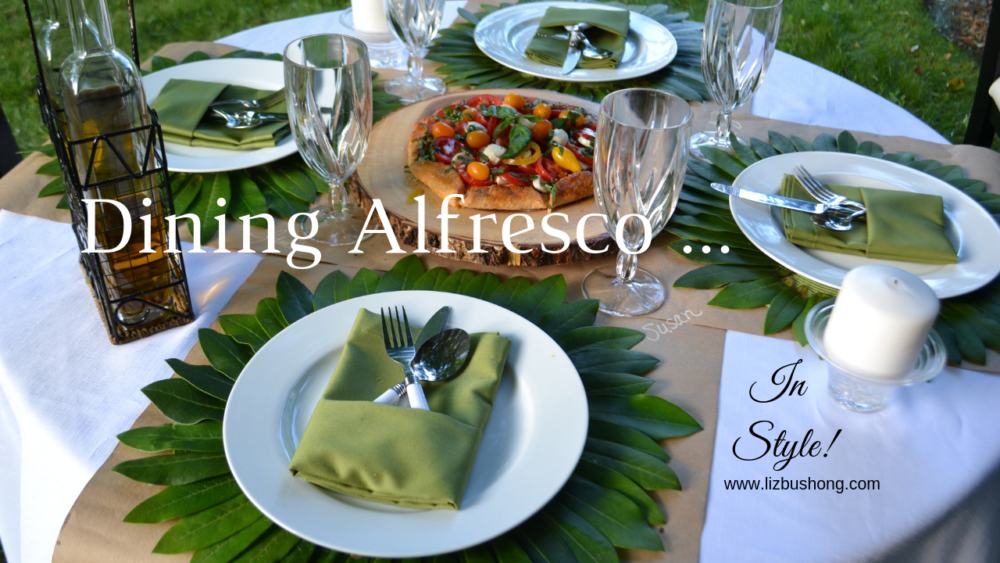 Fig Balsamic Strawberry Tomato Peach Topping Recipe