Summer means flip-flops, fireflies, and fresh ripe berries!
When you pick the first ripe berry and the sweetened juice pops in your mouth, its time to make your favorite summer berry delicious desserts. Blueberry Swirl Pound Cake and a Strawberry Tart are two simple desserts to have on hand for all of your summer entertaining.

These berry-inspired desserts are bursting with the sun-kissed flavors of the season. This is also the cover feature in my new digital magazine All About the Table check it out here. 

Summertime Setting with Sunflowers & Desserts 
Berry Delicious Summer! for sure… Swing open the French door to your patio and layer your picnic table with vibrant summer colors and delicious berry desserts. We kept our seasonal table casual with red and white checked napkins, bright yellow sunflowers, and mason jars wrapped with twine.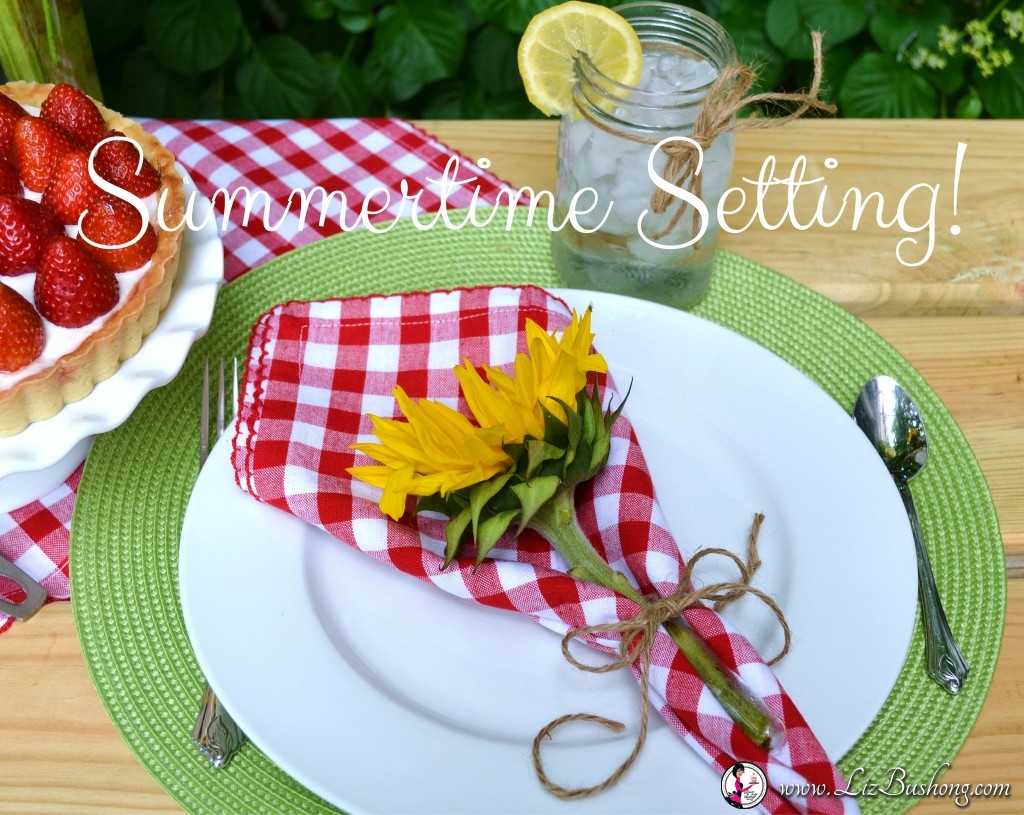 Setting the Table Centerpiece
Desserts and sunflower arrangement take a stand as the table centerpiece.  While repeating red & white checkered napkins with single sunflower stem at each place-setting.
Serving the desserts on white ruffled cake pedestals makes the berries pop. Everyone will want a bite of each, strawberry tart and blueberry swirl pound cake.
Make a Blueberry Swirl Pound Cake

Your guests will enjoy the taste bud-tingling blend of blueberries and cream in the baked blueberry swirl pound cake. The pound cake features a delectable golden crust with a moist tender center that will make this cake your new-go-to dessert for any season. A lightly sweetened blueberry puree is layered in the cake batter and gently swirled before baking. This pound cake is perfectly wonderful all on its own, but when topped with a handful of fresh picked-ripe berries it becomes a sensational taste of summer.
Serve a Strawberry Tart to Round Out Dessert Menu 
Recipe for Strawberry Tart and Blueberry pound cake are featured in the new magazine.
Create a Strawberry Tart for a show-stopping presentation. Remove stems from fresh whole strawberries and place with pointed ends up on top of a lemon flavored whipped cream filling.  The pre-baked sweet pastry crust is made with real butter and confectioner's sugar making every bite of this tart one to remember.
Both desserts are make-ahead with the Strawberry Tart being refrigerated for a few hours.
Here's a Few Berry Baking Tips
Baking with berries can be a bit tricky. Blueberries can make your cake batter turn purple if you don't coat them in flour before baking.
# 1.  Coat blueberries in flour to prevent the berry juice from spreading into the batter.
# 2.   Strawberries are almost 90% water and dark fuller berries have a higher concentration of water inside. This leads to a sticky unexpected soggy baked dish. #3. To prevent a soggy baked dish select berries that are just slightly under ripe, having passed the stage of development where a white ring appears around the hull.
Berries are Beautiful! 
Blueberry Pound Cake is a Rich Moist Easy to Make Pound Cake. 
Whether you are picnicking at the beach or in your own backyard go out and play; put on your flip-flops, watch the flickering lights of the fireflies and eat all the fresh berries you can. This is going to be a berry delicious summer!
Both recipes and table-scape is featured in my new digital magazine, All About the Table. Be sure to check it out as this magazine will be seasonal. We publish 4 times a year, this was featured in the Summer Issue.
Other Ideas You Might Like to Try