Craving something grilled but you don't want hamburgers? Try Grilled Vidalia Onion Teriyaki Salmon with Sweet & Spicy Salsa for a refreshing and light summer meal. Grab your grill, some fresh salmon, a few Vidalia sweet onions and make this meal in moments. Salmon is marinated in teriyaki soy sauce, rice wine vinegar, ground ginger, sugar, and garlic for about 45 minutes. Served with grilled Vidalia onion slices and mango salsa round out this dish. Your family and friends will love this grilling change. At least for this meal no more hamburgers or hot dogs.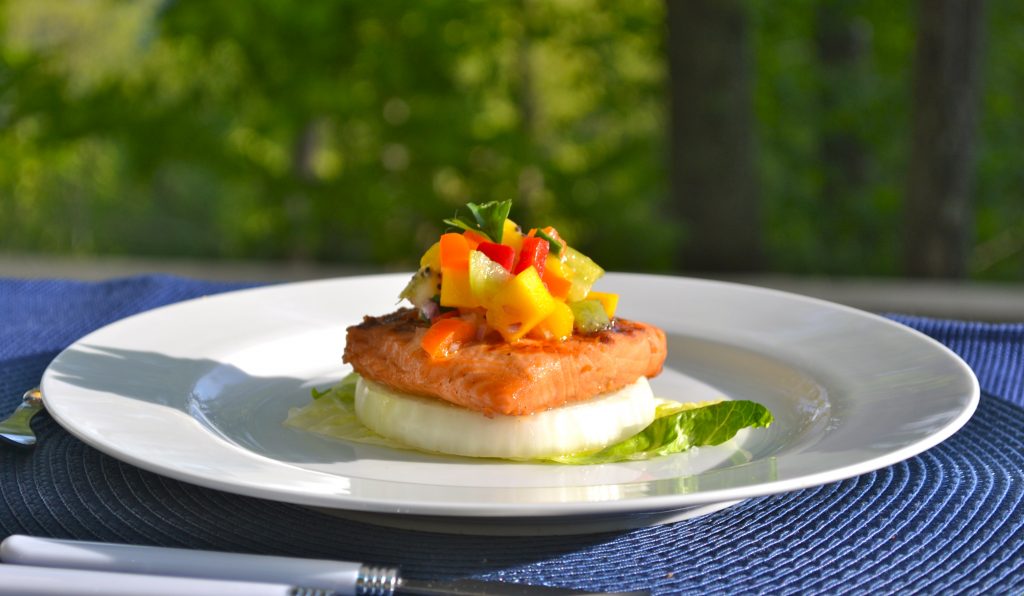 Sweet & Savory Mango Salsa Makes A Flavor Statement

A Perfect Combination with the Salmon is the Mango Kiwi Fruit Salsa
To make this salsa peel and chop fresh mango, kiwi, and yellow bell pepper, place in a mixing bowl. Add chopped Serrano pepper seeds removed, pineapple tidbits, honey and lime juice to the fruit. Toss to combine and set aside while you grill the salmon and onions. Serrano peppers are hot peppers about 5 times hotter than Jalapeno peppers.
Speaking of hot things, Vidalia sweet onions are not hot! They are very mild and sweet if you get the true Vidalia. When shopping, look for a flat sweet onion. The flatter it is the sweeter.
To make grilled vidalia onions cut the onions in 1/2″ slices, keep rings together for this will grill best as a large piece. Run a metal skewer between the slices to keep onion together. Grill but watch carefully as not to burn. If you prefer to grill your onion slices with out the skewers, use a cast iron skillet on the grill.
Teriyaki Salmon with Sweet & Spicy Salsa
Print
Grilled Vidalia Onion,Teriyaki Salmon with Sweet & Spicy Salsa Recipe
6– 4-5 ounce salmon fillets, skinned – cut into 2 x 3 inch squares
Teriyaki Marinade and Sauce
4 tablespoons granulated sugar
4 tablespoons soy sauce
4 tablespoons rice wine vinegar
2 tablespoons ground ginger
2 cloves garlic, minced
6 ½ inch slices Vidalia onions, rings not separated
Salsa
¼ cup chopped peeled mango
¼ cup chopped red and yellow pepper
¼ cup chopped peeled kiwi
¼ cup chopped red onion
¼ cup diced Serrano pepper, seeds removed
¼ cup pineapple tidbits
¼ cup fresh pineapple juice
2 tablespoons honey
2 tablespoons lime juice
2 tablespoons olive oil
Vidalia Onion Marinade
4 large Vidalia onions, peeled and sliced into ½ inch slices, rings intact
2 tablespoons balsamic vinegar
2 tablespoons olive oil
½ teaspoon paprika
Instructions
Combine onion marinade in small bowl.  Layer onion slices in a baking dish pour marinade over slices.  Cover with plastic wrap and refrigerate 1 hour.
Combine ingredients for Teriyaki marinade. Place salmon in baking dish, pour marinade over salmon pieces.  Cover with plastic wrap and refrigerate 1 hour.
Combine salsa ingredients in medium sized bowl, cover with plastic wrap and refrigerate until serving time.
Heat grill to medium coals or medium high for gas grill.  Grill onions 3 minutes on each side.  Place salmon on top of grilled onions and cover grill, cook 3- 5 minutes until salmon is flaky.
Serve grilled onion and salmon with sweet and savory salsa.
Notes
Make Ahead marinade up to 24 hours.  In a hurry, marinade at least one hour.  Salsa can be  made ahead up to 2 hours prior to dinner.
---