Whether grilling inside or outside this steak and potato kabob will please every meat and potato person. Compound butter is melted over the cooked steak. Assorted new potatoes are served as side with this summer meal.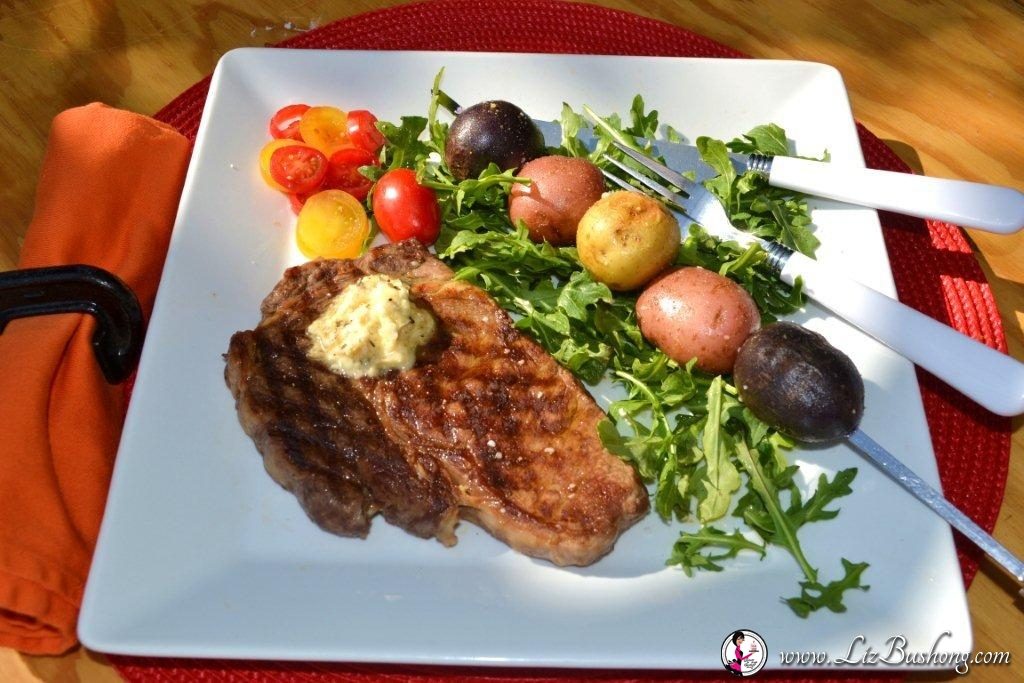 What makes the kabobs?
As a great side for this meal, pre cooked mini red, white and blue potatoes are the kabobs. Potatoes are boiled gently in saucepan of water until cooked without them falling apart. When cool to touch, a wooden or metal skewer strings the potatoes together. Brush with melted butter and grill 5 minutes on each side to get grill marks and reheat.
Grilling steak is not hard when you allow the steak to become room temperature before you grill. If you marinate your steak discard marinade and pat steak dry before grilling. Really, rib eye is so flavorful coating with salt and pepper or Montreat seasoning makes it outstanding. Adding the compound butter right after it is removed from the grill brings moisture to the steak as well as great flavor.
Here's a great salad to serve with this steak in case you want a side dish.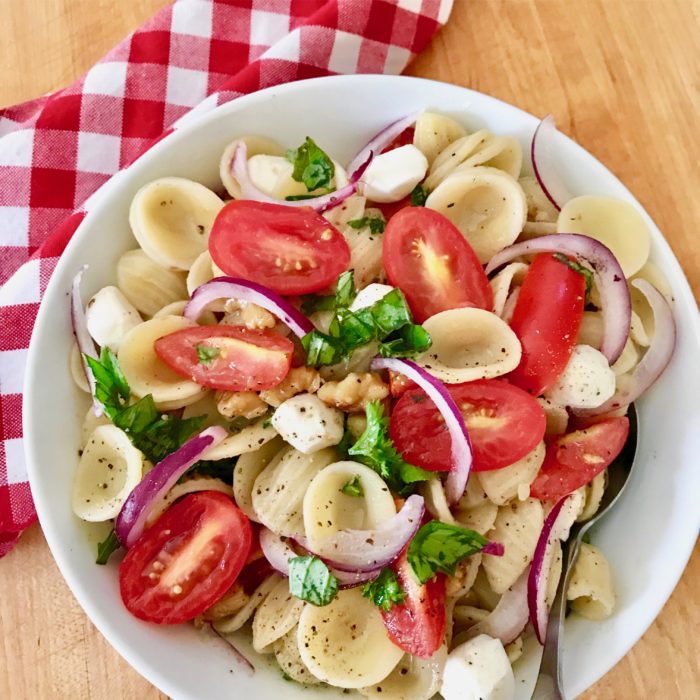 Dessert Anyone?
In addition, don't forget dessert with this meal. Grilled pound cake and fruit with whipped cream makes a light but fun end to a great satisfying meal. To make the grill marks on the pound cake, I used a panini press, which has grill plates on both sides of the press. Slice purchased pound cake in 1/4″ slices, use tool shaped cookie cutters or cutters of choice. Place slices on hot press at a 45 degree angle, press 2 minutes, turn cake opposite of grilled marks, press 2- 3 minutes. Serve room temperature with fruit and whipped cream.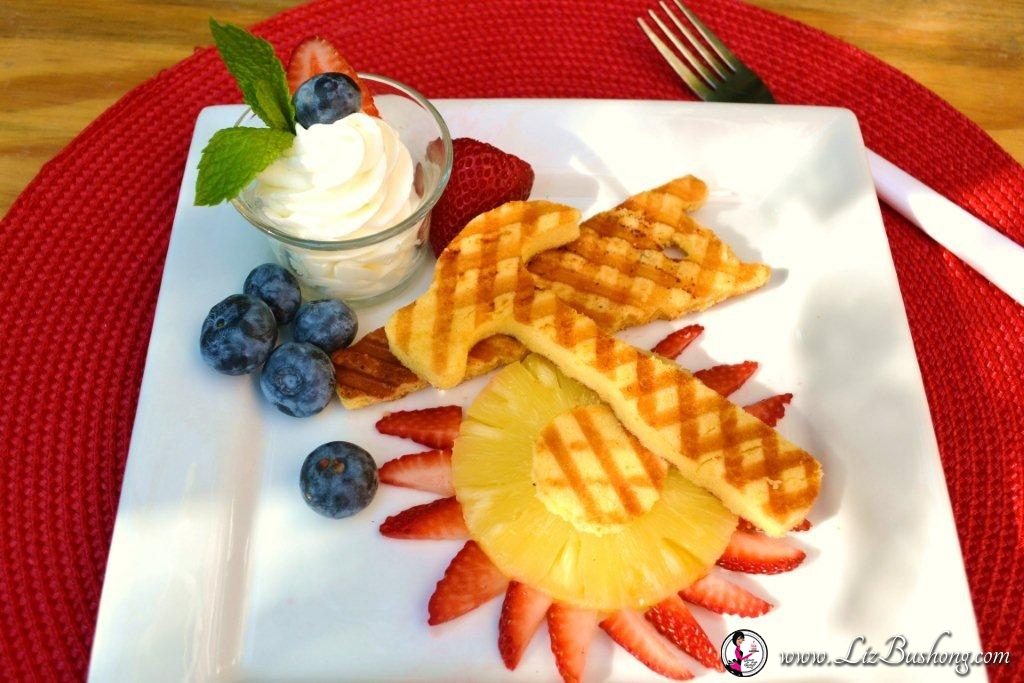 Serve this man sized steak for Fathers' day, birthdays, & summer time gatherings.
Print
Grilled Steak & Potato Kabob with Compound Butter Recipe
A Fathers Day Special Dinner
6 – Rib-Eye Steaks, boneless 3/4 inch-1 ½ inch thick- room temperature
Salt & pepper -dashes
12– small new red potatoes
12– small new yellow potatoes
6– small new purple potatoes
¼ cup olive oil- basting
1– compound butter recipe
 Compounded Butter
1 stick butter- no substitutes
1 teaspoon lemon juice
1 teaspoon fresh oregano, chopped
1 teaspoon fresh rosemary, chopped
½ teaspoon onion salt
½ teaspoon sea salt
1 teaspoon ground white pepper
Instructions
Compound Butter:  In small bowl place softened butter and add remaining ingredients.  Stir to combine.  Use butter to baste steaks and potato kabob.  Serve steak and potatoes with extra butter, solid or melted.
Prepare potatoes.  In microwave safe bowl, fill with potatoes and cover with water.  Cover bowl with paper towel and microwave 5 -8 minutes to partially cook.
Drain water and skew red, white, purple, white and red potato onto long metal skewer.  Brush with olive oil, salt and pepper.  Grill on grill while steaks are grilling.  Last baste brush with melted compound butter.

Salt and Pepper Rib-Eye Steaks, set aside to grill.Heat a charcoal or gas grill to high. You'll know the temperature is right when the coals are white all over (if using a charcoal grill) and you can only hold your hand over the grill for 4 to 6 seconds before it feels too hot.  

Place steak on the grate, close the lid grill steaks 2-3 minutes on each side until cooked as desired.  Baste with melted compounded butter.
This Recipe was Featured in VIP Seen Magazine for Fathers Day. Get more ideas on how to create this tablescape and event here.
---