On Friday June 26, 2020 our sweet baby JJ moved to heaven.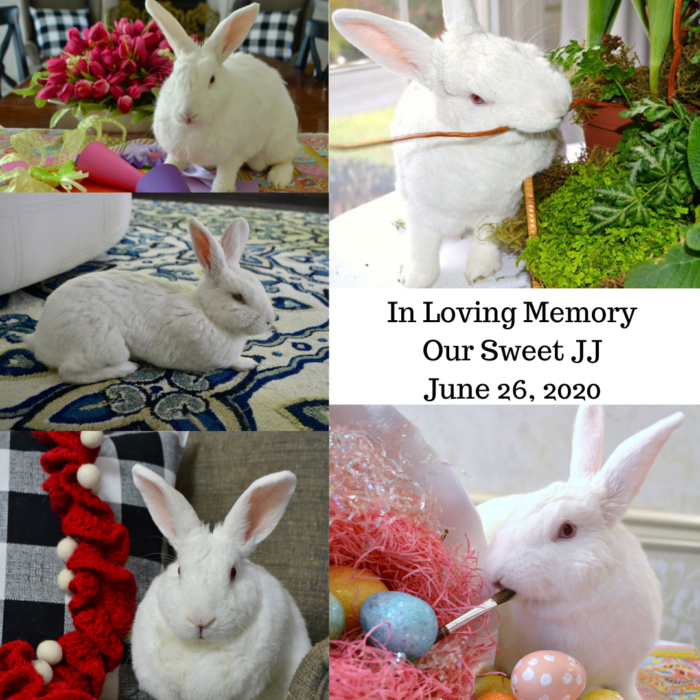 Over the past 6 years I have shared fun photos of baby JJ, my New Zealand White bunny.  He was a birthday present for my husband Doug after our wild rabbit Jackson moved to heaven.  Both bunnies were a rescue.

JJ brought us so much joy!  He always helped me with projects and even went to Washington DC when I decorated the White House for Christmas.  Megan our schnauzer and JJ were best buds.  Megan moved to heaven in 2017.  JJ was not to be left by himself so we rescued Baby Girl another New Zealand white bunny. BG is 12 lbs and has a unique personality.  She and JJ had to be separated due to her aggressive behavior but they would communicate nevertheless.  JJ was about 7 lbs.
What happened to JJ?
The last few weeks, JJ developed cataracts on both eyes, then this past week he became very dizzy. We thought it was an inner ear infection but the vet said there wasn't anything wrong with this ears.  During this shutdown, I researched how to remove cataracts naturally from bunnies. We were using red light therapy 10 minutes a day on both eyes to help with healing.
In the research process I found an ophthalmic surgeon that specialized in removing bunny cataracts.  He is Dr. Hans Westermeyer from Raleigh NC at the University of North Carolina Veterinary Hospital.  We had been in communication over the weeks but due to the shut down in NC we were not able to schedule surgery for JJ.  This next week we were going to take him for the surgery.  But JJ had another plan.  He was ready to move to heaven. Can't blame him for moving to heaven, it would be hard being totally blind and dizzy.  Bunnies can not vomit so he must have been absolutely miserable. He would eat mint leaves and only drink ice water the last couple of days.  He deserved better than to live a life like this.
Heart Broken but Understand
We are heart broken, but understand and know he is in heaven with Megan and our other beloved pets. His home going was sudden but peaceful.  We both were home with him and held his little body as he left us.  I know my guardian angel took him home safely. We were not expecting him to leave us so soon. Six years was not long enough for us.  We expected him to live as long as our other fur babies 18 years +. Bunnies don't usually live 18 years but living with us being pampered, eating organic veggies and treats, with a lot of love and safety one would think they would live long and strong, more than 6 years.   Check out this video about Animals in heaven.    And this one.
Reason for Sharing
I believe God put us together with Dr. Westermeyer for a reason and perhaps someone I know needs his services.  Bless Dr. Westermeyer and all the exotic vets who take care of sweet little bunnies. Who knew there was a vet who could do this kind of surgery. The surgery isn't inexpensive but life and being able to see is worth every penny. Also through my research, I learned that cataracts can be caused by parasite e. cuniculi, I don't know if he had this parasite, we were going to check this out at UNC.
Little Celebrity JJ
JJ was on the cover of VIP SEEN magazine, appeared on  tv and my website, sweet companion, loved cuddling and corn chips as a special treat.  He is living and enjoying life in heaven, healed and whole, waiting on us until we see each other again…that brings us great peace and joy so there is no room for grief.
Love n hugs,
Liz xo
P.S.  The photo of JJ on the blue rug was taken four days ago… our last photo of JJ.