Make 4th of July extra special with these vanilla "firecracker" cupcakes. Easy to make cupcakes with cute marshmallow coated made-to-look like firecracker garnish. Recipe for made-from-scratch cupcakes feature melted butter, oil, eggs, sugar, vanilla, flour, baking powder and salt. Once baked in decorative cupcake liners the cakes are frosted with whipped cream frosting then garnished with 4th of July sprinkles and edible firecrackers. You will love these festive cupcakes and so will your guests.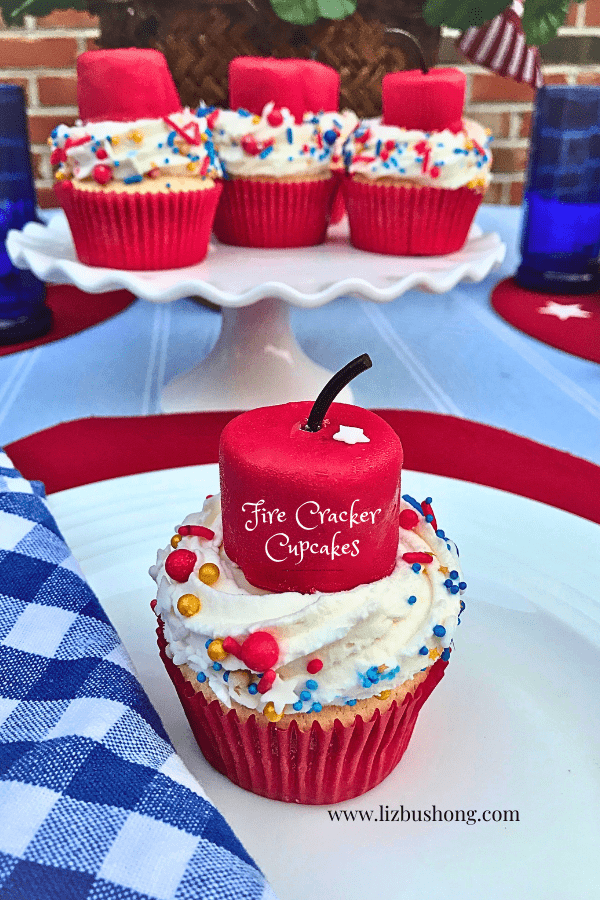 How to Make Vanilla Firecracker Cupcakes
Gather and measure out ingredients to make mixing the batter simple and quick. Preheat oven to 350 degrees F, and line standard cupcake/muffin pan with 12 white or decorative cupcake liners. Recipe makes 12 cupcakes. Set aside while you make the cupcake batter.
Combining wet cupcake ingredients first; in a mixing bowl of stand mixer fitted with paddle attachment, add room temperature melted butter, vegetable oil, eggs, sugar, water, white food coloring and vanilla, beat together until combined. Add 2 teaspoons white food gel if desired, this will make your cupcakes a brighter white.
In a medium mixing bowl, whisk together the flour, baking powder and salt. Add these dry ingredients to the mixed wet ingredients until well combined. At this point if you want to add additional ingredients to this recipe you can, like dried or fresh diced strawberries to make these vanilla cupcakes taste like strawberries. Fitting for the red, white and blue color scheme of patriotic holiday cupcakes adding strawberries or blueberries to the white vanilla batter will be a welcomed surprise with each bite.
Scoop cupcake batter 2/3 full into cupcake muffin tin lined with cupcake liners. You can use decorative liners, but keep in mind some liners will bake darker than the original liner so you can use white liners and after baking the cupcakes place in decorative cupcake liners. I used red liners and they baked just fine but sometimes I will use white and add the decorative clean liners. You can decide.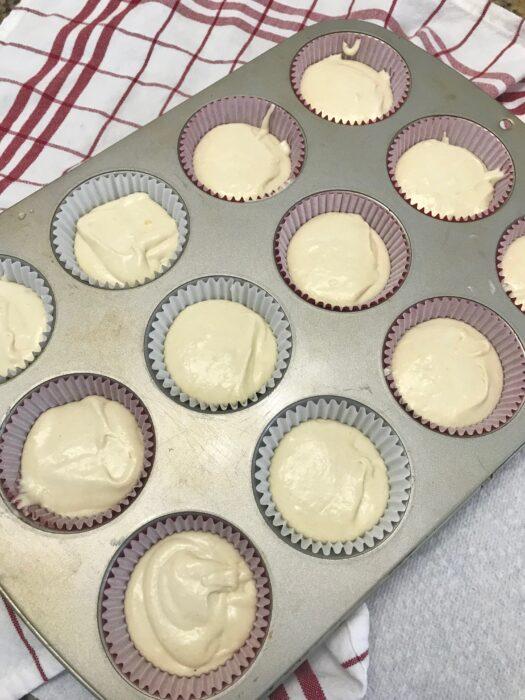 Baking The Cupcakes
Place filled cupcake muffin pan on a baking sheet to help with even baking in the middle of the preheated oven. Bake 20-25 minutes or until cupcakes spring back after touching with finger in the center of the cupcake or inserting a tooth pick and it comes out clean.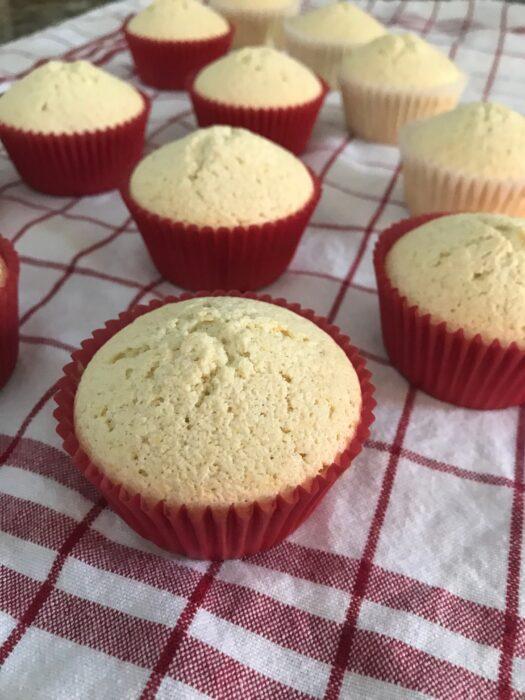 After baking, remove from oven and allow cupcakes to completely cool before decorating.
Frosting the cupcakes, whip 2 cups of well chilled heavy cream in stand mixer bowl fitted with whisk attachment. Whip until it begins to form soft peaks, add vanilla then gradually add 1 cup confectioners sugar, whip until stiff peaks form. Fill a disposable piping bag fitted with tip # 1 M or 2 D with whipped cream. Pipe cooled cupcakes with a flat swirl, then sprinkle 4th of July sprinkles around the edges of the frosting. Add edible firecracker right before serving. Tip: Frost right before serving and add garnish. Store frosted cupcakes in the refrigerator.
If you would like to use buttercream frosting, check out recipe here or purchase two cans of pre-made frosting. Buttercream frosted cupcakes do not have to be refrigerated, but keep out of direct sunlight when entertaining outside.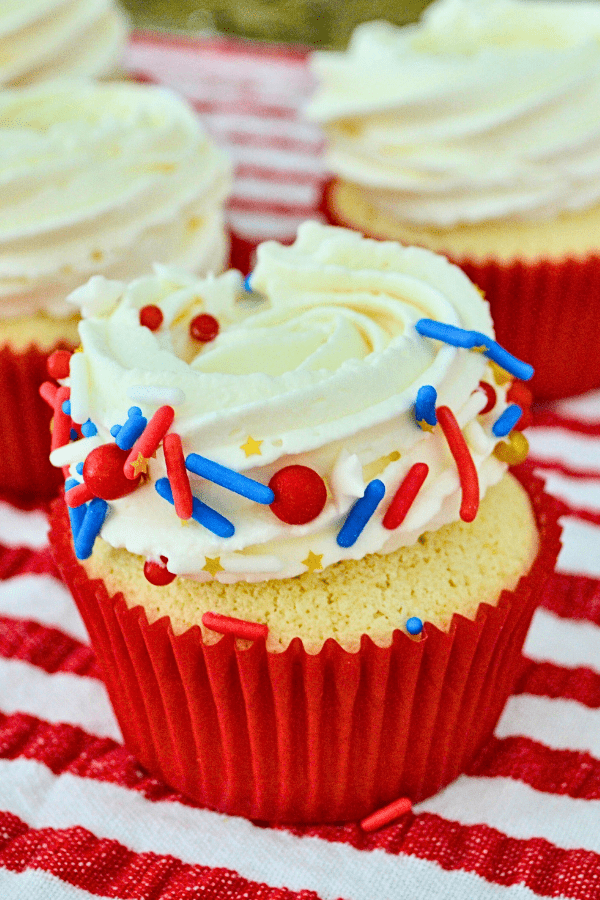 How to Make the Fire Cracker Garnish
To make the edible firecracker garnish, you will need the following ingredients; 12-15 regular marshmallows, 12 ounces red candy melts, one roll of black licorice or 4-6 black Twizzler's, 4th of July sprinkles, and 12 frosted cupcakes.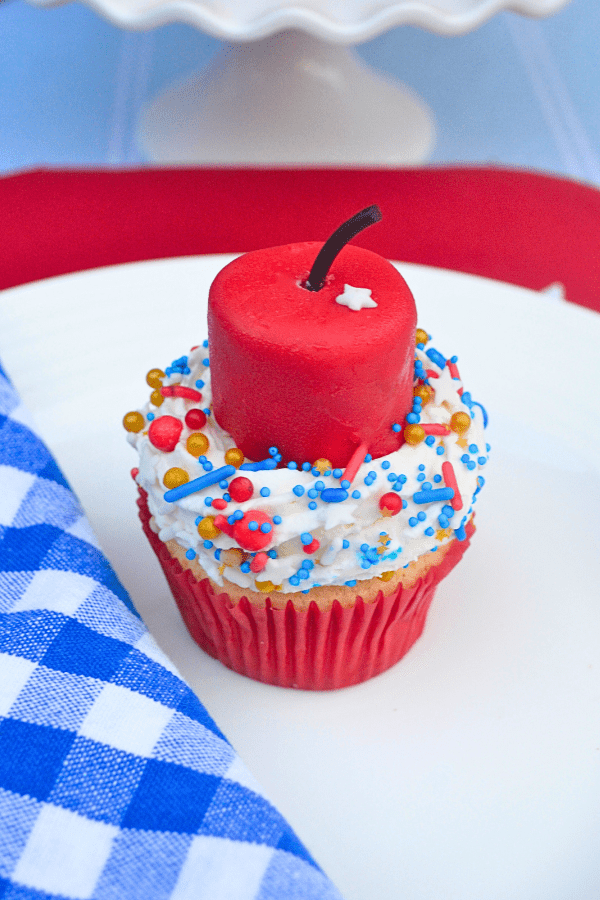 To make the garnish, line a baking sheet with parchment paper or wax paper, set aside. Melt 12 ounce red candy melts in medium microwave safe bowl at 30 second intervals, stir until well melted and smooth. If candy melts is too thick, add 1/2 -1 teaspoon of shortening to thin.
Once melted, with a tooth pick inserted in center of one marshmallow, place in melted candy and with a spoon drizzle melts over the top of the marshmallow coating evenly. Place a fork under the marshmallow and tap on side of bowl to help remove excess melts, then transfer to parchment or wax paper lined baking sheet to set. Allow to sit at room temperature or chill in refrigerator.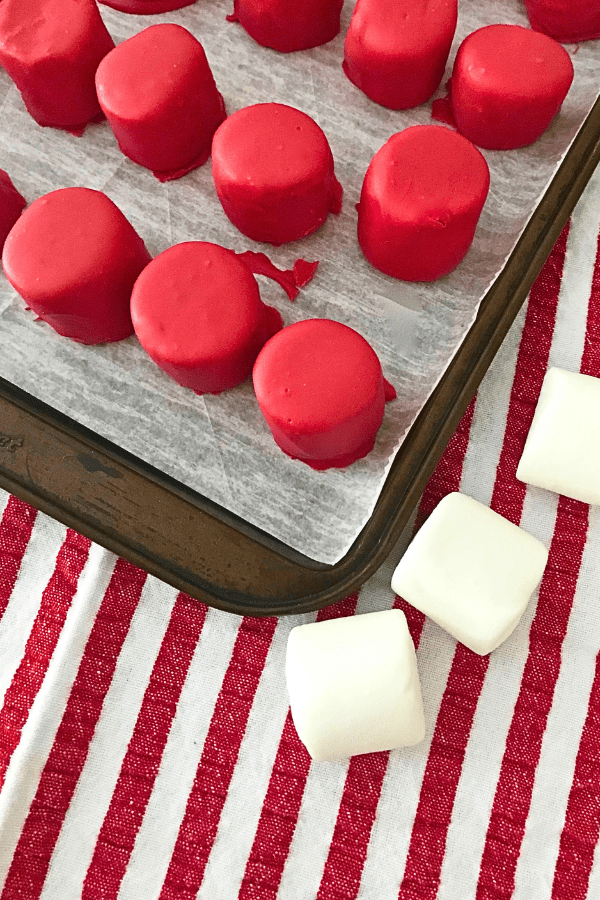 Unroll licorice rope, divide in half and cut into desired length to form the wick of the firecracker. Insert into the middle of the candy coated red marshmallow creating the edible firecracker.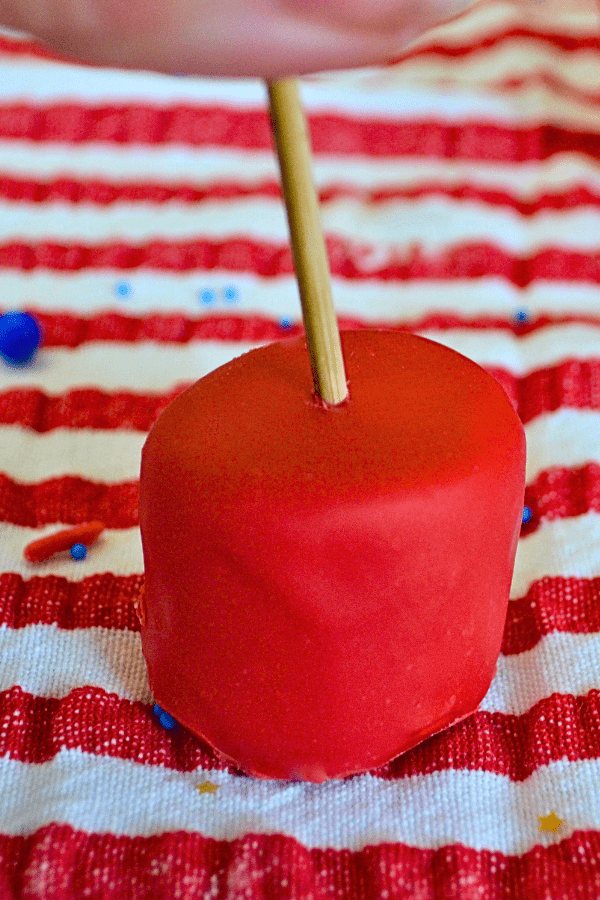 Tip: If you can't find licorice rope use black twizzlers, cut into desired thickness and length for the firecracker wick.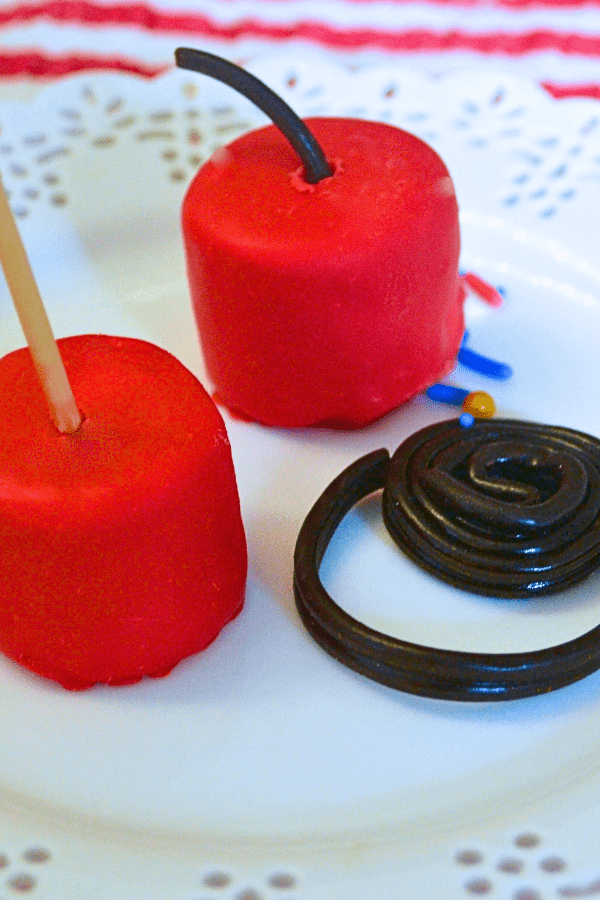 Hope you will try this recipe. I loved the creative "firecracker" garnish, it isn't hard to make, the hardest part was finding the rope licorice. Special thanks to Oh Nuts.com for this fun Firecracker inspiration.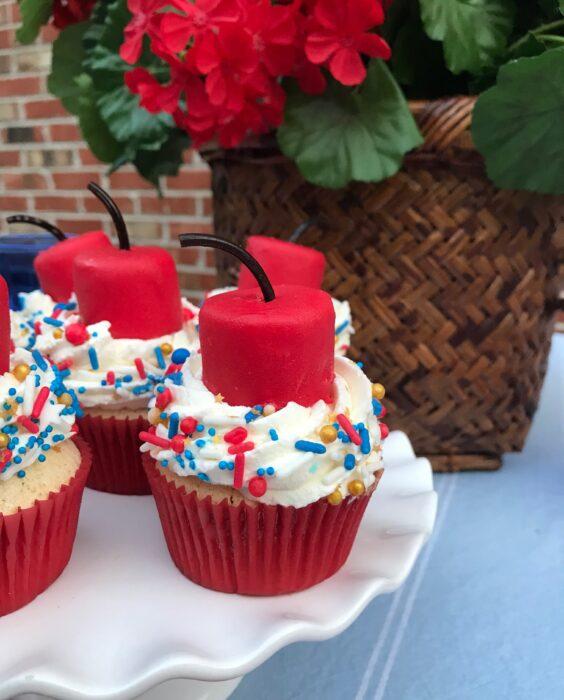 Print
Vanilla "Firecracker" Cupcakes
Home made butter flavored vanilla cupcakes feature whipped cream frosting, 4th of July sprinkles and edible marshmallow coated firecrackers. Easy recipe and garnish to make for every Patriotic holiday.
Author: Liz Bushong
Prep Time:

Cupcakes-30 minutes, Frosting 8 minutes, Firecracker Garnish 45 minutes

Cook Time:

20-25 minutes

Total Time:

120 minutes

Yield:

12

cupcakes

1

x
Category:

Dessert

Method:

Baking

Cuisine:

American
Wet Ingredients
1/2 cup butter, melted and cooled
2/3 cup granulated sugar
4 tablespoons vegetable oil
2 eggs, room temperature
2/3 cup water
1 tablespoon vanilla
2 teaspoons white food gel-optional
Dry Ingredients
1–3/4 cup all purpose flour
1–1/2 teaspoons baking powder
1/2 teaspoon salt
Whipped Cream Frosting*
2 cups heavy whipping cream, well chilled
1 cup confectioners sugar
1 teaspoon vanilla extract
4 ounces -4th of July Patriotic candy sprinkles
Edible Firecracker- makes 12 one for each cupcake
12 standard marshmallows
12 ounces red candy melts
1/2–1 teaspoon shortening
1 roll black licorice or 4–6 sticks of twizzlers
Instructions
Preheat oven to 350 degrees F. Line cupcake or muffin pan with 12 cupcake liners. Place on a baking sheet and set aside.
Fit stand mixer with paddle attachment. In mixing bowl add all wet ingredients, beat on medium speed to blend. Add white food gel if desired for bright white cupcakes.
In separate mixing bowl sift together dry ingredients; flour, baking powder and salt.  Add to wet ingredients and beat until smooth and creamy about 5 minutes.
Using an ice cream scoop, scoop batter into prepared cupcake liners filling 2/3 full.
Bake cupcakes on baking tray in 350 degree oven for 20-25 minutes or until center of cupcake comes out clean.
Remove from oven and cool before frosting. Frost cupcakes right before serving for best results. Or use canned or home made buttercream to frost ahead.
Make Frosting:  In chilled mixing bowl of stand mixer fitted with whisk attachment, add heavy cream and whip on high speed until soft peaks form, add confectioners sugar and vanilla, whip on high speed until stiff peaks form.
Fit disposable piping bag with tip # 1 M and fill bag with whipped cream.  Pipe large swirl over the top of the cupcakes, sprinkle with 4th of July Patriotic sprinkles, garnish with edible firecracker.
Making Edible Firecracker
In medium microwave safe bowl, melt 12 ounces of red candy melts at 30 second intervals until fully melted. If melts are too thick add 1/2 -1 teaspoon shortening to thin for dipping.
Insert toothpick in center of marshmallows, dip marshmallow in center of candy melts and spoon melts over mallow to coat evenly.  Place a fork under the mallow and tap against side of bowl to remove excess melts. Place coated marshmallow on a parchment or wax paper lined baking sheet. Allow to set up or chill until firm to touch.
Cut licorice rope or twizzler in length desired for firecracker wick, insert wick into center of coated red marshmallow.
Place marshmallow firecracker on top of piped whipped cream frosting.  Serve immediately.
Notes
* You can use 2 cans of purchased vanilla whipped buttercream instead of making the fresh whipped cream.  Whipped cream will provide for a lighter and not so sweet frosting.
If you are planning to serve this on a summer hot day, keep cupcakes chilled as long as possible if using whipped cream. If using buttercream, place cupcakes out of direct sun.
Keywords: Vanilla Firecracker Cupcakes, Marshmallows, Whipped cream frosting, Patriotic, Sprinkles
Other Ideas You Might Like to Try: