Need a summer refreshing sip for entertaining a crowd? You will enjoy this semi tart and sweet watermelon lemonade sip! Fresh seedless watermelon cut into chunks pulverized in a blender with lemonade simple syrup makes this non alcohol beverage delicious. So easy, so refreshing and so pretty in a clear beverage glass. You and your friends will love this recipe.
Nothing better than fresh squeezed lemonade and watermelon crisp cold slices during the heat of summer, now you can combine the two for a delicious sip. Whether sipping around the pool or just sitting on the front porch is a great time to serve this mixer. Other events for this refreshing sip would be cookouts, large gatherings, weddings and more. The flavor is light with watermelon puree and the sweet tartness of hand squeezed lemonade. Once you blend the seedless watermelon, the melon is strained as not to have the pulp, which would make the sip cloudy and not so tasty or pretty.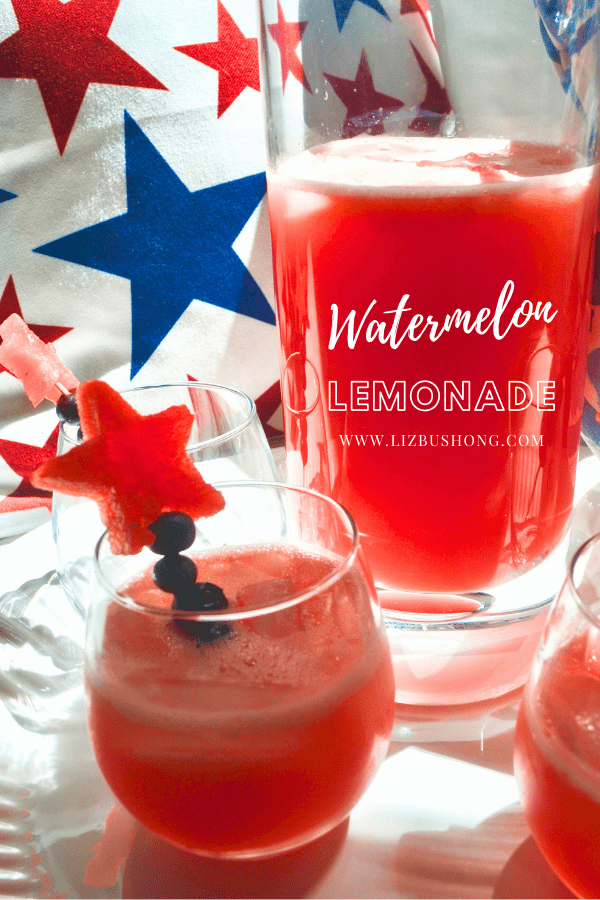 Fresh made lemonade begins with 6 lemons, squeezed for juice and peel grated for zest. The lemon juice and zest is mixed with simple syrup. A medium seedless watermelon is cut into partially cubed for pulverizing in a blender, while some 1″ thick pieces are cut into star shaped garnish. Watermelon and lemonade is a great flavor combination.
How to Make Watermelon Lemonade Sip
In a blender add 6 cups cubed watermelon meat, without peel to the blender. Puree the melon until liquid. Next you will need to strain the melon to remove the pulp. Pulp as mentioned before, will make the sip cloudy and not so pleasant to drink. Besides you will want to remove the tiny white seeds that are sometimes inside the seedless watermelon. In my opinion, regular watermelon has a better flavor than the seedless, so if using a regular watermelon, when you cube it, remove the black seeds before pulverizing in blender.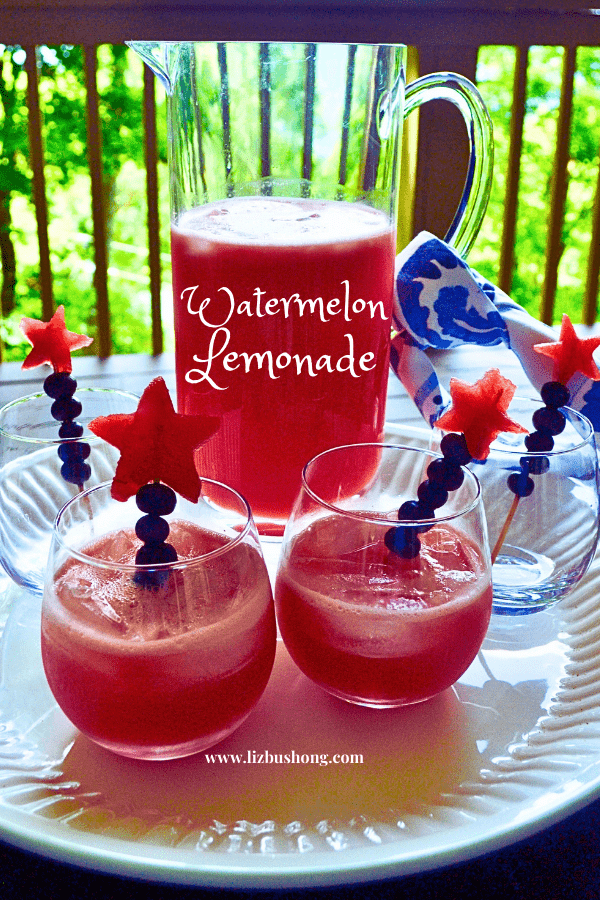 Once strained, set aside while you make the lemonade. Cut 6 medium sized lemons in half and squeeze juice from all lemons. With a microplane, zest the lemon halves you used for the juice. Set aside.
In a microwave safe 4 cup dish or measuring cup, add purified water and 1-1/2 cups of sugar. Stir to blend and microwave for 2 minutes on high. Remove from microwave and stir to dissolve sugar. You can use honey if you prefer, about 1/2 to 3/4 cup. Add lemon juice and zest to this simple syrup. Stir and taste to see if it is tart and sweet enough. Add more lemon and or sugar/honey to make it tart and flavorful.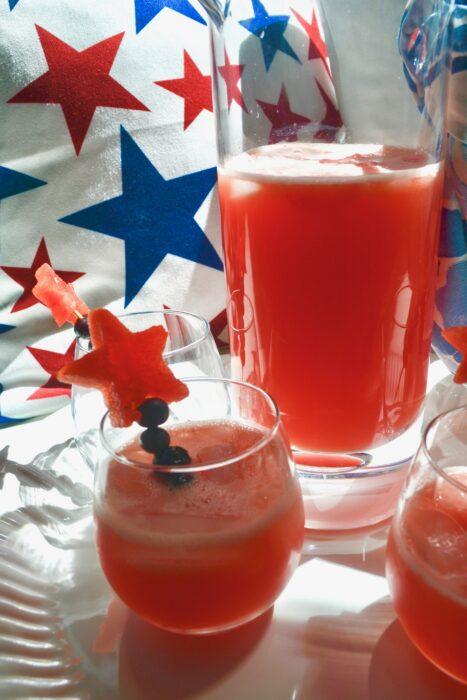 In a large pitcher, add ice, watermelon puree and lemonade. Stir to mix. Add Star melon blueberry picks to beverage glasses as a stir stick. If desired, add small watermelon slices in the pitcher. Watermelon Lemonade recipe makes 6 servings. Recipe can be doubled or tripled depending on your entertaining needs.
How to Make Watermelon Stars with Blueberries Stir Stick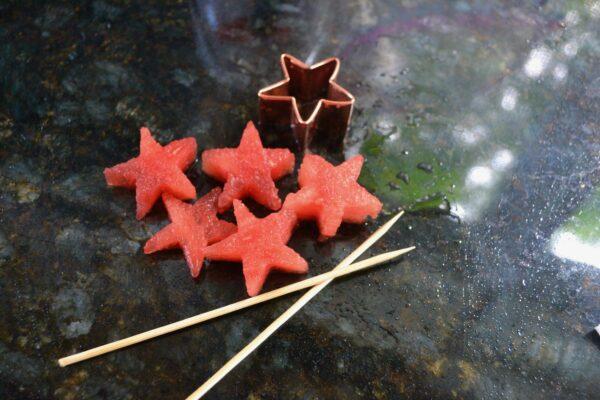 This is so much fun to make and looks so cute for summer entertaining. You will need 6-6″ long wooden skewers or 12″ cut in half. Cut watermelon into 1″ slices and using a mini or small star shaped cookie cutter, cut out melon stars. Try to cut the shapes without seeds if you can. Thread watermelon star first onto skewer followed by 5 fresh blueberries for a cut garnish. Place in drinking glasses or beverage cups. Makes 6 stir sticks.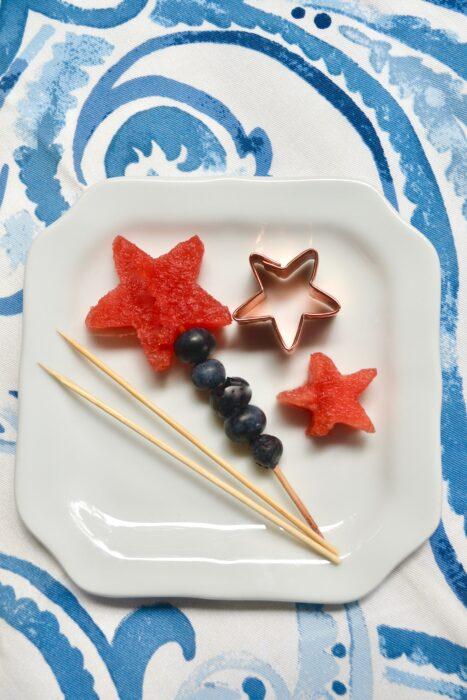 Print
Watermelon Lemonade Sip
Fresh ripe watermelon and lemonade simply syrup creates a refreshing summer sip for entertaining family and friends. Melon star and blueberries on a skewer makes a great stir stick.
Author: Liz Bushong
Prep Time:

20 minutes

Cook Time:

2 minutes microwave

Total Time:

30 minutes

Yield:

6

–

6

ounce servings

1

x
Category:

Sip-Beverage

Method:

Blender-microwave

Cuisine:

American
6 cups cubed seedless watermelon, without green peel
6– 1" slices of seedless watermelon for garnish stir stick
30 fresh blueberries (for 6 skewers)
7 lemons, juiced and zested
1–1/2 cups granulated sugar or 3/4 cup honey
4 cups water, purified is best
1 cup of ice or more for pitcher
Instructions
Place cubed seedless watermelon in blender. Puree melon until liquid.
Strain puree to remove pulp and excess seeds.  Pour into decorative pitcher.
In microwave safe 4 cup measuring cup or bowl, add 4 cups of water and sugar or honey. Microwave for 2 minutes.  Remove and stir to blend sugar or honey. Set aside to cool.
Zest 6 lemons and cut lemons in half to juice. Strain juice, add to simple syrup. Stir to blend.
Add lemonade syrup to melon juice in decorative pitcher. Taste for lemon tartness and sweetness. Add additional lemon juice and or sugar if needed.
Add 1-2 cups of ice if desired right before servings.
Make Watermelon Star Blueberry Picks
Cut 6-1″ slices of seedless watermelon, with small or mini star cookie cutter or cutter of desired shape, cut out 6 stars. Thread one star first then add 5 blueberries under melon star for each skewer stir stick. Makes 6 stir sticks.
Notes
*Adding a lot of ice to melon lemonade sip will weaken the flavor.
Keywords: Watermelon Lemonade Sip, Seedless Watermelon, Lemonade, Summer, Beverage, Sip, Blueberries, Skewers
Hope you will try this summer recipe especially when watermelon is ripe and delicious. Let me know how your sip turned out. To add some fizz, add sparkling water or seltzer before ice.
Other Ideas You Might Like to Try: