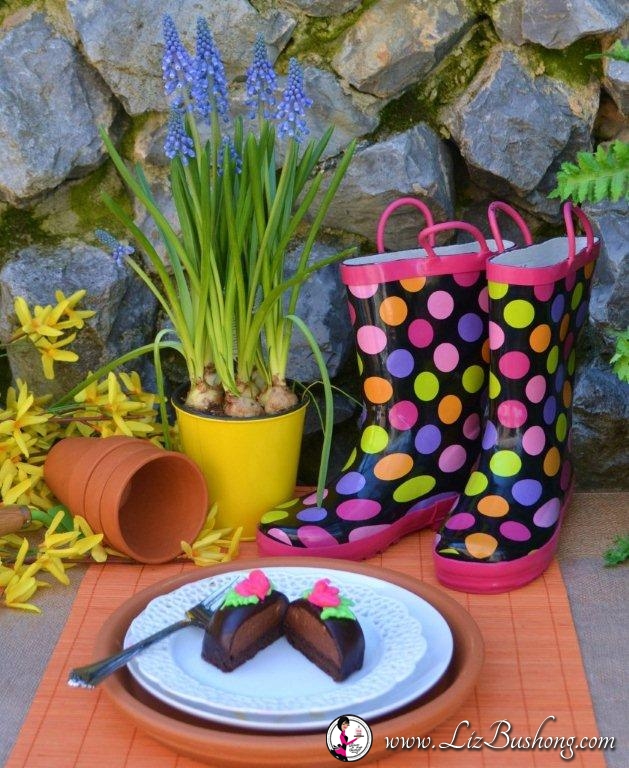 Color Splash! VIP SEEN Magazine
Color Splash your entertaining table with sunny bright colors of spring.  Splashes of Color set the stage for a simple garden party!  Polka-dots and clay pots to bring life the bright colors of this spring composition.  The color-rich palate includes hot pink, purple, yellow, terracotta, lime and tangerine!  I created this tablescape for a garden party, which was in my backyard.   The party was for a small group of girl friends, actually it was an afternoon dessert or pick me up party.   Dessert has a way of picking us up in the middle of the afternoon.  We sat by the water feature and listened to the running water as we sipped on tea and dove into the chocolate mousse brownie.   The table so pretty and cheerful, we left all the cares behind and just enjoyed the sights and sounds of nature.
 Color Splash! With Chocolate Mousse Brownies
This sunny celebration takes the party outdoors where the flowers are beginning to bloom and the smell of fresh rain still lingers in the air.  Spring has sprung and all the sleepy days of winter now awakens each little bud and bloom.  A natural rock wall lends the perfect background for the flower-filled and garden themed table- setting.   The centerpiece of this garden landscape features clean hand trowels, garden gloves, early blooming grape hyacinths and terra cotta pots.  A child's pair of polka-dot rain boots stake out a planted position on the table.  A large terra cotta saucer serves as a charger for the white dinner plate and the yellow flowered salad plates.   Simple mason jars and green napkins are placed on the beverage table.
This garden party will end soon but not before dessert is served.  Did you know the word dessert spelled backwards is stressed?  You have taken the stress out of the main menu and now take the stress out of dessert.  Even though this dessert looks complicated it is very easy to create.  You will love this dessert!  If you like chocolate, whipped cream and brownies this is your dessert.
Chocolate Mousse Brownie Cakes are made with chocolate ganache and whipped cream that is gently blended together then poured and molded in a silicone baking mold.  A baked thin brownie is cut the size of the mold opening and placed on top of the mousse, then frozen.  The mold is inverted and a layer of thinned chocolate ganache is poured over the frozen mousse and brownie.  Garnish the top of the dessert with butter cream frosting flowers or simple candies.  To see recipe for Chocolate Mousse Brownie Cakes  http://serveitupsassy.com/chocolate-mousse-brownie-cakes/
Color Splash! With Flower Pot Cupcakes
Another dessert for this garden party are lemon cupcakes that are frosted with white butter cream frosting and  color splashed with hot pink, orange or yellow butter cream flowers.
Serve these cute little flowers in a decorative small flower vase that coordinates with your overall color scheme.  To see recipe for Flower Pot Cupcakes http://serveitupsassy.com/category/serve-it-up-sassy/desserts/
Color Splash! With Polka Dot Rain Boots
April showers usually bring May flowers, the perfect time for a garden party.  Shop now for cute rain boots and gather new colorful gardening tools to host an impromptu garden party with family and friends.  Color-splash your friends with bright colors of spring from the garden to the table.
To read more about this fun article  http://serveitupsassy.com/category/multi-media/publications/
 Color Splash!  With Refreshing Water Feature in My Back-yard
Would love your fun comments.  Hope you will make these fun treats for your family and friends!
Recipe Development, Food Styling, Photography and Article by Liz Bushong