Because, summer is usually hot, your table decor should be too. Set the table with beautiful sunflowers. Paired with black and white checked table cloth and napkins with cute little sunflowers and bees help set the table. In addition to the large sunflower centerpiece, black and white checked dessert plates with individual sunflowers really make a lovely statement at each place setting. Speaking of dessert, dark chocolate cupcakes sport buttercream sunflowers. To see how to create the buttercream sunflowers go here.

What a lovely way to express hospitality; set a pretty table full of Sunflowers.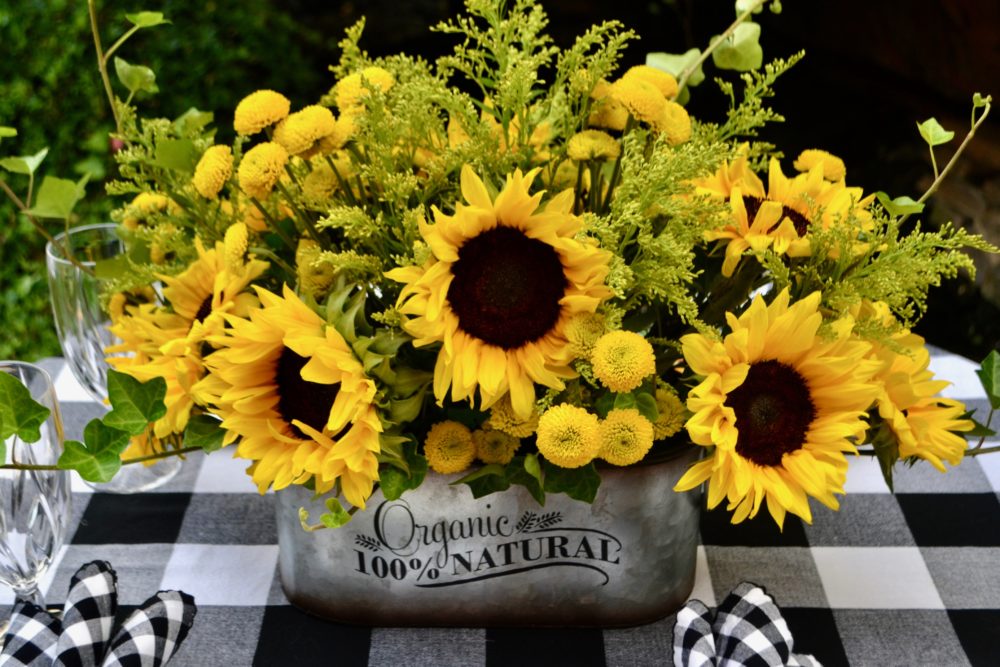 Create a Fresh Sunflower Centerpiece
To make this centerpiece you will need a 8-10″ galvanized vase, floral oasis/form for fresh flowers, 10 fresh flower-sunflower stems, 2 bunches of small button mums, 2 bunches soft greenery and few stems of english ivy. ( My vase was a gift from special friends who gave me a lovely Easter basket filled with goodies).
Soak floral foam in cold water until it is fully saturated. Line the inside of the container with a garbage bag,( to catch any water leaks from the floral foam), place foam inside the vase. Stack floral foam if necessary to fit to the top of the vase. No need to tape the foam to the container. Just stuff the foam snuggly in the vase. I used two floral blocks.
Cut sunflower stems 8-10″ at an angle, insert one in the center front, right, left of front side of vase, repeat on other side, then fill in the center top with sunflowers to balance.
Next, add the greenery to fill between the sunflowers and last add the button mums and ivy pieces filling any gaps with in the arrangement on all sides. Display it on your table for all to enjoy!
Set Each Place-setting with Sassy Sunflower Dinnerware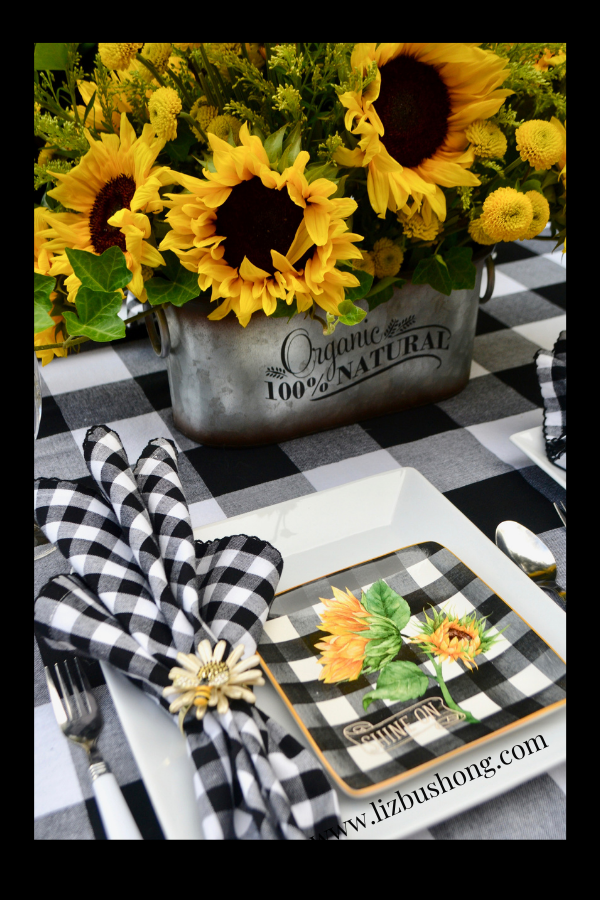 Shine On with Sunflower Dessert Plates
I found these cute small appetizer or dessert plates on amazon just recently. Each plate has a sweet sentiment expressing sunflower warmth. Of course I had to find Bee-utiful sunflower napkin rings that would fit my black and white checked napkins. These were also ordered from amazon.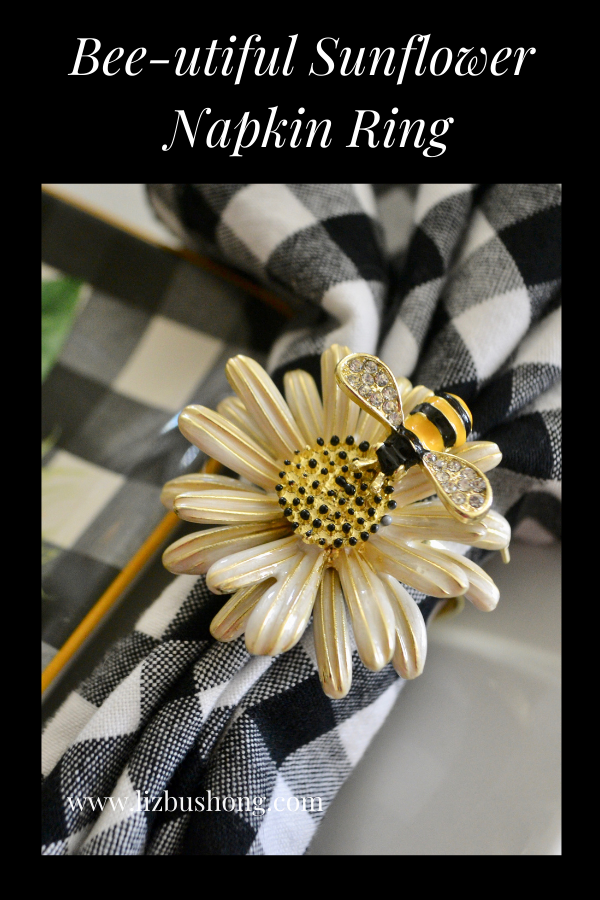 The napkin fold is a simple nosegay fold with the ring slide.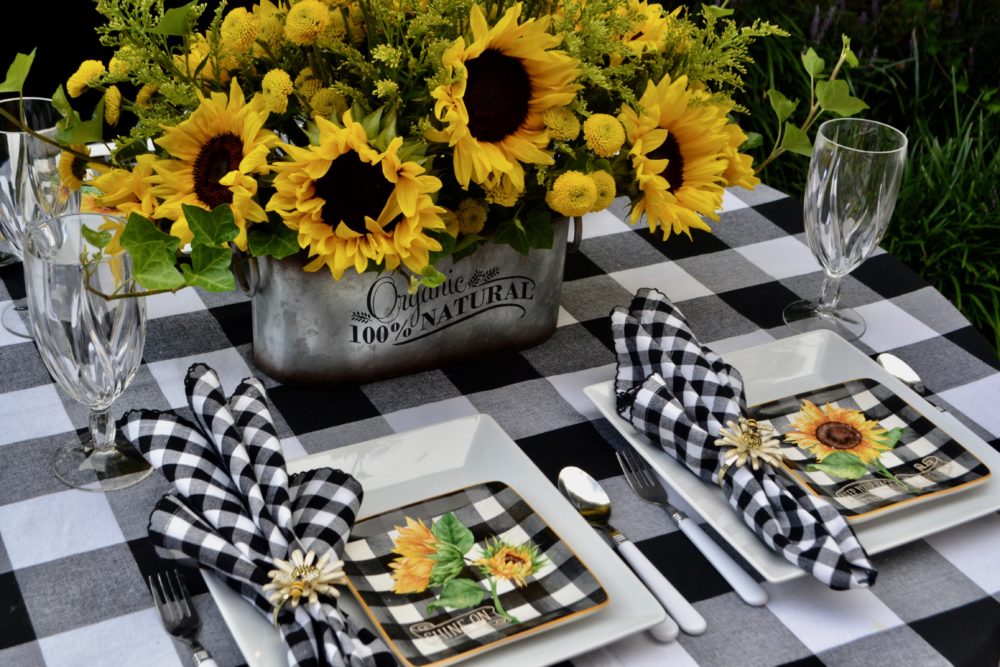 These plates are so cute. however, they were smaller than I had thought. But they are perfect for appetizers and desserts.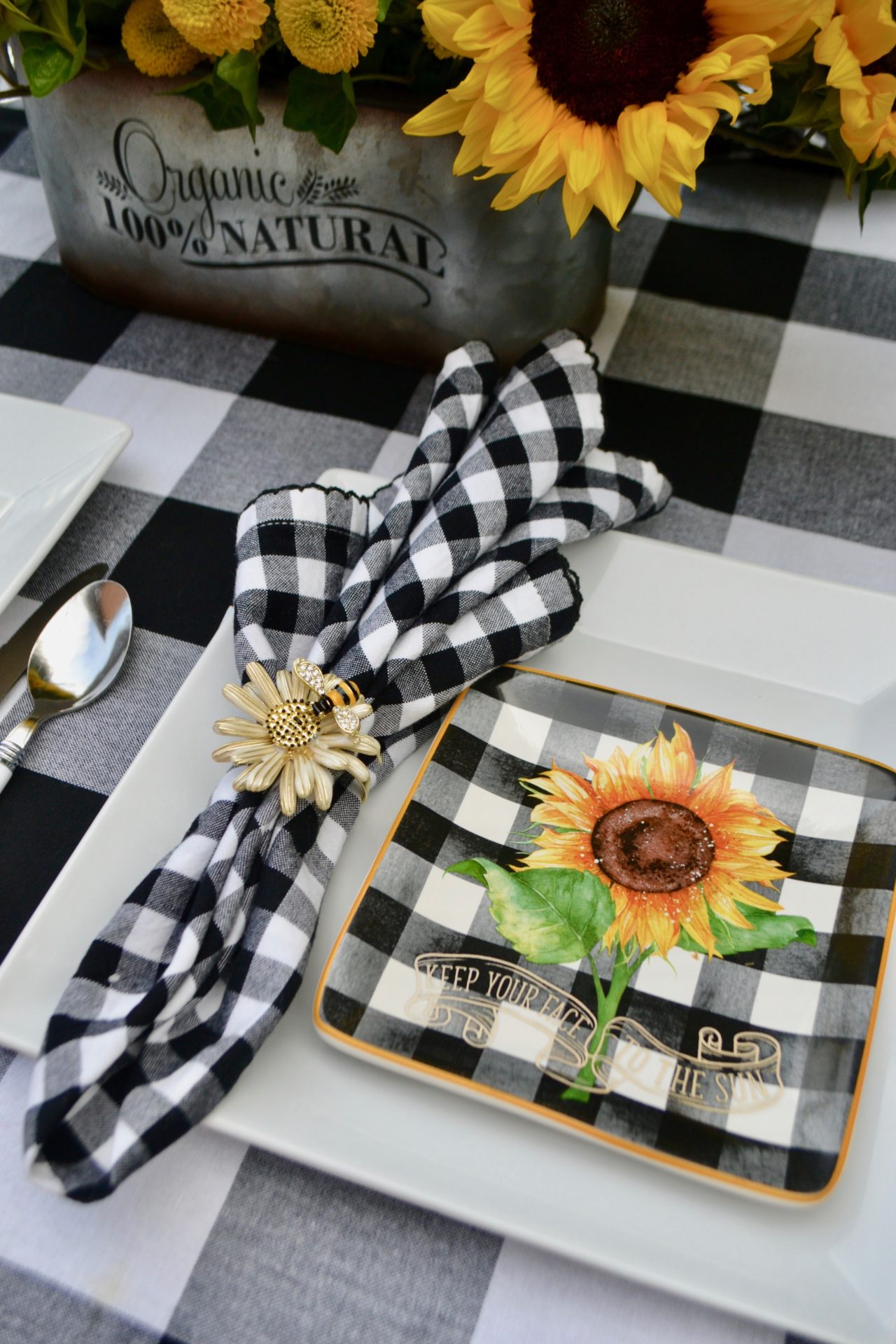 Keep your Face to the Sun
Is a good reminder to get out side and enjoy the warm sun with a pretty table set for supper. Be filled with peace as gentle warm breezes and beams of sunshine touch your family's faces. This sunflower table setting will bring great comfort and joy to all. Hope you enjoy this fun table setting. Grab some sunflowers, make some cupcakes and enjoy!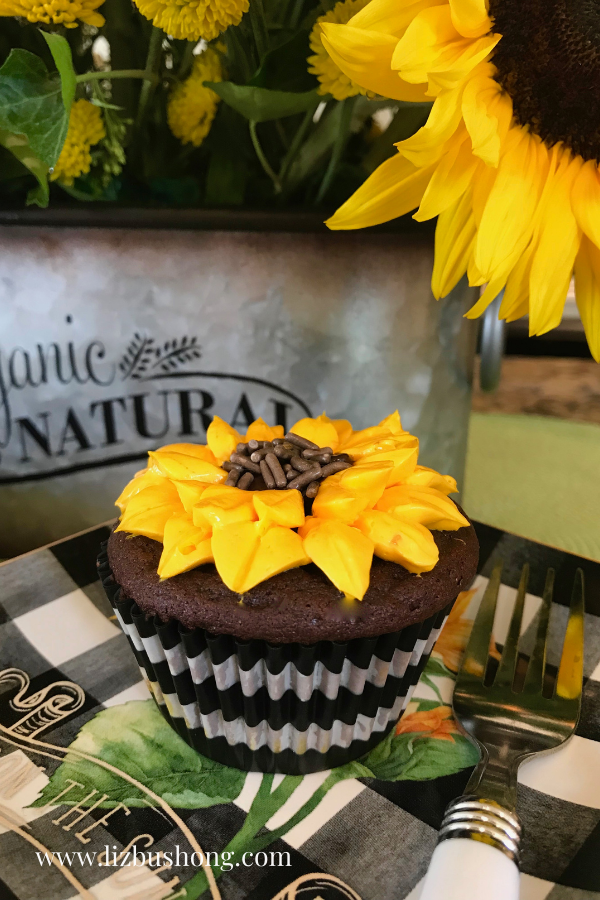 Recipe for Sunflower Cupcakes here.
Other Ideas You Might Like to Try