Print
Mug-a-Cocoa|Caramel Orange Pumpkin Spice Recipe|Beverage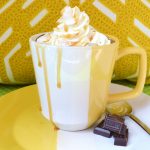 Recipe makes one mug of cocoa.
Author:

Liz Bushong

Yield:

1-8 ounce serving
Ingredients
1   teaspoon Hershey's Special Dark cocoa + 2 teaspoons milk

2   teaspoons sugar

1-teaspoon brown sugar or honey

1   cup milk*

¼ teaspoon orange extract

¼ teaspoon pumpkin pie spice and ground cinnamon

Dash of salt

Garnish:  whipped cream, caramel sauce, mini chocolate chips, or coarse sea salt
Instructions
Combine dark cocoa, extract, spices, salt, 2 teaspoons milk, and sugar in a microwave-safe mug.  Stir until smooth.  Fill cup with remaining milk.
Microwave at High 1-1 /2 minutes or until hot.  Add whipped cream, drizzle with caramel sauce, and sprinkle with mini chocolate chips or sea salt.
Higher the fat content in milk the creamier the hot chocolate + more calories.
Mug size and power of microwave will determine the accuracy of cooking time.
Notes
Create a fun gift for college coeds, package a mug and all the ingredients with recipe, be sure to include a spoon.
Check out Mug a Mac n Cheese and Mug a Muffin Recipes for more ideas.