---
Mug-a- Mac with Cheese is microwaved in a mug full of elbow macroni and lots of cheddar cheese.  College Dorm food Mug a Mac n Cheese. 
Print
Mug-a-Mac with Cheese Recipe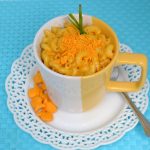 Ingredients
¼ cup elbow pasta

¼ cup milk-any kind- tested almond

½ teaspoon butter

½ cup shredded sharp cheddar cheese

2 tablespoons water

Salt, pepper, dash of nutmeg (optional)

Garnish:  crushed gold fish crackers
Instructions
In large microwave- proof large mug add milk and pasta.  Microwave 50 seconds at a time until pasta is soft.  If pasta seems to dry, add 1 tablespoon of water then continue to microwave.  Total time for cooking pasta will be 4-5 minutes depending on your microwave.
Add cheddar cheese, butter, 2 tablespoons water and stir.  Microwave for 50 seconds.
Add garnish if desired.
Tested almond milk, but any milk will work.
Serve it up Sassy by making it your own. Add these optional choices along with the milk and cheese. Diced onions, diced peppers, diced tomatoes, leftover meat (shredded or cubed), a few tablespoons of salsa, chili powder, smoked paprika or your choice.
Notes
Mug size and power of microwave will determine the accuracy of cooking time.
---