Celebrate A Taste of Kentucky Derby with traditional flavors like Mini Hot Browns, Kentucky Derby Bars and for a twist Cucumber Mint Juleps. Check out these 3 easy recipes/ bites for a quick impromptu backyard event.
Hold your horses…you don't have to go to Kentucky to host a Derby party!  Therefore, bring out the silver, mint julep cups, fresh red roses and riding boots, for easy table decor and serving in theme. Don't forget to dress the part with festive hats, pearls and other southern attire.
A Taste of the Derby| 3 Easy Food Bites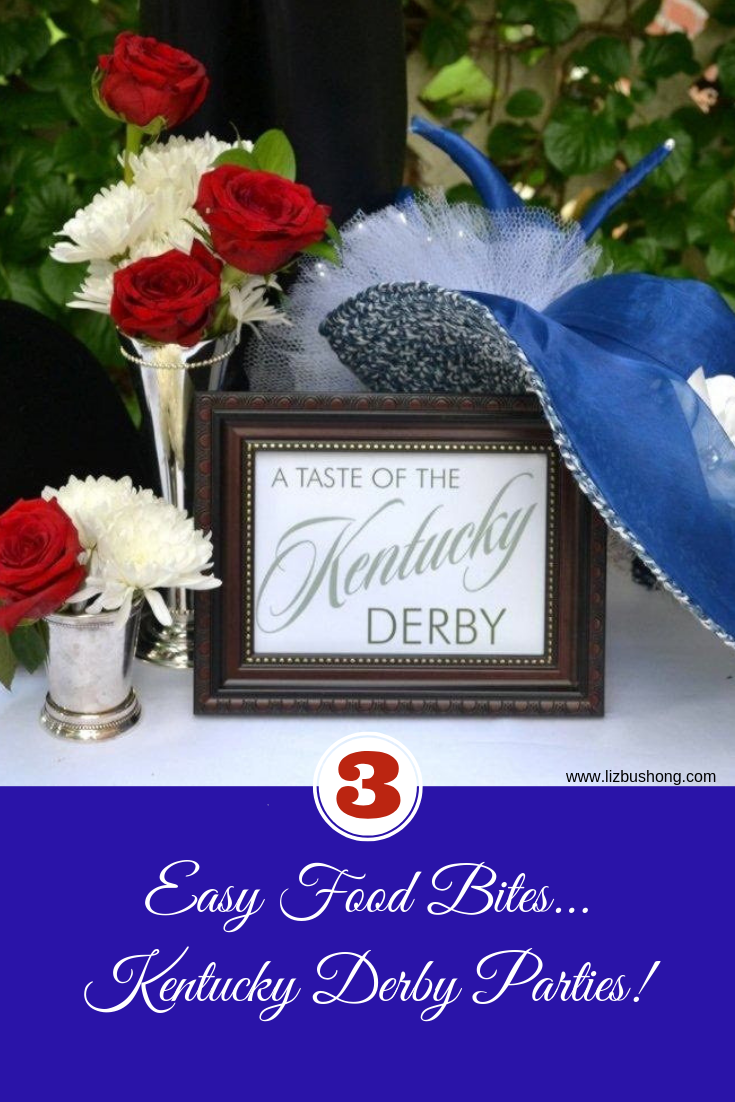 Menu:  Mini Hot Browns, Kentucky Derby Bars, and Cucumber Mint Juleps. Click on photos to get recipes.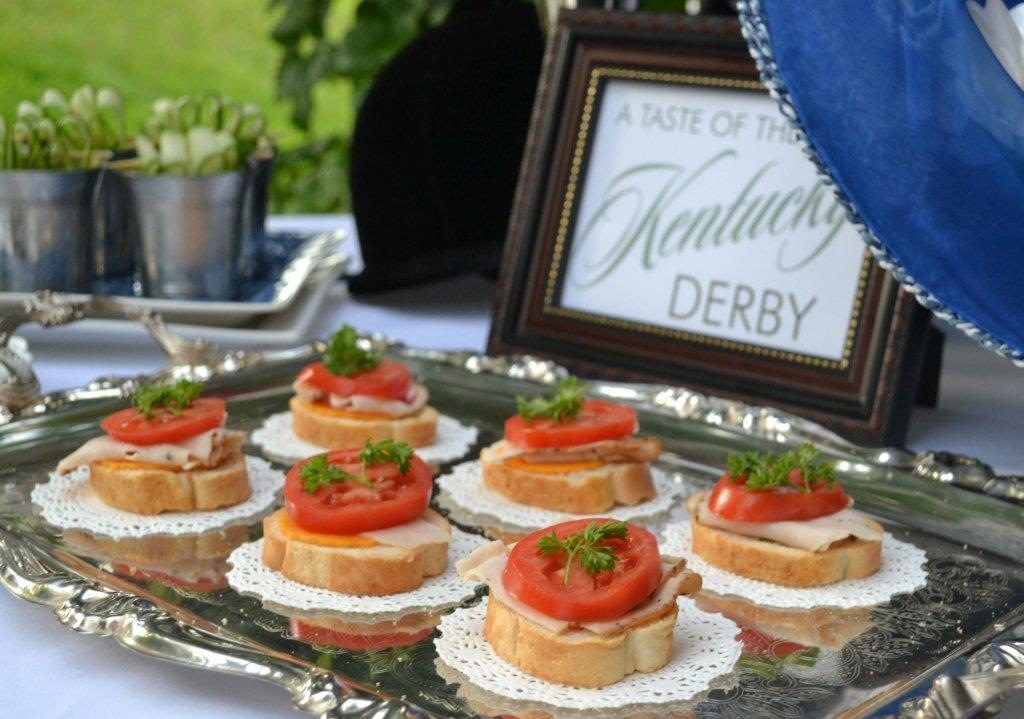 The Mini Hot Brown's are served with small rounds of crusty bread toasted with butter and stacked with melted cheddar cheese, cooked peppered bacon, and smoked turkey breast.  For the reason that the breads can dry out quickly, make these right before serving.  Make several Mini Hot Browns for they will go fast.
On the side, and in a heated chafing dish, or fondue dish serve melted cheese sauce, so guests can drizzle additional cheese over the appetizer. As a garnish for this appetizer, a thin sliced Roma tomato with parsley appeals to the eye. These can be served warm or cold depending on your preference.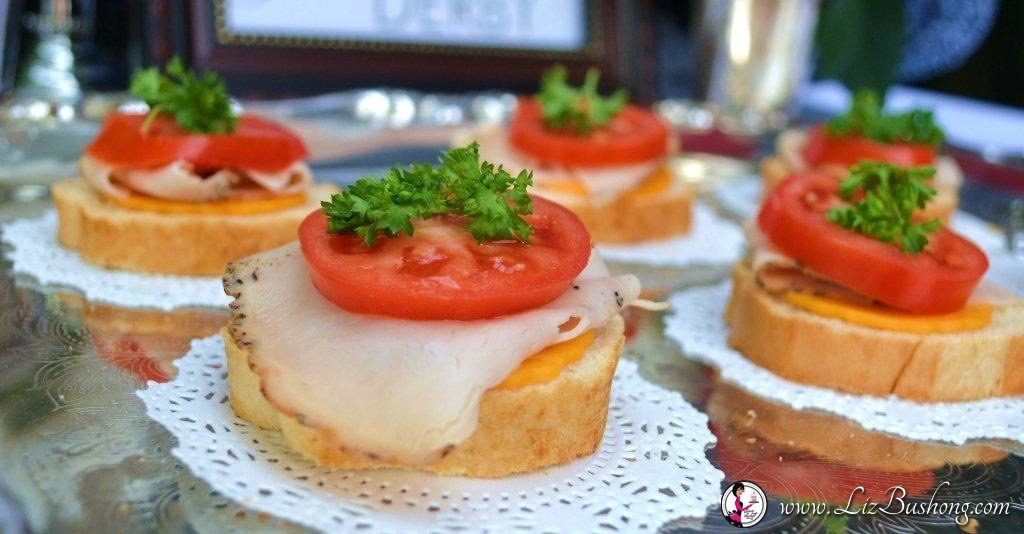 Kentucky Derby Bar's have a solid filling with toasted pecans and mini chocolate chips making this graham cracker crust dessert sweet and rich.  Cut these bars as minis or small squares for easy presentation and serving.  This dessert can be baked ahead a couple of days before the event. Get recipe here: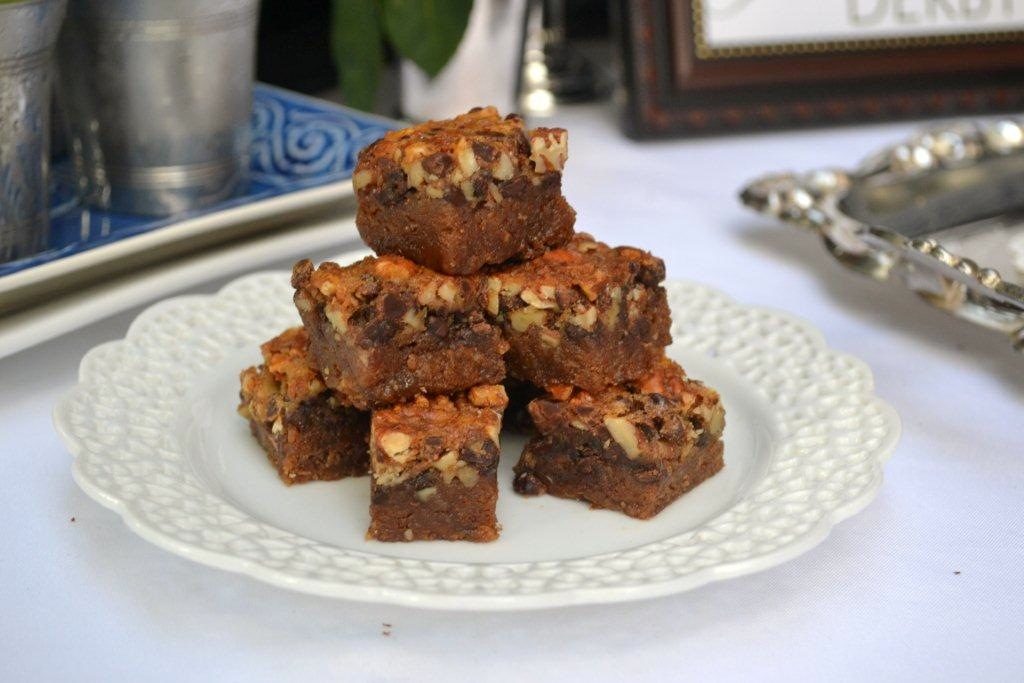 While mingling and munching on these delicious bites sip on the frosty Cucumber Mint Julep  .    English cucumbers are mixed with mint simple syrup and pure vanilla extract. Lemon lime soda or Perrier is added and poured over frozen mint ice cubes making this julep refreshing on a hot day.  Sip on this beverage all day long for it is bourbon less.
Most noteworthy, the traditionalist will prefer bourbon laced juleps but this is a pleasant twist on Mint Juleps. Cucumber is refreshing and the fans make this drink festive and fun.  To make the garnish, a mandolin creates the thin lengthwise cucumber strips.
In true Derby style, serve Mint Juleps in a silver cup with a skewered ruffled English Cucumber slice. Pretty and Delicious!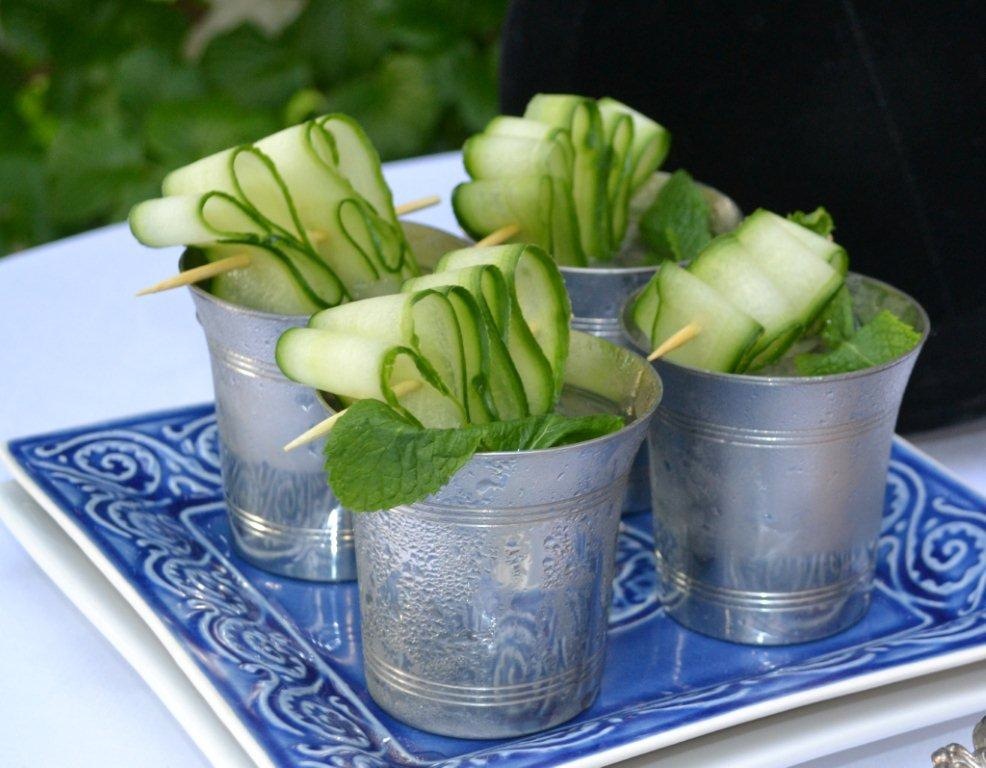 A Taste of the Derby| Table Staging
At the starting line of this food event, silver makes a real statement as serving pieces. It wouldn't be the Derby without silver platters, plates and cups. Don't have silver or silver plated pieces? Classic white dinnerware can be used or intermingled with a few silver pieces.
The nickname Run for Roses is another name for the Kentucky Derby; for a blanket of red roses are draped over the winning horse. To mimic the winning blanket, red roses and white carnations are arranged in Mint Julep cups and supports the overall table decor color scheme. For an added accessory, an elaborate navy hat with pearls, lace and tulle reflects the lavish style that well-connected and famous women wear during this event.  Mimic these ideas for your own backyard bash.  Super fun for every guest to dress the part.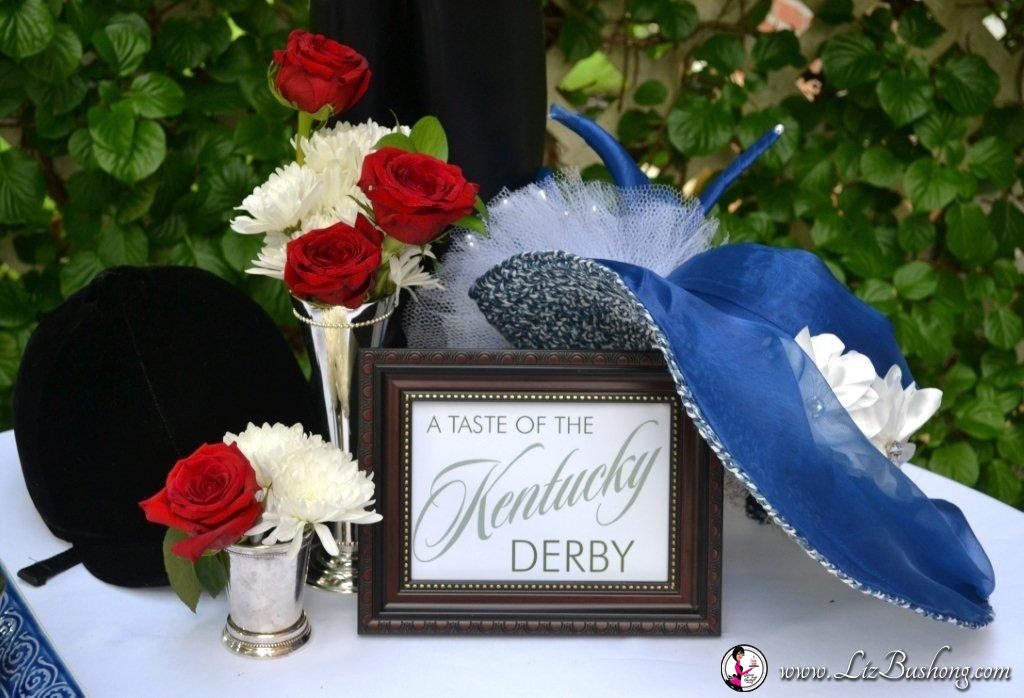 On Daytime Blue Ridge in Virginia we celebrated the Kentucky Derby with out festive hats and fun buffet.   Hope you have a great time planning your Kentucky Derby and remember you don't have to live in Kentucky to celebrate Derby style. Let me know how you plan to celebrate.
---
Helping you Make a Statement, Make it Sassy and Make it Yours!  
Written By: Liz Bushong
Liz Bushong is an expert in the three-dimensional art of entertaining. She transforms simple dining occasions into beautiful and memorable moments by adding a touch of her own "sassy style". For the past several years Liz has been entrusted to decorate several high profile homes for the Holidays including the White House, Vice Presidential Personal Residence, Governors mansions and more. She is a featured monthly guest chef/designer on regional CBS/ABC Affiliates Daytime Tri-Cities, Daytime Blue-Ridge Roanoke and other television shows. Liz is the author of Just Desserts and Sweets & Savories cookbook as well as a contributing writer for several magazines including VIP SEEN & Lovely Bella.
All recipes, food styling, photography and article are created and developed by Liz Bushong.
Please link this website if you reference any content in this article. Thank you!