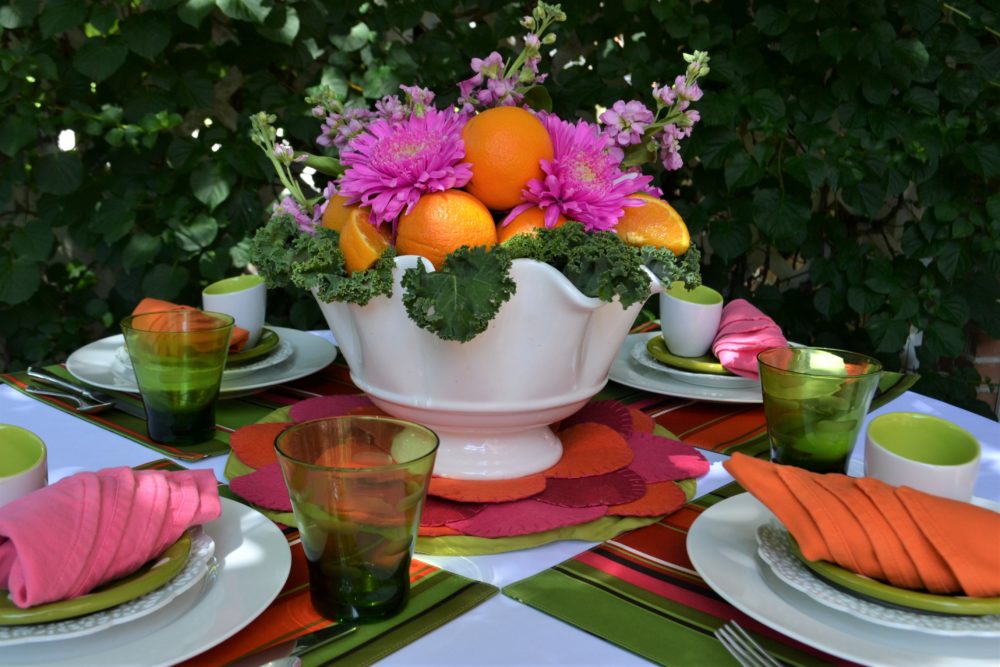 Answer the call for Summer Entertaining with a Fruit & Floral inspirational one-of-a-kind table setting. Not only will your eyes be drawn to the centerpiece but so will the soft floral  scent of fresh oranges.  This is one bold and beautiful table!  If you are looking for an easy breezy centerpiece try this one; it will turn heads and your table into a summer fiesta!  Pops of bright orange, magenta, hot pink and green napkins and centerpiece placemat makes a bold statement for this summer table top. You will want to create the pineapple napkin fold at each place setting in coordinating colors. To see how to make this old go here. 
Whether you love the the bold color scheme or not a fan of mixing and matching stripes with solids, it is worth trying for this festive setting. The bold color is repeated by the striped square placemats at each place setting. In addition to balance the powerful colors, use solid white dinner plates to calm the scene.  Small green and white polka dot plates and dipping bowls help carry the color scheme and makes the place-settings come alive.  As the focal point of this table the Fruit & Floral Centerpiece.
How to Make the Fruit & Floral Table Centerpiece 
To make this table centerpiece you will need a few pieces of felt for the floral placemat and a beautiful white bowl to hold the kale, oranges and Gerber Daisies. To see how to make the floral placement go here.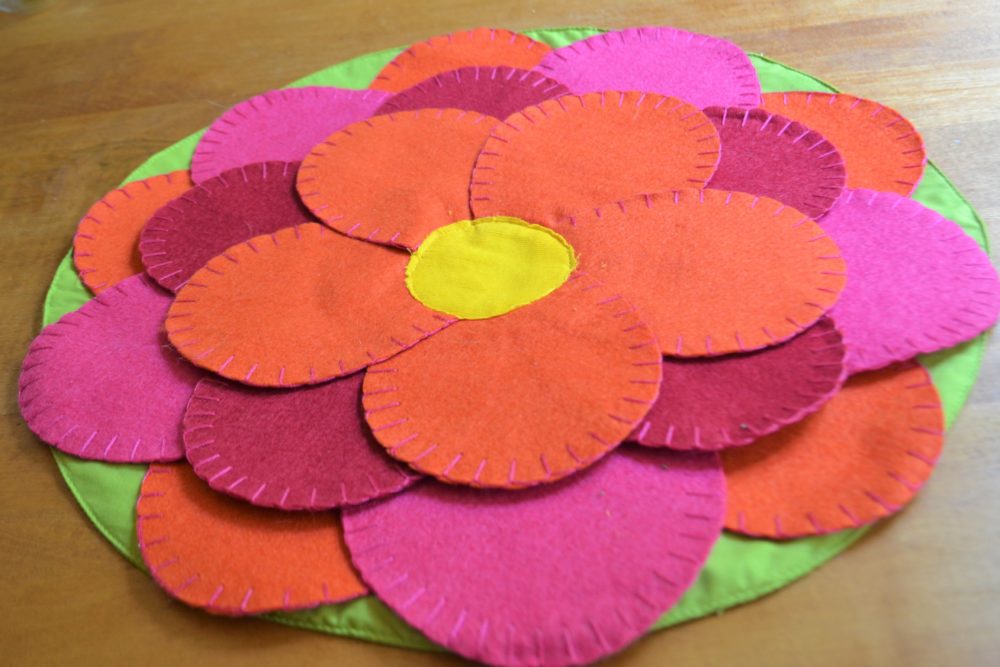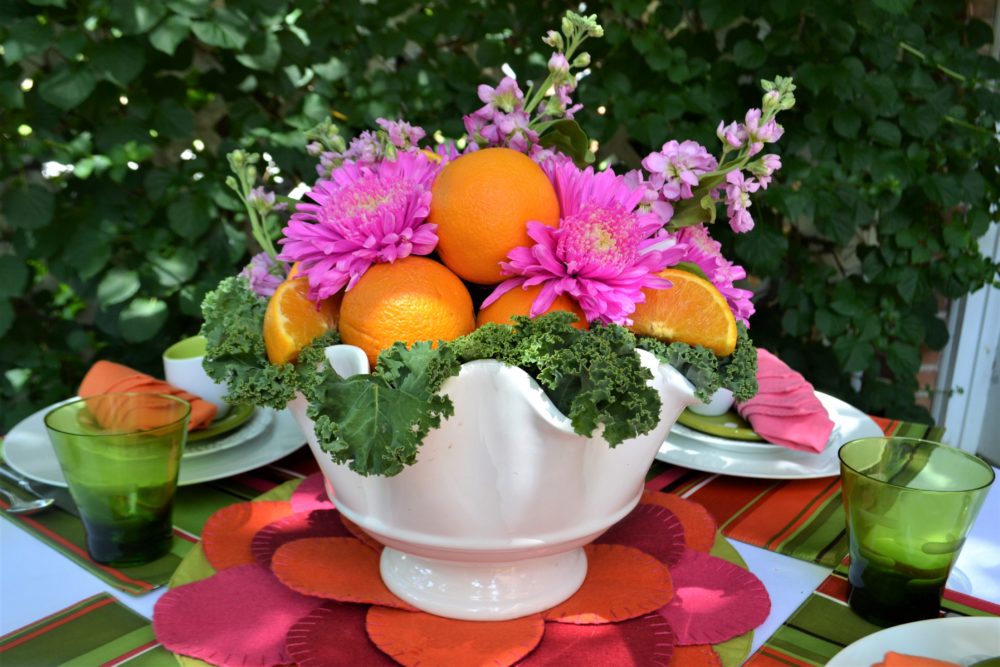 The centerpiece is the main attraction to this table. The centerpiece will take 15 minutes to put together. A quick trip to the grocery store to pick up a bag or two of oranges, one bunch of kale, bright flower stems, and a few floral tubes is all that you need for this easy-to-create centerpiece.
Selecting Flowers & Fresh Fruits
Selecting flower stems with open flat-blooms will create a full arrangement. Flowers to consider would be mums and Gerber daisies. A second or third flower can be part of the arrangement but keep the colors monochromatic or in the same color family for best results.
Fruit such as citrus, apples, pineapples, and pomegranates are all great fruits to mix with flowers for long lasting arrangements.
Select a vase/bowl large enough to hold the oranges but low enough your guest can see around when seated. Keep in mind when selecting your container, the oranges will create a mound on top of the vase and flowers will be inserted between the oranges creating added height.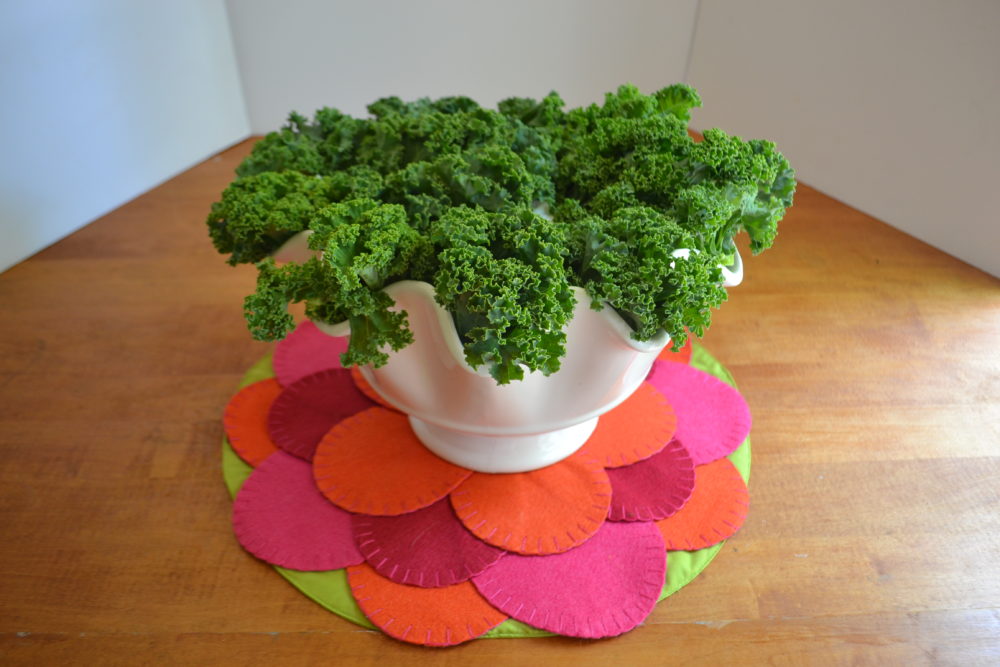 Step 1: Line the vase/bowl with a few crunched up pieces of paper towel. The paper towel keeps the fruit in place and protects the inner bowl as well as oranges.
Step 2: Cover paper towel with fresh kale covering entire surface.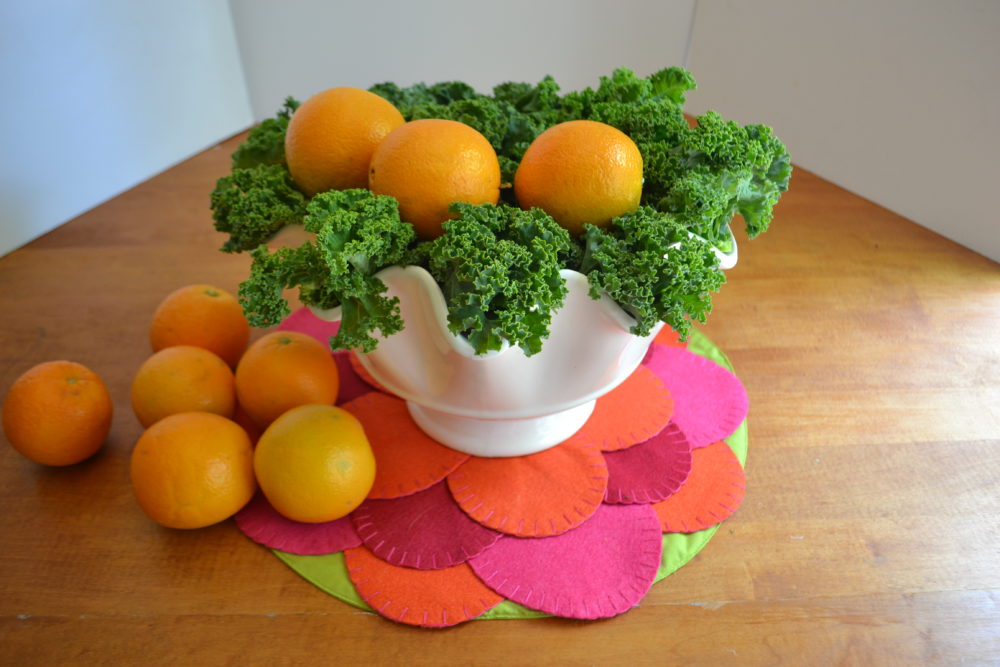 Step 3: Place whole oranges one at a time to fill the container. Turn oranges with uneven color or blemishes to the inside of the arrangement so only the bright healthy peel side is seen.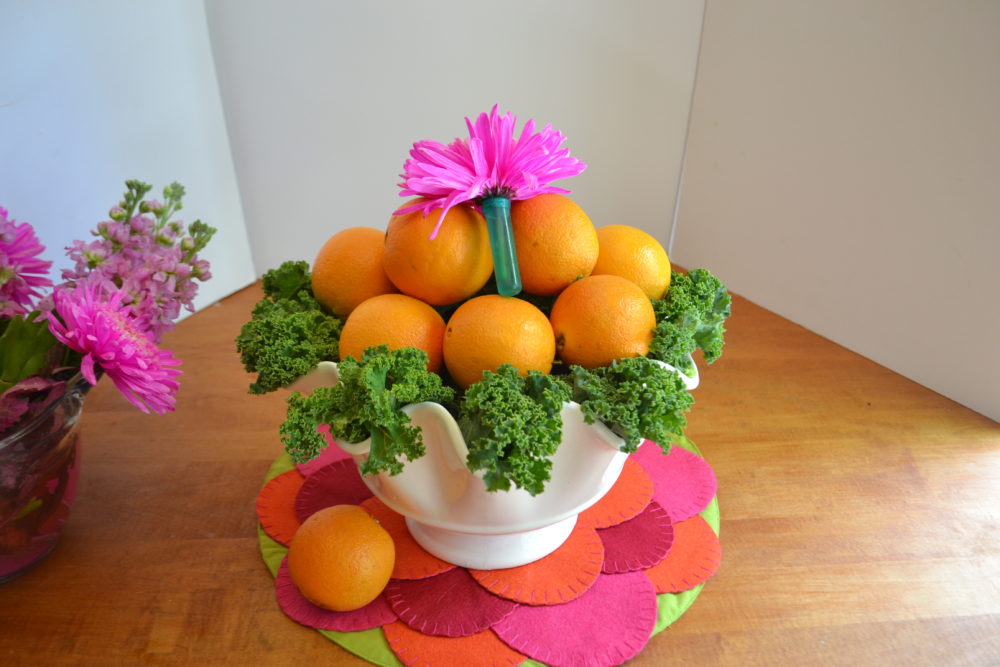 Step 4: Fill tubes with water and insert cut flowers. Flower heads should touch tube.
Step: 5: Insert tubed flowers in-between the oranges. Adjust oranges if necessary to make arrangement look full with out exposing the floral tubes. Add additional greenery and flowers to fill open spaces if desired. To add scent, cut oranges into wedges and place throughout the arrangement.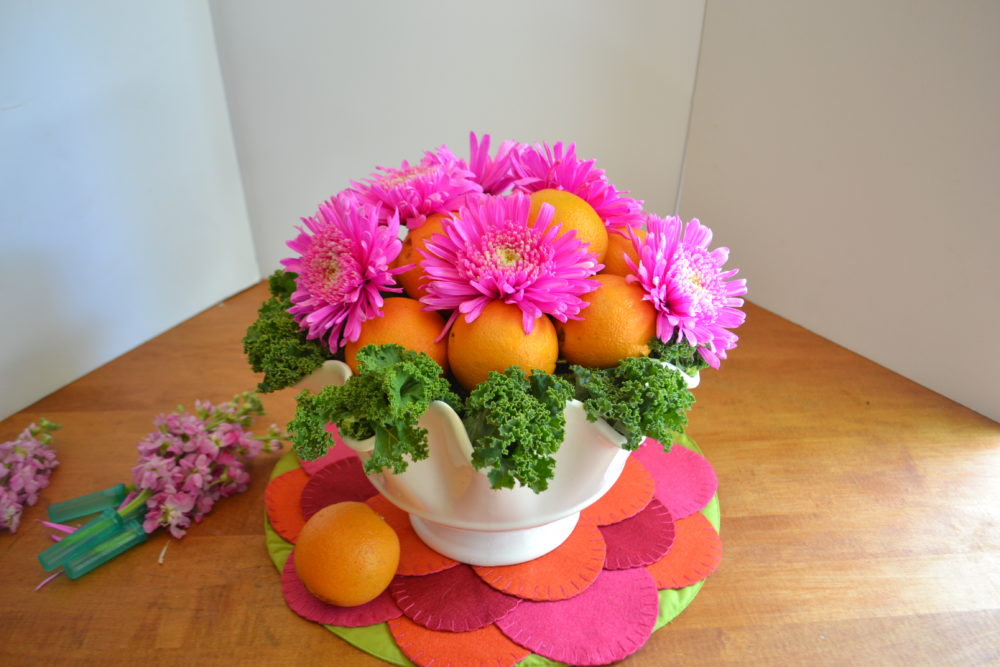 Be inspired to decorate your table and home with fruit and flowers. Nature's bounty always makes a beautiful display. So, put on some mariachi music and create your own fiesta with fresh fruit and flora. To see how-to-make the Pineapple Napkin Fold and  Blooming Flower Placemat featured under the centerpiece go to lizbushong.com. This setting "how to" was featured on the noon show at WCYB 5 as well as VIP Seen Magazine.
Helping you Make a Statement, Make it Sassy and Make it Yours.™
Other Ideas You Might Like To Try: