Whether serving crackers with salads or as a dippers this recipe will make everyone happy. Two refrigerated pie crust rolled thin, sandwiched with dried cranberries, golden raisins, orange zest and chopped pecans cut into various leaf shapes. So much fun to make, serve and eat.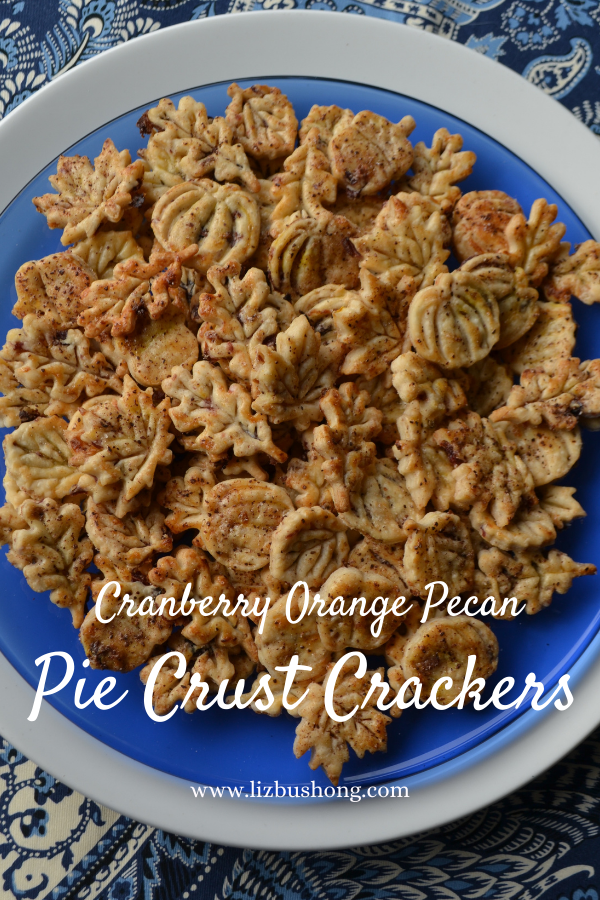 Needless to say, these cute little crackers are great with fall salads and special cheese ball dips. Snacking also comes to mind for these crisp fruit and nut crackers. If you want to add these little crust leaves to the edge of a pumpkin or cranberry pie that would be another way to use these little cracker crusts.
Ingredients and Tools Needed

How to Make Leaf Crusts Crackers
With the refrigerated pie crust, roll the dough on a lightly floured surface with a rolling pin. The dough is rolled about 1/8″ thick. Roll second crust the same size as first round. Once the dough is rolled out, fill the crust with dried cranberries and toasted diced pecans. Add second crust round and gently press together forming one unit. Cut the leaves or shapes close together to save crust. Place on parchment lined baking sheet and chill 15-30 minutes. Brush with egg wash and bake at 375 for 8-10 minutes.

Roll two crusts together after filling with dried cranberries, golden raisins, pecans, orange zest.

Spring loaded pie crust or cookie cutters. These are about 1″ to 1.5″.

Cut out leaves. Re roll scrapes of dough and cut additional leaves.

Cut shapes and place on parchment paper baking sheet. Brush with egg wash, sprinkle with cinnamon sugar mixture.

Bake at 425 for 7-8 minutes. Allow to cool on baking sheet.

Should I Toast the Pecans?
Yes, most definitely, toasting will bring out the oil in the pecans for a warm nutty flavor. Pecans are perfect for fall dishes as in pecan pie and pumpkin. Check out this recipe for Spice Nut Crust Pumpkin Pie. It is very good and simple to make.
What Other Fillings Can I Use?
Sugar Cinnamon comes to mind as well as any other dried fruit like blueberries, or cherries. Depends on whether you want sweet or savory crackers? Assorted cheeses, herbs, red pepper flakes, garlic, cooked, drained sausage, mini pepperoni rounds make great fillings for pie crust cookies or crackers. Sprinkle savory crackers with egg wash and poppy or sesame seeds.
You can also use different cookie cutters for different seasons, hearts for valentines day, Christmas tree for Christmas, turkey for Thanksgiving, leaves for fall.

Tips for Making Pie Crust Cookies/Crackers
If you want to make your own pie crust try this recipe. I used refrigerated crust tested Pillsbury Refrigerated Pie Crust.
Make sure your pie crust is well chilled before and after cutting out crackers before baking.
Toast any nuts you plan to sandwich between the crusts.
Dice dried fruit/cranberries for small bites and easier adhesion to crust.
Line large baking sheet with parchment paper.
Use spring loaded leaf cutters with veining if you can, if not use metal cookie cutters and create veins with sharp paring knife.
Brush with egg wash before baking.
Store in air tight container.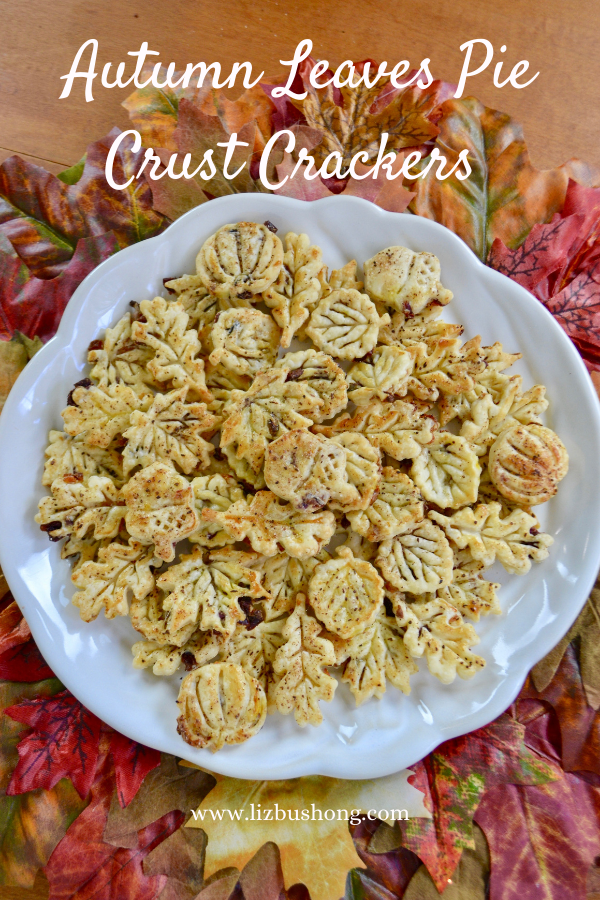 Print
Autumn Leaves Pie Crust Crackers
Author: Liz Bushong
Prep Time:

15 minutes

Cook Time:

7-8 minutes

Total Time:

25 minutes

Yield:

120

-

1

" pieces

1

x
Category:

Appetizer

Method:

Baking

Cuisine:

Ameican
1 package Pillsbury Refrigerated Pie Crust or home made crust
1/2 cup dried cranberries or dried fruit choice
1/2 cup diced toasted pecans or nut of choice
1/2 cup golden raisins- optional
2 tablespoons grated orange zest
Egg Wash
1 large egg
1 teaspoon water
Garnish
Cinnamon Sugar Mix
1/4 cup granulated sugar
1 teaspoon ground cinnamon
Instructions
Preheat oven to 425. Line baking sheet with parchment paper. Set aside.
Make egg wash. Mix one egg with 1 teaspoon milk or water in small cup, whisk. Set aside.
Unroll two circles of chilled dough on floured surface. Lightly roll to 1/8″ thickness.
In small bowl mix dried cranberries, raisins and toasted pecans with orange zest.
Sprinkle mixture over one crust. Add second crust over filling.  Press with rolling pin to seal together.
Cut 2-3″ leaf shapes or desired shape using cookie cutters. Place on baking sheet.
Brush with egg wash and sprinkle with cinnamon sugar.
Bake 6-7 minutes until golden brown.
Serve leafs on top of pies as garnish or bowl full for snacking.
Notes
Inspired recipe from Southern Living 2004, and here.
My pie cutters range in 1″  to 1-1/2 " lengths. Which yield about 120 crackers.
Keywords: Pie Crust, Leaves, cinnamon, cranberries, pecans, sugar
Other Ideas You Might Like to Try: