Mini is always cuter, why not make a mini gingerbread house to sit inside a pretty dessert dish. Whether setting this mini house on a coffee mug rim or rim of a champagne glass this tiny marvel will intrigue every guest. Set each place-setting with this cute sweet refreshing little house dessert.
Making Mini's in a Dish
Why are we serving mini gingerbread house in a dessert dish? Because you can and here's how to do it. It's fun, creative and very simple to bake, put together.
Peppermint Cheesecake Mousse creates a lovely snowy feel with this mini gingerbread house. Crushed peppermint is sprinkled over the mousse for special sparkle. Peppermint just makes you think of Christmas and Winter.
If you don't want to serve this dessert in a decorative glass with mousse or ice cream, serve the little house on the side of a coffee mug. Its so easy to make, bake, and decorate. Read more on how to do make it.

Simple Decor and Easy Gingerbread Recipe
While there are many gingerbread house recipes on the internet I used this one with great success. The flavor is wonderful seasoned with ground cinnamon, ginger, salt, molasses and dark brown sugar. What I also love about this cookie recipe is the batter will not spread after baking. So the size you cut the pieces is the size you will get.
Real butter, not margarine is creamed with sugar until light and fluffy, then salt, baking soda, ground cinnamon, ginger and cloves. Add eggs and molasses, then flour. The dough will be very soft that is why you must chill before rolling out.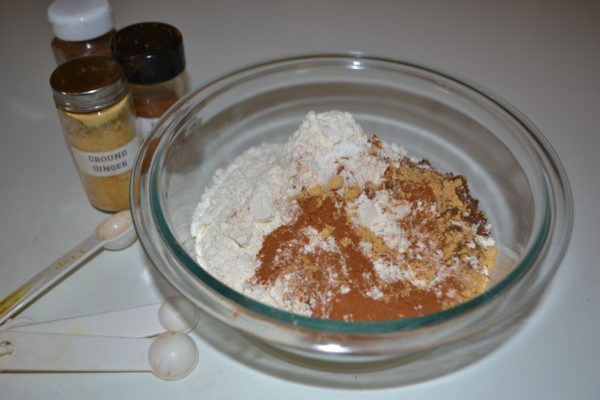 Once you mix the wet ingredients with the dry ingredients your dough will come together very easy.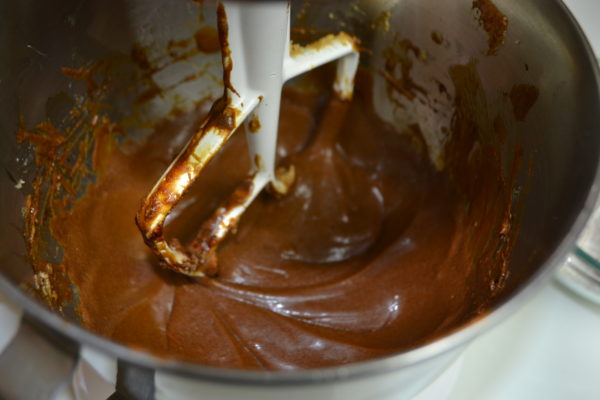 Form dough into a ball and flatten into two discs.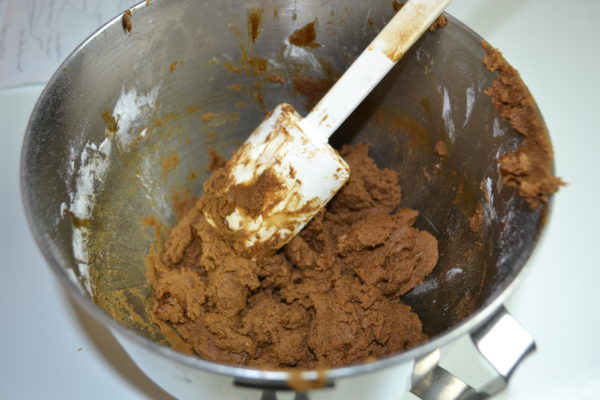 Wrap in plastic wrap for a 60 minute chill. Cookie dough must be chilled for ease of cutting the sharp lines needed to build the house.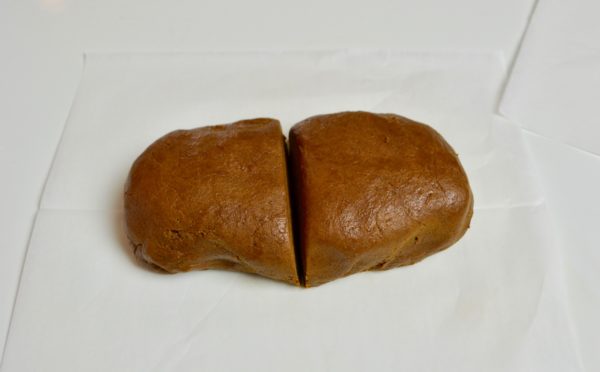 After the big chill, flour your surface so the dough will not stick to counter. Roll your dough with rolling pin on the floured surface. Cut out the the mini shapes. Place on baking sheet. Use a flat edge spatula to pick up the pieces and a bench scraper or long knife blade with straight edge to straighten the sides of each cookie piece.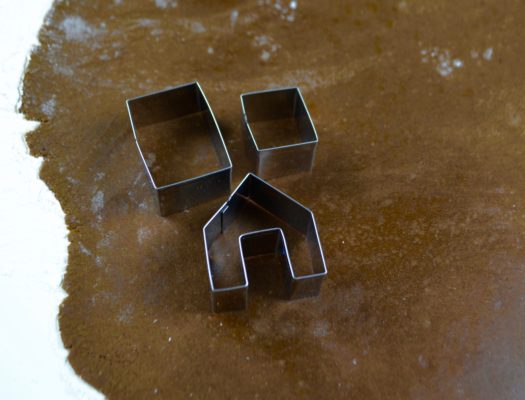 I used Mini House Cookie Cutters for this cute house, but there are many out there to select from. Bake cookies for 8-10 minutes to prevent over browning. Allow the cookies to cool completely before assembling gingerbread house.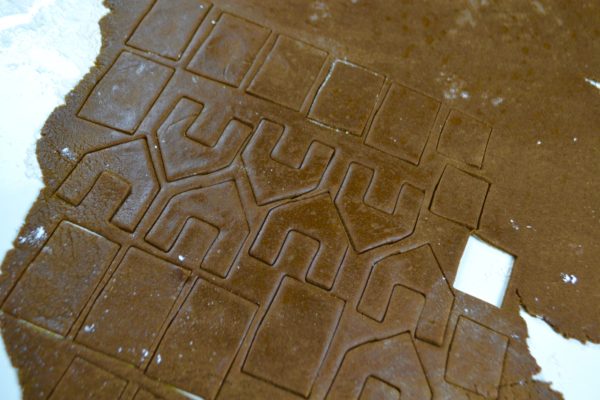 Bake gingerbread house cookies. The cookies will puff just a tiny bit, but not spread.
Tip: Cut out more pieces than you need in case you break some or they don't line up the way they should.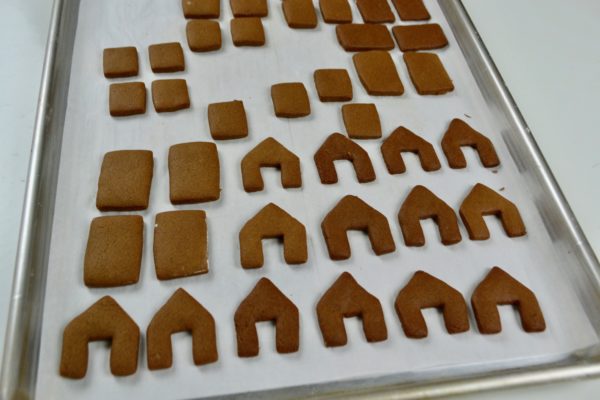 Putting your cookies in the freezer will make the house easier to put together. So if you want to serve this as a dessert.
Bake the cookies a couple days ahead
Wrap and freeze until the day before event.
Day before event, remove from freezer, assembly the house with royal icing.
Let stand at room temperature until serving time.
What kind of frosting… Royal or Crusting Buttercream?
I used royal icing but a crusting buttercream will also work for attaching the walls of house and candies. Royal icing has strength to adhere to the gingerbread walls. It also has three ingredients, confectioners sugar, meringue powder and water. I have included the recipe.
Whipping the meringue takes just a few minutes, you will want stiff peaks. Be sure to cover the bowl of icing with a wet paper towel to keep it from setting. This recipe makes 2 cups, plenty to decorate the large house and 4 mini's.

Tip: Fill your pastry piping bag with tip 3/4 full, to keep the frosting from setting. Wrap the piping bag with a wet paper towel including the piping tip and store in refrigerator in between assembling houses. This will keep the frosting from setting.
Tip 2: Use a small round piping tip #5 to pipe the walls of house together.
How to put the Mini Houses together.
Assemble house by attaching the front house piece to one side cookie piece, piping a line of royal icing along the edge of the cookies to attach the pieces. Hold for a several seconds to make sure it is sticking. Assemble the back of house with other side piece with royal icing. Don't be concerned if you have gaps, the icing will cover.
Allow these cookie pieces to sit 60 seconds or more before attaching the house frame together. Pipe icing on the edges of roof line as well as outline the house roof line with icing, attach the roof pieces to the house. Hold in place to secure the house about 60 seconds.
Allow the houses to sit several hours before decorating if you choose to decorate. They are 2″ x 2″ so being very small, I did an e shape piping design on the roof line and all sides of the house. Wilton has instructions on how to do this, it is very easy. Just think of writing a small e with your piping bag and tip.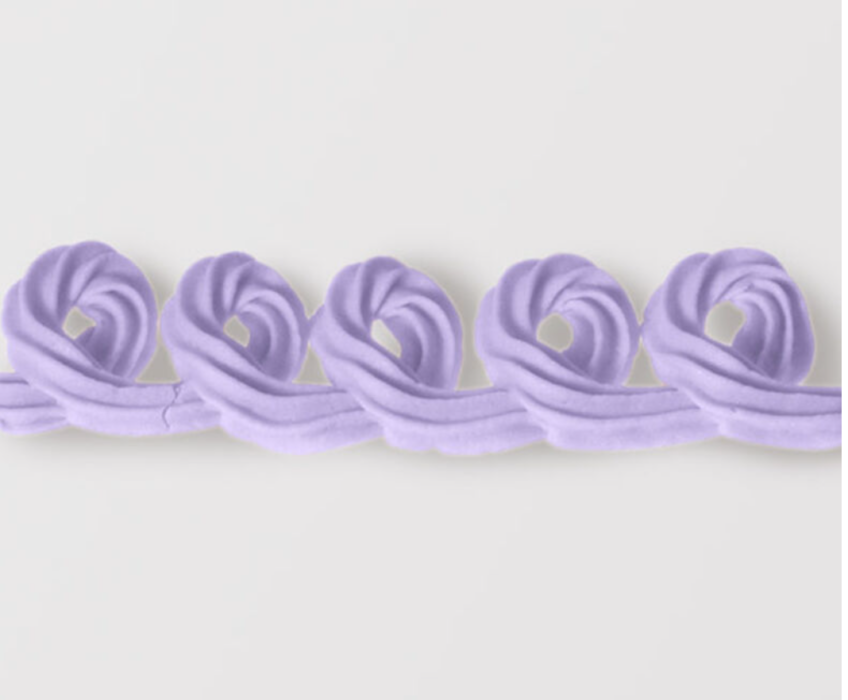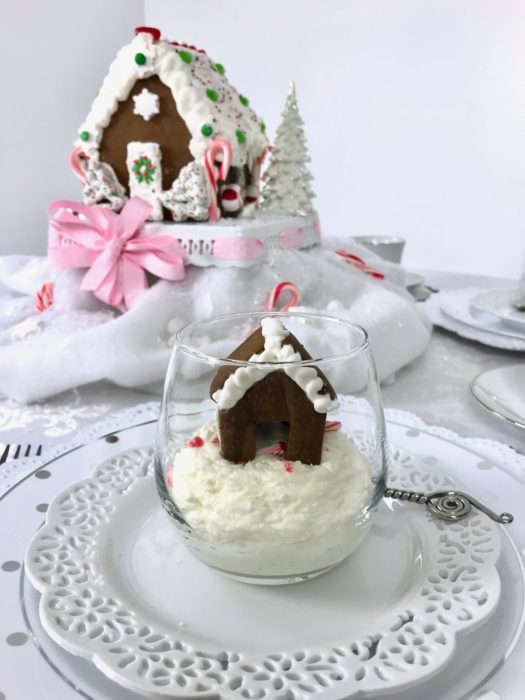 Print
Mini Edible Gingerbread House for Desserts
Gingerbread mini houses that will sit on the side of coffee mug or inserted on top of a creamy dessert. Recipe also makes a great 7″ x 6″ tall house for decorating with candies and royal icing.  Takes a few hours to create but will be worth the fun and effort.
Author: Liz Bushong
Prep Time:

20 minutes

Cook Time:

8-10 minutes + chill

Total Time:

3-24 hours

Yield:

7

- mini houses +

one

7" x 6" house

1

x
Category:

Dessert-Christmas

Method:

Baking Decorating

Cuisine:

American
Wet Ingredients:
6 tablespoons butter, softened
3/4 cup packed dark brown sugar
1 egg, room temperature
1/2 cup un-sulfured molasses -tested Grandmas®
1 tablespoon water
Dry Ingredients:
3 cups all purpose flour
1/4 teaspoon baking soda
2 teaspoons ground cinnamon, ground ginger
1/2 teaspoon ground all spice
1/4 teaspoon salt
Royal Icing *
1 pound or 3–1/2 cups sifted confectioners sugar
5 tablespoons meringue powder
1/2 cup water
Food Coloring Gel- optional
Instructions
Cream together butter, brown sugar until smooth.  Add egg, molasses and water, beat to combine.
In separate bowl, whisk together flour, baking soda, spices and salt, add to creamed mixture.  Dough will be very thick.
Divide dough in half, and flatten into a square or rectangular disc. Wrap in plastic wrap and chill 2 hours up to 3 days.
Cut into Shapes
Roll dough between two sheets of parchment paper, use pizza cutter or metal sharp cookie cutters to cut shapes. Re-roll dough and continue to cut out shapes of house.
Bake on parchment lined baking sheets at 350 degrees for 10 minutes for mini shapes.  If making larger house pieces bake up to 15-20 minutes.  Watching carefully not to burn. Allow cookies to cool before assembling house. Cookies can be baked ahead a day ahead.
Make Royal Icing with Meringue Powder*-Makes 2 cups
In medium bowl with paddle attachment, combine all ingredients. Mix on low speed until smooth and creamy.  About 7-10 minutes.  If icing is too thick add more water, if icing is too thin add more confectioners sugar.  Divide icing  into bowls if you plan to color for piping.  use food gel paste for coloring.
Constructing House
Determine platform or base for your house. You will not need a base for the mini houses for the base will be the peppermint cheesecake mousse.
For mini houses in the mousse dessert, assemble house with piped royal icing on a piece of parchment or wax paper sitting on a baking sheet.  Attach front house piece- pipe front side edges with icing, attach sides hold to set.. attach back piece to the sides of house. Last, add the long rectangular pieces for the roof line. Decorate with small dots, swirls and tiny candies. * Set aside until all houses are made for your dessert.  Insert tiny house on top of mousse right before serving.
Constructing Larger Houses
Determine your house base, whether cake stand.
Pipe royal icing or buttercream on stand, assemble front and one side of house with royal icing. ( use a squeeze bottle with small opening or tip # 4. )
Stick to the base of cake stand or your platform.  Add roof and chimney with royal icing.  Allow to sit 3-6 hours before decorating.
Cover and store royal icing at room temperature. Whip icing when ready for decorative piping.
Decorate with decorative candies. Tip:  Some brands of candy canes will bleed red on your house so you may want to use Spangler Brand.
You can eat the larger house if you would like, but it will taste old after a day.  The mini houses are delightful to eat with the Peppermint Cheesecake Mousse, ice cream, or on the sides of a mug of gingerbread lattes, hot chocolate.
Notes
House is 2″ x 2″ and very small.
Recipe inspired by Sally's Baking Addition, Fancy flours, and family recipe.
Keywords: Gingerbread, House, Mini, Gingerbread
Peppermint Cheesecake Mousse Gingerbread Dessert in a Cup Recipe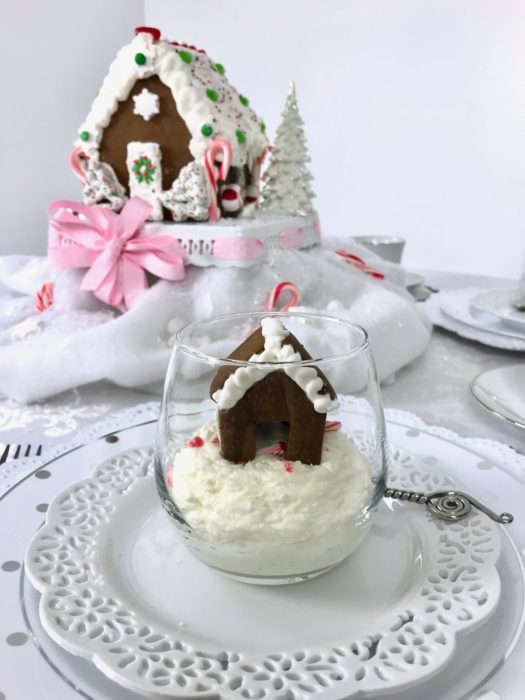 Print
No Bake Peppermint Cheesecake Mousse for Gingerbread Mini Dessert
Edible Peppermint oil flavors cream cheese, whipped cream and confectioners sugar mixture fills a dessert cup, sprinkled with crushed peppermint candy and mini gingerbread house for impressive but easy dessert for holidays.
Author: Liz Bushong
Prep Time:

15 minutes

Cook Time:

none

Total Time:

25 minutes

Yield:

4

-

1/2

cup servings

1

x
Category:

Dessert

Method:

Whipping

Cuisine:

Amercians
8 ounces cream cheese, softened
3/4 cup powdered sugar
½ teaspoon crème bouquet or clear vanilla  extract
1/4 teaspoon LorAnn peppermint oil or ½ teaspoon extract
1– 1/4 cups heavy cream
1/2 teaspoon corn syrup
4–5 Crushed peppermint canes  for garnish
4- Mini Gingerbread Houses- One house per serving with mousse
Instructions
With a stand mixer with paddle attachment, beat softened cream cheese on high until smooth.
Add the powdered sugar, peppermint oil (or extract) until well incorporated. Set aside.
In a separate bowl, whip chilled heavy cream with whisk attachment of hand held electric mixer. Whip until soft peaks form. Add corn syrup, and crème bouquet (or vanilla extract) continue beating until stiff peaks.
Fold half of the whipped cream into the cream cheese mixture. Return mixture to mixing bowl with whisk attachment add remaining half of whipped cream. Beat just to blend.
Pipe with large round tip or spoon the mousse into the prepared dessert dishes. Top with crushed and chopped peppermint candies. Add baked mini gingerbread house. Refrigerate until ready to serve.
Keywords: Peppermint, Mousse, Gingerbread, House, Mini
Hope you will try this easy recipe If you don't want to make the mini houses, make mini gingerbread men and serve with the mousse. xoxo Liz
Other Ideas you might like to try: Tap on photos to go to links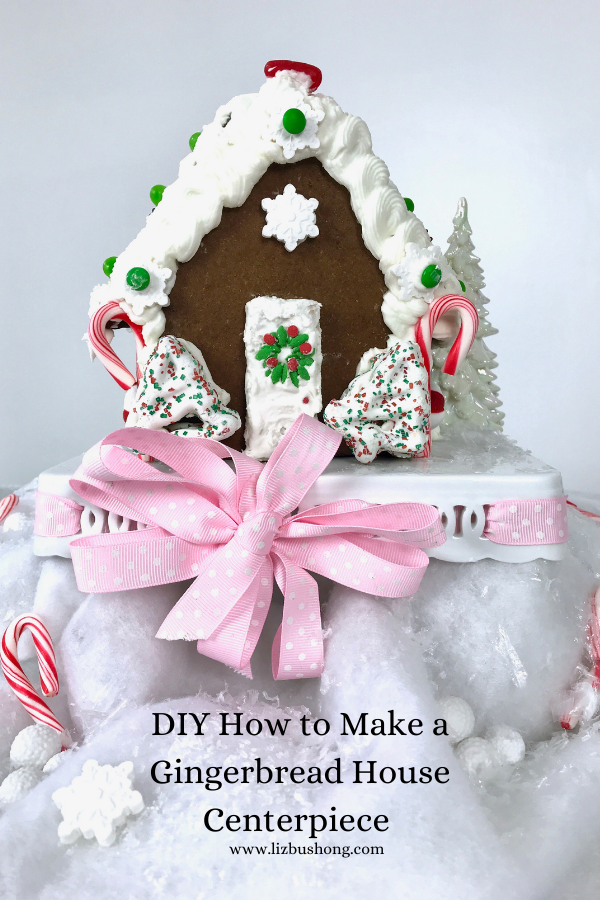 Gingerbread Candy Cookie Board