You know about White Christmas, why not create an All White Thanksgiving Table? White pumpkins are pretty popular these days so creating a pretty table using these pumpkins for table runner makes a great table.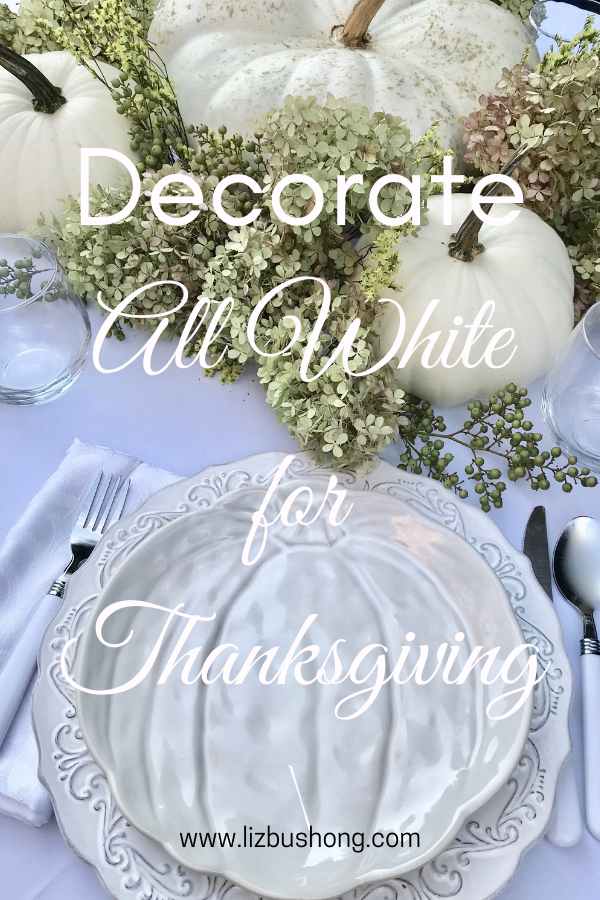 Setting a pretty table for thanksgiving doesn't have to be difficult. Gather a few all white or creamy white pumpkins, dried or fresh hydrangea, and green apples will make a lovely table centerpiece.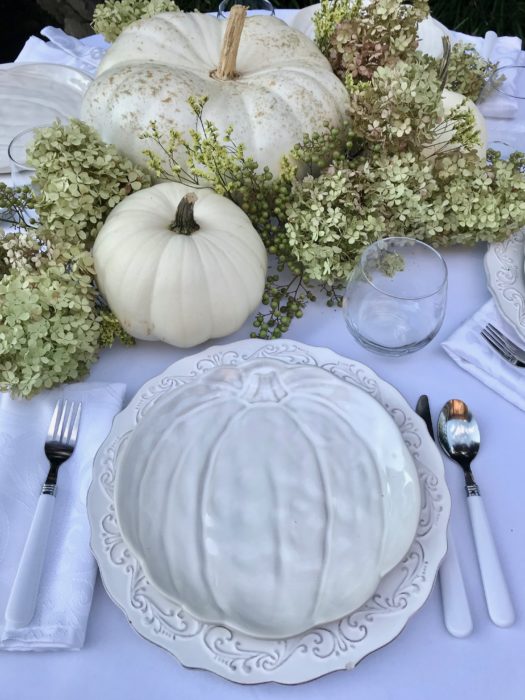 How to Create the Table Runner
Line your table with a white table cloth as a great background for your white dinnerware and centerpiece.
Because, white dinnerware goes with most every color scheme, if you don't own a set of 8-12 dinner plates you might want to splurge and get a few. You will use them over and over for multiple meals and settings. The next set of white plates are the salads. For this setting I used white pumpkin salad plates from Williams & Sonoma.
Second, arrange medium to small white pumpkins down the center of table, then addd the dried hydrangeas and other fruits if desired. I didn't use apples in this table runner, but green apples would be perfect with this arrangement.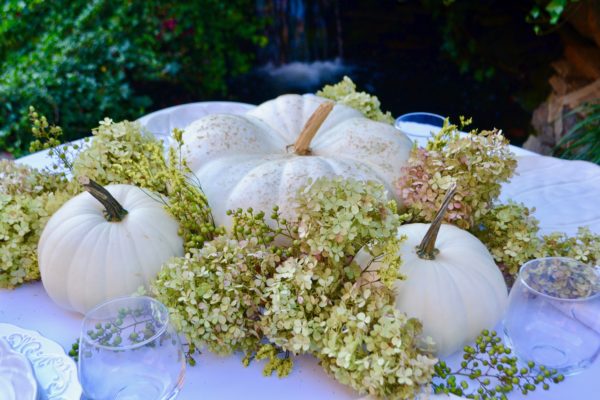 You could also use mini white pumpkins and add succulents to the top of moss. No need to cut the pumpkins, just hot glue moss and succulent to the top of the pumpkin.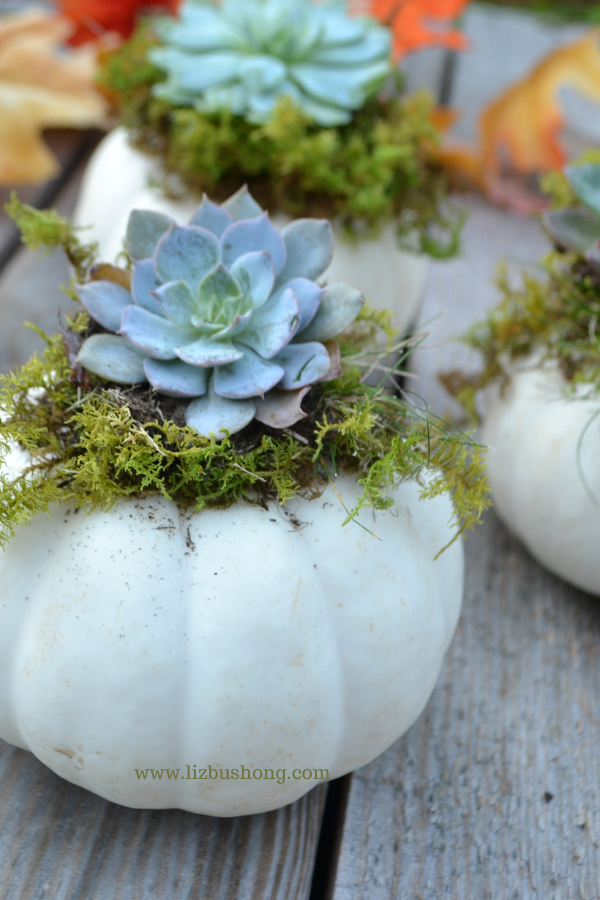 Pretty Pumpkin Place Setting
At each place setting, layer your white dinner plate with your white pumpkin salads, no need for a charger in this setting. Next, arrange flatware to the sides of the plates, your drinking glass, and napkin fold.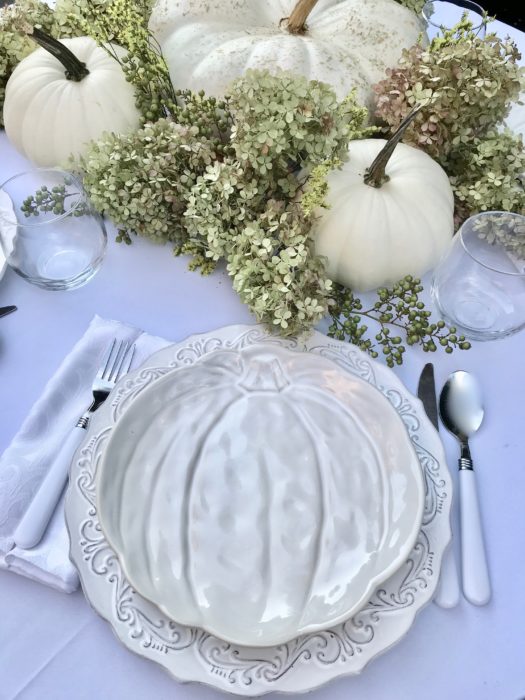 Debevoise Napkin Fold
The Debevoise is an elegant fold and perfect size and shape for placement to the left of the fork. The shape is classic and will harmonize with any table setting from simple to extravagant.
To make this fold, start with a 16 x 16″ white napkin. Fold the right and left edges of the napkin toward the center leaving 1″ apart on both sides of the faux center of napkin.
Next, you will fold the left fold over to the center and repeat with the right side.
Now for the last fold, Fold the napkin in half by bringing the top edge under the bottom edge. So it looks like two rolled towels sitting side by side, only it is a napkin fold.
Check out these other folds here, that you could you substitute for the Debevoise.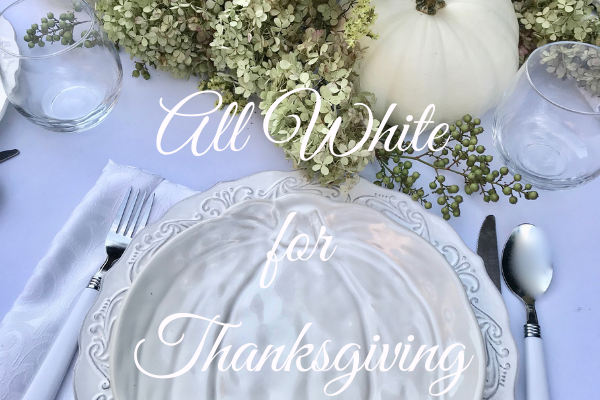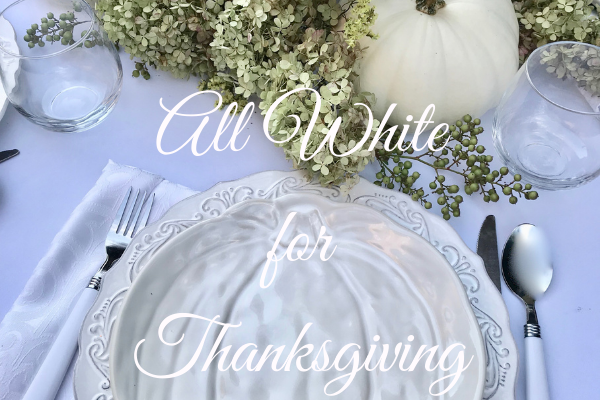 Keeping your centerpiece low as in these stacker white pumpkins and small rounds will allow you to see your guests across the table. If you can't find real flat white stacker pumpkins you can purchase faux ones on line.
Hope you will try this table scape for your thanksgiving dinner. It's pretty simple and elegant for all to enjoy.
Other Ideas you might like to try: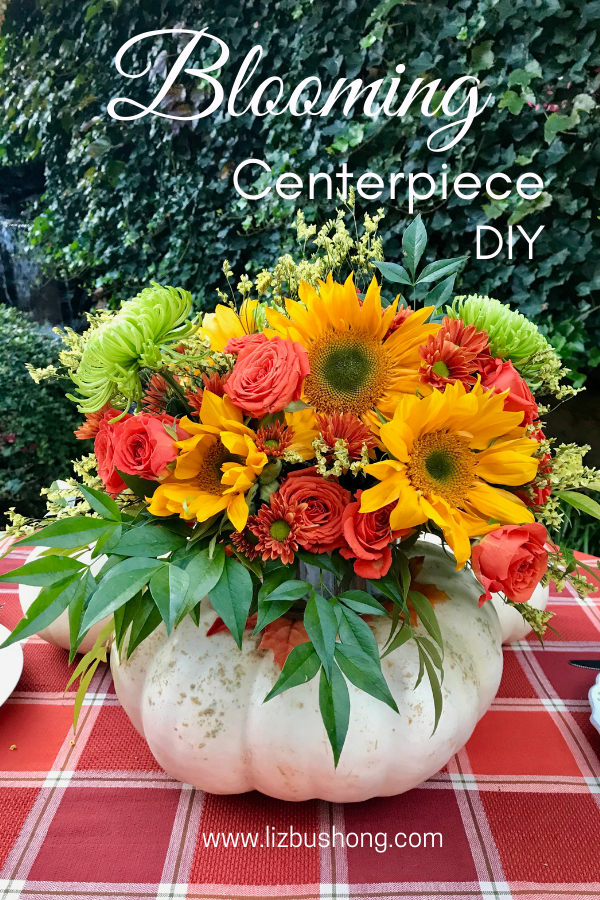 Transition from Thanksgiving to Christmas Table-Scape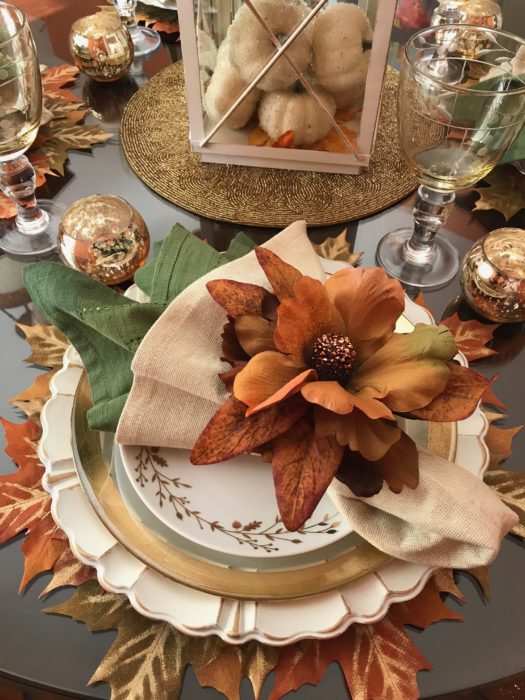 Fresh magnolia, pears and hydrangea arranged in copper planter.