Welcome Fall with this easy to make double wreath using faux apples, cinnamon sticks, berries, and florals.  With a quick trip to the Hobby Lobby and a little bit of inspiration from Balsam Hill online catalog; apples and cinnamon were the perfect choice for my wreath.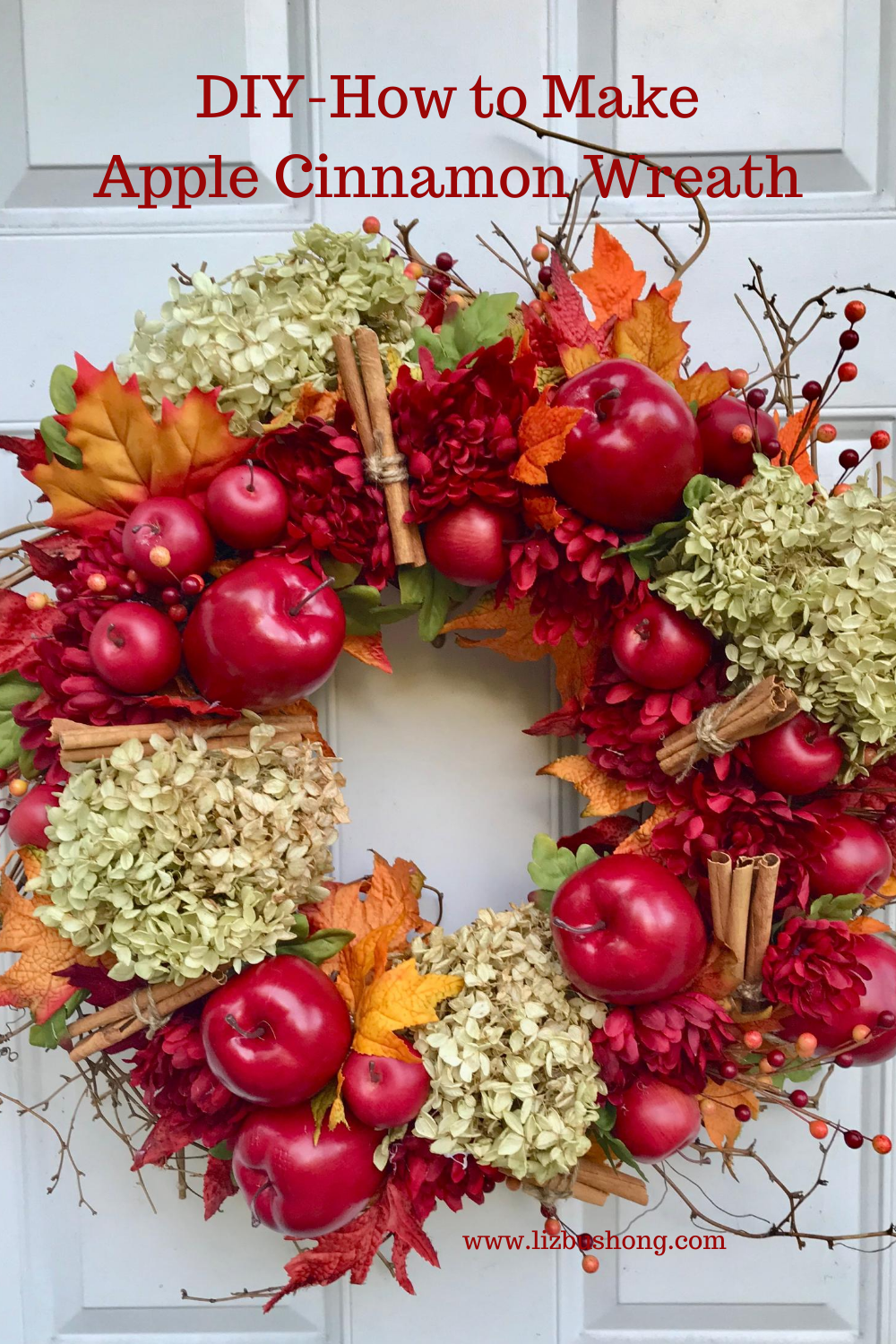 Fall is soon coming and making this wreath was so much fun.  Being inspired by another blogger, Mary at Home is Where the Boat is, you will recognize a lot of the same elements she used in her wreath that I used in mine. When you find something you love, try to make it your own but be sure to give credit where it is due. I love this wreath and believe it or not it really smells like fall!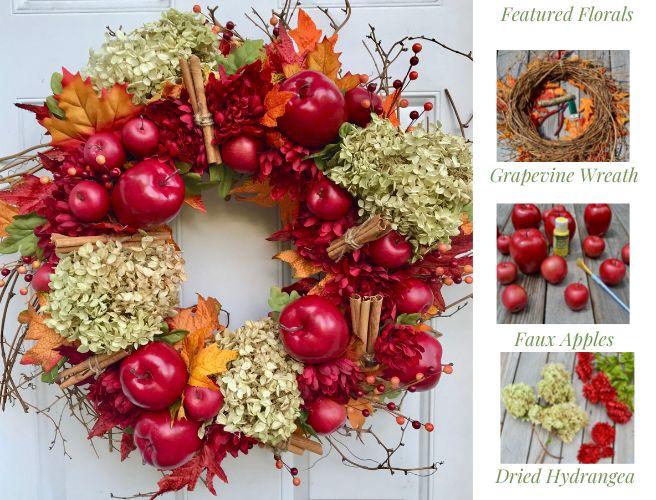 Cinnamon sticks are strongly scented while the apples although faux… I think they smell like real APPLES!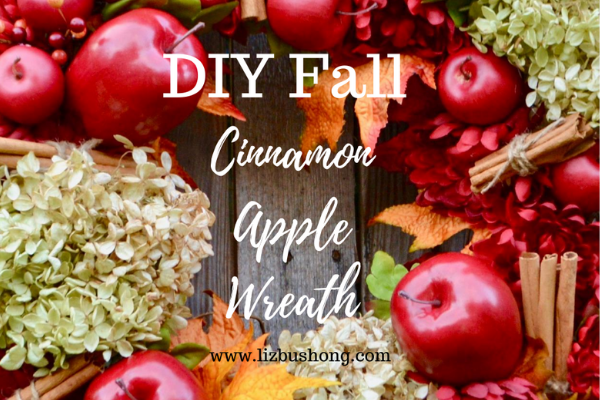 While I loved the wreath from the online catalog I liked the challenge of creating my own and besides I had the wreaths, hydrangea and leave garland. Of course their wreath is twice as big as mine, my wreath is 24″ and fits my front door perfectly. Since I had the  two twig wreaths, I tied them together making the wreath sturdier to hold all the luscious faux fruit and flowers.
Supplies Needed for the DIY Wreath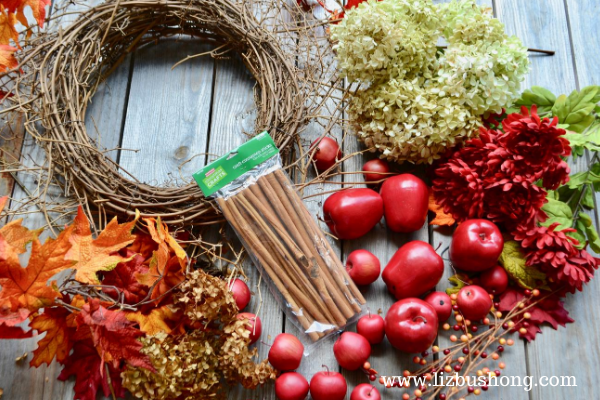 Two twig grapevine wreaths, twine, green gauge wire, faux large and small apples, faux burgundy mums, dried hydrangeas, faux fall leaves, cinnamon sticks, berry twigs and glue gun with glue. Twine is wrapped around the double wreaths to create the hanger for the wreath.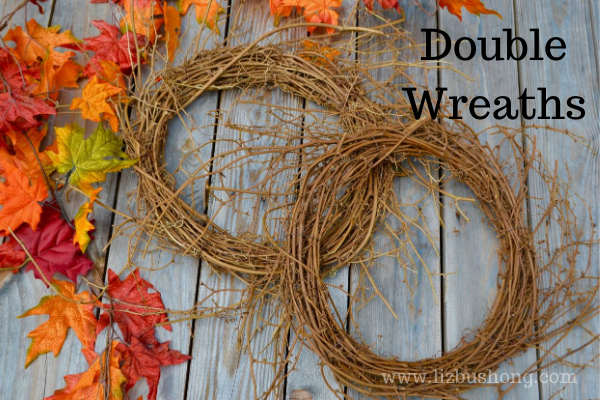 Steps on How to Put the Wreath Together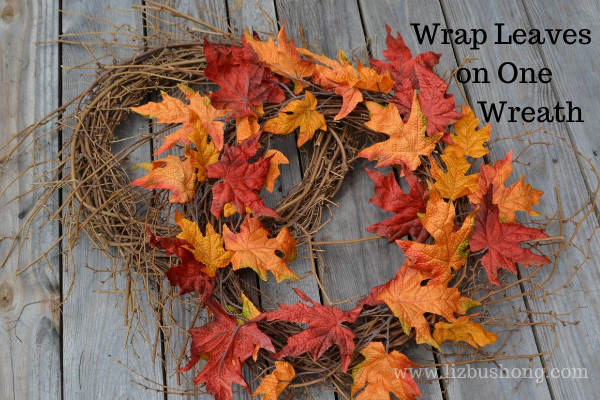 Attach two wreaths together to make one wreath.  See the twine wrap with loop for hanger.  When you are laying out  the materials onto the wreath, keep in mind where the top of your wreath is so you will arrange the fruit in the right direction on the wreath.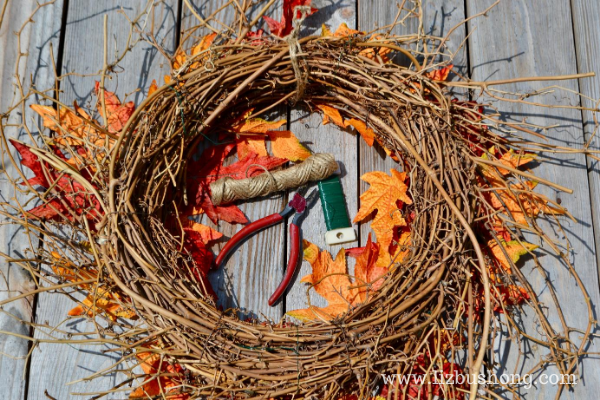 Lay out florals, apples, berries and sticks onto the wreath to see how it will look then hot glue these elements in place once you get the placement the way you want it.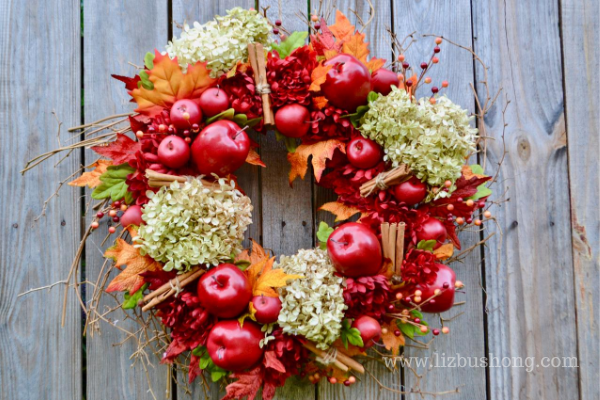 Preparing the Faux Apples with light brush strokes of yellow acrylic paint. I used outdoor patio paint but thats not really necessary, some paint I had on hand.  Brush on and lightly brush off to make it look natural.  Some apples may already have this treatment.  I didn't use this on the large apples. Large apples look like Red Delicious while the small apples look like Galas. I found the apples at Hobby Lobby.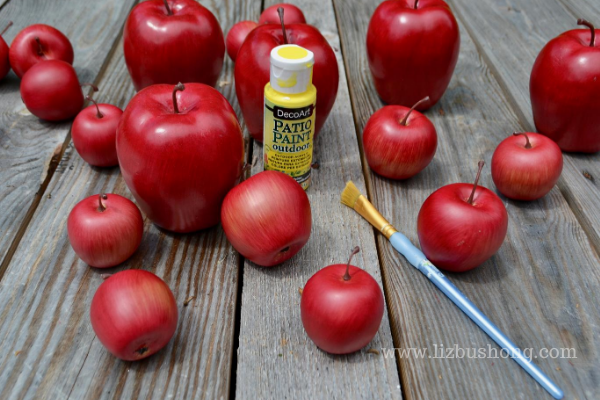 Attach wooden skewer to bottom of apples, cut skewer in half before adding to wreath.  I used hot glue to glue the end of the skewer into the apple and into the wreath. You will insert the apple in groups of 3 clusters with skewer hidden inside the wreath.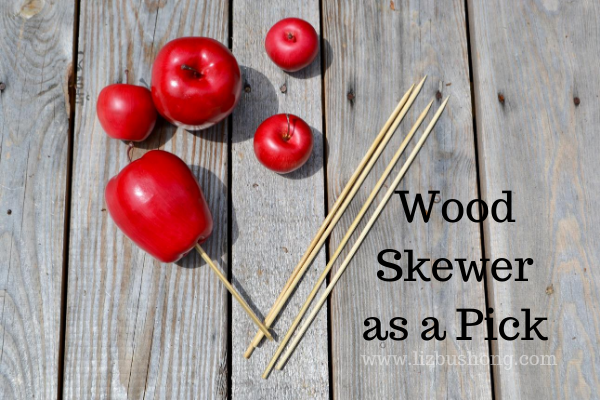 Gather all of your materials and place on the wreath so you can see how you want to glue everything in it's place.  Work in groups of threes if possible for balance.  Apples first, then florals, fill in with cinnamon stick bundles, extra leaves and berries.
Preparing the Florals, Mum Heads and Hydrangeas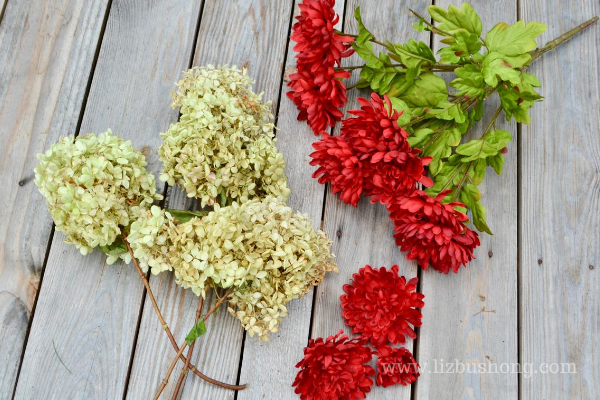 After removing the mum heads, hot glue to wreath.  Hint:  Spray the fresh hydrangea with hair spray to help preserve the fragile blooms.  Fresh hydrangea makes the wreath look living.  They will last all season.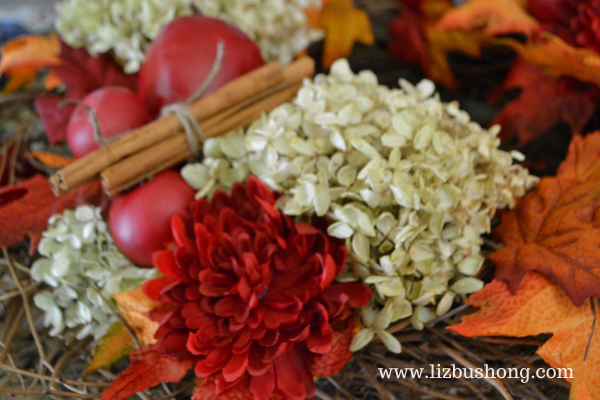 Break cinnamon sticks in half or purchase shorter sticks and tie 3 to a bundle, wrap with twine.   Be sure to add your twig berries after the cinnamon sticks, where ever there is an opening in the wreath, hot glue the berries and additional faux leaves if necessary.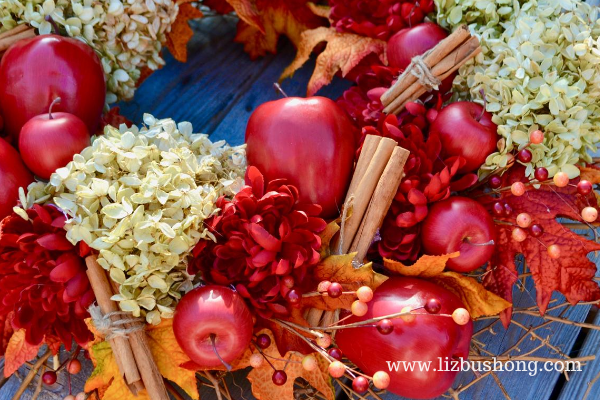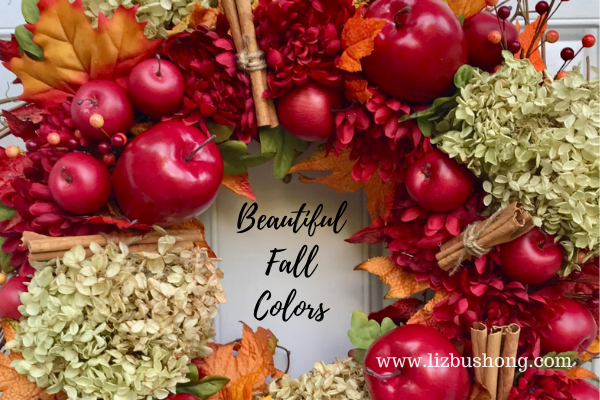 Apple Cinnamon Spice and Everything Nice!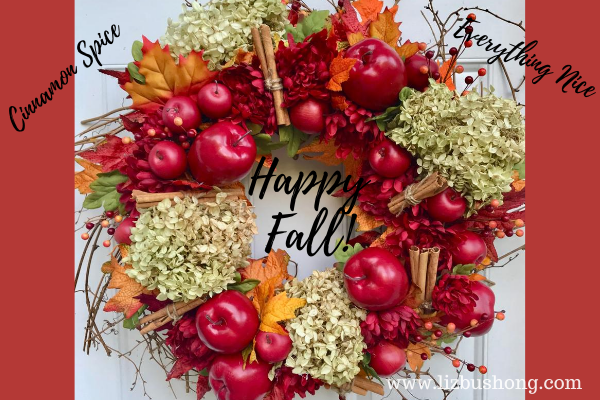 TA DA!!!  All done!!!  My overall wreath size is 24″ and doubling the twig wreaths together helps support the materials, it makes a fuller wreath.
Check out this gif for fun and share on social media for family and friends.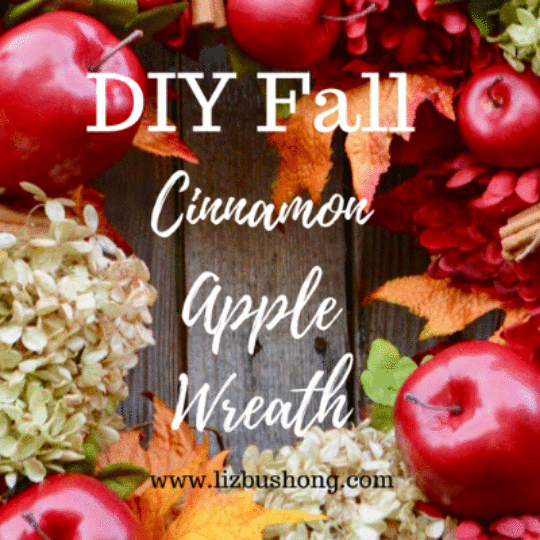 This post was not sponsored by Hobby Lobby or Balsam Hill, just love their inspiration and products.
Other Fall Ideas you might like to try: