Check out how to make a mini succulent pumpkin centerpiece for fall decor. Whether creating a table top or just displaying pumpkins on a stand this pumpkin idea will enable you to create more than one.  Once the season is over the succulents can be transplant.
How to Make Succulent Topped Pumpkins
The pumpkins I used are mini white "gooligan" pumpkins.  They weigh less than 1 pound and are about  3-4″ in diameter.  I chose white to help showcase the pretty green succulents and moss. Although you can use any size or color of pumpkin to create your own centerpiece.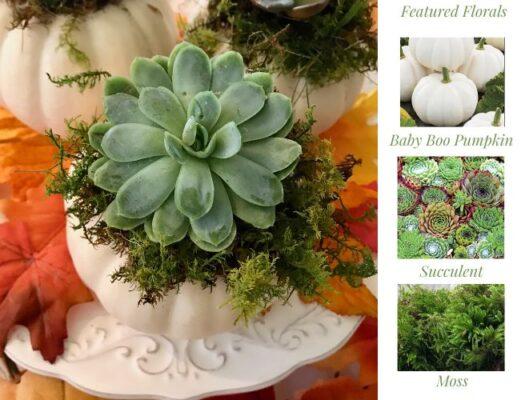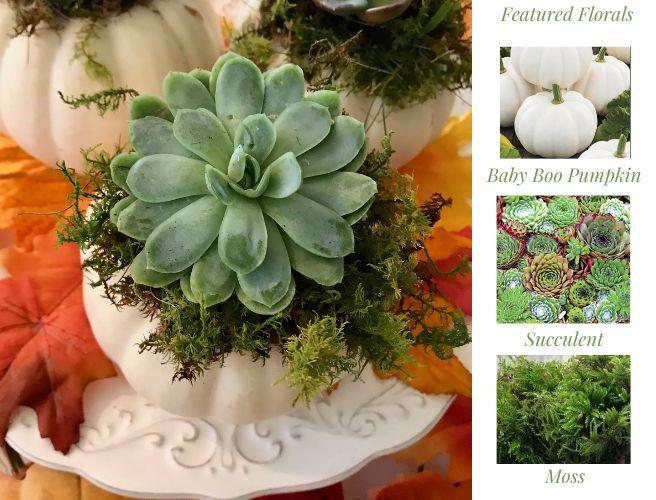 Supplies You Will Need 
Mini pumpkins, green moss, one or more succulents depending on the size of your pumpkins and hot glue. I had wild moss in my backyard but you can purchase spaghnum moss at craft stores.   The moss will provide a great background for the succulent as well as hold moisture for the succulent to take root.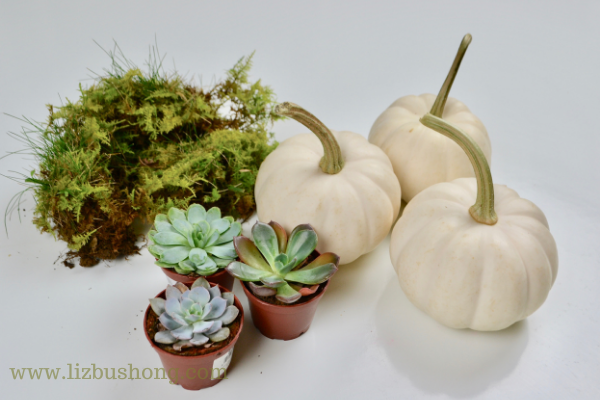 *First remove stem from pumpkins.  I used 3 mini's.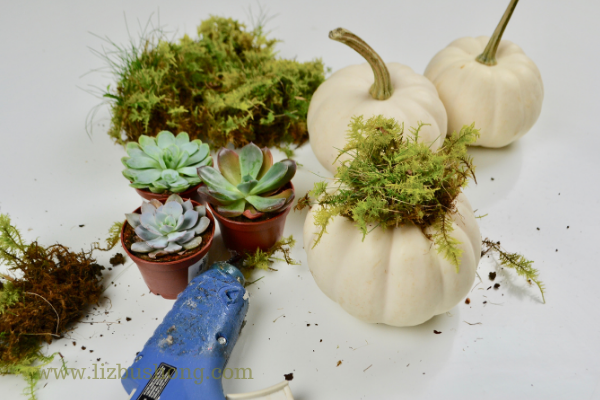 *With hot glue, attach the moss to the top of pumpkin.  You will not be cutting the pumpkin. ( it will last longer if you just glue the moss and succulent to the top of pumpkin.) Hot glue will not harm the succulent plants. A little glue goes along way.  Hot glue a small puddle on top of moss to attach the succulent.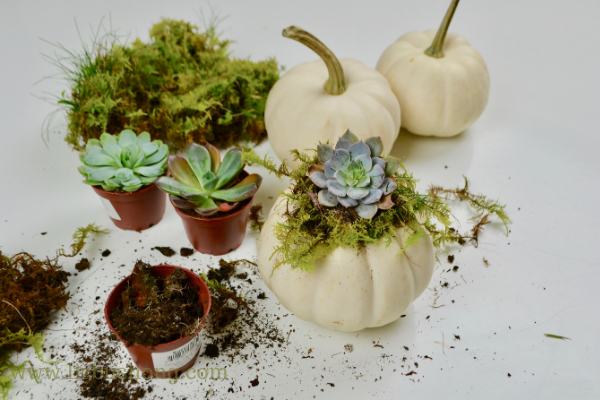 * Remove tiny succulent from container, shake off the dirt and attach to hot glue on moss.  TA DA!  Make more please.
You can find the tiny succulents now in garden centers in the south the month of October.  Actually, Kroger had tiny succulents for $1.00.
My centerpiece uses three small pumpkins each with one tiny succulent.  I may get a few more pumpkins to make 5 for my larger table, but this little arrangement fits well on a cake stand.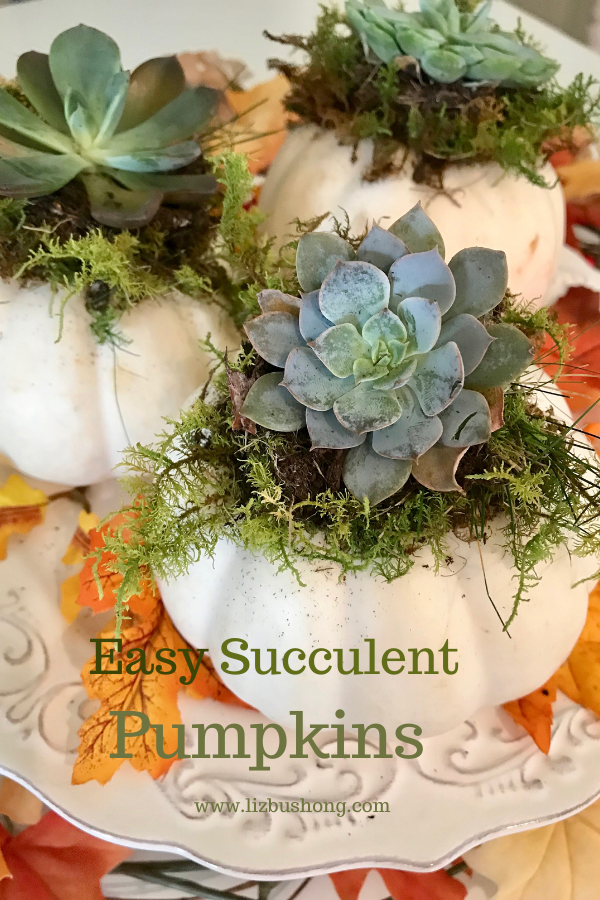 You can spray water on the succulent once a week through out the season or until you are ready to change your table decor for Christmas. After the season, transplant the tiny plants in containers or reuse in a Christmas centerpiece.  Cactus/succulent mix is a good combination for transplanting this sweet little beauties.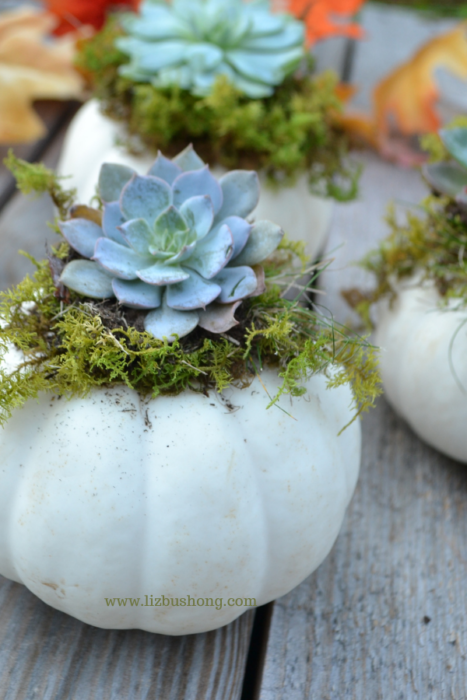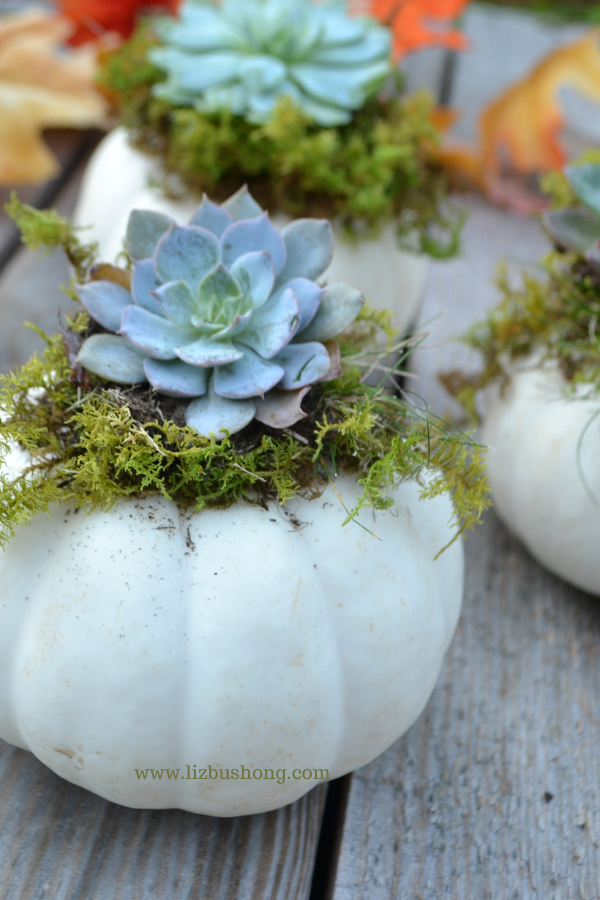 Super simple centerpiece to make as well as give as a fall gift.  Placing the pumpkin at each place setting would make a great take home favor for Thanksgiving or luncheon.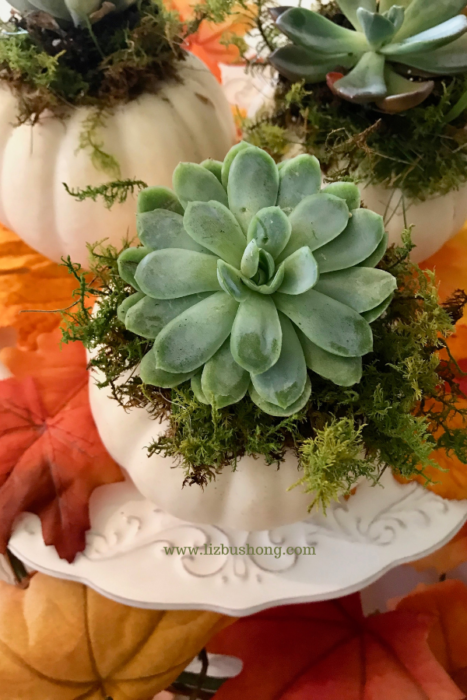 Treat your pumpkin succulent like a house plant, avoid direct sunlight, use indirect or filtered sunlight, avoid heat from furnace or drafts, and mist with water once a week or as needed.  Be careful not to over water.  Freezing temperatures should also be avoided if you place your pumpkins outside.
Hope you will make a few pumpkins with succulents for your fall entertaining and decor this season.
Other Ideas You Might Like to Try: