---
Mug-a-Muffin with Berries & Streusel is microwaved in a mug full of mixed berries and lots of brown sugar streusel. College Dorm food Mug a Muffin with Berries & Streusel.  Mug a Muffin for quick breakfast with a few ingredients, a mug and microwave you will have a muffin in a minute.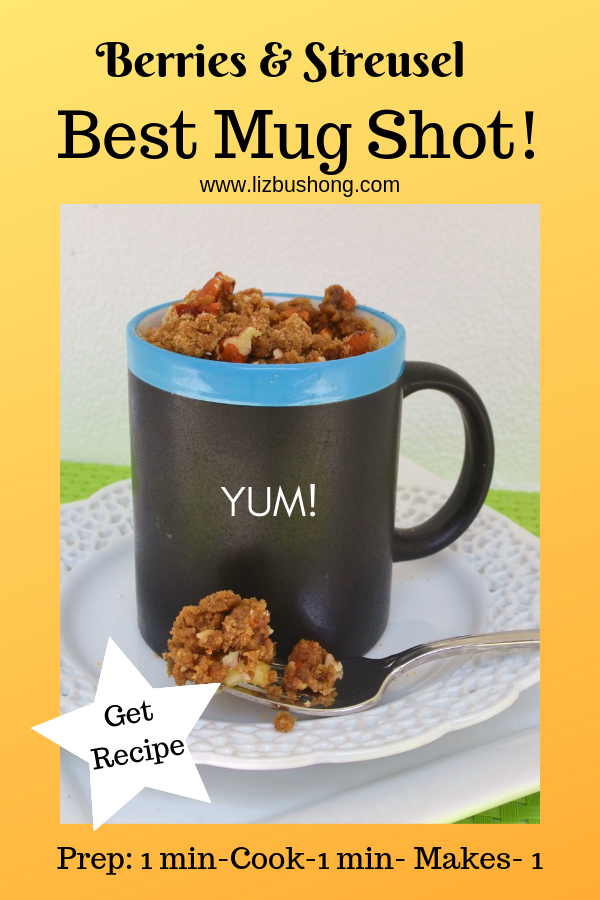 Easy quick recipe for college coeds or breakfast on the run.  Mixed frozen berries would also be a great choice for this recipe.  Assemble ingredients in mug, microwave then add streusel, microwave again.   College coeds will need to have on hand self rising flour, and other ingredients.  Preparing them with a small food pantry with basics would be a great plan for these mix and go treats/meals.  Might want to get extra mugs to have on hand.
Nuke and Go Breakfast!
Print
Berries and Streusel Mug-a-Muffin Recipe
4 tablespoons self rising flour-tested King Arthur
2 tablespoons sugar
3 tablespoons milk-tested almond
1tablespoon vegetable oil
1 egg
10– fresh or frozen blueberries-or fruit of choice
Streusel Topping:
1   Tablespoon butter, chilled
1   Tablespoon flour- can use self-rising
2   Tablespoons brown sugar
¼ teaspoon ground cinnamon
1   Tablespoons chopped nuts, optional
Instructions
Combine in large mug, flour, sugar, milk, oil and egg.  Stir to mix.  Add fruit. Fruit will settle in bottom of cup after cooking.
Combine streusel topping and nuts.  Set aside.  Microwave muffin cup for 1 minute and 25 seconds.  Add topping and microwave 25 seconds.
Notes
Mug size and power of microwave will determine the accuracy of cooking time.
---
Other Ideas you might like to try: