We are Decking it out for Christmas with the Best DIY project; Light Bulb Christmas Garland great for your mantel or as a table centerpiece. Clear plastic Christmas Tree light bulbs are filled with floor wax and coated with sparkling glitter to make the lights shine on your garland. Adding a few break resistant Christmas bulbs and pretty wired ribbon make this garland pretty and a show stopper! We created this garland on Good Day Tri-Cities.
Best DIY Light Bulb Christmas Garland
How to Make DIY Garland
What makes Christmas decorating so much fun, is knowing how to create a beautiful garland for your mantel, stair case, or as a runner for a table. I found these cute faux glass medium sized light bulbs that can be filled with glitter or confetti. I have even used these bulbs filled with sprinkles for a cookie mix or brownie mix. So fun and so easy.
When you purchase an ever green garland, most of the time they are pretty thin, meaning they don't have a lot of branches to make them look full. So, to fill your garland with more fullness, sometimes I will purchase two thin garlands and put them together. I have also folded the garland in half and twisted it together to make it fuller if I had a smaller place to display it. Using fresh greenery along with the faux ever green is a good idea for additional fullness and the fresh scent of ever green. For those garlands, it is best to make them about 10 days before the big event.
Light Bulb Christmas Garland|Supplies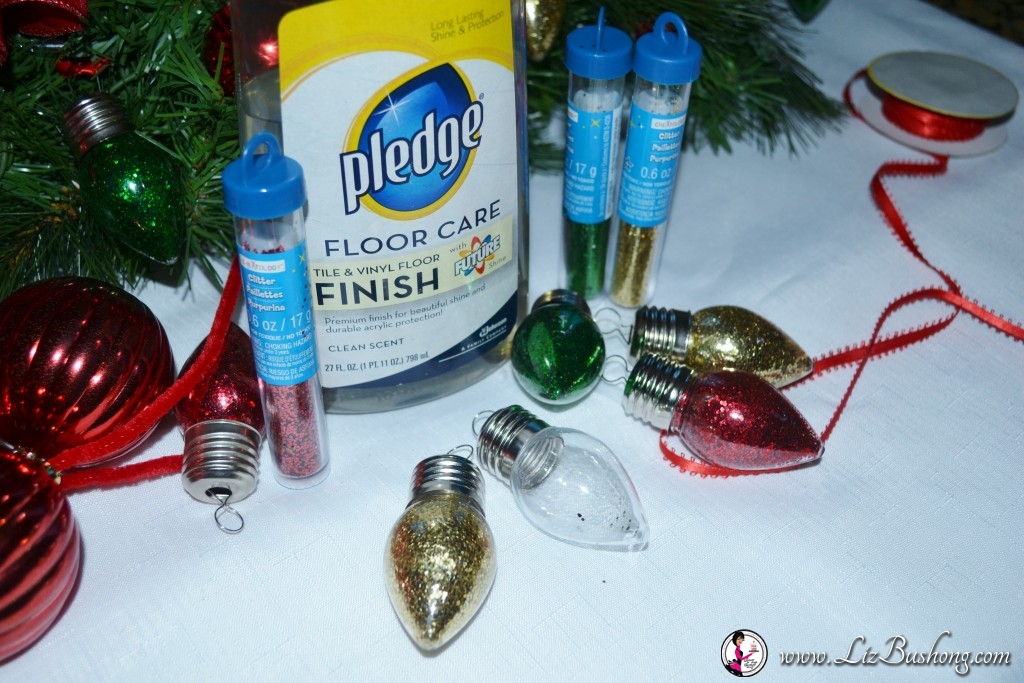 Fresh or faux ever green garland
Plastic fillable Christmas Tree Light Bulbs-Michael's craft store-Handmade Holidays Plastic Craft ornaments.
Pledge Floor Wax– Sparkling medium to large glitter- red, gold, green
Red quarter inch ribbon
medium and large red shatterproof red oranment's
22 gauge floral wire paddle or red pipe cleaners
three inch wide wired red ribbon
How to Make Ornaments
Remove lids from plastic bulbs, fill bulb with floor wax about half full. Do not shake floor wax, it will bubble and the glitter will have bubbles in it.
Rotate the bulb with your fingers to coat the inside of the bulb with the wax, then drain the wax from the bulb.
Pour red glitter or glitter color of choice inside the bulb. Cover the top of bulb and shake it to coat the inside of the bulb. Add the lid and your done!
Use thin ribbon to string the bulbs. Tie a small knot of ribbon at each place you want the bulb to position. Space about 10-12″ apart for your garland.
5. Attach to the garland first, the stringed glitter bulbs, these will hang close to the bottom edge of the garland when garland is hung.
6. Next, add the large ornament balls. I gathered three bulbs together with wire or pipe cleaner then attached to the garland in between the glitter light bulbs.
7. Last add your wired red ribbon to fill in the spaces.
To form the ribbon loops:
I used 2 yards of wired edged ribbon and formed one large loop about 5″ long at the one yard length or 36″. then formed another loop holding on to the first look at the bottom, no need to twist the ribbon. last, form the final loop and holding all three bottom edges of the loops, wrap with floral wire to hold into place or you can use a red pipe cleaner.
This was featured on Good Day Tri-Cities. Watch Video below.
The video also features Mason Jar Luminaries first then the Christmas Garland. Instructions: Mason Jar Luminaries
Helping you Deck it Out for Fall and Christmas!
Other Ideas you might like to try: