Santa will love these cookies and so will everyone who eats em. Peppermint flavored soft chocolate sugar cookies are dipped in white chocolate and dark chocolate then sprinkled with crushed candy canes.   Simple cookie recipe to make and easy to dip in Ghirardelli  melting wafers.  White chocolate and dark chocolate dipped cookies will make your Christmas tray shine.
Whether you are serving these cookies as gifts or cookie exchange you will want to make these.  The dough is soft made with salted butter, granulated sugar, egg and peppermint extract, Baker's unsweet chocolate, cocoa, and dry ingredients.  They taste like the thin mints especially the dipped in dark chocolate.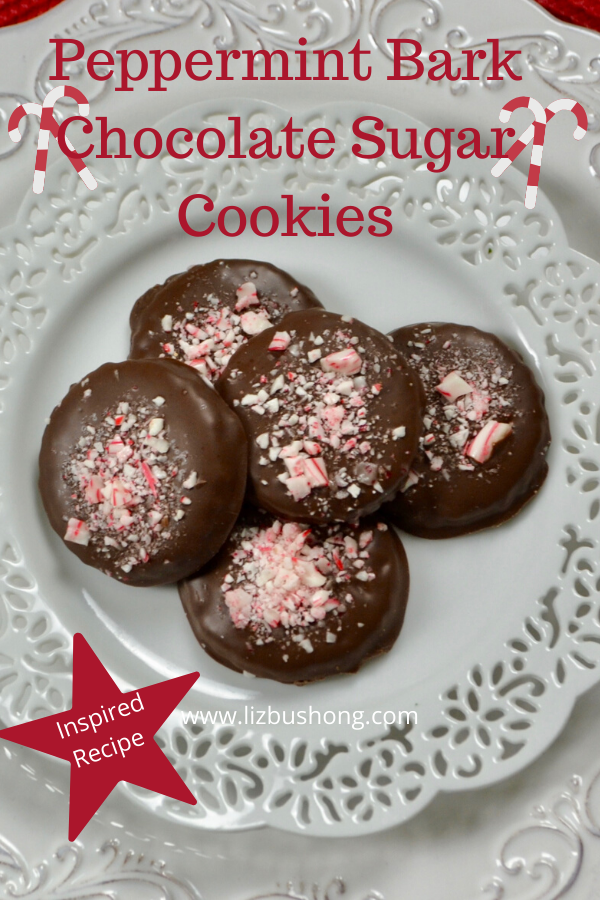 Noteworthy tip about Chocolate
A note about cocoa or unsweet chocolate.  I used a mixture of both dry cocoa and melted unsweet chocolate which makes the flavor of the cookie very rich and soft.  If you want a firmer cookie use dry cocoa only, about 3/4 cup.
Plan 2 + hours to make these cookies.  Chill time is important making the dough easier to roll out.  Instead of using flour to roll out the dough, use dark cocoa. The temptation is to use more flour to firm up the dough but don't do it for your cookies will be dry.  Chilling the dough and cut out cookies to make perfect cookies.
After the big chill, roll the dough 1/4″ thick with a 1-1/2″ round cookie cutter. For best results chill the cut out cookies 15 -30 minutes before baking.  Chilling will keep the dough from spreading during baking.
How to Dip the Sugar Cookies
I baked my cookies ahead and froze them until I was ready to dip. That worked out well for cookie crumbs were stuck to the sides of the cookies and not in the melted coating.
Here is my technique for dipping cookies
Spoon one teaspoon of melted coating in the bottom of custard cup. Place the cookie right side up in the custard cup and add another teaspoon of coating to cover the top of the cookie. Swirl the custard cup a bit to get even coverage. With a fork gently lift the cookie out of the custard cup.  Place coated cookie on parchment paper and sprinkle with crushed candy canes.  Allow the cookies to dry completely before removing from parchment.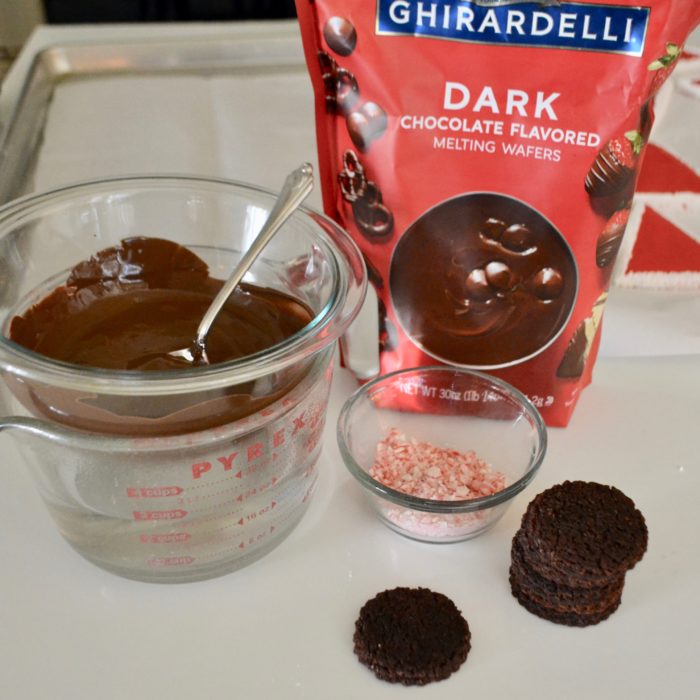 Place cookie upright in custard cup, spoon coating over cookie to coat.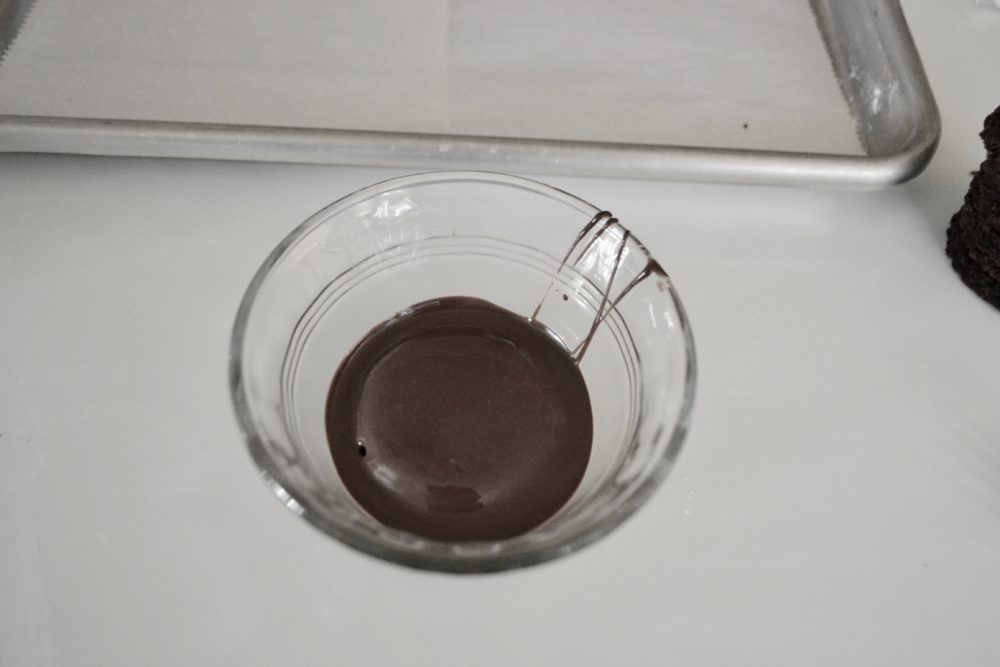 With fork, gently pick up cookie, tap to remove excess coating. Place on parchment paper to set.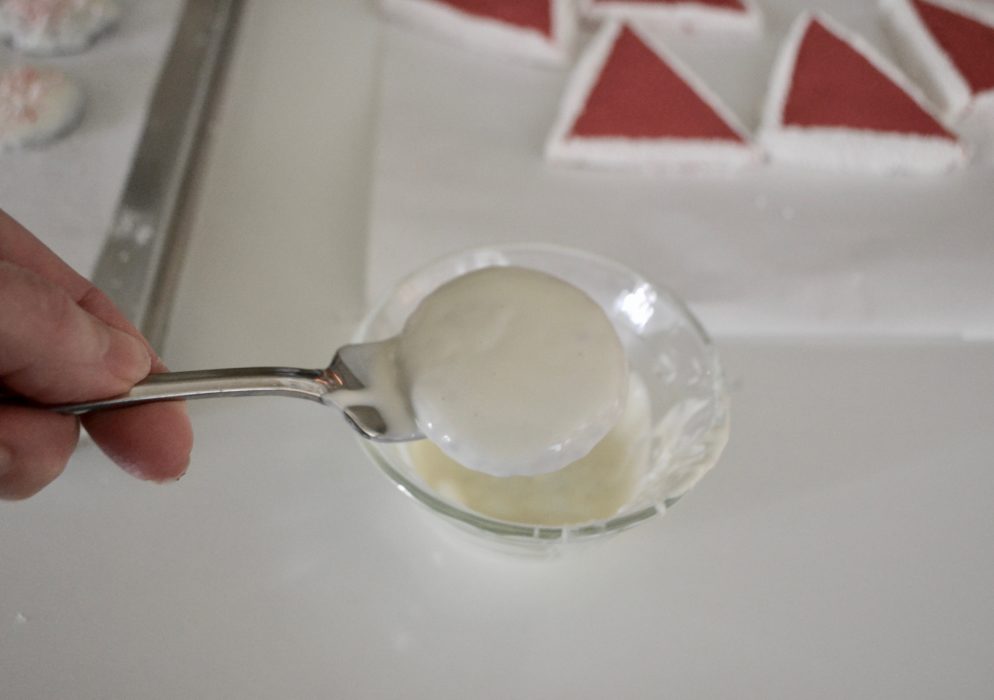 Let's talk about white chocolate
Use Ghirardelli white chocolate melting wafers instead of white chocolate chips. I agree with Sally's baking addiction, that "dipping cookies in white chocolate chips is impossible." Processed stabilizers are the culprits that prevent the chips from melting. Sam's has the best price for a large 30 ounce bag of Ghirardelli wafers. 
Make a batch today
Print
Peppermint Bark Chocolate Sugar Cookies
Peppermint flavored soft dark chocolate cookies coated in dark chocolate or white chocolate sprinkled with crushed candy canes.
Author: Liz Bushong
Prep Time:

60 min. + 30 min chill time

Cook Time:

8-10 mins

Total Time:

90 minutes

Yield:

30

cookies

1

x
Category:

Dessert- Cookies

Method:

Baking

Cuisine:

American
3/4 cup butter, salted
1 cup granulated sugar
1 large egg
1 teaspoon peppermint extract
4– 1 ounce squares Baker's unsweet chocolate, melted
1–1/2 cups all purpose flour
1/4 cup Hershey's dark cocoa
1 teaspoon Baking powder
Coating:
2 cups Ghirardelli Dark Chocolate Wafers
2 cups Ghirardelli White Chocolate Wafers
2 teaspoons shortening, divided
1/2 cup crushed candy canes ( about 10 mini's)
Instructions
In large mixing bowl with paddle attachment, beat butter and sugar together on medium speed until light and fluffy.
Add egg, extract and melted chocolate to sugar mixture, beat on medium speed until smooth and creamy.  Be sure to scrape down sides and bottom of mixing bowl.
Sift together flour, cocoa and baking powder.  On low speed add flour mixture to sugar mixture.  Beat until combined.
Remove dough from mixing bowl onto cocoa dusted work surface.  Gently knead dough to smooth. Be careful not to add too much cocoa.
Divide the dough in half, dust rolling pin with cocoa. Roll each portion to 1/4″ thickness on a pied of parchment paper or silicone baking mat. Stack the rolled out pieces with parchment between layers onto a baking sheet, chill for 1 hour. Can be chilled up to 2 days at this point.
Preheat oven to 350 degrees.  Prepare 2 baking sheets with parchment paper.
Remove one sheet of dough from refrigerator. Cut out cookies using 1-1/2″ round cookie cutter. Dust cutter in cocoa for easy release. Re roll dough and cut out remaining cookies.
Chill cookies for 15-30 minutes before baking.
Bake at 350 for 8-10 minutes. Cookies will be soft in the center. Cool cookies on baking sheet for 5 minutes, transfer to cooling rack to cool before dipping.'
Dipping Cookies:
Melt one cup of dark melting wafers with 1/2  teaspoon shortening in small glass microwave safe bowl for 50 seconds.  Stir to melt completely.
Spoon 1 teaspoon melted chocolate into bottom of custard cup. Place one cookie right side up, spoon additional teaspoon of melted chocolate over the top of cookie. Swirl cup with cookie gently to completely coat the cookie.  With a fork gently lift up the cookie and allow coating to drip off bottom of cookie. Place on parchment lined baking sheet.  Sprinkle with crushed candy canes.  Allow cookies to set up before serving or packing.
Repeat process with White Chocolate melting wafers.
Store cookies at room temperature up to 3 days or in the refrigerator up to 8 days. Be sure to cover cookies with plastic wrap or sealed container.
Notes
Cookies can be baked ahead, cooled and frozen for up to 3 months. Store in zip lock freezer bags.
Dip cookies day before serving for best results. Cookies do not have to be totally thawed before dipping.
Keywords: Peppermint Bark Chocolate Sugar Cookies
Other Ideas you might like to try: