Big Orange Snack mIx is big in Texas and Tennessee. Easy to make mix includes, pretzel sticks, Cheeze-it Duo crackers, cracker jack and M & M's. Everything that is sweet, salty and savory packs this snack mix. Everyone loves it and you will too.
How to Make Big Orange Snack Mix
In a large bowl, I mean a big bowl…. toss in all ingredients, things your family or team loves. For this recipe I used cheese crackers, pretzel sticks, M & M's in orange and white and last but not least, home made cracker jack, get recipe here.
Once everything was tossed together it was ready to serve. If you want to package in baggies for game day that would be great and easy to share and eat. Another thought would be to put in small brown paper snack bags or make cones in team colors. Think big… as in double the batch, it will go fast!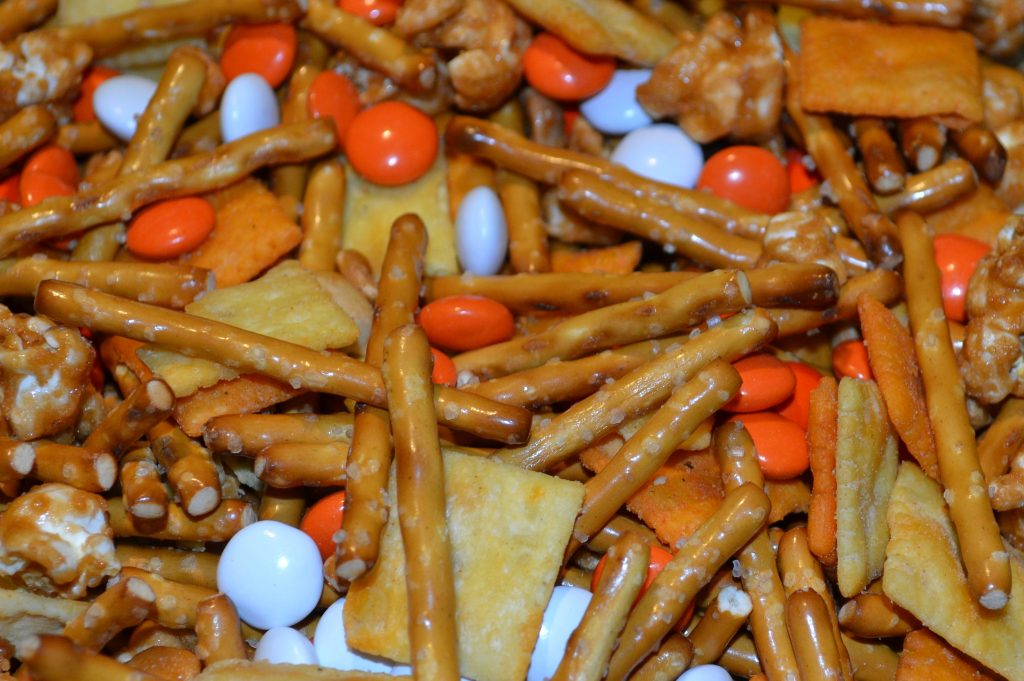 Big Orange Snack Mix without M & M's below photo. This was left out because we had a few guests that were allergic to chocolate.  OH NO… Bless em.  So I had two batches, one with M & M's and one without.  The batch with out the candies were very much appreciated and loved too. To compensate I added more caramel corn.  
Hope you will make this snack for your BIG event.  It's easy and great. Adapt to your team colors or event color scheme to make it your's. xo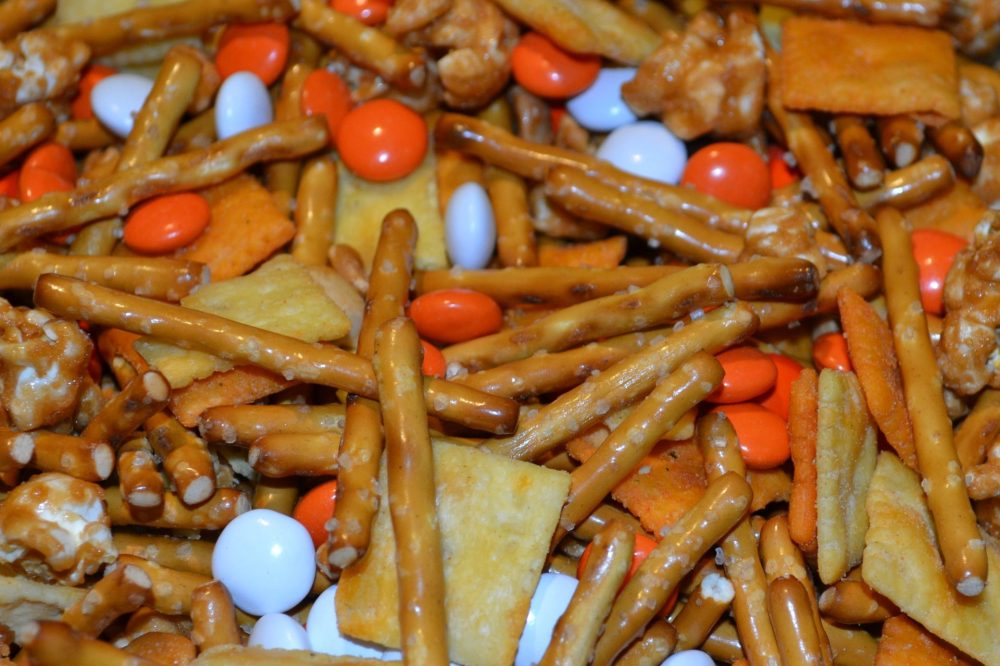 Print
Big Orange Snack Mix Recipe|Appetizer
Great snack for game day.  Just change the candies to your team's color.
Also great for Fall Harvest & Thanksgiving snacks as take home gifts.
10 cups Cracker Jack* recipe on this website-search
1 box Cheeze it Duoz crackers -Sunshine Brand
5 cups pretzel sticks
2 cups chocolate covered candies-tested M & M's
Instructions
Toss  all ingredients together. 
Serve it up Sassy is team colored basket or individual paper bags.
Notes
Cracker Jack can be purchase or made fresh.
See Appetizer Category- Cracker Jack Recipe
---
Other Ideas You Might Like to Try:
Tailgate Biscuit Buffet