Whether tailgating in the early morning pregame set up or during the game, create a Tailgating Biscuit Buffet.  Bake a batch of buttermilk biscuits, add toppings and fillings to satisfy all the hungry helpers setting up the pregame event.  Take it to the end zone with Mini Pecan Rolls, Chocolate Tea Bread, Current Scones and Mini Fruit Pizza Cookies. Anything left over can be served at the actual tailgate. In addition, add meats like bacon, ham and sausage to round out this biscuit buffet.  Check out all the recipes below.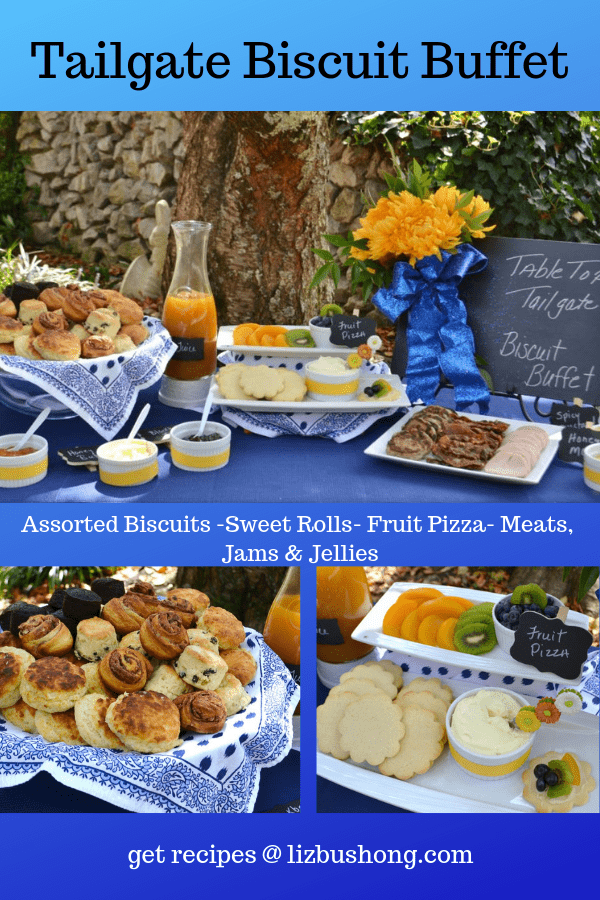 Biscuit Buffet Recipe Ideas
I love this recipe and you will too. Make traditional southern style batch of buttermilk and cheese filled biscuits. Bread flour, butter, sour cream, baking powder, salt  and of course buttermilk make soft and delicious biscuits.
Tip: Biscuits and baked goods can be baked-a-head and frozen until game day.
How to keep the Biscuits Warm
To keep the biscuits warm for the morning tailgate, wrap the biscuits and baked goods in foil packets. If you have access to electricity, use a crock pot set on low to keep the biscuit packs warm.
Decide ahead-of-time the biscuit fillings and toppings to round out the line up for this biscuit buffet.  Serve spicy mustard, honey mustard, jams and jellies, honey butter, and other flavored butters.  If using cream cheese and other condiments that need to be refrigerated use ice in small bowls to hold the containers of perishables.
In  addition to biscuits you might need to serve some meats to go along with em. Bacon, ham, sausage patties, even sausage gravy would be welcomed. Make sausage gravy at home and keep warm in a crock pot.  Or on the way to the tailgate, stop at Hardees and pick up sausage gravy.  If you need a lot you might want to call ahead so they will have it ready for you.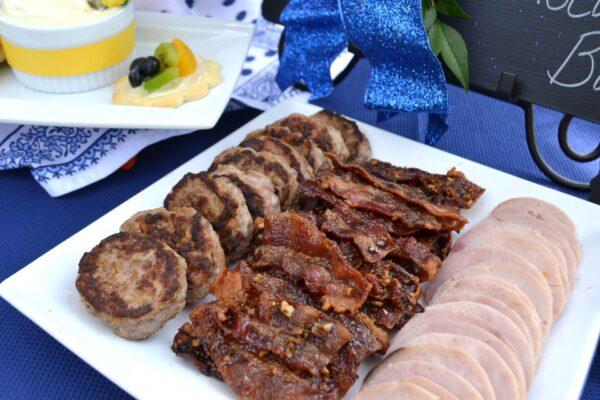 Here is the Tailgate Table Setting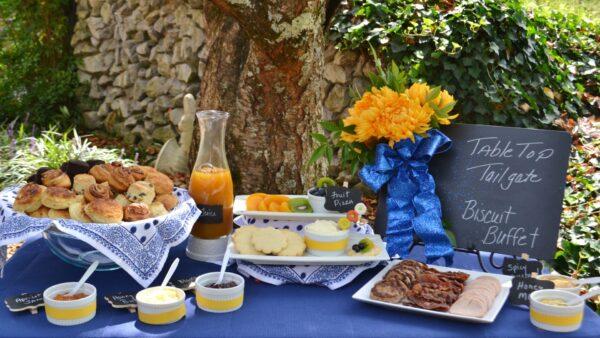 Enjoy a tailgate without eating from the back end of your trunk, set up a small 4′ table for this morning tailgate.  Cover the table with a pretty tablecloth and use colorful napkins to bring the look together.
Create elevations on the table by covering bricks with tissue paper, wrapping paper, or foil …anything that will protect your tablecloth and hide the object. I used a  shower curtain for the tablecloth.  However, use a cloth curtain for your table top for it is easy to clean and wide enough for a small 4′ table.
Label the Sauces, Jams & Jellies for Self Serving
If you are serving several dips and spreads, meats, and assorted items, it is good to label the items.  Chalk board paint is great.  Keep a can of chalkboard paint handy to paint anything to create a chalk board slate.   I used small wooden 2 x 2″ pieces of lightweight wood and attached a clothespin to the back side for the signs in this tailgate.  Painted the wood signs with chalkboard paint and used a chalkboard paint pen for writing.
Show Team Spirit- Decorate in Team Colors
Bands of gold card stock are wrapped around white souffle dishes to help support the team colors.  Apricot & Blackberry jam and Honey Butter were spreads for this buffet along with Spicy Mustard and Honey Mustard.  Five to Seven spreads would offer enough variety without being over crowded on the table or hard on the chef.
Biscuit Buffet baked goods featuring Buttermilk and Cheddar Cheese biscuits, Mini Pecan Rolls, Current Scones and Banana Chocolate Tea Bread recipes below.  Line a large white plate with a pretty napkin to hold all of the goods.  Elevate this plate on a large bowl for stability.  If you have access to hot water or can heat water, fill the heat proof bowl with water and place the plate over the top allowing the baked goods to stay warm.
Buttermilk biscuits, Banana chocolate tea bread muffins, mini sweet cinnamon rolls & current scones in above assortment. If you want to make the cinnamon rolls in twists check out this recipe.  Same recipe for mini's and twists.
Serve Something Sweet, Mini Fruit Pizzas
Cut out Sugar Cookies are the base for the cream cheese and confectioner sugar filled Fruit Pizzas topped with peaches, blueberries and kiwi.  The fruit coordinates with the team colors of gold and blue.  This dessert is self serving, they get to make their own or just have a cookie. Might want to make extra cookies to have on hand.  For those who love fruit, have a few apples and bananas available.
Serving meats with your biscuit buffet like Peppered Sugar Pecan Bacon, Sausage and Ham rounds will keep the fans cheering for more!   The ham was sliced and cut into rounds to fit the size of the biscuit.  Leftover ham could be added to a soup that can be served later during the pregame tailgate.
Parade of Biscuit Buffet Recipes
Biscuit Recipe
Print
Tailgate| Biscuit Buffet- Buttermilk, Cheddar Biscuits Recipe
Easy recipe using bread flour, baking powder baking soda, sour cream, butter and buttermilk. Soft and flaky biscuits for biscuit buffet.
Author: Liz Bushong
Prep Time:

30 minutes

Cook Time:

10 minutes

Total Time:

40 minutes

Yield:

6

-

2

"biscuits or

12

-

1

"

1

x
Category:

Scones-Savories Biscuits

Method:

Baking

Cuisine:

American
2–cups bread flour
1-tablespoon baking powder
1/2 teaspoon baking soda
2– tablespoons sour cream
1 1/2 teaspoons salt
1/2 cup butter, frozen and grated
1/2 cup buttermilk or half and half
1-tablespoon butter, melted
For Cheddar Cheese biscuit use same ingredients as stated but add 1/2 cup shredded Cheddar Cheese and 2 Tablespoons buttermilk. If biscuits are too dry add more buttermilk if too wet add either more cheese or bread flour. Dough after kneading two or three times will be the right consistency for rolling and cutting. Dip cutter in flour and push straight down into dough do not twist cutter to keep biscuits upright while baking.
Instructions
Preheat oven to 450.
Combine the flour, baking powder, baking soda, sour cream, and salt in a large bowl.
With a cheese grater, grate frozen butter* using the largest holes; quickly cut the butter into the flour mixture with two knives or pastry cutter until mixture resembles coarse meal.
Add the buttermilk to flour/butter mixture a little at a time.
Stir until dough forms a ball, but do not over mix the dough.
On floured surface, turn out the dough and roll out to 1-inch thickness.
Using a 2 ½"-3" round biscuit cutter, or rim of glass, cut the biscuits and place in non greased skillet, or parchment lined baking pan.
Bake biscuits on top rack of oven for 20 minutes or until light brown.
Remove from oven and brush tops with melted butter, return to oven for 5 minutes to a golden brown color.

If biscuit tops brown  too quickly cover with foil and continue baking.
Notes
Helpful Hints for Best Biscuits:
Grate the butter straight from the refrigerator onto a piece of wax paper and put in freezer to firm up-5-10 minutes.
Use the larger grated pieces of butter, instead of the smaller pieces .

The thicker the dough when rolling out the longer the biscuit needs to bake.

 The thicker the dough before cutting out the taller the biscuit will be. 

 Avoid excess flour when rolling out the dough.

Gently knead the dough 3-4 times to get a smooth top.  Biscuits will be dry if you overwork the chilled dough.  

Use bread flour to make the texture light and fluffy.  These are not gluten free biscuits.

Bake biscuits in preheated hot oven.

Recipe inspired by Tupelo Honey cookbook
Keywords: Buttermilk Biscuits
Print
Banana Chocolate Tea Bread Mini Muffins-or Loaf
Sweet moist chocolate bread baked in a loaf pan or mini muffins. Filled with mini chocolate chips.
Author: Liz Bushong
Prep Time:

20 minutes

Cook Time:

55 minutes

Total Time:

1 hour 20 minutes

Yield:

2

-loaves or

5

mini loaves

1

x
Category:

Bread

Method:

Baking

Cuisine:

American
1/2 cup butter, softened
1 cup sugar
2 eggs
1–1/2 cups all purpose flour
2 tablespoons special dark cocoa
1 teaspoon baking soda
1 teaspoon salt
1/2 teaspoon ground cinnamon
1 teaspoon vanilla extract
1 cup mashed bananas
1/2 cup sour cream
1/2 cup chopped toasted walnuts
1/3 cup mini chocolate chips
Instructions
Prepare baking pans, 2 large loaf pans or 5 mini loaves with cooking spray, lightly coat with flour. Set aside.
Preheat oven to 350.
In mixing bowl with stand mixer fitted with paddle attachment, cream softened butter and sugar together until creamy and smooth, light and fluffy.
Add eggs one at a time.  Beat well after each addition.
Combine together in sifter,  flour, basking soda, salt and ground cinnamon, sift together.
Add flour to egg mixture, add vanilla. Mix on low to blend, add bananas, sour cream, walnuts and chips.  Mix on low just to blend. Do not over beat or over mix.
Spoon batter into 2  loaf pans or 5 mini loaf pans. Smooth tops of batter in pans.
Bake in preheated 350 oven for 55 minutes for 7-1/2″ x 3 x 2″ loaf pans or 20-25 minutes for mini loaves.  To make mini muffins, bake 12-15 minutes.
Remove from oven, cool 5 minutes, then remove from pans.  Cool completely before slicing and storing.
Keywords: Chocolate Banana Tea Bread, Loaf, Bread, Chocolate
Go TEAM
Other ideas you might like to try: