How cute is this, Bunnies and Carrot shaped Cheddar Cheese Crackers!  Simple pantry ingredients, sharp cheddar and smoky gouda cheese, flour and butter with a hint of cayenne make this recipe.  In a food processor or stand mixer these ingredients make a soft dough that is easy to roll out and cut into shapes.  I used bunny and carrot shaped cookie cutters to cut out my crackers.  Easy recipe for Spring salads and appetizers.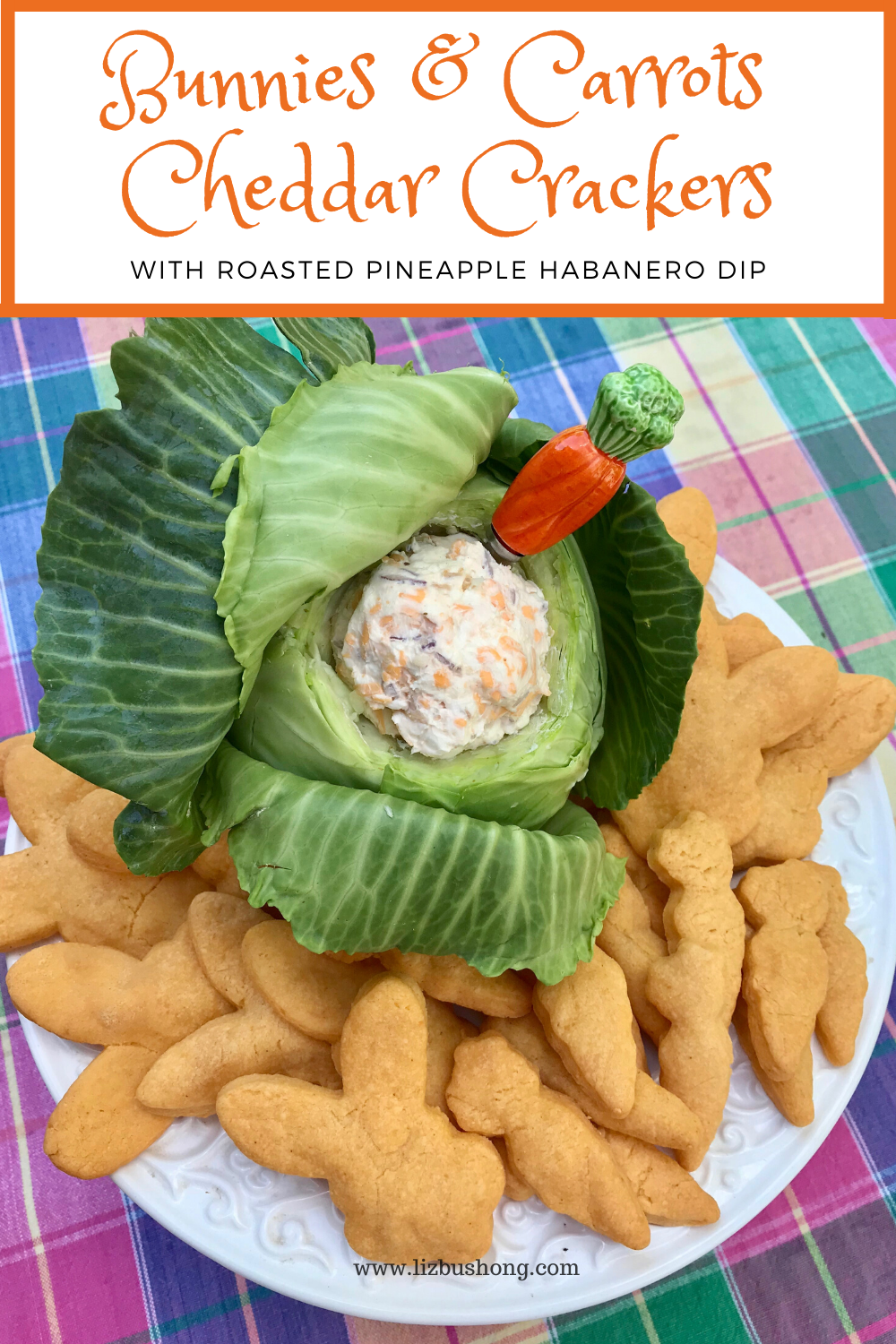 Serve these crackers on a pretty platter with a dip for an appetizer or side cracker with salads.  Super easy to mix and roll out.  Sharp cookie cutters make the best shaped crackers but if you don't want to cut out into shapes, roll dough into a tube and slice and bake.  I used Ann Clark Cookie Cutters in the shape of a carrot and bunny face.  Ann Clark Cutters are made in the USA and will not rust over time.  Made of quality stainless steel and she has a wide variety of cookie cutters and sets.
How to Make Crackers
However you decide to make your crackers, cut out into shapes or slice and bake the choice is yours.  The recipe is the same for both methods.  Although if you want a smokey flavor with the cheddar try Gouda Cheese. This recipe includes Gouda but can be substituted for your choice of hard cheese.
For best results used grated cheeses, if you buy a block of cheese grate it before processing in food processor.  Avoid very creamy cheese like brie, the cheese is too soft for the crispy cracker.
To spice it up, add cayenne pepper or your favorite hot sauce.  If your hot sauce is wet, which most are use sparingly for it could change the composition of the dough.
The Dough: Roll and Cut Out Shapes
Because the dough is mixed in a food processor, the dough will form a solid ball in the bowl.  Remove the dough and flatten into a 1/2″ round disc, wrap and chill for 20 minutes to help with rolling the dough.
On a floured surface roll out the dough to a 1/4″ thickness, dip your cookie cutter in flour and cut out the shapes.  Place these shapes on a parchment lined baking sheet and bake at 350 for 12-15 minutes.  Depending on the size of the shaped cracker determines the length of baking time.  Allow crackers to cool before removing from baking sheet.
Store the baked crackers in a tight fitting container or zip lock bags for freezing.  Freeze crackers up to one month.
The Dough: Slice and Bake
On the other hand, if you don't want to mess with cutting out shapes, roll the dough into three small logs about 1 " around, wrap and chill 20 minutes or longer.  When ready to bake, slice log into 1/4″ slices or coins, place on parchment lined baking sheet and bake at 350 for 6-8 minutes.
Wrapped chilled logs will keep in refrigerator up to 2 days.  For best results make these cracker the morning of serving.
How to Serve these Crackers
Whether you are hosting a brunch or evening meal these little crackers can be served with side salads, appetizers or simply a crunchy snack.  The choice is yours but one thing for sure, make several because everyone will love these crunchy little morsels of goodness!  Serve them in a bowl, on a platter or with cut out vegetables with dips.
Enjoy this recipe!  For the Habanero Dip recipe click here. 
Print
Bunnies & Carrots Cheddar Cheese Crackers
A mixture of sharp cheddar and smoky gouda cheese, flour and butter with hint of cayenne pepper makes this crunchy little cracker .
Author: Liz Bushong
Prep Time:

10 minutes

Cook Time:

12-15 minutes

Total Time:

30 minutes

Yield:

4

dozen

1

x
Category:

Appetizer-Crackers

Method:

Baking

Cuisine:

American
1/4 cup butter, softened & diced
8 ounces shredded sharp cheddar cheese
4 ounces shredded smoky gouda cheese
3/4 cup all purpose flour
1/4 teaspoon baking powder
1/4 teaspoon salt
1/4 teaspoon cayenne pepper
Instructions
Measure flour, baking powder, salt and cayenne into a sifter, sift together and add to bowl of food processor fitted with sharp blade.
Add diced butter and shredded cheeses.
Pulse until dough forms a ball.  Turn out dough onto plastic wrap, flatten to a 1/2″ disc.  Chill until firm enough to slice or cut out.
On floured surface, roll dough 1/4″ thick and cut into desired shapes with cookie cutters.  OR… roll dough into a log and slice into 1/4″ slices.
On parchment lined baking sheet place desired cut shapes or sliced pieces.
Bake crackers at 350 degrees 12-15 minutes for cut out shapes, 6-8 minutes for sliced coins or until lightly browned.  Cool completely before transferring to airtight container. Prefer a tin.
Serve as desired.
Notes
Storing crackers in a tin is the best for a plastic container will make the crackers soft. To crisp up, place in 300 degree oven for 5 minutes  but watch as not to burn.
Dough may be placed in freezer bags and frozen.
Baked crackers may be frozen in tins or plastic freezer bags.
Recipe can be doubled.  
Keywords: Cheddar Cheese Straws , Cheddar Cheese Crackers
Other Ideas you might like to try: