Design a table centerpiece that will brighten your winter dining table. Create this cabbage lenten rose living centerpiece using a hollowed out cabbage head filled with floral oasis and Winter Lenten Roses with greenery.  Layer fresh Brussel sprouts around the base of the cabbage for added interest and green.
A quick trip to the grocery store for the cabbage, sprouts and flowers if you don't have them in your yard makes this centerpiece sassy and stellar!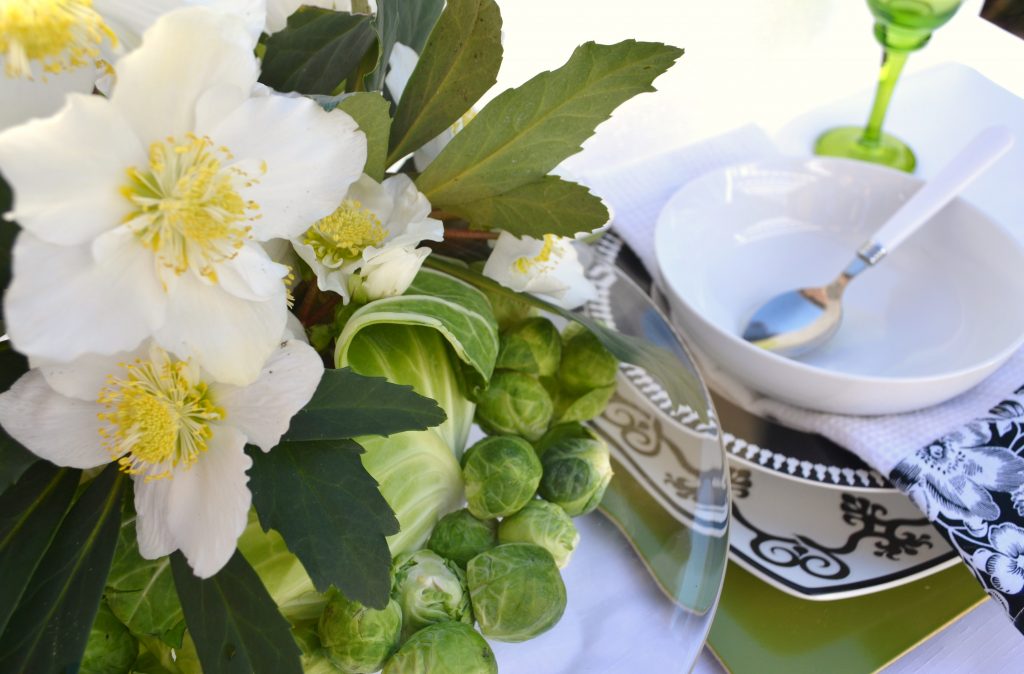 What Makes this Dining on a Dime Centerpiece Special
is the living green vegetables and white winter florals.  If you are fortune enough to grow winter roses or lenten roses you will have blooms in early February right in the middle of cold wet winter.  While winter has its special moments and beauty, so does bright green fresh living vegetables.  Brussel Sprouts and green cabbage along with the green leaves of the lenten rose makes winter come alive.  To know there is Spring on it's way the white flowering roses will make everyone happy.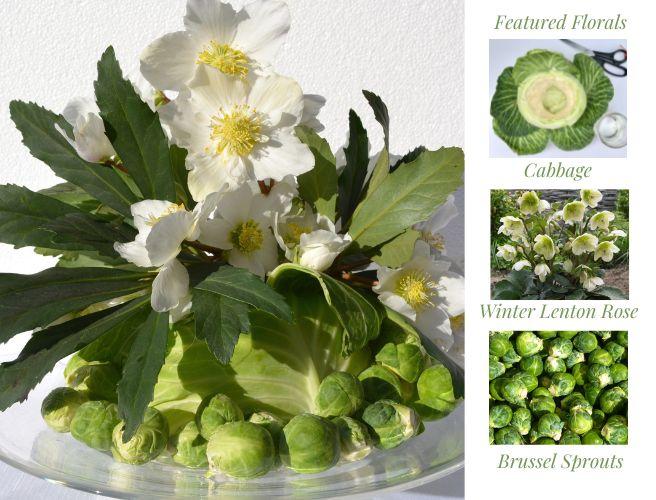 How to Make this Centerpiece:
Hollow center of cabbage, leaving the bottom in tact, fill opening with oasis ( green foam used for fresh flowers). Cut stems of Lenten rose blooms and arrange.  Start with green leaves to fill the foam first, then add a few rose blooms to round it out.
Place the cabbage in the base of a large round glass semi flat bowl, surround the cabbage centerpiece with fresh Brussel sprouts. Remove any dark ends or sprouts leaves for a cleaner and fresh presentation.  If you don't want to use floral foam, use a small glass cup filled with water that will fit inside the cabbage vase then add fresh short cut stems.  Be aware that this method will not allow for a large arrangement. Floral foam will give you a bigger presentation.
Note:  When you are peeling the cabbage leaves from the cabbage while cutting out the center, make sure you keep the good pieces of leaves, you will want to stick the leaves back on the cabbage after hollowing center to make the vase look more natural. Use green or silver Floral U pins to attach leaves.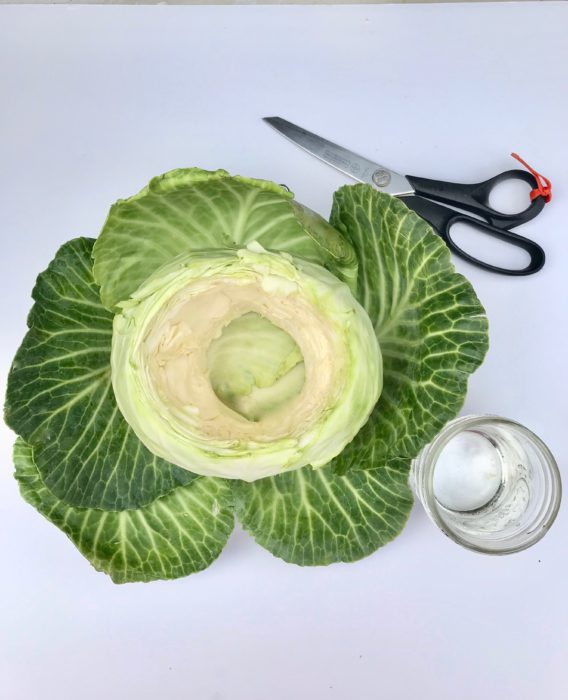 Note: To make a super simple arrangement, buy a small bouquet of fresh flowers at the grocery story floral department and trim the ends of the florals, place in the oasis floral foam as desired. Try to make your arrangement in the round so it is even on all sides. Add a few willow branches to add height, maybe about 6-8″ tall. 
Setting the Table with Center Piece
isn't difficult.  Begin with a white tablecloth, then add green chargers under black and white square plates. The black and white adds a bit of punch to your table top and makes a great accent color for shades of green.  Add silver ware, drinking glasses and pretty green napkin to finish the place setting.
Take the chill off winter and your pocket book by checking out the vegetable & floral aisle in your grocery store.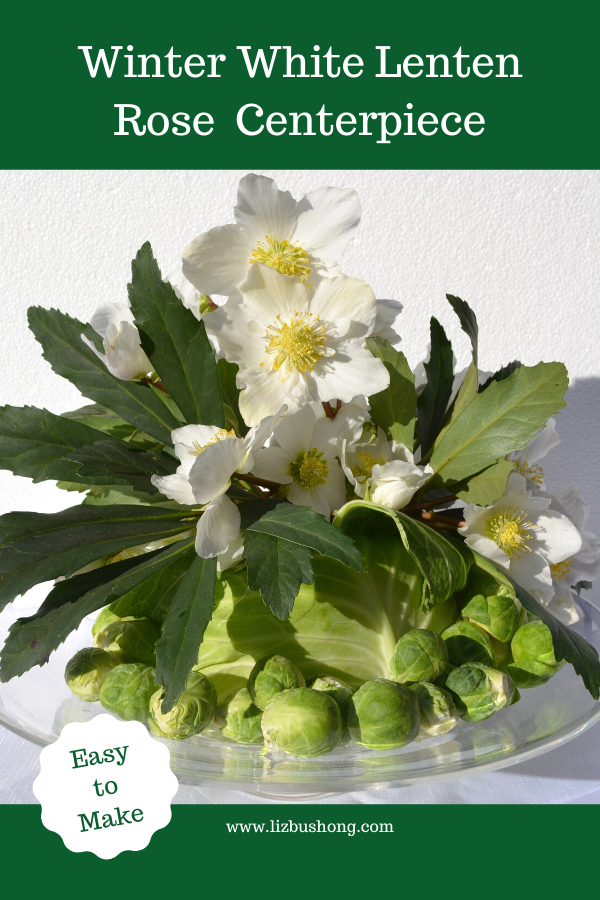 Hope you will try this simple table centerpiece.  If you don't want to use lenten roses, you could substitute with any early spring flowers or kale, peppers, tiny cucumbers, broccoli florets, any vegetable that will coordinate with your table dinnerware.
Other Ideas You Might Like to Try:
Tap on photos to go to the links.
Spring Basket Potted Plants