Twisted ropes of red and white cookie dough looks just like a candy cane will make your cookie tray shine.  For added sparkle dip the cane hook in white glaze and crushed candy canes.  Recipe is not difficult but the twisting can be tedious.  Red dough has peppermint flavor.  Candy Cane Shaped Sugar Cookies are delicious and fun to make.
How to make Candy Cane Sugar Cookies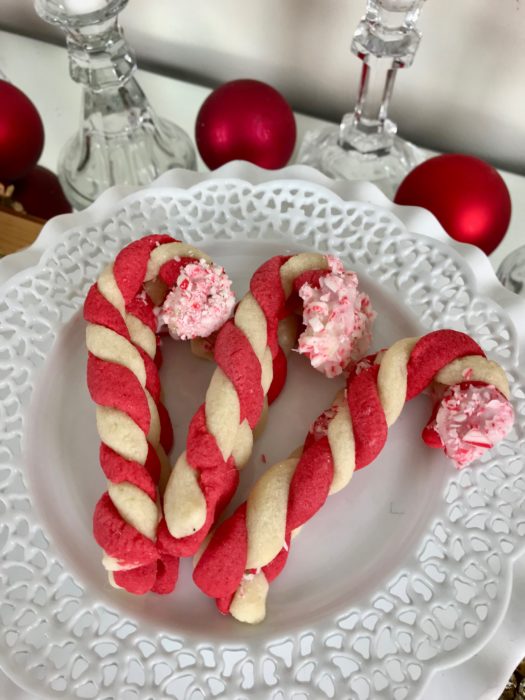 Select the best no spread sugar cookie dough. The recipe below works great for this kind of cookie or any cookie where you need the cutter and cookie to be the same shape during baking.  There is no leaving agents in this dough.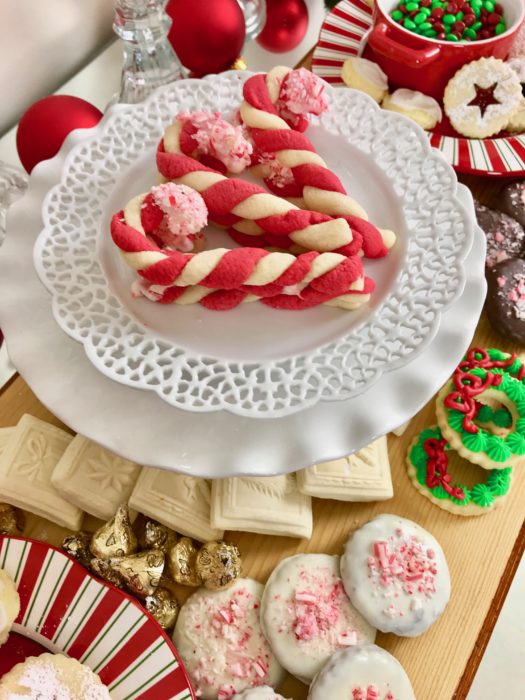 Dough is divided in half, one left plain the other half tinted with red food gel and peppermint extract.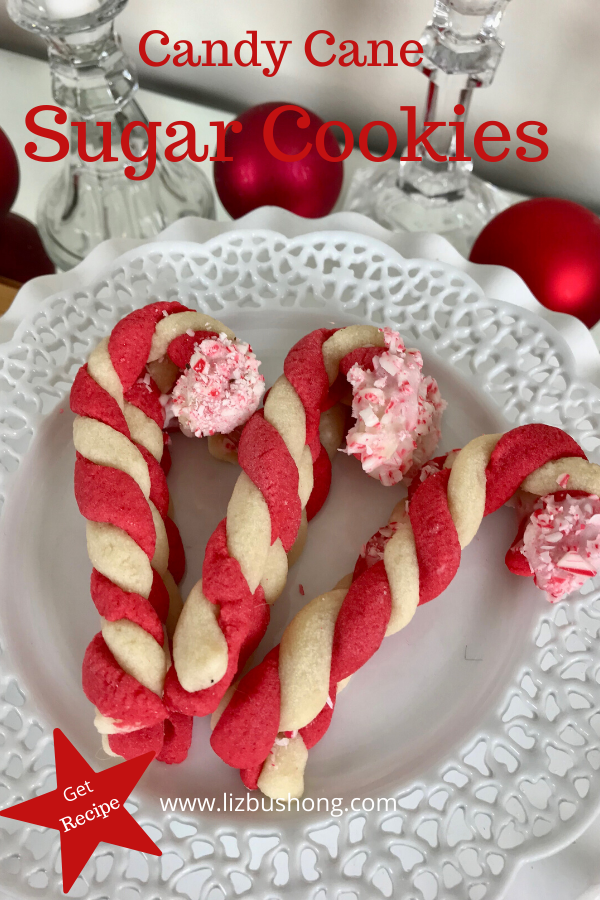 Be sure to chill dough then roll into skinny ropes. Chill again for 15 minutes. Bake 8 minutes. Allow the cookies to cool before removing from pan. Glaze ends with peppermint frosting and sprinkle with crushed candy canes.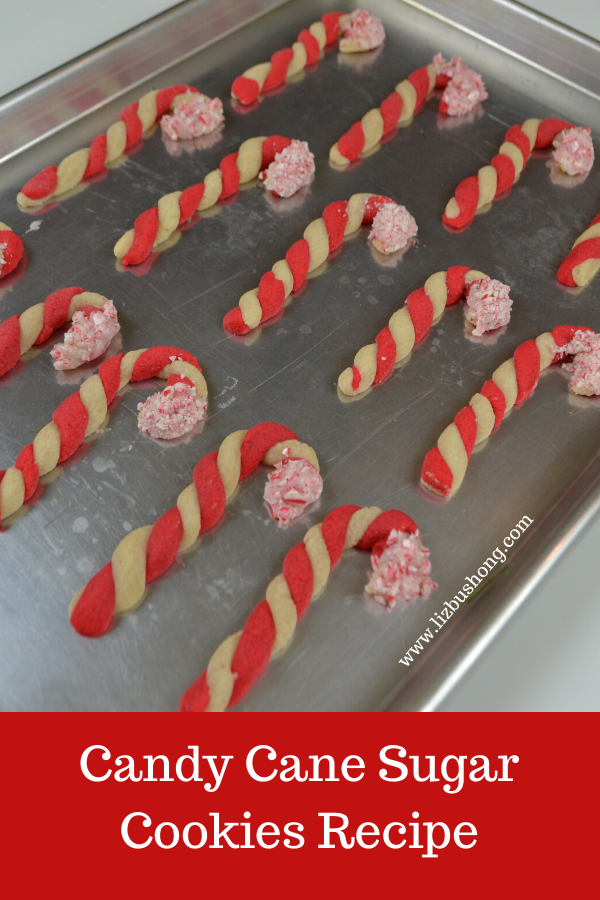 Print
Candy Cane Sugar Cookies
Peppermint flavored twisted red and white sugar cookie dough forms a 5″ long candy cane.  Cane hook is glazed  and sprinkled with crushed candy canes.
Author: Liz Bushong
Prep Time:

15 minutes + 4 hour chill

Cook Time:

8 minutes

Total Time:

4.5 hours

Yield:

25

cookies/candy canes

1

x
Category:

Dessert- Cookies

Method:

Baking-Chilling

Cuisine:

American
1 cup butter, room temperature
2/3 cup sugar
1 egg
1 teaspoon peppermint extract
1/2 teaspoon salt
2– 1/2 cups all purpose flour
2–5 drops red food coloring gel
plastic gloves for kneading red dough
Peppermint Glaze
1/2 cup confectioner's sugar
1 teaspoon half n half or milk
1/4 teaspoon vanilla or peppermint extract
5–7 mini candy canes, crushed
Instructions
Cream butter and sugar until light and fluffy.
Add egg and extract. Beat until smooth.
Add flour and salt, beat until dough comes together.
Remove from mixing bowl and divide dough in half.
Tint one half with 2-3 drops of red food coloring gel. Be sure to wear gloves before kneading dough.  Wrap red and plain dough separately in plastic wrap and chill 3 hours before rolling out.
In plastic zip lock bag, crush candy canes to consistency desired.  Place in custard cup for sprinkling.
After chilling dough, on lightly floured surface hand roll each dough half into 1/4″ wide skinny ropes about 10″ long.
On parchment lined baking sheet, twist together red and plain dough to form long rope.  Cut rope into two 5″ pieces.  Turn down one end to form the hook. Chill cookies for 20 minutes.
Bake on middle rack of preheated  350 degree oven for 8 minutes or until barely colored.  Remove sheet from oven and cool cookies 5-10 minutes before removing from pan. Cookies are very fragile.
Frosting/Glaze
Mix together confectioner's sugar, extract and milk, stir until smooth. With flat edge spatula coat crane or hook of candy cane with frosting, sprinkle with reserved crushed candy canes.  Allow to set up before packing or packaging.
Store candy canes on baking sheet covered with plastic wrap.  Do not store in covered container. The cookies will become too soft.
Notes
Cookies can be eaten plain without glaze and candy canes if desired.
Chilling dough  before rolling out and after candy canes are formed is a must for best results.
If dough falls apart while twisting, reattach and keep attachment to the back of the cookie.  Twist doughs on flat floured surface.
The cookies will not spread during baking.
Keywords: Candy Cane Cookies
Other Ideas you might like to try: