Chocolate Meringue Brownie with Caramel Cashew Sauce satisfies every palate that loves chocolate, caramel and cashews!  Nothing gets better than this, except for maybe chocolate ice cream with hot fudge sauce and cashew caramel sauce.  Who doesn't love brownies, chocolate and caramel? 
To serve it up sassy,  drizzle a rich caramel sauce with whole cashews over the individual desserts.  You can make the meringues any size you like, just cut the brownie to fit the meringue. I used a large round cookie cutter to make 2-1/2″ round brownie shapes so my meringues were 2-1/2″ round. The recipe & instructions below is for the Meringues and how to assemble.  I used a box brownie mix and baked in 8″ x 8″square baking pan. 
Chocolate Meringue Brownie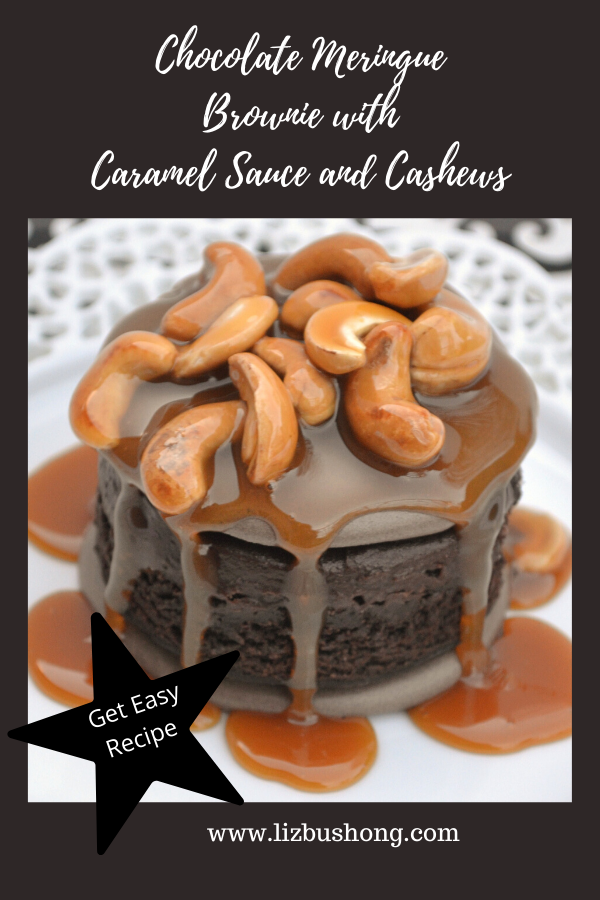 How to Make Chocolate Meringue Brownie Dessert
Ingredients 
Brownie mix -tested Dark Chocolate Fudge Brownie -Duncan Hines, or make your own recipe.
Eggs, vegetable oil and water as per instructions on brownie mix.
Caramel sauce– purchased or home made
Cashews- whole salted for garnish
Chocolate Meringues- Easy to make meringues but with unsweet chocolate cocoa powder. See recipe below.
Make Brownies per brownie mix,  bake in 8″ x 8″  square pan.  Cool and cut into 2-1/2″ rounds. Freeze rounds while you make the meringues.  Recipe makes 4 individual desserts.  If needing more double the brownie and meringue recipe. 
How to Make Chocolate Meringues
Prepare baking sheet with parchment paper.  On one side of paper, draw 8-2 -1/2 inch circles with pencil or pen, turn paper over on baking sheet.  You will be able to see the circles but meringue will not come into contact with the drawings.
Recipe makes 4 individual dessert meringues. Double meringue recipe if making more than 4 servings.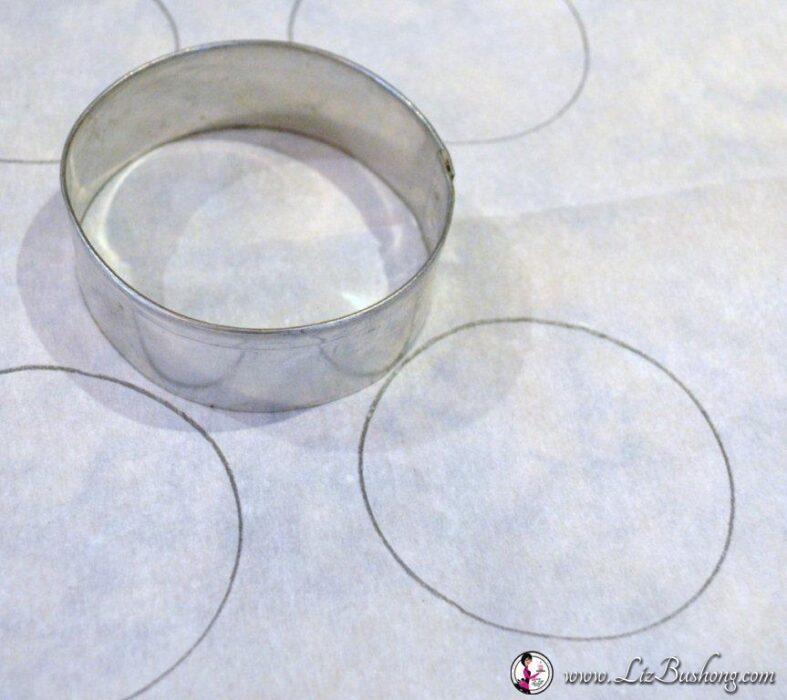 Ingredients for Making the Chocolate Meringue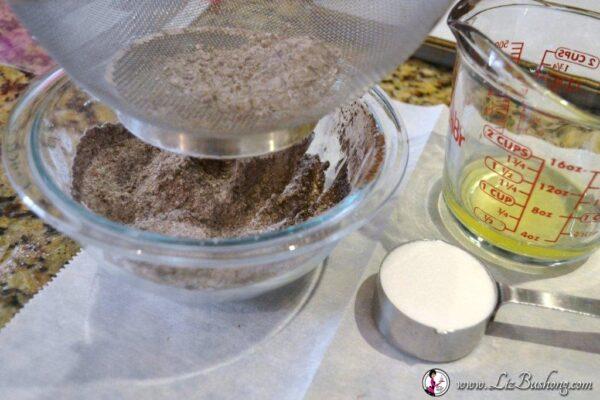 Sift cocoa powder with confectioner's sugar set aside.  Make sure your egg whites are at room temperature, then beat until frothy, gradually add granulated sugar, then beat on high until shiny stiff peaks form.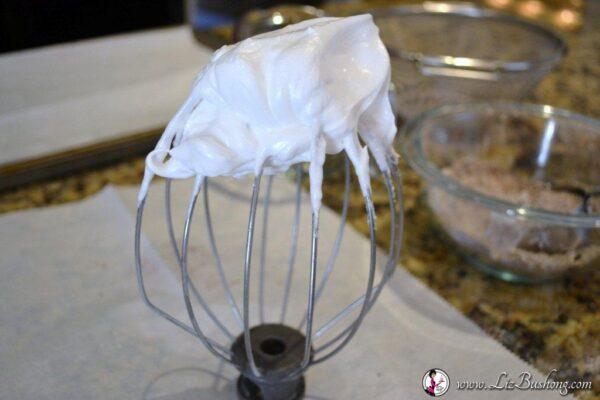 When egg whites are whipped to stiff peaks, they will not fall off the whisk beater, but stand up and be shiny.  The next step is to add the cocoa and confectioners sugar.  The meringue will be runny and not stiff peaked , but don't panic, everything is OK.
Place meringue in a disposable piping bag with 1/8 inch tip or place meringue in a plastic bag and clip one small corner to 1/8″, then pipe the meringue on the circled parchment.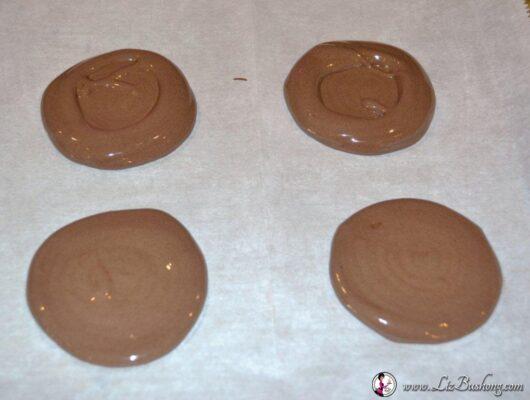 Bake these meringues  at 225 degrees for 20 minutes.
Allow to cool in oven with oven turned off until meringues are released from parchment paper. These are very fragile, so be careful when picking up. Meringues will be flat discs.
How to Assemble the Brownie Dessert
To assemble on dessert plate-Cut brownies into 6 -2 ½ inch circles using cutter for meringues. Frost each brownie top with chocolate frosting.  On serving plate, layer one meringue upright, brownie round, top with meringue.  Add cashews to caramel sauce, stir with spoon. Drizzle cashew caramel sauce over meringue brownie dessert right before serving.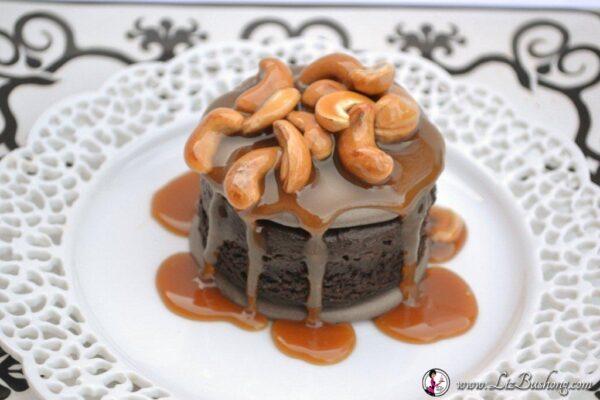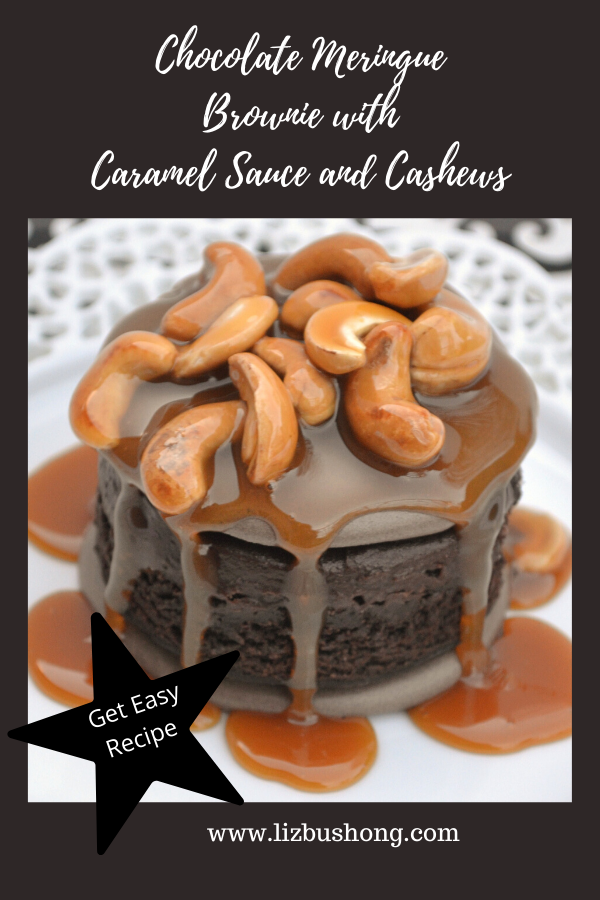 Print
Chocolate Meringue Brownie
2-1/2″ brownie rounds are sandwiched between frosted chocolate meringue discs and drizzled with cashew caramel sauce. Easy recipe with pretty presentation, makes a great impressive dessert.
Author: Liz Bushong
Prep Time:

30 minutes

Cook Time:

60-90 minutes

Total Time:

2 hours+chill

Yield:

4

individual servings

1

x
Category:

Dessert-Mini

Method:

Baking

Cuisine:

American
18.2 ounce Duncan Hines Dark Chocolate Brownie Mix
1 egg
1/2 cup vegetable oil
1/3 cup water or espresso
Chocolate frosting-canned or home made
Chocolate Meringue
3 egg whites, room temperature
1/2 teaspoon cream of tarter
1/2 teaspoon vanilla extract
1/2 cup confectioners sugar
1–1/2 tablespoons unsweet dark cocoa powder
1/4 cup granulated sugar
Cashew Caramel Sauce
11.5 ounce jar Caramel Ice cream Topping tested Smucker's
1 cup whole cashews, salted and toasted
Instructions
1. Preheat oven to 350 degrees.  Line 8′ x 8″ square pan with parchment paper. Allow parchment paper to extend over sides of pans for easy removal from pan after baking. Lightly spray with cooking spray.
2. In mixing bowl add brownie mix, eggs, oil and water. Mix to blend. Pour into baking pan. Bake  35-37 minutes. Remove from oven and cool completely. Cover and chill in freezer while you make meringues.
Meringue and Cashew Caramel Sauce
1.     Preheat oven to 225 degrees.  Line a baking sheet with parchment paper. Trace 8- 2 ½ inch round cookie cutter size on to parchment paper. Turn paper over. Set aside
2.     In small bowl, sift confectioners sugar with cocoa, set aside.
3.     In large mixing bowl, using wire whisk beat egg whites until soft peaks form. Add cream of tarter, beat a few seconds. Add vanilla.
4.     Gradually add granulated sugar to egg whites, beat until stiff peaks form.
5.     Gradually add confectioners and cocoa mixture, beat to blend. Not to worry peaks will be lost.
6.     Spoon mixture into zip lock bag, close bag, clip one end to 1/8 inch, pipe circles onto parchment paper.
7.     Bake meringues in oven for 20- 25 minutes or until firm. Open oven door slightly and cool completely.
Assemble Brownies
Cut brownies into 4-2 ½ inch circles using round cookie cutter for meringues. Frost each brownie top and base with chocolate frosting. On serving plate, layer one meringue upright, brownie round, top with meringue.  With spoon drizzle cashew caramel sauce over meringue brownie dessert.
Notes
Use leftover brownie pieces for chocolate truffles or trifle recipe. You can also crumble the brownies and use for crumbles over ice cream, frosted cupcakes, cakes, and tarts.
Meringue recipe makes 8 meringue discs, two for each brownie round. If making more than 4 desserts, double the meringue and brownie recipe.  Bake the double brownie recipe in 2- 8 x 8″ baking pans.
Keywords: Dark Chocolate, Meringues, Brownies, Cashews, Caramel Sauce,Dessert, Recipes
Other Ideas You Might Like to Try: