Pumpkin and chocolate go together like peanut butter and jelly. Purchased brownie mix is swirled with pumpkin puree and cream cheese filling  and baked 55 minutes. Once cooled the brownies are cut into 2″ squares.  Pumpkin puree with cream cheese filling features egg yolk, ground cinnamon and nutmeg, sugar and tiny bit of orange food gel if needed for a brighter orange look. This recipe for pumpkin cream cheese swirl brownies are quick to make and delicious, perfect for fall entertaining.

How to Make the Filling.
Purchase your favorite brownie mix and mix according to package instructions. In smaller bowl, add pumpkin puree, I tested Libbys, not the pie filling just puree. Next, cream softened cream cheese with the puree until smooth and creamy, add sugar, vanilla, egg yolk and salt. Whip on medium speed to cream and incorporate ingredients.

Tip:  Line your baking pan with parchment paper with side extensions for easy release from pan. Spray lightly with cooking spray. 
What Makes the Filling Swirl?
Swirling the filling is a bit of an art but theres nothing to it really. After spreading your brownie batter in a 9 x 13 " pan for thinner brownies or 8 x 8″ baking pan for 2″ squares, dollop or spoon filling batter over raw brownies.  Drop the pumpkin batter in 1″ rounds all over the top of brownie batter leaving space between dollops/rounds.
Another words you want to see more brownie batter than pumpkin filling on top of brownie batter.
Take a paring knife and insert into center of pumpkin filling and drag knife down and swirl as you go or as desired.  They will look like hearts rather elongated hearts.  You can swirl your brownies anyway you like, just try to make sure you have equal parts of brownie batter and pumpkin filling showing on top of the brownies.
Baking and Serving
Preheat your oven to 350 degrees, and bake brownies about 55 -60 minutes.  Depends on the size of your baking pan but the filling makes the brownie baking time longer than directions on the box.  Once the brownies are baked, chill for 30 minutes to solidify the pumpkin cheese swirl for easy slicing and serving.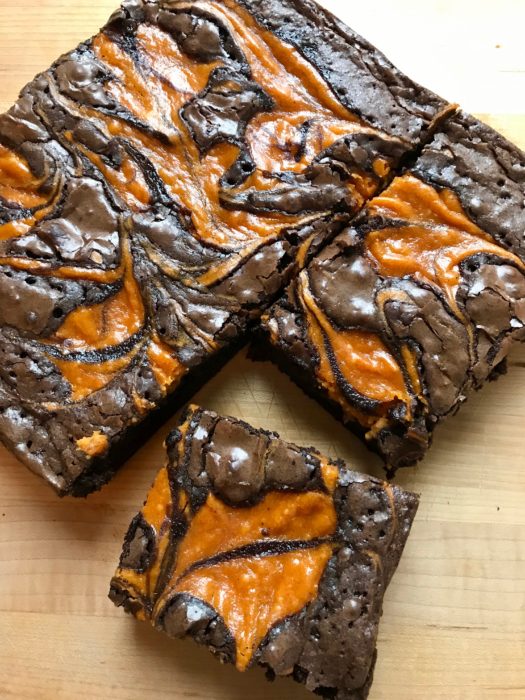 Whether serving as dessert or a fun treat, slicing into small bites is suggested.  These brownies are rich with the pumpkin cheese swirl and a small bite goes along way.  One inch by one inch would make a perfect bite for a sweet appetizer.  But, its your dessert or snack, slice as you please.  If you do cut 2′ x 2″ square you could cut the square in half to form a cute small triangle bite.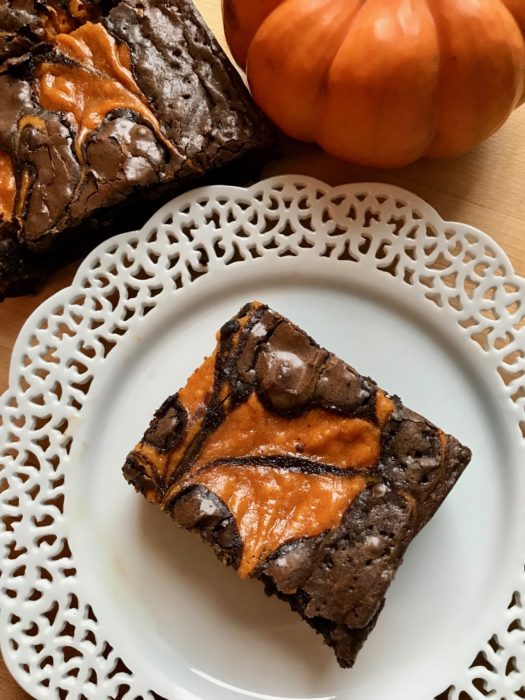 So next time you grocery shop pick up a brownie mix, I like Duncan Hines Dark Chocolate Brownie Mix.  Grab some canned pumpkin puree and cream cheese and bake a sweet treat for your family or friends.
Here's the Recipe
Print
Pumpkin Cream Cheese Swirl Brownies
Brownies start with purchased mix, with pumpkin puree cream cheese filling swirled on top of batter before baking.
Author: Liz Bushong
Prep Time:

20 minutes

Cook Time:

55 minutes

Total Time:

75 minutes

Yield:

20

-

2

"x 2" brownies

1

x
Category:

Dessert

Method:

Baking

Cuisine:

American
1– 18.2 ounce package brownie mix-tested Duncan Hines Dark Chocolate Fudge
2 eggs
1/3 cup water
1/3 cup vegetable oil
2 teaspoons chocolate syrup- optional
For the pumpkin swirl:
3 oz. cream cheese softened
1/3 cup canned pumpkin puree not pumpkin pie filling tested Libby's
1 egg yolk
3 tablespoons sugar
1 teaspoon vanilla
1  teaspoon ground cinnamon
1/4  teaspoon ground nutmeg
1/4 teaspoon salt
2–3 drops orange food gel- optional
Instructions
Preheat oven to 350 degrees. Line 9″ x 13″ or 8″ x 8″ square baking dish with parchment paper, lightly spray with cooking spray. Parchment paper should extend 2" off sides of pan for easy release from baking pan.
Mix brownies using first 4 ingredients in this recipe
Combine the pumpkin swirl ingredients in a bowl: stir together the pumpkin, sugar, egg yolk and spices.  Add orange food gel if desired.
Spread the brownie batter in the pan evenly, and top with dots of the pumpkin swirl batter. Using a toothpick (or fork) to swirl the mixtures together
Bake at 350 degrees for about 55 minutes—a toothpick inserted should have lots of wet crumbs clinging to it, but no wet batter.
Let the brownies cool completely in the pan, chill 30 minutes before serving.
Run a knife around the edges of baking dish, lift parchment paper from pan and slice to serve.
Store brownies in refrigerator.
Notes
Adding chocolate syrup to brownie mix, adds richness to the package mix, but is optional.
When mixing pumpkin puree with cream cheese it lightens the filling so that is why I added orange food gel for I wanted a deep orange contrast.
Keywords: brownies, pumpkin swirl, chocolate
Other Ideas You Might Like to Try: