Your fall table will bloom with these colorful ideas using pumpkins and flowers. Flat Stacker (white some what flat) Pumpkin blooms with sunflowers, mums, and roses in rust, lime green, bright yellow, and burgundy as the centerpiece. While white pumpkin plates from Williams & Sonoma set the pumpkin theme at each place setting.  So pretty for a small fall dinner party or entertaining with family.  As the sun sets, lighting a few tapers will add a soft glow to your alfresco dinner.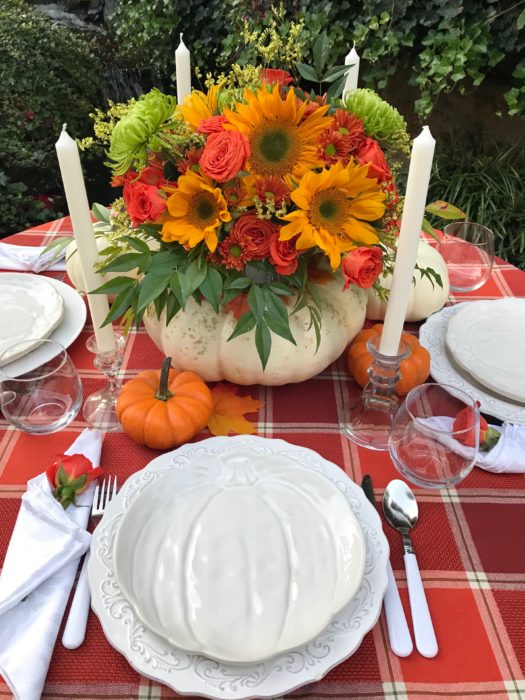 How to Make DIY Blooming Pumpkin Table Scape
Find a great white pumpkin, gather your fresh sunflowers, and fall florals then make the centerpiece, directions below.  Second, for this table scape, I used white pumpkin plates and fall plaid tablecloth.  Candles added the needed height to help balance the centerpiece. You will love making this centerpiece. No cutting of pumpkin.  Yeah!  It will last all season.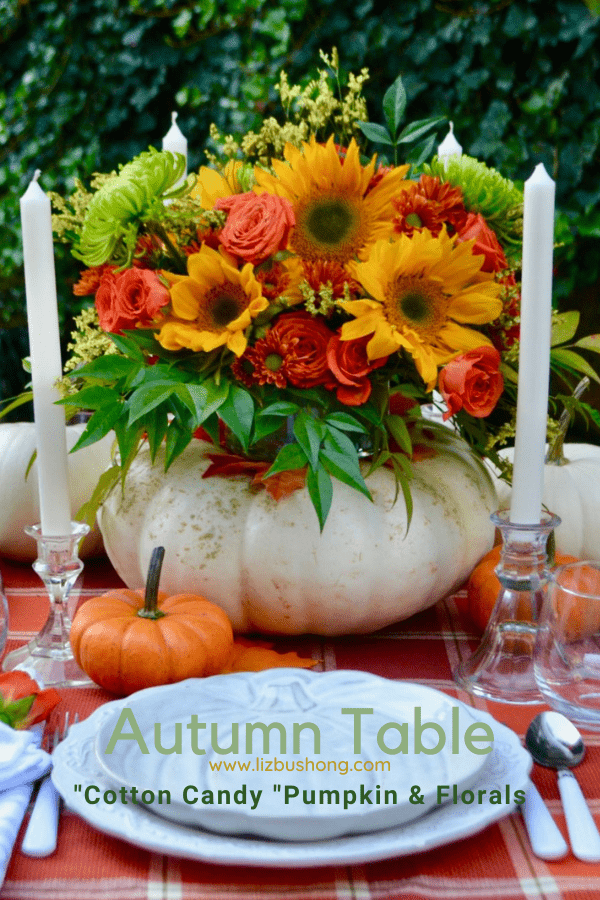 I took a trip across town to Laurels Pumpkin Barn-Patch that had beautiful pumpkins and gourds in different colors, shapes and sizes.  We had rain during the week so it was great seeing the sun shine once again. Perfect day for hunting pumpkins and enjoying the fall colors.  Come along with me to see what I found.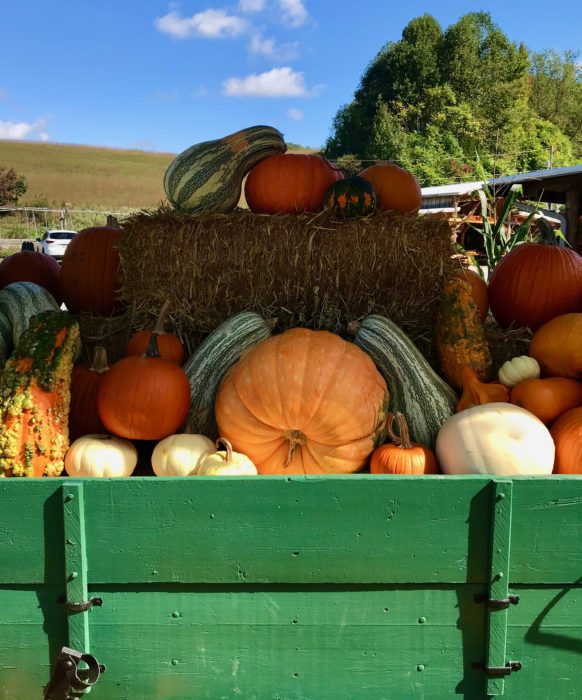 Wagons full of pumpkins and gourds … so many to choose from.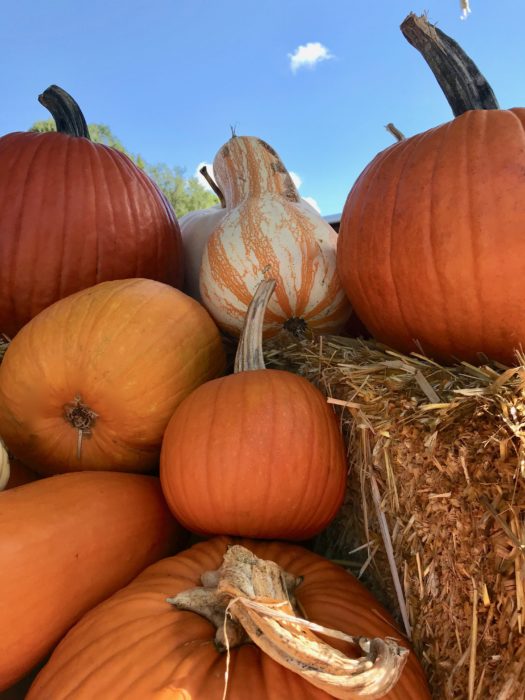 Foder Shocks, pumpkins, gourds, hay bales and more at this wonderful pumpkin patch.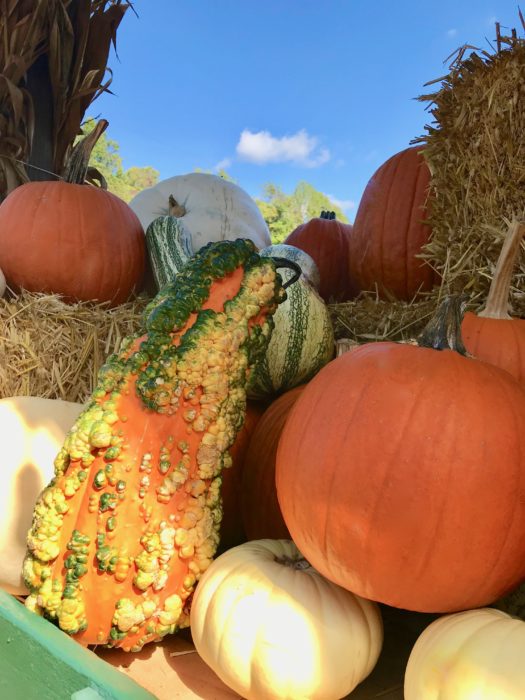 Even found this Barn light that was creative I had to share it with you.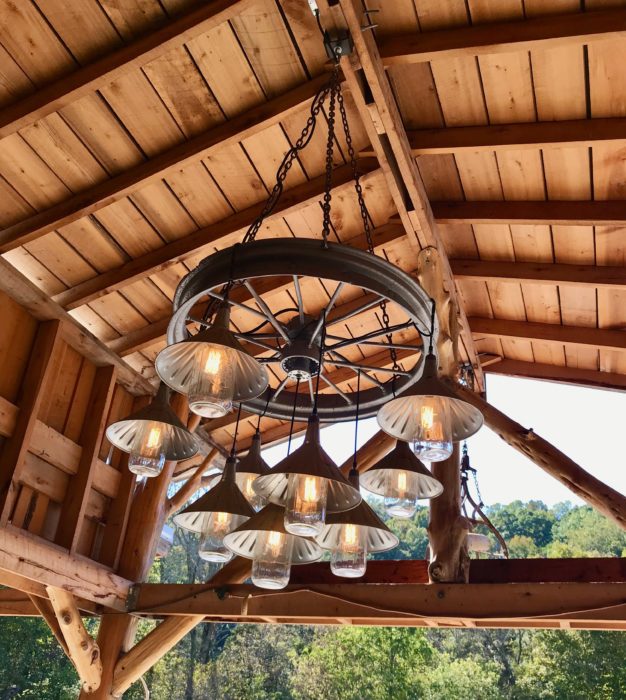 Back to the Pumpkin Table Setting Decor
I purchased 5 pumpkins, three white  and two small orange. Prices ranged from $4.00-$12.00.  Before going to the patch, one flat stacker white pumpkin was on my mind; for there was another table scape I wanted to create using all white pumpkins and dried hydrangeas.  So thrilled I found so many white pumpkins.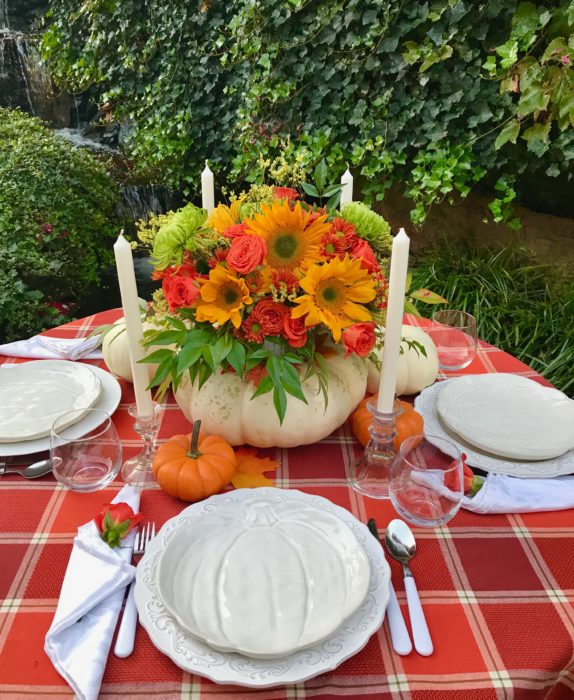 Inspiration for the Table-setting…White Pumpkin Salad Plate

How to Make the Pumpkin "Blooming" Centerpiece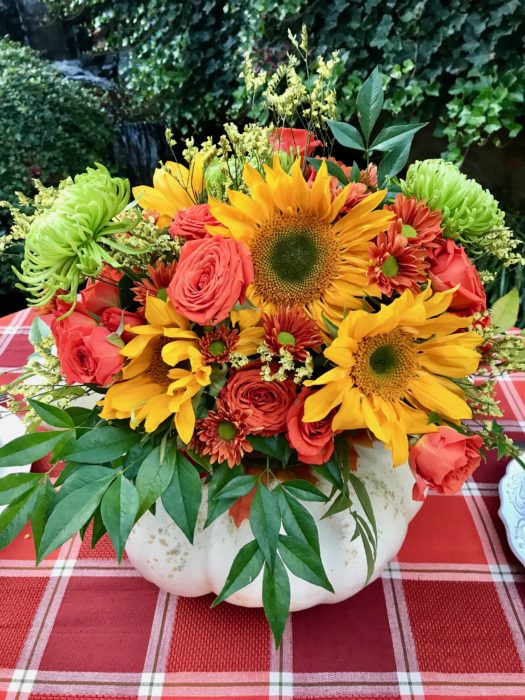 I trimmed the stem low enough so a 6″ round glass bowl/vase would sit flat over the top of the pumpkin. This is a short cut method, since I was using the pumpkin for another table setting, I didn't want to cut it open. 
Knowing there was another table scape to create using all the white pumpkins, my option was to keep this pumpkin solid and build the arrangement on the top.   I used faux leaves to fill in under the glass filled with floral foam.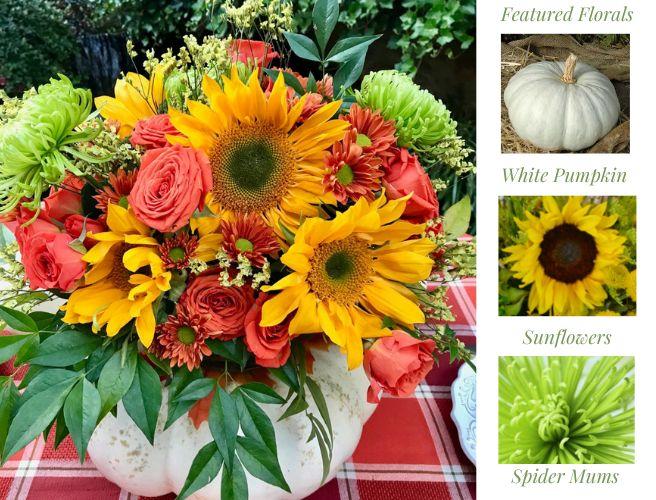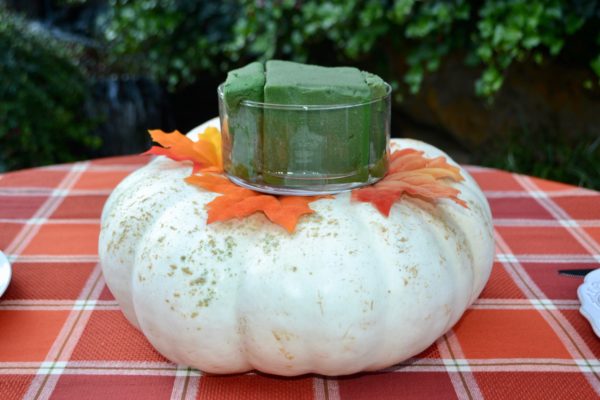 Oasis or wet foam is used for fresh flowers.  You need to soak the foam about 30 minutes completely under water to saturate. This will keep your fresh flowers fresh.
Another great feature about the glass base or building arrangement on top of the pumpkin …the arrangement can be used around the house after the dinner party without the pumpkin base.  It's moveable.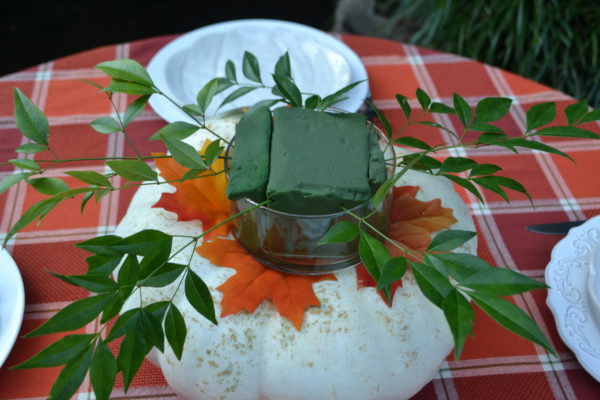 With that in mind, fill the glass dish (vase) with wet oasis packing tight with in the container. Believe it or not, the vase will not move once the flowers are arranged. The vase sat perfectly on top of the flat stacker pumpkin.
Cut all stems at an angle with clippers or kitchen shears, keep all flowers in water until ready to arrange.  I cut the stems about 6-7 " long for large flowers, and used that as a guide for the rest.
Insert greenery stems first and keep adding around the edges or sides of the vase to fill in.
I did not use the greenery to cover the entire foam base for other flowers were going to be the filler.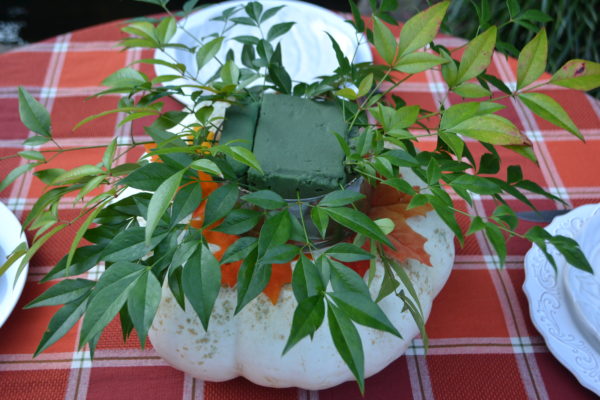 Next add the largest flower, in my case it was the 5 small sunflowers. Followed by the second largest bloom, which were 3 green spider mums. Actually had 5 on hand but didn't use the remaining two for this centerpiece.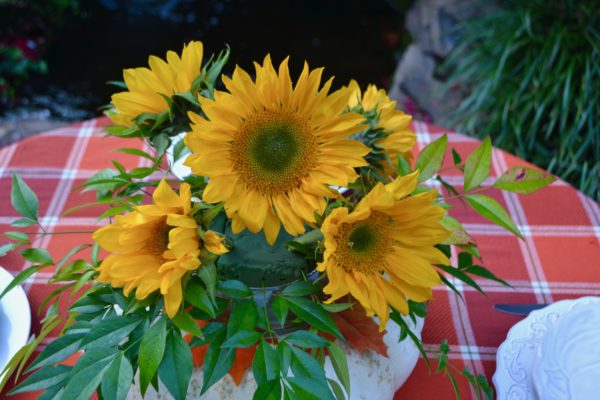 Fill in the rest of the arrangement with roses, rust colored mums, and last the wispy yellow yarrow.  It's amazing how many flowers stems you can put in a small container.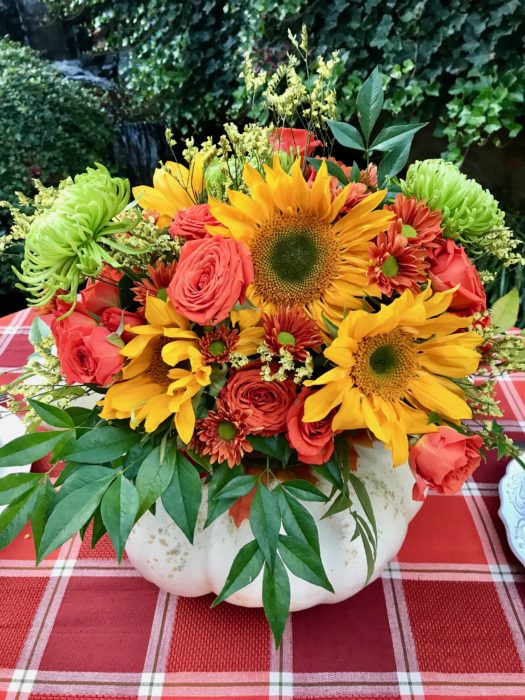 Pretty Elements of the Table Setting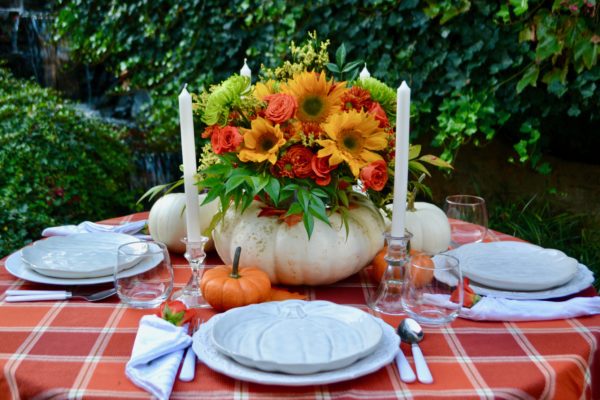 White dinner plates with white pumpkin salad plates, white napkin fold called Chloe with reddish orange single rose peeking from under the fold, white handled silverware, white tapers, and more pumpkins. In addition to the plaid table cloth that grounds the entire scape, a pretty napkin fold called Chloe sat next to the dinner plate.  DIY Napkin fold can be found here.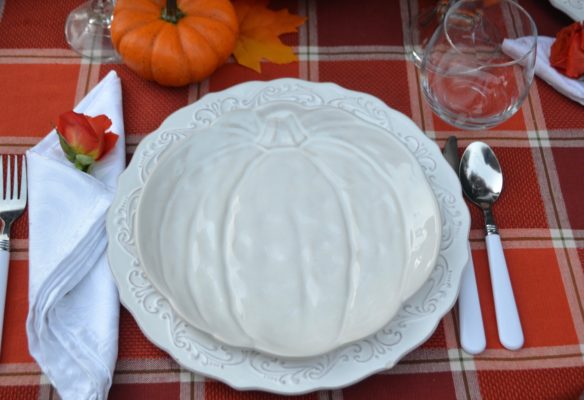 Hope you enjoyed my trip to the pumpkin patch and ideas on what you can do with 5 pumpkins.   I found the white pumpkin salad plates on line here.  
Heres a sneak a peek for the White Pumpkin Setting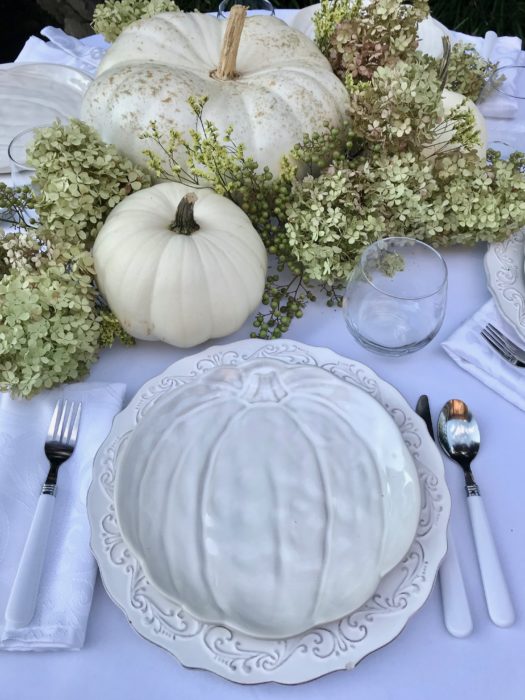 Other Ideas You Might Like to Try: